Abstract
Chemical inhibitors have revealed requirements for protein synthesis that drive cellular plasticity. We developed a genetically encodable protein synthesis inhibitor (gePSI) to achieve cell-type-specific temporal control of protein synthesis. Controlled expression of the gePSI in neurons or glia resulted in rapid, potent and reversible cell-autonomous inhibition of protein synthesis. Moreover, gePSI expression in a single neuron blocked the structural plasticity induced by single-synapse stimulation.
Access options
Access options
Subscribe to Journal
Get full journal access for 1 year
$242.00
only $20.17 per issue
All prices are NET prices.
VAT will be added later in the checkout.
Rent or Buy article
Get time limited or full article access on ReadCube.
from$8.99
All prices are NET prices.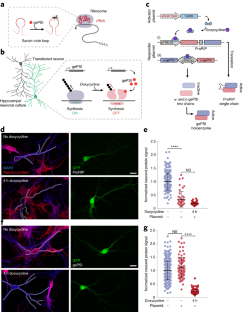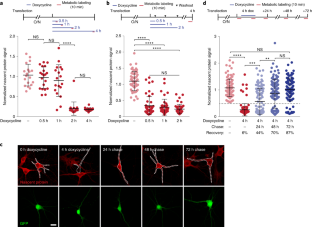 References
1.

Sutton, M. A. & Schuman, E. M. Cell 127, 49–58 (2006).

2.

Walsh, M. J., Dodd, J. E. & Hautbergue, G. M. Virulence 4, 774–784 (2013).

3.

Puri, M., Kaur, I., Perugini, M. A. & Gupta, R. C. Drug Discov. Today 17, 774–783 (2012).

4.

Endo, Y. & Tsurugi, K. Nucleic Acids Symp. Ser. 262, 139–142 (1988).

5.

Hey, T. D., Hartley, M. & Walsh, T. A. Plant Physiol. 107, 1323–1332 (1995).

6.

Mak, A. N.-S. et al. Nucleic Acids Res. 35, 6259–6267 (2007).

7.

Schmidt, E. K., Clavarino, G., Ceppi, M. & Pierre, P. Nat. Methods 6, 275–277 (2009).

8.

Dieterich, D. C. et al. Nat. Neurosci. 13, 897–905 (2010).

9.

tom Dieck, S. et al. Curr. Protoc. Cell Biol. 56, 7.11.1–7.11.29 (2012).

10.

Dörrbaum, A. R., Kochen, L., Langer, J. D. & Schuman, E. M. eLife 7, 489 (2018).

11.

Davis, H. P. & Squire, L. R. Psychol. Bull. 96, 518–559 (1984).

12.

Ho, V. M., Lee, J.-A. & Martin, K. C. Science 334, 623–628 (2011).

13.

Govindarajan, A., Israely, I., Huang, S.-Y. & Tonegawa, S. Neuron 69, 132–146 (2011).

14.

Cajigas, I. J., Will, T. & Schuman, E. M. EMBO J. 29, 2746–2752 (2010).

15.

Aakalu, G., Smith, W. B., Nguyen, N., Jiang, C. & Schuman, E. M. Neuron 30, 489–502 (2001).

16.

Atasoy, D., Aponte, Y., Su, H. H. & Sternson, S. M. J. Neurosci. 28, 7025–7030 (2008).

17.

Woodhead, G. J., Mutch, C. A., Olson, E. C. & Chenn, A. J. Neurosci. 26, 12620–12630 (2006).

18.

Link, A. J., Vink, M. K. S. & Tirrell, D. A. Nat. Protoc. 2, 1879–1883 (2007).

19.

Rangaraju, V., Lauterbach, M. & Schuman, E. M. Cell 176, 73–84 (2019).
Acknowledgements
We thank S. tom Dieck and A. Berken for their assistance in obtaining approval for experiments. We thank N. Fuerst, I. Bartnik and A. Staab for the preparation of cultured hippocampal neurons. We thank M. Lauterbach (MPI for Brain Research) for the MATLAB script used to analyze spine-head volumes. Some plasmids used in this study were gifts from P.C. Shaw (The Chinese University of Hong Kong), C. Hanus (Institute for Psychiatry and Neurosciences of Paris, Inserm U1266) and S. Sternson (Janelia Research Campus; plasmid from Addgene #18925); J.M. Wilson (Perelman School of Medicine, University of Pennylvania; plasmid from Addgene #105558); and A. Chenn (Department of Pathology at the University of Illinois, Chicago; plasmid from Addgene #26646). E.M.S is funded by the Max Planck Society, an Advanced Investigator award from the European Research Council (743216), DFG CRC 1080 and DFG CRC 902. A.B. is supported by an EMBO long-term fellowship (ALTF 331-2017).
Ethics declarations
Competing interests
E.M.S., M.H. and C.G. are employees of the Max Planck Society. A European patent application (application number EP19177622.8) based on the results of this publication has been submitted by the Max Planck Society and the above-mentioned authors (Max Planck Institute of Brain Research). The patent covers the design and proof of concept of a gePSI.
Additional information
Peer review information: Rita Strack was the primary editor on this article and managed its editorial process and peer review in collaboration with the rest of the editorial team.
Publisher's note: Springer Nature remains neutral with regard to jurisdictional claims in published maps and institutional affiliations.
Integrated supplementary information
Supplementary information
Supplementary Figures 1–6