Abstract
Mammalian genomes are folded into tens of thousands of long-range looping interactions. The cause-and-effect relationship between looping and genome function is poorly understood, and the extent to which loops are dynamic on short time scales remains an unanswered question. Here, we engineer a new class of synthetic architectural proteins for directed rearrangement of the three-dimensional genome using blue light. We target our light-activated-dynamic-looping (LADL) system to two genomic anchors with CRISPR guide RNAs and induce their spatial colocalization via light-induced heterodimerization of cryptochrome 2 and a dCas9-CIBN fusion protein. We apply LADL to redirect a stretch enhancer (SE) away from its endogenous Klf4 target gene and to the Zfp462 promoter. Using single-molecule RNA–FISH, we demonstrate that de novo formation of the Zfp462-SE loop correlates with a modest increase in Zfp462 expression. LADL facilitates colocalization of genomic loci without exogenous chemical cofactors and will enable future efforts to engineer reversible and oscillatory loops on short time scales.
Your institute does not have access to this article
Relevant articles
Open Access articles citing this article.
Manyu Du

,

Fan Zou

…

Lu Bai

Nature Communications Open Access 09 February 2022

Dahong Chen

,

Catherine E. McManus

…

Elissa P. Lei

Nature Communications Open Access 04 November 2021
Access options
Subscribe to Nature+
Get immediate online access to the entire Nature family of 50+ journals
Subscribe to Journal
Get full journal access for 1 year
$119.00
only $9.92 per issue
All prices are NET prices.
VAT will be added later in the checkout.
Tax calculation will be finalised during checkout.
Buy article
Get time limited or full article access on ReadCube.
$32.00
All prices are NET prices.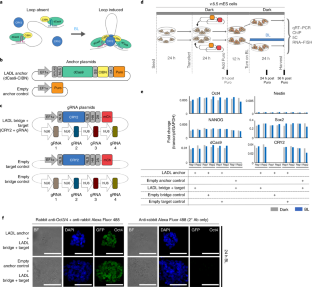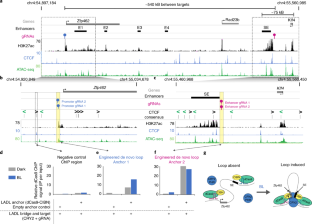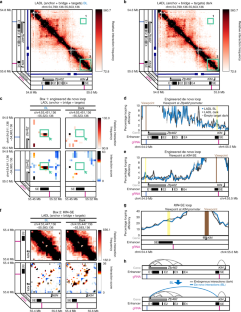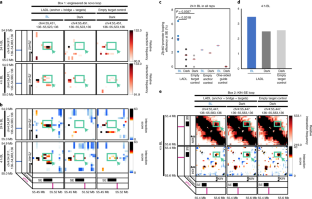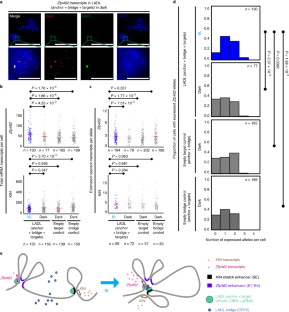 Data availability
The 5C data from this study have been submitted to the NCBI Gene Expression Omnibus under accession number GSE115963. Custom code for full reproducibility of all analyses is available upon request.
References
Phanstiel, D. H. et al. Static and dynamic DNA loops form AP-1-bound activation hubs during macrophage development. Mol. Cell 67, 1037–1048 e1036 (2017).

Rao, S. S. et al. A 3D map of the human genome at kilobase resolution reveals principles of chromatin looping. Cell 159, 1665–1680 (2014).

Morgan, S. L. et al. Manipulation of nuclear architecture through CRISPR-mediated chromosomal looping. Nat. Commun. 8, 15993 (2017).

Hao, N., Shearwin, K. E. & Dodd, I. B. Programmable DNA looping using engineered bivalent dCas9 complexes. Nat. Commun. 8, 1628 (2017).

Deng, W. et al. Controlling long-range genomic interactions at a native locus by targeted tethering of a looping factor. Cell 149, 1233–1244 (2012).

Deng, W. et al. Reactivation of developmentally silenced globin genes by forced chromatin looping. Cell 158, 849–860 (2014).

Liu, H. et al. Photoexcited CRY2 interacts with CIB1 to regulate transcription and floral initiation in Arabidopsis. Science 322, 1535–1539 (2008).

Bugaj, L. J., Choksi, A. T., Mesuda, C. K., Kane, R. S. & Schaffer, D. V. Optogenetic protein clustering and signaling activation in mammalian cells. Nat. Methods 10, 249 (2013).

Kennedy, M. J. et al. Rapid blue-light-mediated induction of protein interactions in living cells. Nat. Methods 7, 973–975 (2010).

Konermann, S. et al. Optical control of mammalian endogenous transcription and epigenetic states. Nature 500, 472–476 (2013).

Ozkan-Dagliyan, I. et al. Formation of Arabidopsis cryptochrome 2 photobodies in mammalian nuclei: application as an optogenetic DNA damage checkpoint switch. J. Biol. Chem. 288, 23244–23251 (2013).

Che, D. L., Duan, L., Zhang, K. & Cui, B. The dual characteristics of light-induced cryptochrome 2, homo-oligomerization and heterodimerization, for optogenetic manipulation in mammalian cells. ACS Synth. Biol. 4, 1124–1135 (2015).

Polstein, L. R. & Gersbach, C. A. A light-inducible CRISPR-Cas9 system for control of endogenous gene activation. Nat. Chem. Biol. 11, 198–200 (2015).

Beagan, J. A. et al. Local genome topology can exhibit an incompletely rewired 3D-folding state during somatic cell reprogramming. Cell Stem Cell 18, 611–624 (2016).

Beagan, J. A. et al. YY1 and CTCF orchestrate a 3D chromatin looping switch during early neural lineage commitment. Genome Res. 27, 1139–1152 (2017).

Dostie, J. et al. Chromosome conformation capture carbon copy (5C): a massively parallel solution for mapping interactions between genomic elements. Genome Res. 16, 1299–1309 (2006).

Phillips-Cremins, J. E. et al. Architectural protein subclasses shape 3D organization of genomes during lineage commitment. Cell 153, 1281–1295 (2013).

Kim, J. H. et al. 5C-ID: increased resolution chromosome-conformation-capture-carbon-copy with in situ 3C and double alternating primer design. Methods 142, 39–46 (2018).

Konermann, S. et al. Genome-scale transcriptional activation by an engineered CRISPR-Cas9 complex. Nature 517, 583–588 (2015).

Sakuma, T., Nishikawa, A., Kume, S., Chayama, K. & Yamamoto, T. Multiplex genome engineering in human cells using all-in-one CRISPR/Cas9 vector system. Sci. Rep. 4, 5400 (2014).

Cheng, A. W. et al. Multiplexed activation of endogenous genes by CRISPR-on, an RNA-guided transcriptional activator system. Cell Res. 23, 1163 (2013).

Taslimi, A. et al. An optimized optogenetic clustering tool for probing protein interaction and function. Nat. Commun. 5, 4925 (2014).

Hsu, S. C. et al. The BET protein BRD2 cooperates with CTCF to enforce transcriptional and architectural boundaries. Mol. Cell 66, 102–116 (2017).

Lajoie, B. R., van Berkum, N. L., Sanyal, A. & Dekker, J. My5C: web tools for chromosome conformation capture studies. Nat. Methods 6, 690–691 (2009).

Hnisz, D. et al. Activation of proto-oncogenes by disruption of chromosome neighborhoods. Science 351, 1454–1458 (2016).

Imakaev, M. et al. Iterative correction of Hi-C data reveals hallmarks of chromosome organization. Nat. Methods 9, 999–1003 (2012).

Gilgenast, T. G. & Phillips-Cremins, J. E. Systematic evaluation of statistical methods for identifying looping interactions in 5C data. Cell Syst. 8, 197–211 (2019).

Raj, A., van den Bogaard, P., Rifkin, S. A., van Oudenaarden, A. & Tyagi, S. Imaging individual mRNA molecules using multiple singly labeled probes. Nat. Methods 5, 877–879 (2008).
Acknowledgements
We thank members of the Cremins lab for helpful discussions. J.E.P.C. is a New York Stem Cell Foundation–Robertson Investigator and an Alfred P. Sloan Foundation Fellow. This research was supported by The New York Stem Cell Foundation (J.E.P.C), the Alfred P. Sloan Foundation (J.E.P.C), the NIH Director's New Innovator Award from the National Institute of Mental Health (grant no. 1DP2MH11024701 to J.E.P.C), a 4D Nucleome Common Fund grant (no. 1U01HL12999801 to J.E.P.C), a joint NSF-NIGMS grant to support research at the interface of the biological and mathematical sciences (no. 1562665 to J.E.P.C) and a National Science Foundation Graduate Research Fellowship (grant no. DGE-1321851 to J.A.B.).
Ethics declarations
Competing interests
The authors declare no competing interests.
Additional information
Peer review information: Nicole Rusk was the primary editor on this article and managed its editorial process and peer review in collaboration with the rest of the editorial team.
Publisher's note: Springer Nature remains neutral with regard to jurisdictional claims in published maps and institutional affiliations.
Integrated supplementary information
Supplementary information
About this article
Cite this article
Kim, J.H., Rege, M., Valeri, J. et al. LADL: light-activated dynamic looping for endogenous gene expression control. Nat Methods 16, 633–639 (2019). https://doi.org/10.1038/s41592-019-0436-5
Received:

Accepted:

Published:

Issue Date:

DOI: https://doi.org/10.1038/s41592-019-0436-5