Access options
Subscribe to Journal
Get full journal access for 1 year
$119.00
only $9.92 per issue
All prices are NET prices.
VAT will be added later in the checkout.
Tax calculation will be finalised during checkout.
Rent or Buy article
Get time limited or full article access on ReadCube.
from$8.99
All prices are NET prices.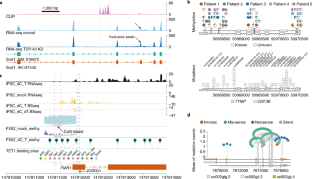 References
1.

Robinson, J. T. et al. Nat. Biotechnol. 29, 24–26 (2011).

2.

Wang, J., Kong, L., Gao, G. & Luo, J. Brief. Bioinform. 14, 131–143 (2013).

3.

Haeussler, M. et al. Nucleic Acids Res. 47, D853–D858 (2019).

4.

Jay, J. J. & Brouwer, C. PLoS One 11, e0160519 (2016).

5.

Ben-David, E., Burga, A. & Kruglyak, L. Science 356, 1051–1055 (2017).

6.

Huang, D. et al. Proc. Natl Acad. Sci. USA 114, E3149–E3158 (2017).
Acknowledgements
We thank S. Han for editorial and web design assistance, and L. Ni and J. Yu for helpful discussion. L.J.Z. is partially supported by the NIH/NIDDK (grant R01DK076118).
Ethics declarations
Competing interests
The authors declare no competing interests.
Supplementary information
About this article
Cite this article
Ou, J., Zhu, L.J. trackViewer: a Bioconductor package for interactive and integrative visualization of multi-omics data. Nat Methods 16, 453–454 (2019). https://doi.org/10.1038/s41592-019-0430-y