Abstract
In mass-spectrometry-based proteomics, the identification and quantification of peptides and proteins heavily rely on sequence database searching or spectral library matching. The lack of accurate predictive models for fragment ion intensities impairs the realization of the full potential of these approaches. Here, we extended the ProteomeTools synthetic peptide library to 550,000 tryptic peptides and 21 million high-quality tandem mass spectra. We trained a deep neural network, termed Prosit, resulting in chromatographic retention time and fragment ion intensity predictions that exceed the quality of the experimental data. Integrating Prosit into database search pipelines led to more identifications at >10× lower false discovery rates. We show the general applicability of Prosit by predicting spectra for proteases other than trypsin, generating spectral libraries for data-independent acquisition and improving the analysis of metaproteomes. Prosit is integrated into ProteomicsDB, allowing search result re-scoring and custom spectral library generation for any organism on the basis of peptide sequence alone.
Access options
Access Nature and 54 other Nature Portfolio journals
Get Nature+, our best-value online-access subscription
$29.99 / 30 days
cancel any time
Subscribe to this journal
Receive 12 print issues and online access
$259.00 per year
only $21.58 per issue
Rent or buy this article
Prices vary by article type
from$1.95
to$39.95
Prices may be subject to local taxes which are calculated during checkout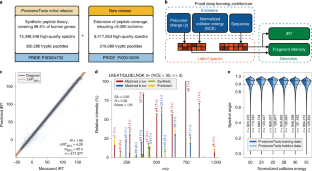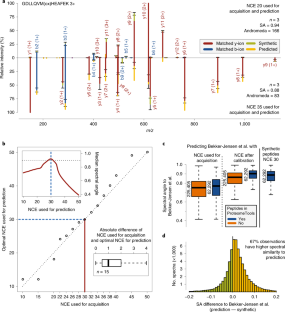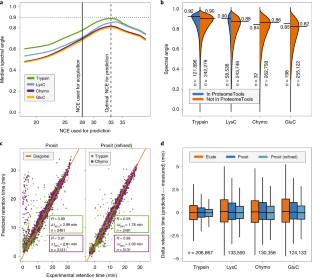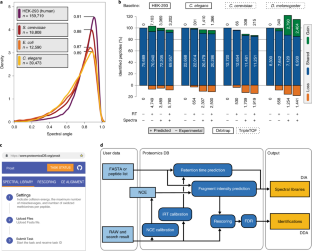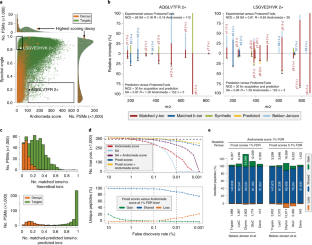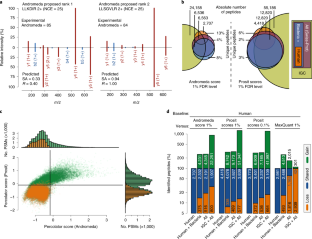 Similar content being viewed by others
Data availability
Reference spectra are available at https://www.proteomicsdb.org, and updates to the resource are available at http://www.proteometools.org. The mass spectrometric raw data of ProteomeTools have been deposited with the ProteomeXchange Consortium via the PRIDE partner repository with the dataset identifier PXD010595. The MaxQuant and Spectronaut search data including intermediate results underlying the presented analysis have been deposited with the dataset identifier PXD010871. Learned Prosit and Elude models are deposited at https://figshare.com/projects/prosit/35582.
References
Aebersold, R. & Mann, M. Mass-spectrometric exploration of proteome structure and function. Nature 537, 347–355 (2016).

Zhang, Y., Fonslow, B. R., Shan, B., Baek, M.-C. & Yates, J. R. Protein analysis by shotgun/bottom-up proteomics. Chem. Rev. 113, 2343–2394 (2013).

Mallick, P. & Kuster, B. Proteomics: a pragmatic perspective. Nat. Biotechnol. 28, 695 (2010).

Sinitcyn, P., Rudolph, J. D. & Cox, J. Computational methods for understanding mass spectrometry-based shotgun proteomics data. Annu. Rev. Biomed. Data Sci. 1, 207–234 (2018).

Cox, J. et al. Andromeda: a peptide search engine integrated into the maxquant environment. J. Proteome Res. 10, 1794–1805 (2011).

Perkins, D. N., Pappin, D. J. C., Creasy, D. M. & Cottrell, J. S. Probability‐based protein identification by searching sequence databases using mass spectrometry data. Electrophoresis 20, 3551–3567 (1999).

Eng, J. K., McCormack, A. L. & Yates, J. R. An approach to correlate tandem mass spectral data of peptides with amino acid sequences in a protein database. J. Am. Soc. Mass Spectrom. 5, 976–989 (1994).

Stein, S. E. & Scott, D. R. Optimization and testing of mass spectral library search algorithms for compound identification. J. Am. Soc. Mass Spectrom. 5, 859–866 (1994).

Lam, H. et al. Development and validation of a spectral library searching method for peptide identification from MS/MS. Proteomics 7, 655–667 (2007).

Schubert, O. T. et al. Building high-quality assay libraries for targeted analysis of SWATH MS data. Nat. Protoc. 10, 426–441 (2015).

Deutsch, E. W. et al. Expanding the use of spectral libraries in proteomics. J. Proteome Res. 17, 4051–4060 (2018).

Gillet, L. C. et al. Targeted data extraction of the MS/MS spectra generated by data-independent acquisition: a new concept for consistent and accurate proteome analysis. Mol. Cell. Proteomics 11, O111.016717 (2012).

Lange, V., Picotti, P., Domon, B. & Aebersold, R. Selected reaction monitoring for quantitative proteomics: a tutorial. Mol. Syst. Biol. 4, 222 (2008).

Bruderer, R., Bernhardt, O. M., Gandhi, T. & Reiter, L. High‐precision iRT prediction in the targeted analysis of data‐independent acquisition and its impact on identification and quantitation. Proteomics 16, 2246–2256 (2016).

Krokhin, O. V. & Spicer, V. Generation of accurate peptide retention data for targeted and data independent quantitative LC–MS analysis: chromatographic lessons in proteomics. Proteomics 16, 2931–2936 (2016).

Moruz, L. et al. Chromatographic retention time prediction for posttranslationally modified peptides. Proteomics 12, 1151–1159 (2012).

Elias, J. E., Gibbons, F. D., King, O. D., Roth, F. P. & Gygi, S. P. Intensity-based protein identification by machine learning from a library of tandem mass spectra. Nat. Biotechnol. 22, 214–219 (2004).

Arnold, R. J., Jayasankar, N., Aggarwal, D., Tang, H. & Radivojac, P. A machine learning approach to predicting peptide fragmentation spectra. Pac. Symp. Biocomput. 2006, 219–230 (2006).

Frank, A. M. Predicting intensity ranks of peptide fragment ions. J. Proteome Res. 8, 2226–2240 (2009).

Degroeve, S., Maddelein, D. & Martens, L. MS2PIP prediction server: compute and visualize MS2 peak intensity predictions for CID and HCD fragmentation. Nucleic Acids Res. 43, W326–W330 (2015).

Zhou, X.-X. et al. pDeep: predicting MS/MS spectra of peptides with deep learning. Anal. Chem. 89, 12690–12697 (2017).

Zolg, D. et al. PROCAL: a set of 40 peptide standards for retention time indexing, column performance monitoring, and collision energy calibration. Proteomics 17, 1700263 (2017).

Zolg, D. P. et al. Building ProteomeTools based on a complete synthetic human proteome. Nat. Methods 14, 259–262 (2017).

Wu, Y. et al. Google's neural machine translation system: bridging the gap between human and machine translation. Preprint at https://arxiv.org/abs/1609.08144 (2016).

Kingma, D. P. & Ba, J. Adam: a method for stochastic optimization. Preprint at https://arxiv.org/abs/1412.6980 (2014).

Xu, K. et al. Show, attend and tell: neural image caption generation with visual attention. In Proc. International Conference on Machine Learning (eds. Bach, F. & Blei, D.) 2048–2057 (JMLR, 2015).

Krokhin, O. V. Sequence-specific retention calculator. Algorithm for peptide retention prediction in ion-pair RP-HPLC: application to 300- and 100-A pore size C18 sorbents. Anal. Chem. 78, 7785–7795 (2006).

Toprak, U. H. et al. Conserved peptide fragmentation as a benchmarking tool for mass spectrometers and a discriminating feature for targeted proteomics. Mol. Cell. Proteomics 13, 2056–2071 (2014).

Diedrich, J. K., Pinto, A. F. M. & Yates, J. R. Energy dependence of HCD on peptide fragmentation: stepped collisional energy finds the sweet spot. J. Am. Soc. Mass Spectrom. 24, 1690–1699 (2013).

Bekker-Jensen, D. B. et al. An optimized shotgun strategy for the rapid generation of comprehensive human proteomes. Cell Syst. 4, 587–599 (2017).

Bruderer, R. et al. Optimization of experimental parameters in data-independent mass spectrometry significantly increases depth and reproducibility of results. Mol. Cell. Proteomics 16, 2296–2309 (2017).

Fabre, B. et al. Spectral libraries for SWATH-MS assays for Drosophila melanogaster and Solanum lycopersicum. Proteomics 17, 1700216 (2017).

Schmidt, T. et al. ProteomicsDB. Nucleic Acids Res. 46, D1271–D1281 (2017).

Wilhelm, M. et al. Mass-spectrometry-based draft of the human proteome. Nature 509, 582–587 (2014).

Elias, J. E. & Gygi, S. P. Target-decoy search strategy for increased confidence in large-scale protein identifications by mass spectrometry. Nat. Methods 4, 207–214 (2007).

The, M., MacCoss, M. J., Noble, W. S. & Käll, L. Fast and accurate protein false discovery rates on large-scale proteomics data sets with Percolator 3.0. J. Am. Soc. Mass Spectrom. 27, 1719–1727 (2016).

Shanmugam, A. K. & Nesvizhskii, A. I. Effective leveraging of targeted search spaces for improving peptide identification in tandem mass spectrometry based proteomics. J. Proteome Res. 14, 5169–5178 (2015).

Muth, T., Benndorf, D., Reichl, U., Rapp, E. & Martens, L. Searching for a needle in a stack of needles: challenges in metaproteomics data analysis. Mol. Biosyst. 9, 578–585 (2012).

Rechenberger, J. et al. Challenges in clinical metaproteomics highlighted by the analysis of acute leukemia patients with gut colonization by multidrug-resistant enterobacteriaceae. Proteomes 7, 2 (2019).

Li, J. et al. An integrated catalog of reference genes in the human gut microbiome. Nat. Biotechnol. 32, 834 (2014).

Muth, T. R. et al. Navigating through metaproteomics data: a logbook of database searching. Proteomics 15, 3439–3453 (2017).

Nesvizhskii, A. I. Proteogenomics: concepts, applications and computational strategies. Nat. Methods 11, 1114 (2014).

Schumacher, F. R. et al. Building proteomic tool boxes to monitor MHC class I and class II peptides. Proteomics 17, 1600061 (2017).

Zolg, D. et al. ProteomeTools: systematic characterization of 21 post-translational protein modifications by LC-MS/MS using synthetic peptides. Mol. Cell. Proteomics 17, 1850–1863 (2018).

Wang, D. et al. A deep proteome and transcriptome abundance atlas of 29 healthy human tissues. Mol. Syst. Biol. 15, e8503 (2019).

Dorfer, V., Maltsev, S., Winkler, S. & Mechtler, K. CharmeRT: boosting peptide identifications by chimeric spectra identification and retention time prediction. J. Proteome Res. 17, 2581–2589 (2018).

Wenschuh, H. et al. Coherent membrane supports for parallel microsynthesis and screening of bioactive peptides. Pept. Sci. 55, 188–206 (2000).

Chung, J., Gulcehre, C., Cho, K. & Bengio, Y. Empirical evaluation of gated recurrent neural networks on sequence modeling. Preprint at https://arxiv.org/abs/1412.3555 (2014).

Bahdanau, D., Cho, K. & Bengio, Y. Neural machine translation by jointly learning to align and translate. Preprint at https://arxiv.org/abs/1409.0473 (2014).

Moruz, L., Tomazela, D. & Käll, L. Training, selection, and robust calibration of retention time models for targeted proteomics. J. Proteome Res. 9, 5209–5216 (2010).

Davis, S. et al. Expanding proteome coverage with CHarge Ordered Parallel Ion aNalysis (CHOPIN) combined with broad specificity proteolysis. J. Proteome Res. 16, 1288–1299 (2017).
Acknowledgements
This work was in part funded by the German Federal Ministry of Education and Research (BMBF, grant no. 031L0008A and no. 031L0168). The Titan Xp used in this research were donated by the NVIDIA corporation. The authors thank R. Bruderer (Biognosys) for sharing spectral libraries in textual and editable format, and R. Bruderer and members of the Kuster lab for fruitful discussions.
Ethics declarations
Competing interests
M.W. and B.K. are founders and shareholders of OmicScouts. They have no operational role in the company. K.S., J.Z., T.K., H.W. and U.R. are employees of JPT. B.D. and A.H. are employees of Thermo Fisher Scientific. S.G., H.-C.E. and S.A. are employees of SAP SE.
Additional information
Publisher's note: Springer Nature remains neutral with regard to jurisdictional claims in published maps and institutional affiliations.
Integrated supplementary information
Supplementary information
About this article
Cite this article
Gessulat, S., Schmidt, T., Zolg, D.P. et al. Prosit: proteome-wide prediction of peptide tandem mass spectra by deep learning. Nat Methods 16, 509–518 (2019). https://doi.org/10.1038/s41592-019-0426-7
Received:

Accepted:

Published:

Issue Date:

DOI: https://doi.org/10.1038/s41592-019-0426-7