Abstract
Tumors from individuals with cancer are frequently genetically profiled for information about the driving forces behind the disease. We present the CancerMine resource, a text-mined and routinely updated database of drivers, oncogenes and tumor suppressors in different types of cancer. All data are available online (http://bionlp.bcgsc.ca/cancermine) and downloadable under a Creative Commons Zero license for ease of use.
Access options
Subscribe to Journal
Get full journal access for 1 year
$242.00
only $20.17 per issue
All prices are NET prices.
VAT will be added later in the checkout.
Rent or Buy article
Get time limited or full article access on ReadCube.
from$8.99
All prices are NET prices.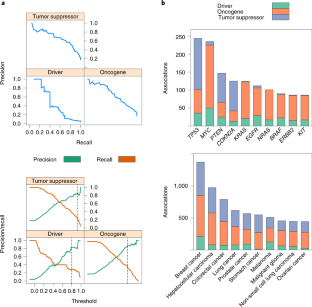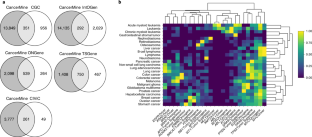 References
1.

Radtke, F. & Raj, K. Nat. Rev. Cancer 3, 756 (2003).

2.

Kristensen, V. N. et al. Nat. Rev. Cancer 14, 299–313 (2014).

3.

Zender, L. et al. Cell 135, 852–864 (2008).

4.

Futreal, P. A. et al. Nat. Rev. Cancer 4, 177 (2004).

5.

Repana, D. et al. Genome Biol. 20, 1 (2019).

6.

Gonzalez-Perez, A. et al. Nat. Methods 10, 1081 (2013).

7.

Liu, Y., Sun, J. & Zhao, M. J. Genet. Genom. 44, 119–121 (2017).

8.

Zhao, M., Kim, P., Mitra, R., Zhao, J. & Zhao, Z. Nucleic Acids Res. 44, D1023–D1031 (2015).

9.

Griffith, M. et al. Nat. Genet. 49, 170 (2017).

10.

Chun, H.-W. et al. Pac. Symp. Biocomput. 2006, 4–15 (2006).

11.

Singhal, A., Simmons, M. & Lu, Z. PLoS Comput. Biol. 12, e1005017 (2016).

12.

Lever, J. & Jones, S. BioNLP 2017, 176–183 (2017).

13.

Comeau, D. C. et al. Database 2013, bat064 (2013).

14.

Kibbe, W. A. et al. Nucleic Acids Res. 43, D1071–D1078 (2014).

15.

Maglott, D. et al. Nucleic Acids Res. 39 (Suppl. 1), D52–D57 (2010).

16.

Bodenreider, O. Nucleic Acids Res. 32 (Suppl. 1), D267–D270 (2004).

17.

Galili, T., O'Callaghan, A., Sidi, J. & Sievert, C. Bioinformatics 34, 1600–1602 (2017).
Acknowledgements
J.L. was supported by a Vanier Canada Graduate Scholarship. Funding for S.J.M.J. and M.R.J. was provided through the Personalized Oncogenomics (POG) program, which is generously supported by the BC Cancer Foundation and Genome British Columbia (project B20POG). The authors would like to thank Compute Canada for the use of computational infrastructure for this research.
Ethics declarations
Competing interests
The authors declare no competing interests.
Additional information
Publisher's note: Springer Nature remains neutral with regard to jurisdictional claims in published maps and institutional affiliations.
Integrated supplementary information
Supplementary Information
Supplementary Figs. 1–4 and Supplementary Tables 1–7
About this article
Cite this article
Lever, J., Zhao, E.Y., Grewal, J. et al. CancerMine: a literature-mined resource for drivers, oncogenes and tumor suppressors in cancer. Nat Methods 16, 505–507 (2019). https://doi.org/10.1038/s41592-019-0422-y
Received:

Accepted:

Published:

Issue Date: