Abstract
Glucose is a major source of energy for most living organisms, and its aberrant uptake is linked to many pathological conditions. However, our understanding of disease-associated glucose flux is limited owing to the lack of robust tools. To date, positron-emission tomography imaging remains the gold standard for measuring glucose uptake, and no optical tools exist for non-invasive longitudinal imaging of this important metabolite in in vivo settings. Here, we report the development of a bioluminescent glucose-uptake probe for real-time, non-invasive longitudinal imaging of glucose absorption both in vitro and in vivo. In addition, we demonstrate that the sensitivity of our method is comparable with that of commonly used 18F-FDG-positron-emission-tomography tracers and validate the bioluminescent glucose-uptake probe as a tool for the identification of new glucose transport inhibitors. The new imaging reagent enables a wide range of applications in the fields of metabolism and drug development.
Relevant articles
Open Access articles citing this article.
Florian M. Zielke

&

Floris P. J. T. Rutjes

Topics in Current Chemistry Open Access 22 November 2023

Qian Zhang

,

Bin Song

…

Yao He

Nature Communications Open Access 22 April 2023

Aleksey Yevtodiyenko

,

Arkadiy Bazhin

…

Elena A. Goun

Nature Communications Open Access 11 May 2021
Access options
Access Nature and 54 other Nature Portfolio journals
Get Nature+, our best-value online-access subscription
$29.99 / 30 days
cancel any time
Subscribe to this journal
Receive 12 print issues and online access
$259.00 per year
only $21.58 per issue
Rent or buy this article
Prices vary by article type
from$1.95
to$39.95
Prices may be subject to local taxes which are calculated during checkout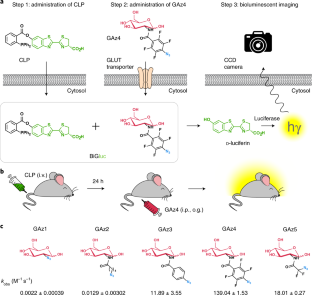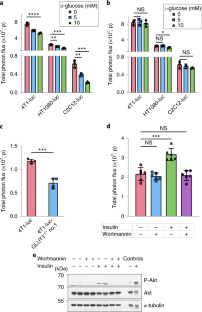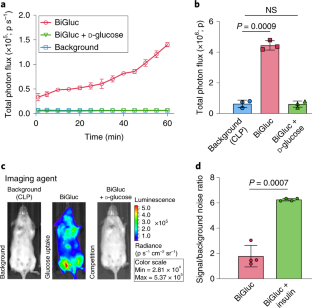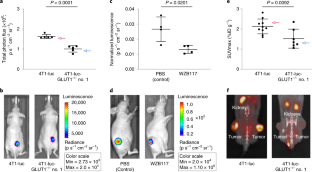 Data availability
The data that support the findings of this study are available from the corresponding author upon reasonable request.
References
Hay, N. Reprogramming glucose metabolism in cancer: can it be exploited for cancer therapy? Nat. Rev. Cancer 16, 635–649 (2016).

Kaur, J. A comprehensive review on metabolic syndrome. Cardiol. Res. Pract. 2014, 21 (2014).

Chang, C.-H. & Pearce, E. L. Emerging concepts of T cell metabolism as a target of immunotherapy. Nat. Immunol. 17, 364–368 (2016).

Momcilovic, M. & Shackelford, D. B. Imaging cancer metabolism. Biomol. Ther. 26, 81–92 (2018).

Cox, B. L., Mackie, T. R. & Eliceiri, K. W. The sweet spot: FDG and other 2-carbon glucose analogs for multi-modal metabolic imaging of tumor metabolism. Am. J. Nucl. Med. Mol. Imaging 5, 1–13 (2015).

Hu, F. et al. Vibrational imaging of glucose uptake activity in live cells and tissues by stimulated raman scattering. Angew. Chem. 54, 9821–9825 (2015).

Kim, W. H., Lee, J., Jung, D. W. & Williams, D. R. Visualizing sweetness: increasingly diverse applications for fluorescent-tagged glucose bioprobes and their recent structural modifications. Sensors 12, 5005–5027 (2012).

Vallabhajosula, S., Solnes, L. & Vallabhajosula, B. A broad overview of positron emission tomography radiopharmaceuticals and clinical applications: what is new? Semin. Nucl. Med. 41, 246–264 (2011).

Tseng, J. C., Wang, Y., Banerjee, P. & Kung, A. L. Incongruity of imaging using fluorescent 2-DG conjugates compared to 18F-FDG in preclinical cancer models. Mol. Imaging Biol. 14, 553–560 (2012).

O'Neil, R. G., Wu, L. & Mullani, N. Uptake of a fluorescent deoxyglucose analog (2-NBDG) in tumor cells. Mol. Imaging Biol. 7, 388–392 (2005).

Speizer, L., Haugland, R. & Kutchai, H. Asymmetric transport of a fluorescent glucose analogue by human erythrocytes. Biochim. Biophys. Acta 815, 75–84 (1985).

Cheng, Z. et al. Near-infrared fluorescent deoxyglucose analogue for tumor optical imaging in cell culture and living mice. Bioconjug. Chem. 17, 662–669 (2006).

Kovar, J. L., Volcheck, W., Sevick-Muraca, E., Simpson, M. A. & Olive, D. M. Characterization and performance of a near-infrared 2-deoxyglucose optical imaging agent for mouse cancer models. Anal. Biochem. 384, 254–262 (2009).

Park, J., Lee, H. Y., Cho, M. H. & Park, S. B. Development of a cy3-labeled glucose bioprobe and its application in bioimaging and screening for anticancer agents. Angew. Chem. 46, 2018–2022 (2007).

Mezzanotte, L., van 't Root, M., Karatas, H., Goun, E. A. & Lowik, C. In vivo molecular bioluminescence imaging: new tools and applications. Trends Biotechnol. 35, 640–652 (2017).

Dothager, R. S. et al. Advances in bioluminescence imaging of live animal models. Curr. Opin. Biotechnol. 20, 45–53 (2009).

Genevois, C., Loiseau, H. & Couillaud, F. In vivo follow-up of brain tumor growth via bioluminescence imaging and fluorescence tomography. Int. J. Mol. Sci. 17, 1815 (2016).

Li, J., Chen, L., Du, L. & Li, M. Cage the firefly luciferin!—a strategy for developing bioluminescent probes. Chem. Soc. Rev. 42, 662–676 (2013).

Saxon, E. & Bertozzi, C. R. Cell surface engineering by a modified Staudinger reaction. Science 287, 2007–2010 (2000).

Sundhoro, M., Jeon, S., Park, J., Ramstrom, O. & Yan, M. Perfluoroaryl azide Staudinger reaction: a fast and bioorthogonal reaction. Angew. Chem. 56, 12117–12121 (2017).

Estensen, R. D. & Plagemann, P. G. W. Cytochalasin B: inhibition of glucose and glucosamine transport. Proc. Natl. Acad. Sci. USA 69, 1430–1434 (1972).

Park, J. et al. Impact of molecular charge on GLUT-specific cellular uptake of glucose bioprobes and in vivo application of the glucose bioprobe, GB2-Cy3. Chem. Commun. 50, 9251–9254 (2014).

Yun, J. et al. Glucose deprivation contributes to the development of KRAS pathway mutations in tumor cells. Science 325, 1555–1559 (2009).

Liu, Y. et al. A small-molecule inhibitor of glucose transporter 1 downregulates glycolysis, induces cell-cycle arrest, and inhibits cancer cell growth in vitro and in vivo. Mol. Cancer Ther. 11, 1672–1682 (2012).

Goodwin, J. et al. The distinct metabolic phenotype of lung squamous cell carcinoma defines selective vulnerability to glycolytic inhibition. Nat. Commun. 8, 15503 (2017).

Suzuki, S. et al. Involvement of GLUT1-mediated glucose transport and metabolism in gefitinib resistance of non-small-cell lung cancer cells. Oncotarget 9, 32667–32679 (2018).

Cushman, S. W. et al. Molecular mechanisms involved in GLUT4 translocation in muscle during insulin and contraction stimulation. Adv. Exp. Med. Biol. 441, 63–71 (1998).

Eguez, L. et al. Full intracellular retention of GLUT4 requires AS160 Rab GTPase activating protein. Cell Metab. 2, 263–272 (2005).

Capilla, E. et al. Functional characterization of an insulin-responsive glucose transporter (GLUT4) from fish adipose tissue. Am. J. Physiol. Endocrinol. Metab. 287, E348–E357 (2004).

Nedachi, T. & Kanzaki, M. Regulation of glucose transporters by insulin and extracellular glucose in C2C12 myotubes. Am. J. Physiol. Endocrinol. Metab. 291, E817–E828 (2006).

Maeda, N. et al. Diet-induced insulin resistance in mice lacking adiponectin/ACRP30. Nat. Med. 8, 731 (2002).

Zhang, J. H., Chung, T. D. & Oldenburg, K. R. A simple statistical parameter for use in evaluation and validation of high throughput screening assays. J. Biomol. Screen. 4, 67–73 (1999).

Blodgett, A. B. et al. A fluorescence method for measurement of glucose transport in kidney cells. Diabetes Technol. Ther. 13, 743–751 (2011).

Cao, Y. A. et al. Shifting foci of hematopoiesis during reconstitution from single stem cells. Proc. Natl. Acad.Sci. USA 101, 221–226 (2004).

Saltiel, A. R. & Kahn, C. R. Insulin signalling and the regulation of glucose and lipid metabolism. Nature 414, 799–806 (2001).

Szablewski, L. Expression of glucose transporters in cancers. Biochim. Biophys. Acta 1835, 164–169 (2013).

Ojelabi, O. A., Lloyd, K. P., Simon, A. H., De Zutter, J. K. & Carruthers, A. WZB117 (2-fluoro-6-(m-hydroxybenzoyloxy) phenyl m-hydroxybenzoate) inhibits GLUT1-mediated sugar transport by binding reversibly at the exofacial sugar binding site. J. Biol. Chem. 291, 26762–26772 (2016).

Chavez, A. et al. Precise Cas9 targeting enables genomic mutation prevention. Proc. Natl. Acad. Sci. USA 115, 3669 (2018).

Shah, L., Laughlin, S. T. & Carrico, I. S. Light-activated Staudinger–Bertozzi ligation within living animals. J. Am. Chem. Soc. 138, 5186–5189 (2016).

Sletten, E. M. & Bertozzi, C. R. Bioorthogonal chemistry: fishing for selectivity in a sea of functionality. Angew. Chem. 48, 6974–6998 (2009).

Young, C. D. et al. Modulation of glucose transporter 1 (GLUT1) expression levels alters mouse mammary tumor cell growth in vitro and in vivo. PLoS ONE 6, e23205–e23205 (2011).

Wellberg, E. A. et al. The glucose transporter GLUT1 is required for ErbB2-induced mammary tumorigenesis. Breast Cancer Res. 18, 131–131 (2016).

Hall, M. P. et al. Click beetle luciferase mutant and near infrared naphthyl-luciferins for improved bioluminescence imaging. Nat. Commun. 9, 132 (2018).

Loening, A. M. & Gambhir, S. S. AMIDE: a free software tool for multimodality medical image analysis. Mol. Imaging 2, 131–137 (2003).

Venneti, S. et al. Glutamine-based PET imaging facilitates enhanced metabolic evaluation of gliomas in vivo. Sci. Transl. Med. 7, 274ra217 (2015).

Momcilovic, M. & Shackelford, D. B. Targeting LKB1 in cancer—exposing and exploiting vulnerabilities. Br. J. Cancer 113, 574–584 (2015).
Acknowledgements
We thank the Leenaards Foundation, NCCR Chemical Biology and Swiss National Foundation (grant no. CR23I3_157023) for generous financial support. We thank the laboratory of P. Aebischer for the kind gift of C2C12-luc cells. We thank the laboratory of D. Felsher and A. Stahl for the kind gifts of human embryonic kidney 293 TN and 3T13-L1 cells, respectively. We thank J. Frigell for the synthesis of several GAz derivatives (data not shown). We thank A. Konovalova for performing initial in vitro experiments on GAz probes (data not shown) and help with the technical scale-up of some of the reagents. We also thank P. Gonschorek and B. Mangeat for help with analyzing sequences of Slc2a1 gene in CRISPR/Cas9-mediated GLUT1 knockout and in negative control. We also thank the laboratory of K. Sakamoto for the kind gift of GLUT4 antibodies. We thank EPFL core facilities for histology, mass spectrometry and nuclear magnetic resonance analysis (in particular, P. Mieville and E. Baudat for technical support).
Ethics declarations
Competing interests
The authors declare no competing interests.
Additional information
Publisher's note: Springer Nature remains neutral with regard to jurisdictional claims in published maps and institutional affiliations.
Integrated supplementary information
Supplementary information
Supplementary Figs. 1–15 and Supplementary Notes 1–4
Measurement of cellular glucose uptake using BiGluc probe: The video shows the working principle of the BiGluc-based assay and role of each component of BiGluc probe in the generation of bioluminescent signal.
About this article
Cite this article
Maric, T., Mikhaylov, G., Khodakivskyi, P. et al. Bioluminescent-based imaging and quantification of glucose uptake in vivo. Nat Methods 16, 526–532 (2019). https://doi.org/10.1038/s41592-019-0421-z
Received:

Accepted:

Published:

Issue Date:

DOI: https://doi.org/10.1038/s41592-019-0421-z