Abstract
Binding protein generation typically relies on laborious screening cascades that process candidate molecules individually. We have developed NestLink, a binder selection and identification technology able to biophysically characterize thousands of library members at once without the need to handle individual clones at any stage of the process. NestLink uses genetically encoded barcoding peptides termed flycodes, which were designed for maximal detectability by mass spectrometry and support accurate deep sequencing. We demonstrate NestLink's capacity to overcome the current limitations of binder-generation methods in three applications. First, we show that hundreds of binder candidates can be simultaneously ranked according to kinetic parameters. Next, we demonstrate deep mining of a nanobody immune repertoire for membrane protein binders, carried out entirely in solution without target immobilization. Finally, we identify rare binders against an integral membrane protein directly in the cellular environment of a human pathogen. NestLink opens avenues for the selection of tailored binder characteristics directly in tissues or in living organisms.
Relevant articles
Open Access articles citing this article.
Yusei Matsuzaki

,

Wataru Aoki

…

Mitsuyoshi Ueda

Scientific Reports Open Access 02 November 2021

Xun Chen

,

Matteo Gentili

…

Aviv Regev

Nature Communications Open Access 17 September 2021

Natsuko Miura

,

Kana Miyamoto

…

Mitsuyoshi Ueda

AMB Express Open Access 15 July 2019
Access options
Access Nature and 54 other Nature Portfolio journals
Get Nature+, our best-value online-access subscription
$29.99 / 30 days
cancel any time
Subscribe to this journal
Receive 12 print issues and online access
$259.00 per year
only $21.58 per issue
Rent or buy this article
Prices vary by article type
from$1.95
to$39.95
Prices may be subject to local taxes which are calculated during checkout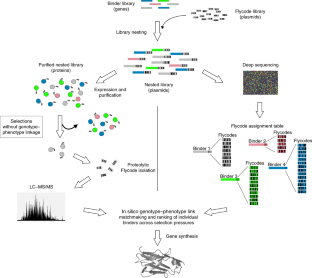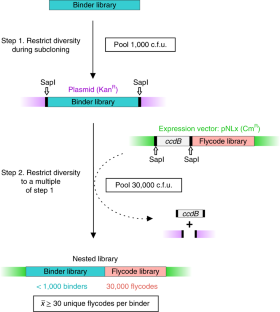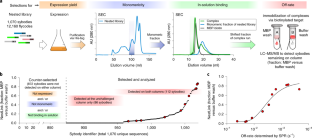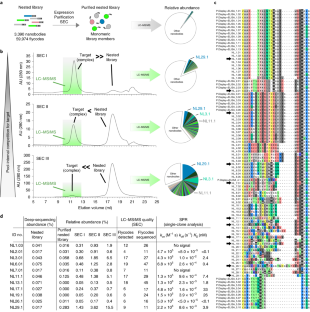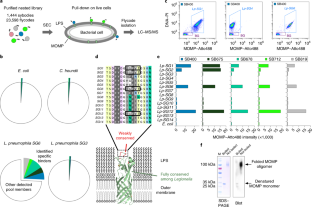 Data availability
Mass spectrometry data are available via ProteomeXchange with the identifier PXD009301. NGS datasets are available on the European Nucleotide Archive (ENA) under accession number PRJEB25673. The NGS and MS data were handled and annotated using the B-Fabric information management system35 and are available for registered users under project identifiers 1644 and 1875, respectively. Source data for Figs. 4–6 are available online.
References
Hanes, J. & Plückthun, A. In vitro selection and evolution of functional proteins by using ribosome display. Proc. Natl Acad. Sci. USA 94, 4937–4942 (1997).

Bradbury, A. R., Sidhu, S., Dubel, S. & McCafferty, J. Beyond natural antibodies: the power of in vitro display technologies. Nat. Biotechnol. 29, 245–254 (2011).

Boder, E. T., Midelfort, K. S. & Wittrup, K. D. Directed evolution of antibody fragments with monovalent femtomolar antigen-binding affinity. Proc. Natl Acad. Sci. USA 97, 10701–10705 (2000).

Hassapis, K. A., Stylianou, D. C. & Kostrikis, L. G. Architectural insight into inovirus-associated vectors (IAVs) and development of IAV-based vaccines inducing humoral and cellular responses: implications in HIV-1 vaccines. Viruses 6, 5047–5076 (2014).

Burkovitz, A. & Ofran, Y. Understanding differences between synthetic and natural antibodies can help improve antibody engineering. mAbs 8, 278–287 (2016).

Genick, C. C. et al. Applications of biophysics in high-throughput screening hit validation. J. Biomol. Screen. 19, 707–714 (2014).

Fusaro, V. A., Mani, D. R., Mesirov, J. P. & Carr, S. A. Prediction of high-responding peptides for targeted protein assays by mass spectrometry. Nat. Biotechnol. 27, 190–198 (2009).

Zimmermann, I. et al. Synthetic single domain antibodies for the conformational trapping of membrane proteins. eLife 7, e34317 (2018).

Hohl, M., Briand, C., Grütter, M. G. & Seeger, M. A. Crystal structure of a heterodimeric ABC transporter in its inward-facing conformation. Nat. Struct. Mol. Biol. 19, 395–402 (2012).

Hohl, M. et al. Structural basis for allosteric cross-talk between the asymmetric nucleotide binding sites of a heterodimeric ABC exporter. Proc. Natl Acad. Sci. USA 111, 11025–11030 (2014).

Pardon, E. et al. A general protocol for the generation of Nanobodies for structural biology. Nat. Protoc. 9, 674–693 (2014).

Storek, K. M. et al. Monoclonal antibody targeting the β-barrel assembly machine of Escherichia coli is bactericidal. Proc. Natl Acad. Sci. USA 115, 3692–3697 (2018).

Fridy, P. C. et al. A robust pipeline for rapid production of versatile nanobody repertoires. Nat. Methods 11, 1253–1260 (2014).

Cheung, W. C. et al. A proteomics approach for the identification and cloning of monoclonal antibodies from serum. Nat. Biotechnol. 30, 447–452 (2012).

Sato, S. et al. Proteomics-directed cloning of circulating antiviral human monoclonal antibodies. Nat. Biotechnol. 30, 1039–1043 (2012).

Wine, Y. et al. Molecular deconvolution of the monoclonal antibodies that comprise the polyclonal serum response. Proc. Natl Acad. Sci. USA 110, 2993–2998 (2013).

Lavinder, J. J. et al. Identification and characterization of the constituent human serum antibodies elicited by vaccination. Proc. Natl Acad. Sci. USA 111, 2259–2264 (2014).

Boutz, D. R. et al. Proteomic identification of monoclonal antibodies from serum. Anal. Chem. 86, 4758–4766 (2014).

Cotham, V. C., Horton, A. P., Lee, J. W., Georgiou, G. & Brodbelt, J. S. Middle-Down 193-nm ultraviolet photodissociation for unambiguous antibody identification and its implications for immunoproteomic analysis. Anal. Chem. 89, 6498–6504 (2017).

Gu, L. C. et al. Multiplex single-molecule interaction profiling of DNA-barcoded proteins. Nature 515, 554 (2014).

Darmanis, S. et al. ProteinSeq: high-performance proteomic analyses by proximity ligation and next generation sequencing. PLoS ONE 6, e25583 (2011).

McGregor, L. M., Jain, T. & Liu, D. R. Identification of ligand-target pairs from combined libraries of small molecules and unpurified protein targets in cell lysates. J. Amer. Chem. Soc. 136, 3264–3270 (2014).

Jespers, L., Schon, O., Famm, K. & Winter, G. Aggregation-resistant domain antibodies selected on phage by heat denaturation. Nat. Biotechnol. 22, 1161–1165 (2004).

Sieber, V., Pluckthun, A. & Schmid, F. X. Selecting proteins with improved stability by a phage-based method. Nat. Biotechnol. 16, 955–960 (1998).

Krokhin, O. V. et al. An improved model for prediction of retention times of tryptic peptides in ion pair reversed-phase HPLC: its application to protein peptide mapping by off-line HPLC-MALDI MS. Mol. Cell Proteomics 3, 908–919 (2004).

Panse, C., Trachsel, C., Grossmann, J. & Schlapbach, R. specL—an R/Bioconductor package to prepare peptide spectrum matches for use in targeted proteomics. Bioinformatics 31, 2228–2231 (2015).

Geertsma, E. R. & Dutzler, R. A versatile and efficient high-throughput cloning tool for structural biology. Biochemistry 50, 3272–3278 (2011).

Shugay, M. et al. Towards error-free profiling of immune repertoires. Nat. Methods 11, 653–655 (2014).

Glanville, J. et al. Deep sequencing in library selection projects: what insight does it bring? Curr. Opin. Struct. Biol. 33, 146–160 (2015).

Barkow-Oesterreicher, S., Turker, C. & Panse, C. FCC—an automated rule-based processing tool for life science data. Source Code Biol. Med. 8, 3 (2013).

Keller, A., Nesvizhskii, A. I., Kolker, E. & Aebersold, R. Empirical statistical model to estimate the accuracy of peptide identifications made by MS/MS and database search. Anal. Chem. 74, 5383–5392 (2002).

Nesvizhskii, A. I., Keller, A., Kolker, E. & Aebersold, R. A statistical model for identifying proteins by tandem mass spectrometry. Anal. Chem. 75, 4646–4658 (2003).

Schenck, S. et al. Generation and characterization of anti-VGLUT nanobodies acting as inhibitors of transport. Biochemistry 56, 3962–3971 (2017).

Gabay, J. E., Blake, M., Niles, W. D. & Horwitz, M. A. Purification of Legionella pneumophila major outer membrane protein and demonstration that it is a porin. J. Bacteriol. 162, 85–91 (1985).

Türker, C. et al. B-Fabric: the swiss army knife for life sciences. In Proc. 13th International Conference on Extending Database Technology (eds Manolescu, I. et al.) 717–720 (Association for Computing Machinery, 2010).
Acknowledgements
We thank O. Schubert, R. Dawson and E. Geertsma for their helpful comments on the manuscript, and S. Štefanić for alpaca immunizations. The authors acknowledge the CRAN and Bioconductor Core teams and in particular L. Shepherd for making the NestLink package available through Bioconductor. This work was funded by a grant of the Commission for Technology and Innovation CTI (no. 16003.1 PFLS-LS, to M.A.S.), a SNSF Professorship of the Swiss National Science Foundation (no. PP00P3_144823, to M.A.S.), an SNSF BRIDGE proof-of-concept grant (no. 20B1-1_175192, to P.E.) and a BioEntrepreneur-Fellowship of the University of Zurich (no. BIOEF-17-002, to I.Z.).
Ethics declarations
Competing interests
A patent seeking to protect the NestLink technology has been applied for (PCT/EP2017/077816). P.E., I.Z. and M.A.S. are listed as inventors.
Additional information
Publisher's note: Springer Nature remains neutral with regard to jurisdictional claims in published maps and institutional affiliations.
Integrated supplementary information
Supplementary information
Supplementary Figures 1–13, Supplementary Notes 1–3 and Supplementary Tables 1 and 2
Identification of binding proteins by NestLink
About this article
Cite this article
Egloff, P., Zimmermann, I., Arnold, F.M. et al. Engineered peptide barcodes for in-depth analyses of binding protein libraries. Nat Methods 16, 421–428 (2019). https://doi.org/10.1038/s41592-019-0389-8
Received:

Accepted:

Published:

Issue Date:

DOI: https://doi.org/10.1038/s41592-019-0389-8