Abstract
Dominant negative polypeptides can inhibit protein function by binding to a wild-type subunit or by titrating a ligand. Here we use high-throughput sequencing of libraries composed of fragments of yeast genes to identify polypeptides that act in a dominant negative manner, in that they are depleted during cell growth. The method can uncover numerous inhibitory polypeptides for a protein and thereby define small inhibitory regions, even pinpointing individual residues with critical functional roles.
Access options
Subscribe to Journal
Get full journal access for 1 year
$259.00
only $21.58 per issue
All prices are NET prices.
VAT will be added later in the checkout.
Rent or Buy article
Get time limited or full article access on ReadCube.
from$8.99
All prices are NET prices.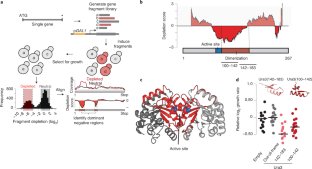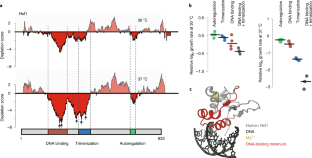 Data availability
High-throughput sequencing reads have been submitted to NCBI SRA under accession numbers SRR8573191–SRR8573214.
References
1.

Herskowitz, I. Nature 329, 219–222 (1987).

2.

Akada, R., Yamamoto, J. & Yamashita, I. Mol. Gen. Genet. 254, 267–274 (1997).

3.

Ramer, S. W., Elledge, S. J. & Davis, R. W. Proc. Natl. Acad. Sci. USA 89, 11589–11593 (1992).

4.

Stevenson, L. F., Kennedy, B. K. & Harlow, E. Proc. Natl. Acad. Sci. USA 98, 3946–3951 (2001).

5.

Boyer, J. et al. Genome Biol. 5, R72 (2004).

6.

Saldanha, A. J., Brauer, M. J. & Botstein, D. Mol. Biol. Cell 15, 4089–4104 (2004).

7.

Lim, M. K. et al. Biochem. J. 435, 641–649 (2011).

8.

Chan, K. K. et al. Biochemistry 48, 5518–5531 (2009).

9.

Voellmy, R. Methods 35, 199–207 (2005).

10.

Liu, X. D., Liu, P. C., Santoro, N. & Thiele, D. J. EMBO J. 16, 6466–6477 (1997).

11.

Rabindran, S. K. et al. Science 259, 230–234 (1993).

12.

Chen, Y., Barlev, Na, Westergaard, O. & Jakobsen, B. K. EMBO J. 12, 5007–5018 (1993).

13.

Flick, K. E., Gonzalez, L., Harrison, C. J. & Nelson, H. C. M. J. Biol. Chem. 269, 12475–12481 (1994).

14.

Yoshikawa, K. et al. Yeast 28, 349–361 (2011).

15.

Armache, J.-P. et al. Proc. Natl. Acad. Sci. USA 107, 19748–19753 (2010).

16.

Michaels, J. E. A., Schimmel, P., Shiba, K. & Miller, W. T. Proc. Natl. Acad. Sci. USA 93, 14452–14455 (1996).

17.

Chow, C. Y. et al. Am. J. Hum. Genet. 84, 85–88 (2009).

18.

Neudegger, T., Verghese, J., Hayer-Hartl, M., Hartl, F. U. & Bracher, A. Nat. Struct. Mol. Biol. 23, 140–146 (2016).

19.

Quinlan, A. R. Curr. Protoc. Bioinformatics 47, 11.12.1–11.12.34 (2014).
Acknowledgements
We thank R. Waterston and E. Eichler for comments on the manuscript. The work was supported by NIH grant GM114166 to C.Q. and S.F., and NIH grant P41 GM103533 to S.F.
Ethics declarations
Competing interests
The authors declare no competing interests.
Additional information
Publisher's note: Springer Nature remains neutral with regard to jurisdictional claims in published maps and institutional affiliations.
Integrated supplementary information
Supplementary information
About this article
Cite this article
Dorrity, M.W., Queitsch, C. & Fields, S. High-throughput identification of dominant negative polypeptides in yeast. Nat Methods 16, 413–416 (2019). https://doi.org/10.1038/s41592-019-0368-0
Received:

Accepted:

Published:

Issue Date:
Further reading
Wanzhi Huang

,

Victoria Soeung

,

David M. Boragine

&

Timothy Palzkill

ACS Synthetic Biology (2020)