Abstract
Single-cell RNA sequencing (scRNA-seq) is a rich resource of cellular heterogeneity, opening new avenues in the study of complex tissues. We introduce Cell Population Mapping (CPM), a deconvolution algorithm in which reference scRNA-seq profiles are leveraged to infer the composition of cell types and states from bulk transcriptome data ('scBio' CRAN R-package). Analysis of individual variations in lungs of influenza-virus-infected mice reveals that the relationship between cell abundance and clinical symptoms is a cell-state-specific property that varies gradually along the continuum of cell-activation states. The gradual change is confirmed in subsequent experiments and is further explained by a mathematical model in which clinical outcomes relate to cell-state dynamics along the activation process. Our results demonstrate the power of CPM in reconstructing the continuous spectrum of cell states within heterogeneous tissues.
Relevant articles
Open Access articles citing this article.
Gavin J. Sutton

,

Daniel Poppe

…

Irina Voineagu

Nature Communications Open Access 15 March 2022

Jiajie Peng

,

Lu Han

&

Xuequn Shang

BMC Bioinformatics Open Access 25 August 2021

Xiaohui Liu

,

Aidong Zhang

…

Dingshi Zha

Scientific Reports Open Access 09 August 2021
Access options
Subscribe to Nature+
Get immediate online access to the entire Nature family of 50+ journals
Subscribe to Journal
Get full journal access for 1 year
$99.00
only $8.25 per issue
All prices are NET prices.
VAT will be added later in the checkout.
Tax calculation will be finalised during checkout.
Buy article
Get time limited or full article access on ReadCube.
$32.00
All prices are NET prices.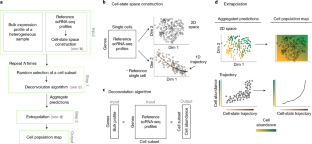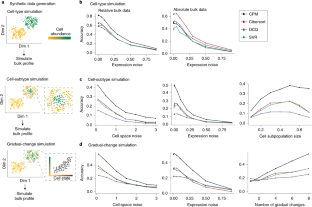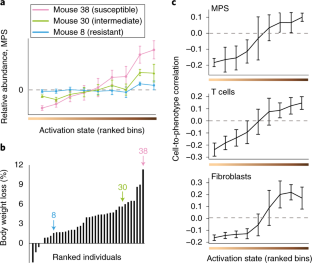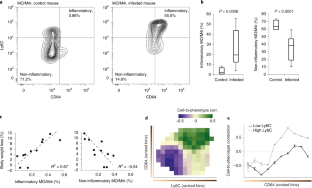 References
Wagner, A., Regev, A. & Yosef, N. Revealing the vectors of cellular identity with single-cell genomics. Nat. Biotechnol. 34, 1145–1160 (2016).

Chen, X., Teichmann, S. A. & Meyer, K. B. From tissues to cell types and back: single-cell gene expression analysis of tissue architecture. Annual Review of Biomedical Data Science 1, 29–51 (2018).

Krieg, C. et al. High-dimensional single-cell analysis predicts response to anti-PD-1immunotherapy. Nat. Med. 24, 144–153 (2018).

Shalek, A. K. & Benson, M. Single-cell analyses to tailor treatments. Sci. Transl. Med. 9, eaan4730 (2017).

Kim, K.-T. et al. Application of single-cell RNA sequencing in optimizing a combinatorial therapeutic strategy in metastatic renal cell carcinoma. Genome. Biol. 17, 80 (2016).

Shen-Orr, S. S. & Gaujoux, R. Computational deconvolution: extracting cell type-specific information from heterogeneous samples. Curr. Opin. Immunol. 25, 571–578 (2013).

Baron, M. et al. A single-cell transcriptomic map of the human and mouse Pancreas reveals inter- and intra-cell population structure. Cell Syst. 3, 346–360 (2016).

Frishberg, A., Brodt, A., Steuerman, Y. & Gat-Viks, I. ImmQuant: a user-friendly tool for inferring immune cell-type composition from gene-expression data. Bioinformatics 32, 3842–3843 (2016).

Avila Cobos, F., Vandesompele, J., Mestdagh, P. & De Preter, K. Computational deconvolution of transcriptomics data from mixed cell populations. Bioinformatics 34, 1969–1979 (2018).

Puram, S. V. et al. Single-cell transcriptomic analysis of primary and metastatic tumor ecosystems in head and neck. Cancer Cell 171, 1611–1624 (2017).

Tirosh, I. et al. Dissecting the multicellular ecosystem of metastatic melanoma by single-cell RNA-seq. Science 352, 189–196 (2016).

Schelker, M. et al. Estimation of immune cell content in tumour tissue using single-cell RNA-seq data. Nat. Commun. 8, 2032 (2017).

Trapnell, C. Defining cell types and states with single-cell genomics. Genome Res. 25, 1491–1498 (2015).

Rostom, R., Svensson, V., Teichmann, S. A. & Kar, G. Computational approaches for interpreting scRNA-seq data. FEBS Lett. 591, 2213–2225 (2017).

Svensson, V., Vento-Tormo, R. & Teichmann, S. A. Exponential scaling of single-cell RNA-seq in the past decade. Nat. Protoc. 13, 599–604 (2018).

Steuerman, Y. et al. Dissection of influenza infection in vivo by single-cell RNA sequencing. Cell Syst. 6, 679–691.e4 (2018).

Altboum, Z. et al. Digital cell quantification identifies global immune cell dynamics during influenza infection. Mol. Syst. Biol. 10, 720 (2014).

Newman, A. M. et al. Robust enumeration of cell subsets from tissue expression profiles. Nat. Methods 12, 453–457 (2015).

Fan, R.-E., Chang, K.-W., Hsieh, C.-J., Wang, X.-R. & Lin, C.-J. LIBLINEAR: A library for large linear classification. J. Mach. Learn. Res. 9, 1871–1874 (2008).

Welsh, C. E. et al. Status and access to the collaborative cross population. Mamm. Genome 23, 706–712 (2012).

Bottomly, D. et al. Expression quantitative trait loci for extreme host response to influenza a in pre-collaborative cross mice. G3 (Bethesda) 2, 213–221 (2012).

Yu, Y.-R. A. et al. A protocol for the comprehensive flow cytometric analysis of immune cells in normal and inflamed murine non-lymphoid tissues. PLoS ONE 11, e0150606 (2016).

Ferris, M. T. et al. Modeling host genetic regulation of influenza pathogenesis in the collaborative cross. PLoS Pathog. 9, e1003196 (2013).

Dengler, L. et al. Cellular changes in blood indicate severe respiratory disease during influenza infections in mice. PLoS ONE 9, e103149 (2014).

Coates, B. M. et al. Inflammatory monocytes drive influenza a virus-mediated lung injury in juvenile mice. J. Immunol. 200, 2391–2404 (2018).

Tanay, A. & Regev, A. Scaling single-cell genomics from phenomenology to mechanism. Nature 541, 331–338 (2017).

Shen-Orr, S. S. et al. Cell type–specific gene expression differences in complex tissues. Nat. Methods 7, 287–289 (2010).

Hutter, C. & Zenklusen, J. C. The Cancer Genome Atlas: creating lasting value beyond its data. Cell 173, 283–285 (2018).

eGTEx Project. Enhancing GTEx by bridging the gaps between genotype, gene expression, and disease. Nat. Genet. 49, 1664–1670 (2017).

Regev, A. et al. The Human Cell Atlas. eLife 6, e27041 (2017).

Aran, D., Hu, Z. & Butte, A. J. xCell: digitally portraying the tissue cellular heterogeneity landscape. Genome. Biol. 18, 220 (2017).

Singer, B. D. et al. Flow-cytometric method for simultaneous analysis of mouse lung epithelial, endothelial, and hematopoietic lineage cells. Am. J. Physiol. Lung Cell. Mol. Physiol. 310, L796–L801 (2016).
Acknowledgements
This work was supported by the European Research Council (637885) (to A.F., N.P.-Y., O.C., D.R., Y.S., and I.G.-V.), and partially supported by the Israeli Centers of Research Excellence (I-CORE) Center No 41/11 (to A.F. and Y.S.), the Broad-Israel Science Foundation (ISF) 1168/14 (to D.R. and N.P.-Y.), ISF 1824/13 (to E.B.), partial fellowships from the Edmond J. Safra Center for Bioinformatics at Tel Aviv University (to A.F. and Y.S.), and a Shulamit Aloni Scholarship (to Y.S.). Research in the Gat-Viks laboratory was supported by ISF 288/16. I.G.-V. is a Faculty Fellow of the Edmond J. Safra Center for Bioinformatics at Tel Aviv University and an Alon Fellow. We thank O. Danziger and H.J. Abu-Toamih Atamni (Tel Aviv University) for help with mouse work, and S. Smith for scientific editing.
Ethics declarations
Competing interests
The authors declare no competing interests.
Additional information
Publisher's note: Springer Nature remains neutral with regard to jurisdictional claims in published maps and institutional affiliations.
Integrated supplementary information
Supplementary Information
Supplementary Figures 1–8, Supplementary Table 1 and Supplementary Note 1
About this article
Cite this article
Frishberg, A., Peshes-Yaloz, N., Cohn, O. et al. Cell composition analysis of bulk genomics using single-cell data. Nat Methods 16, 327–332 (2019). https://doi.org/10.1038/s41592-019-0355-5
Received:

Accepted:

Published:

Issue Date:

DOI: https://doi.org/10.1038/s41592-019-0355-5