Abstract
We introduce field synthesis, a theorem and method that can be used to synthesize any scanned or dithered light sheet, including those used in lattice light-sheet microscopy (LLSM), from an incoherent superposition of one-dimensional intensity distributions. Compared to LLSM, this user-friendly and modular approach offers a simplified optical design, higher light throughput and simultaneous multicolor illumination. Further, field synthesis achieves lower rates of photobleaching than light sheets generated by lateral beam scanning.
Access options
Subscribe to Journal
Get full journal access for 1 year
$242.00
only $20.17 per issue
All prices are NET prices.
VAT will be added later in the checkout.
Rent or Buy article
Get time limited or full article access on ReadCube.
from$8.99
All prices are NET prices.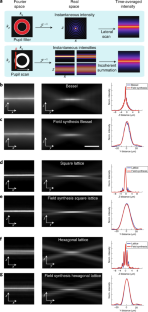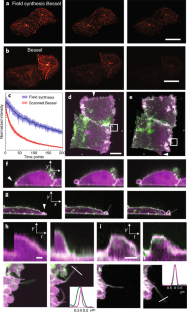 Data availability
The datasets acquired for this study are available from the corresponding author upon request.
References
1.

Davidovits, P. & Egger, M. D. Nature 223, 831 (1969).

2.

Laissue, P. P., Alghamdi, R. A., Tomancak, P., Reynaud, E. G. & Shroff, H. Nat. Methods 14, 657–661 (2017).

3.

Cranfill, P. J. et al. Nat. Methods 13, 557–562 (2016).

4.

Stelzer, E. H. K. Nat. Methods 12, 23–26 (2015).

5.

Chen, B.-C. et al. Science 346, 1257998 (2014).

6.

Keller, P. J., Schmidt, A. D., Wittbrodt, J. & Stelzer, E. H. Science 322, 1065–1069 (2008).

7.

Hanser, B. M., Gustafsson, M. G., Agard, D. A. & Sedat, J. W. J. Microsc. 216, 32–48 (2004).

8.

Zhao, T. et al. Sci. Rep. 6, 26159 (2016).

9.

Fiolka, R., Stemmer, A. & Belyaev, Y. Histochem. Cell. Biol. 128, 499–505 (2007).

10.

Baumgart, E. & Kubitscheck, U. Opt. Express 20, 21805–21814 (2012).

11.

Dean, K. M., Roudot, P., Welf, E. S., Danuser, G. & Fiolka, R. Biophys. J. 108, 2807–2815 (2015).

12.

Gao, L. et al. Cell 151, 1370–1385 (2012).

13.

Planchon, T. A. et al. Nat. Methods 8, 417–423 (2011).

14.

Vettenburg, T. et al. Nat. Methods 11, 541–544 (2014).

15.

Fahrbach, F. O., Gurchenkov, V., Alessandri, K., Nassoy, P. & Rohrbach, A. Opt. Express 21, 11425–11440 (2013).

16.

Quirin, S. et al. Opt. Lett. 41, 855–858 (2016).

17.

Gao, L. Opt. Express 23, 6102–6111 (2015).

18.

Valm, A. M. et al. Nature 546, 162–167 (2017).

19.

Chang, B. J., Perez Meza, V. D. & Stelzer, E. H. K. Proc. Natl. Acad. Sci. USA 114, 4869–4874 (2017).

20.

Kner, P., Chhun, B. B., Griffis, E. R., Winoto, L. & Gustafsson, M. G. L. Nat. Methods 6, 339–342 (2009).

21.

Huisken, J. & Stainier, D. Y. R. Opt. Lett. 32, 2608–2610 (2007).

22.

Linkert, M. et al. J. Cell Biol. 189, 777–782 (2010).

23.

Schindelin, J. et al. Nat. Methods 9, 676–682 (2012).

24.

Kirshner, H., Aguet, F., Sage, D. & Unser, M. J. Microsc. 249, 13–25 (2013).
Acknowledgements
We thank the Cancer Prevention Research Institute of Texas (RR160057 to R.F.), the National Institutes of Health (T32CA080621 to M.K., F32GM117793 to K.M.D., K25CA204526 to E.S.W.) and Human Frontier Science Program (LT000954/2015 to P.R.) for their generous support. We also thank K. Jaqaman (CPRIT R1216, UT Southwestern Endowed Scholars Program to K.J.) and R.D. Goldman (R01GM106023) for supporting M.K. We also thank M. Mettlen for preparing the SK-Mel2 cells.
Ethics declarations
Competing interests
R.F., B.-J.C. and M.K. have filed a patent for the field synthesis process and its applications to microscopy.
Additional information
Publisher's note: Springer Nature remains neutral with regard to jurisdictional claims in published maps and institutional affiliations.
Integrated supplementary information
Supplementary information
About this article
Cite this article
Chang, B., Kittisopikul, M., Dean, K.M. et al. Universal light-sheet generation with field synthesis. Nat Methods 16, 235–238 (2019). https://doi.org/10.1038/s41592-019-0327-9
Received:

Accepted:

Published:

Issue Date: