Abstract
The monitoring of mechanics in a single cell throughout the cell cycle has been hampered by the invasiveness of mechanical measurements. Here we quantify mechanical properties via acoustic scattering of waves from a cell inside a fluid-filled vibrating cantilever with a temporal resolution of < 1 min. Through simulations, experiments with hydrogels and the use of chemically perturbed cells, we show that our readout, the size-normalized acoustic scattering (SNACS), measures stiffness. To demonstrate the noninvasiveness of SNACS over successive cell cycles, we used measurements that resulted in deformations of < 15 nm. The cells maintained constant SNACS throughout interphase but showed dynamic changes during mitosis. Our work provides a basis for understanding how growing cells maintain mechanical integrity, and demonstrates that acoustic scattering can be used to noninvasively probe subtle and transient dynamics.
Access options
Subscribe to Journal
Get full journal access for 1 year
$259.00
only $21.58 per issue
All prices are NET prices.
VAT will be added later in the checkout.
Rent or Buy article
Get time limited or full article access on ReadCube.
from$8.99
All prices are NET prices.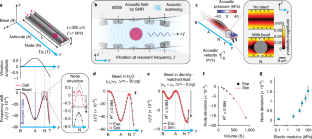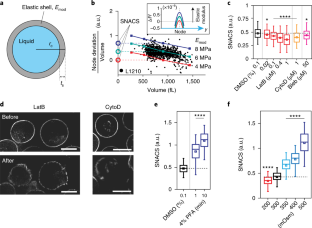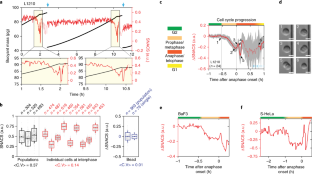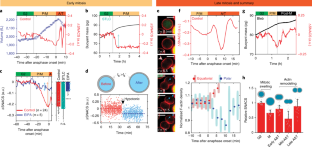 Code availability
Code used in this study can be obtained from the corresponding author on reasonable request.
Data availability
The data that support the findings of this study are available from the corresponding author on reasonable request.
References
1.

Chugh, P. et al. Actin cortex architecture regulates cell surface tension. Nat. Cell Biol. 19, 689–697 (2017).

2.

Rodrigues, N. T. et al. Kinetochore-localized PP1-Sds22 couples chromosome segregation to polar relaxation. Nature 524, 489–492 (2015).

3.

Fletcher, D. A. & Mullins, R. D. Cell mechanics and the cytoskeleton. Nature 463, 485–492 (2010).

4.

Gardel, M. L., Schneider, I. C., Aratyn-Schaus, Y. & Waterman, C. M. Mechanical integration of actin and adhesion dynamics in cell migration. Annu. Rev. Cell Dev. Biol. 26, 315–333 (2010).

5.

Byun, S. et al. Characterizing deformability and surface friction of cancer cells. Proc. Natl. Acad. Sci. USA. 110, 7580–7585 (2013).

6.

Swaminathan, V. et al. Mechanical stiffness grades metastatic potential in patient tumor cells and in cancer cell lines. Cancer Res. 71, 5075–5080 (2011).

7.

Paluch, E. & Heisenberg, C. P. Biology and physics of cell shape changes in development. Curr. Biol. 19, R790–R799 (2009).

8.

Henderson, E., Haydon, P. G. & Sakaguchi, D. S. Actin filament dynamics in living glial cells imaged by atomic force microscopy. Science 257, 1944–1946 (1992).

9.

Radmacher, M. Studying the mechanics of cellular processes by atomic force microscopy. Methods Cell Biol. 83, 347–372 (2007).

10.

Ou-Yang, H. D. & Wei, M. T. Complex fluids: probing mechanical properties of biological systems with optical tweezers. Annu. Rev. Phys. Chem. 61, 421–440 (2010).

11.

Wang, N., Butler, J. P. & Ingber, D. E. Mechanotransduction across the cell surface and through the cytoskeleton. Science 260, 1124–1127 (1993).

12.

Lincoln, B., Wottawah, F., Schinkinger, S., Ebert, S. & Guck, J. High-throughput rheological measurements with an optical stretcher. Methods Cell Biol. 83, 397–423 (2007).

13.

Gossett, D. R. et al. Hydrodynamic stretching of single cells for large population mechanical phenotyping. Proc. Natl. Acad. Sci. USA. 109, 7630–7635 (2012).

14.

Otto, O. et al. Real-time deformability cytometry: on-the-fly cell mechanical phenotyping. Nat. Methods 12, 199–202 (2015).

15.

Brangwynne, C. P., MacKintosh, F. C. & Weitz, D. A. Force fluctuations and polymerization dynamics of intracellular microtubules. Proc. Natl. Acad. Sci. USA. 104, 16128–16133 (2007).

16.

Gupta, S. K. & Guo, M. Equilibrium and out-of-equilibrium mechanics of living mammalian cytoplasm. J. Mech. Phys. Solids. 107, 284–293 (2017).

17.

Tseng, Y., Kole, T. P. & Wirtz, D. Micromechanical mapping of live cells by multiple-particle-tracking microrheology. Biophys. J. 83, 3162–3176 (2002).

18.

Matzke, R., Jacobson, K. & Radmacher, M. Direct, high-resolution measurement of furrow stiffening during division of adherent cells. Nat. Cell Biol. 3, 607–610 (2001).

19.

Guillou, L., Babataheri, A., Puech, P. H., Barakat, A. I. & Husson, J. Dynamic monitoring of cell mechanical properties using profile microindentation. Sci. Rep. 6, 21529 (2016).

20.

Wang, H. et al. Acoustophoretic force-based compressibility measurement of cancer cells having different metastatic potential. Proc. Meet. Acoust. 19, 045019 (2013).

21.

Yang, T. et al. A comprehensive strategy for the analysis of acoustic compressibility and optical deformability on single cells. Sci. Rep. 6, 23946 (2016).

22.

Hartono, D. et al. On-chip measurements of cell compressibility via acoustic radiation. Lab Chip 11, 4072–4080 (2011).

23.

Burg, T. P. et al. Weighing of biomolecules, single cells and single nanoparticles in fluid. Nature 446, 1066–1069 (2007).

24.

Dohn, S., Svendsen, W., Boisen, A. & Hansen, O. Mass and position determination of attached particles on cantilever based mass sensors. Rev. Sci. Instrum. 78, 103303 (2007).

25.

Yeung, A. & Evans, E. Cortical shell-liquid core model for passive flow of liquid-like spherical cells into micropipets. Biophys. J. 56, 139–149 (1989).

26.

Lim, C. T., Zhou, E. H. & Quek, S. T. Mechanical models for living cells—a review. J. Biomech. 39, 195–216 (2006).

27.

Fischer-Friedrich, E. et al. Rheology of the active cell cortex in mitosis. Biophys. J. 111, 589–600 (2016).

28.

Cartagena-Rivera, A. X., Logue, J. S., Waterman, C. M. & Chadwick, R. S. Actomyosin cortical mechanical properties in nonadherent cells determined by atomic force microscopy. Biophys. J. 110, 2528–2539 (2016).

29.

Balland, M. et al. Power laws in microrheology experiments on living cells: comparative analysis and modeling. Phys. Rev. E 74, 021911 (2006).

30.

Wang, A., Vijayraghavan, K., Solgaard, O. & Butte, M. J. Fast stiffness mapping of cells using high-bandwidth atomic force microscopy. ACS Nano 10, 257–264 (2016).

31.

Ananthakrishnan, R. et al. Quantifying the contribution of actin networks to the elastic strength of fibroblasts. J. Theor. Biol. 242, 502–516 (2006).

32.

Riedl, J. et al. Lifeact: a versatile marker to visualize F-actin. Nat. Methods 5, 605–607 (2008).

33.

Steltenkamp, S., Rommel, C., Wegener, J. & Janshoff, A. Membrane stiffness of animal cells challenged by osmotic stress. Small 2, 1016–1020 (2006).

34.

Guo, M. et al. Cell volume change through water efflux impacts cell stiffness and stem cell fate. Proc. Natl. Acad. Sci. USA. 114, E8618–E8627 (2017).

35.

Son, S. et al. Direct observation of mammalian cell growth and size regulation. Nat. Methods 9, 910–912 (2012).

36.

Zlotek-Zlotkiewicz, E., Monnier, S., Cappello, G., Le Berre, M. & Piel, M. Optical volume and mass measurements show that mammalian cells swell during mitosis. J. Cell. Biol. 211, 765–774 (2015).

37.

Son, S. et al. Resonant microchannel volume and mass measurements show that suspended cells swell during mitosis. J. Cell. Biol. 211, 757–763 (2015).

38.

Ramanathan, S. P. et al. Cdk1-dependent mitotic enrichment of cortical myosin II promotes cell rounding against confinement. Nat. Cell Biol. 17, 148–159 (2015).

39.

Stewart, M. P. et al. Hydrostatic pressure and the actomyosin cortex drive mitotic cell rounding. Nature 469, 226–230 (2011).

40.

Kunda, P., Pelling, A. E., Liu, T. & Baum, B. Moesin controls cortical rigidity, cell rounding, and spindle morphogenesis during mitosis. Curr. Biol. 18, 91–101 (2008).

41.

Matthews, H. K. et al. Changes in Ect2 localization couple actomyosin-dependent cell shape changes to mitotic progression. Dev. Cell. 23, 371–383 (2012).

42.

Jiang, N. et al. Probing the biophysical properties of tumor cells during mitosis by atomic force microscopy. Biomech. Model. Mechanobiol. 17, 1209–1215 (2018).

43.

Rosendahl, P. et al. Real-time fluorescence and deformability cytometry. Nat. Methods 15, 355–358 (2018).

44.

Hiramoto, Y. Mechanical properties of the surface of the sea urchin egg at fertilization and during cleavage. Exp. Cell Res. 89, 320–326 (1974).

45.

Clark, A. G., Dierkes, K. & Paluch, E. K. Monitoring actin cortex thickness in live cells. Biophys. J. 105, 570–580 (2013).

46.

Lee, J. et al. Suspended microchannel resonators with piezoresistive sensors. Lab Chip 11, 645–651 (2011).

47.

Cetin, A. E. et al. Determining therapeutic susceptibility in multiple myeloma by single-cell mass accumulation. Nat. Commun. 8, 1613 (2017).

48.

Olcum, S., Cermak, N., Wasserman, S. C. & Manalis, S. R. High-speed multiple-mode mass-sensing resolves dynamic nanoscale mass distributions. Nat. Commun. 6, 7070 (2015).

49.

Dendukuri, D., Pregibon, D. C., Collins, J., Hatton, T. A. & Doyle, P. S. Continuous-flow lithography for high-throughput microparticle synthesis. Nat. Mater. 5, 365–369 (2006).

50.

Dendukuri, D., Gu, S. S., Pregibon, D. C., HattonT. A.. & Doyle, P. S. Stop-flow lithography in a microfluidic device. Lab Chip 7, 818–828 (2007).

51.

Hutter, J. L. & Bechhoefer, J. Calibration of atomic-force microscope tips. Rev. Sci. Instrum. 64, 1868 (1993).

52.

Elbert, D. L. & Hubbell, J. A. Conjugate addition reactions combined with free-radical cross-linking for the design of materials for tissue engineering. Biomacromolecules 2, 430–441 (2001).

53.

Anseth, K. S., Bowman, C. N. & Brannon-Peppas, L. Mechanical properties of hydrogels and their experimental determination. Biomaterials 17, 1647–1657 (1996).
Acknowledgements
We thank K. Elias (Brigham and Women's Hospital) for S-HeLa cells, and E. Vasile and the Koch Institute microscopy core, which is partly funded by Koch Institute Support Grant P30-CA14051 from the National Cancer Institute, for technical support. This work was funded in part by the Ludwig Center for Molecular Oncology (S.R.M.), the Cancer Systems Biology Consortium U54 CA217377 from the NCI (S.R.M.), and the Institute for Collaborative Biotechnologies through grant W911NF-09-0001 from the US Army Research Office (S.R.M.). T.P.M. is supported by the Wellcome Trust (Sir Henry Postdoctoral Fellowship grant 110275/Z/15/Z). J.H.K. acknowledges support from a Samsung scholarship.
Ethics declarations
Competing interests
S.R.M. is a founder of Travera and Affinity Biosensors.
Additional information
Publisher's note: Springer Nature remains neutral with regard to jurisdictional claims in published maps and institutional affiliations.
Integrated supplementary information
Supplementary information
About this article
Cite this article
Kang, J.H., Miettinen, T.P., Chen, L. et al. Noninvasive monitoring of single-cell mechanics by acoustic scattering. Nat Methods 16, 263–269 (2019). https://doi.org/10.1038/s41592-019-0326-x
Received:

Accepted:

Published:

Issue Date: