Abstract
We present a robust, computationally efficient method (https://github.com/kussell-lab/mcorr) for inferring the parameters of homologous recombination in bacteria, which can be applied in diverse datasets, from whole-genome sequencing to metagenomic shotgun sequencing data. Using correlation profiles of synonymous substitutions, we determine recombination rates and diversity levels of the shared gene pool that has contributed to a given sample. We validated the recombination parameters using data from laboratory experiments. We determined the recombination parameters for a wide range of bacterial species, and inferred the distribution of shared gene pools for global Helicobacter pylori isolates. Using metagenomics data of the infant gut microbiome, we measured the recombination parameters of multidrug-resistant Escherichia coli ST131. Lastly, we analyzed ancient samples of bacterial DNA from the Copper Age 'Iceman' mummy and from 14th century victims of the Black Death, obtaining measurements of bacterial recombination rates and gene pool diversity of earlier eras.
Access options
Subscribe to Journal
Get full journal access for 1 year
$119.00
only $9.92 per issue
All prices are NET prices.
VAT will be added later in the checkout.
Tax calculation will be finalised during checkout.
Rent or Buy article
Get time limited or full article access on ReadCube.
from$8.99
All prices are NET prices.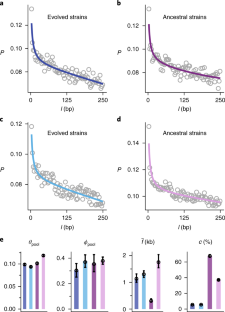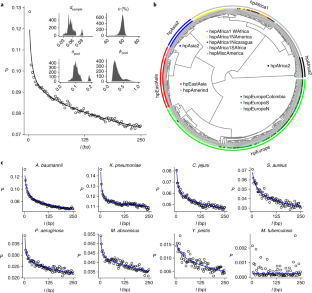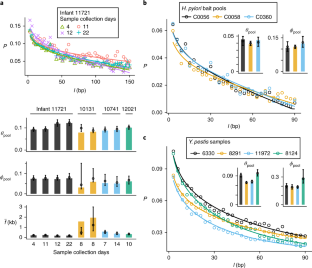 Data availability
All sequencing datasets used in this study are publicly available as cited in Supplementary Tables.
References
1.

Maynard Smith, J. The population genetics of bacteria. Proc. Biol. Sci. 245, 37–41 (1991).

2.

Thomas, C. M. & Nielsen, K. M. Mechanisms of, and barriers to, horizontal gene transfer between bacteria. Nat. Rev. Microbiol. 3, 711–721 (2005).

3.

Fraser, C., Hanage, W. P. & Spratt, B. G. Recombination and the nature of bacterial speciation. Science 315, 476–480 (2007).

4.

Shapiro, B. J. et al. Population genomics of early events in the ecological differentiation of bacteria. Science 336, 48–51 (2012).

5.

Hanage, W. P. Not so simple after all: bacteria, their population genetics, and recombination. Cold Spring Harb. Perspect. Biol. 8, a018069 (2016).

6.

Chang, H. H. et al. Origin and proliferation of multiple-drug resistance in bacterial pathogens. Microbiol. Mol. Biol. Rev. 79, 101–116 (2015).

7.

Didelot, X., Walker, A. S., Peto, T. E., Crook, D. W. & Wilson, D. J. Within-host evolution of bacterial pathogens. Nat. Rev. Microbiol. 14, 150–162 (2016).

8.

Ansari, M. A. & Didelot, X. Inference of the properties of the recombination process from whole bacterial genomes. Genetics 196, 253 (2014).

9.

Croucher, N. J. et al. Rapid phylogenetic analysis of large samples of recombinant bacterial whole genome sequences using Gubbins. Nucleic Acids Res. 43, e15 (2015).

10.

Didelot, X. & Falush, D. Inference of bacterial microevolution using multilocus sequence data. Genetics 175, 1251–1266 (2007).

11.

Didelot, X., Lawson, D., Darling, A. & Falush, D. Inference of homologous recombination in bacteria using whole-genome sequences. Genetics 186, 1435–1449 (2010).

12.

Didelot, X. & Wilson, D. J. ClonalFrameML: efficient inference of recombination in whole bacterial genomes. PLoS Comput. Biol. 11, e1004041 (2015).

13.

Marttinen, P. et al. Detection of recombination events in bacterial genomes from large population samples. Nucleic Acids Res. 40, e6 (2012).

14.

Mostowy, R. et al. Efficient inference of recent and ancestral recombination within bacterial populations. Mol. Biol. Evol. 34, 1167–1182 (2017).

15.

Arnold, B. J. et al. Weak epistasis may drive adaptation in recombining bacteria. Genetics 208, 1247–1260 (2018).

16.

Maixner, F. et al. The 5300-year-old Helicobacter pylori genome of the Iceman. Science 351, 162–165 (2016).

17.

Bos, K. I. et al. A draft genome of Yersinia pestis from victims of the Black Death. Nature 478, 506–510 (2011).

18.

Lin, M. & Kussell, E. Correlated mutations and homologous recombination within bacterial populations. Genetics 205, 891–917 (2017).

19.

Bubendorfer, S. et al. Genome-wide analysis of chromosomal import patterns after natural transformation of Helicobacter pylori. Nat. Commun. 7, 11995 (2016).

20.

Croucher, N. J., Harris, S. R., Barquist, L., Parkhill, J. & Bentley, S. D. A high-resolution view of genome-wide pneumococcal transformation. PLoS Pathog. 8, e1002745 (2012).

21.

Thorell, K. et al. Rapid evolution of distinct Helicobacter pylori subpopulations in the Americas. PLoS Genet. 13, e1006546 (2017).

22.

Manson, A. L. et al. Genomic analysis of globally diverse Mycobacterium tuberculosis strains provides insights into the emergence and spread of multidrug resistance. Nat. Genet. 49, 395–402 (2017).

23.

Cao, Q. Z. et al. Progressive genomic convergence of two Helicobacter pylori strains during mixed infection of a patient with chronic gastritis. Gut 64, 554–561 (2015).

24.

Kennemann, L. et al. Helicobacter pylori genome evolution during human infection. Proc. Natl Acad. Sci. USA 108, 5033–5038 (2011).

25.

Huang, W., Li, L., Myers, J. R. & Marth, G. T. ART: a next-generation sequencing read simulator. Bioinformatics 28, 593–594 (2012).

26.

Nakamura, K. et al. Sequence-specific error profile of Illumina sequencers. Nucleic Acids Res. 39, e90 (2011).

27.

Ward, D. V. et al. Metagenomic sequencing with strain-level resolution implicates uropathogenic E. coli in necrotizing enterocolitis and mortality in preterm infants. Cell Rep. 14, 2912–2924 (2016).

28.

Seemann, T. Prokka: rapid prokaryotic genome annotation. Bioinformatics 30, 2068–2069 (2014).

29.

Page, A. J. et al. Roary: rapid large-scale prokaryote pan genome analysis. Bioinformatics 31, 3691–3693 (2015).

30.

Edgar, R. C. MUSCLE: multiple sequence alignment with high accuracy and high throughput. Nucleic Acids Res. 32, 1792–1797 (2004).

31.

Li, H. et al. The Sequence Alignment/Map format and SAMtools. Bioinformatics 25, 2078–2079 (2009).

32.

Scholz, M. et al. Strain-level microbial epidemiology and population genomics from shotgun metagenomics. Nat. Methods 13, 435–438 (2016).

33.

Langmead, B. & Salzberg, S. L. Fast gapped-read alignment with Bowtie 2. Nat. Methods 9, 357–359 (2012).
Acknowledgements
We thank J. Carlton, T. Nozoe, M. Rockman, and A. Skanata for helpful comments on the manuscript.
Ethics declarations
Competing interests
The authors declare no competing interests.
Additional information
Publisher's note: Springer Nature remains neutral with regard to jurisdictional claims in published maps and institutional affiliations.
Integrated supplementary information
Supplementary information
Supplementary Figures 1–12, Supplementary Tables 1–10 and Supplementary Note 1
About this article
Cite this article
Lin, M., Kussell, E. Inferring bacterial recombination rates from large-scale sequencing datasets. Nat Methods 16, 199–204 (2019). https://doi.org/10.1038/s41592-018-0293-7
Received:

Accepted:

Published:

Issue Date: