Abstract
The differentiation of pluripotent stem cells in three-dimensional cultures can recapitulate key aspects of brain development, but protocols are prone to variable results. Here we differentiated multiple human pluripotent stem cell lines for over 100 d using our previously developed approach to generate brain-region-specific organoids called cortical spheroids and, using several assays, found that spheroid generation was highly reliable and consistent. We anticipate the use of this approach for large-scale differentiation experiments and disease modeling.
Access options
Subscribe to Journal
Get full journal access for 1 year
$119.00
only $9.92 per issue
All prices are NET prices.
VAT will be added later in the checkout.
Tax calculation will be finalised during checkout.
Rent or Buy article
Get time limited or full article access on ReadCube.
from$8.99
All prices are NET prices.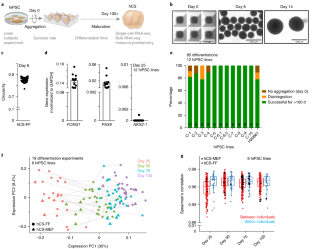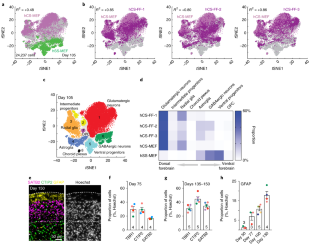 References
1.

Di Lullo, E. & Kriegstein, A. R. Nat. Rev. Neurosci. 18, 573–584 (2017).

2.

Pașca, S. P. Nature 553, 437–445 (2018).

3.

Kelava, I. & Lancaster, M. A. Cell Stem Cell 18, 736–748 (2016).

4.

Bershteyn, M. et al. Cell Stem Cell 20, 435–449 (2017).

5.

Mariani, J. et al. Cell 162, 375–390 (2015).

6.

Lancaster, M. A. et al. Nature 501, 373–379 (2013).

7.

Sloan, S. A. et al. Neuron 95, 779–790 (2017).

8.

Qian, X. et al. Cell 165, 1238–1254 (2016).

9.

Blair, J. D., Hockemeyer, D. & Bateup, H. S. Nat. Med. 24, 1568–1578 (2018).

10.

Paşca, A. M. et al. Nat. Methods 12, 671–678 (2015).

11.

Sloan, S. A., Andersen, J., Pașca, A. M., Birey, F. & Pașca, S. P. Nat. Protoc. 13, 2062–2085 (2018).

12.

Birey, F. et al. Nature 545, 54–59 (2017).

13.

Stein, J. L. et al. Neuron 83, 69–86 (2014).

14.

BrainSpan. BrainSpan: Atlas of the Developing Human Brain http://www.brainspan.org (2013).

15.

Fan, H. C., Fu, G. K. & Fodor, S. P. Science 347, 1258367 (2015).

16.

Quadrato, G. et al. Nature 545, 48–53 (2017).

17.

Camp, J. G. et al. Proc. Natl Acad. Sci. USA 112, 15672–15677 (2015).

18.

Pașca, S. P. et al. Nat. Med. 17, 1657–1662 (2011).

19.

Gallego Romero, I. et al. eLife 4, e07103 (2015).

20.

Yoon, S. J. & Pașca, S. P. Protoc. Exch. https://doi.org/10.1038/protex.2018.123 (2018).

21.

Dobin, A. et al. Bioinformatics 29, 15–21 (2013).

22.

Li, B. & Dewey, C. N. BMC Bioinformatics 12, 323 (2011).

23.

Oldham, M. C., Langfelder, P. & Horvath, S. BMC Syst. Biol. 6, 63 (2012).

24.

Johnson, W. E., Li, C. & Rabinovic, A. Biostatistics 8, 118–127 (2007).

25.

McKenna, A. et al. Genome Res. 20, 1297–1303 (2010).

26.

Purcell, S. et al. Am. J. Hum. Genet. 81, 559–575 (2007).

27.

Liao, Y., Smyth, G. K. & Shi, W. Bioinformatics 30, 923–930 (2014).

28.

Robinson, M. D., McCarthy, D. J. & Smyth, G. K. Bioinformatics 26, 139–140 (2010).

29.

Ritchie, M. E. et al. Nucleic Acids Res. 43, e47 (2015).
Acknowledgements
We acknowledge support from J. Dreux and J. Lai (at BD Genomics) for running the pipeline and Data View troubleshooting. This work was supported by the US National Institutes of Health (NIH) BRAINS Award (MH107800), the MQ Fellow Award, the NYSCF Robertson Stem Cell Investigator Award, the Donald E. and Delia B. Baxter Foundation Award, the Stanford Neurosciences Institute's Brain Rejuvenation Project, the Kwan Research Fund, a NARSAD Independent Investigator Award from the Brain & Behaviour Research Foundation (BBRF), and Stanford Start-up Funds (to S.P.P.); the California Institute of Regenerative Medicine (CIRM) and NIH U01 (MH115745) (to D.H.G. and S.P.P.); CIRM Bridges Program (to L.S.E.); a Stanford School of Medicine Dean's Postdoctoral Fellowship (to Y.M.); a National Science Foundation (NSF) Graduate Research Fellowship (to R.M.M.); NIH K12-HD000850 (Pediatric Scientist Development Program) and a Stanford Child Health Research Institute Fellowship (to A.M.P); and the Autism Science Foundation Fellowship (to A.G.).
Ethics declarations
Competing interests
Stanford University has filed a provisional patent application that covers the generation of region-specific neural spheroids (US Application Serial No. 15/158,408). H.C.F., E.M.W. and G.M.H. were employees of BD Genomics during this study.
Additional information
Publisher's note: Springer Nature remains neutral with regard to jurisdictional claims in published maps and institutional affiliations.
Integrated supplementary information
Supplementary information
Supplementary Figs. 1–6 and Supplementary Tables 1, 2, and 4
About this article
Cite this article
Yoon, SJ., Elahi, L.S., Pașca, A.M. et al. Reliability of human cortical organoid generation. Nat Methods 16, 75–78 (2019). https://doi.org/10.1038/s41592-018-0255-0
Received:

Accepted:

Published:

Issue Date: