Abstract
We have developed a computational method based on polyploid phasing of long sequence reads to resolve collapsed regions of segmental duplications within genome assemblies. Segmental Duplication Assembler (SDA; https://github.com/mvollger/SDA) constructs graphs in which paralogous sequence variants define the nodes and long-read sequences provide attraction and repulsion edges, enabling the partition and assembly of long reads corresponding to distinct paralogs. We apply it to single-molecule, real-time sequence data from three human genomes and recover 33–79 megabase pairs (Mb) of duplications in which approximately half of the loci are diverged (<99.8%) compared to the reference genome. We show that the corresponding sequence is highly accurate (>99.9%) and that the diverged sequence corresponds to copy-number-variable paralogs that are absent from the human reference genome. Our method can be applied to other complex genomes to resolve the last gene-rich gaps, improve duplicate gene annotation, and better understand copy-number-variant genetic diversity at the base-pair level.
Access options
Subscribe to Journal
Get full journal access for 1 year
$259.00
only $21.58 per issue
All prices are NET prices.
VAT will be added later in the checkout.
Rent or Buy article
Get time limited or full article access on ReadCube.
from$8.99
All prices are NET prices.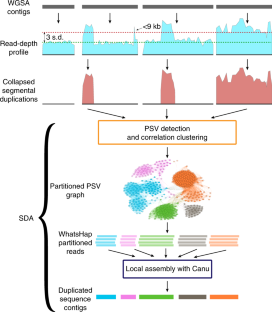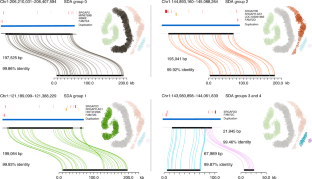 Data availability
SMRT WGS for CHM1, CHM13, and NA12940 from this study are available at the NCBI Sequence Read Archive (SRA) under accession numbers SRP044331 for CHM1; SRX818607, SRX825542, and SRX825575–SRX825579 for CHM13; and SRX1093000, SRX1093555, SRX1093654, SRX1094289, SRX1094374, SRX1094388, and SRX1096798 for NA19240. ONT WGS data are available at https://github.com/nanopore-wgs-consortium/NA12878/blob/master/Genome.md. De novo assemblies of CHM1, CHM13, NA12940, and NA12878 from this study are available at the NCBI Assembly database under accession numbers GCA_001297185.1, GCA_000983455.2, GCA_001524155.4, and GCA_900232925.1, respectively. Assembled CHORI-17 BACs are available at the NCBI Clone DB (https://www.ncbi.nlm.nih.gov/clone/) under the accession numbers listed in Supplementary Table 4. Information about length, PSVs, and mapping location in GRCh38 can be found for all the SDA contigs generated, in Supplementary Table 8. Additional data that support the findings of this study are available from the corresponding author upon request.
References
1.

Alkan, C., Coe, B. P. & Eichler, E. E. Genome structural variation discovery and genotyping. Nat. Rev. Genet. 12, 363–376 (2011).

2.

Alkan, C., Sajjadian, S. & Eichler, E. E. Limitations of next-generation genome sequence assembly. Nat. Methods 8, 61–65 (2011).

3.

Seo, J. S. et al. De novo assembly and phasing of a Korean human genome. Nature 538, 243–247 (2016).

4.

Shi, L. et al. Long-read sequencing and de novo assembly of a Chinese genome. Nat. Commun. 7, 12065 (2016).

5.

Bickhart, D. M. et al. Single-molecule sequencing and chromatin conformation capture enable de novo reference assembly of the domestic goat genome. Nat. Genet. 49, 643–650 (2017).

6.

Gordon, D. et al. Long-read sequence assembly of the gorilla genome. Science 352, aae0344 (2016).

7.

Koren, S. et al. Canu: scalable and accurate long-read assembly via adaptive k-mer weighting and repeat separation. Genome Res. 27, 722–736 (2017).

8.

Chin, C.-S. et al. Phased diploid genome assembly with single-molecule real-time sequencing. Nat. Methods 13, 1050–1054 (2016).

9.

Huddleston, J. et al. Discovery and genotyping of structural variation from long-read haploid genome sequence data. Genome Res. 27, 677–685 (2017).

10.

Kronenberg, Z. N. et al. High-resolution comparative analysis of great ape genomes. Science 360, eaar6343 (2018).

11.

Kelley, D. R. & Salzberg, S. L. Detection and correction of false segmental duplications caused by genome mis-assembly. Genome. Biol. 11, R28 (2010).

12.

Pop, M. Shotgun sequence assembly. Adv. Comput. 60, 193–248 (2004).

13.

Pevzner, P. A., Tang, H. & Waterman, M. S. An Eulerian path approach to DNA fragment assembly. Proc. Natl Acad. Sci. USA 98, 9748–9753 (2001).

14.

Pevzner, P. A., Tang, H. & Tesler, G. De novo repeat classification and fragment assembly. Genome Res. 14, 1786–1796 (2004).

15.

Myers, E. W. The fragment assembly string graph. Bioinformatics 21, ii79–ii85 (2005).

16.

Stankiewicz, P. & Lupski, J. R. Genome architecture, rearrangements and genomic disorders. Trends Genet. 18, 74–82 (2002).

17.

Sharp, A. J. et al. Discovery of previously unidentified genomic disorders from the duplication architecture of the human genome. Nat. Genet. 38, 1038–1042 (2006).

18.

Sudmant, P. H. et al. Global diversity, population stratification, and selection of human copy-number variation. Science 349, aab3761 (2015).

19.

Chen, J. et al. Bovine NK-lysin: copy number variation and functional diversification. Proc. Natl. Acad. Sci. USA 112, E7223–E7229 (2015).

20.

Dennis, M. Y. & Eichler, E. E. Human adaptation and evolution by segmental duplication. Curr. Opin. Genet. Dev. 41, 44–52 (2016).

21.

Abegglen, L. M. et al. Potential mechanisms for cancer resistance in elephants and comparative cellular response to DNA damage in humans. J. Am. Med. Assoc. 314, 1850–1860 (2015).

22.

Church, D. M. et al. Lineage-specific biology revealed by a finished genome assembly of the mouse. PLoS Biol. 7, e1000112 (2009).

23.

Lander, E. S. et al. Initial sequencing and analysis of the human genome. Nature 409, 860–921 (2001).

24.

Emanuel, B. S. & Shaikh, T. H. Segmental duplications: an 'expanding' role in genomic instability and disease. Nat. Rev. Genet. 2, 791–800 (2001).

25.

Jain, M. et al. Nanopore sequencing and assembly of a human genome with ultra-long reads. Nat. Biotechnol. 36, 338–345 (2018).

26.

Chaisson, M. J., Mukherjee, S., Kannan, S. & Eichler, E. E. Resolving multicopy duplications de novo using polyploid phasing. RECOMB 10229, 117–133 (2017).

27.

Bailey, J. A. et al. Recent segmental duplications in the human genome. Science 297, 1003–1007 (2002).

28.

Ailon, N., Charikar, M. & Newman, A. Aggregating inconsistent information. J. Assoc. Comput. Mach. 55, 1–27 (2008).

29.

Auton, A. et al. A global reference for human genetic variation. Nature 526, 68–74 (2015).

30.

Fiddes, I. T. et al. Human-specific NOTCH2NL genes affect notch signaling and cortical neurogenesis. Cell 173, 1356–1369 (2018).

31.

Florio, M. et al. Evolution and cell-type specificity of human-specific genes preferentially expressed in progenitors of fetal neocortex. eLife 7, e32332 (2018).

32.

Dennis, M. Y. et al. Evolution of human-specific neural SRGAP2 genes by incomplete segmental duplication. Cell 149, 912–922 (2012).

33.

Nuttle, X. et al. Rapid and accurate large-scale genotyping of duplicated genes and discovery of interlocus gene conversions. Nat. Methods 10, 903–909 (2013).

34.

Dennis, M. Y. et al. The evolution and population diversity of human-specific segmental duplications. Nat. Ecol. Evol. 1, 0069 (2017).

35.

Steinberg, K. M. et al. High-quality assembly of an individual of Yoruban descent. bioRxiv Preprint at https://www.biorxiv.org/content/early/2016/08/02/067447 (2016).

36.

Chaisson, M. J. P. et al. Resolving the complexity of the human genome using single-molecule sequencing. Nature 517, 608–611 (2015).

37.

BACPAC Resources. The CHORI-17 BAC library from a hydatidiform (haploid) mole. CloneDB https://www.ncbi.nlm.nih.gov/clone/library/genomic/76/ (2018).

38.

Sudmant, P. H. et al. An integrated map of structural variation in 2,504 human genomes. Nature 526, 75–81 (2015).

39.

Nuttle, X. et al. Emergence of a Homo sapiens–specific gene family and chromosome 16p11.2 CNV susceptibility. Nature 536, 205–209 (2016).

40.

Dougherty, M. L. et al. Transcriptional fates of human-specific segmental duplications in brain. Genome Res. 28, 1566–1576 (2018).

41.

Das, S. & Vikalo, H. SDhaP: haplotype assembly for diploids and polyploids via semi-definite programming. BMC Genomics 16, 260 (2015).

42.

Aguiar, D. & Istrail, S. Haplotype assembly in polyploid genomes and identical by descent shared tracts. Bioinformatics 29, i352–i360 (2013).

43.

Berger, E., Yorukoglu, D., Peng, J. & Berger, B. in Research in Computational Molecular Biology: RECOMB 2014 (ed Sharan, R.) 18–19 (Springer, 2014).

44.

Puljiz, Z. & Vikalo, H. Decoding genetic variations: communications-inspired haplotype assembly. IEEE/ACM. Trans. Comput. Biol. Bioinform. 13, 518–530 (2016).

45.

Bonizzoni, P. et al. On the minimum error correction problem for haplotype assembly in diploid and polyploid genomes. J. Comput. Biol. 23, 718–736 (2016).

46.

Artyomenko, A. et al. Long single-molecule reads can resolve the complexity of the influenza virus composed of rare, closely related mutant variants. J. Comput. Biol. 24, 558–570 (2017).

47.

Parsons, J. D. Miropeats: graphical DNA sequence comparisons. Comput. Appl. Biosci. 11, 615–619 (1995).

48.

Jain, C., Koren, S., Dilthey, A., Phillippy, A. M. & Aluru, S. A fast adaptive algorithm for computing whole-genome homology maps. Bioinformatics 34, i748–i756 (2018).

49.

Chaisson, M. J. & Tesler, G. Mapping single molecule sequencing reads using basic local alignment with successive refinement (BLASR): application and theory. BMC Bioinformatics 13, 238 (2012).

50.

Li, H. Minimap2: pairwise alignment for nucleotide sequences. Bioinformatics 34, 3094–3100 (2018).

51.

Patterson, M. et al. WhatsHap: weighted haplotype assembly for future-generation sequencing reads. J. Comput. Biol. 22, 498–509 (2015).

52.

Steinberg, K. M. et al. Structural diversity and African origin of the 17q21.31 inversion polymorphism. Nat. Genet. 44, 872–880 (2012).

53.

Sudmant, P. H. et al. Diversity of human copy number variation and multicopy genes. Science 330, 641–646 (2010).
Acknowledgements
The authors thank S. Cantsilieris and D. Gordon for technical assistance, J. Underwood for recommendations regarding the analysis of HSDs and Iso-Seq data, and T. Brown for help in editing this manuscript. This work was supported, in part, by grants from the US National Institutes of Health (NIH) (HG002385 to E.E.E., HG007635 to R.K.W. and E.E.E., and HG003079 to R.K.W.). M.R.V. was supported by a National Library of Medicine (NLM) Big Data Training Grant for Genomics and Neuroscience (5T32LM012419-04). P.C.D. was supported by a National Human Genome Research Institute (NHGRI) training grant (5T32HG000035-23). E.E.E. is an investigator of the Howard Hughes Medical Institute.
Ethics declarations
Competing interests
E.E.E. is on the scientific advisory board (SAB) of DNAnexus, Inc.
Additional information
Publisher's note: Springer Nature remains neutral with regard to jurisdictional claims in published maps and institutional affiliations.
Integrated supplementary information
Supplementary information
About this article
Cite this article
Vollger, M.R., Dishuck, P.C., Sorensen, M. et al. Long-read sequence and assembly of segmental duplications. Nat Methods 16, 88–94 (2019). https://doi.org/10.1038/s41592-018-0236-3
Received:

Accepted:

Published:

Issue Date: