Abstract
Anti-CRISPR proteins are powerful tools for CRISPR–Cas9 regulation; the ability to precisely modulate their activity could facilitate spatiotemporally confined genome perturbations and uncover fundamental aspects of CRISPR biology. We engineered optogenetic anti-CRISPR variants comprising hybrids of AcrIIA4, a potent Streptococcus pyogenes Cas9 inhibitor, and the LOV2 photosensor from Avena sativa. Coexpression of these proteins with CRISPR–Cas9 effectors enabled light-mediated genome and epigenome editing, and revealed rapid Cas9 genome targeting in human cells.
Access options
Subscribe to Journal
Get full journal access for 1 year
$242.00
only $20.17 per issue
All prices are NET prices.
VAT will be added later in the checkout.
Rent or Buy article
Get time limited or full article access on ReadCube.
from$8.99
All prices are NET prices.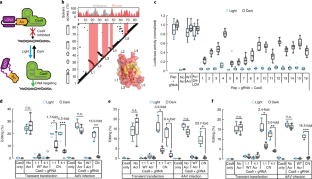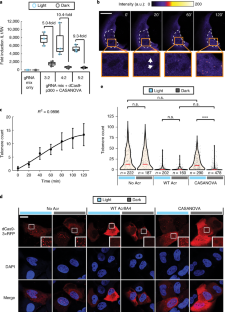 Data availability
Vectors will be made available via Addgene (#113033–113042 and #113129–113133) and upon request. Annotated vector sequences (GenBank files), the KNIME image analysis pipeline and PDB files of the CASANOVA model are provided as Supplementary Data. Code and data for the computational domain assembly and the design of improved Acr–LOV mutants are available on GitHub (https://github.com/zanderharteveld/anti-CRISPR-designs), and source data for Figs. 1 and 2 are available online.
References
1.

Barrangou, R. & Doudna, J. A. Nat. Biotechnol. 34, 933–941 (2016).

2.

Richter, F. et al. Curr. Opin. Biotechnol. 48, 119–126 (2017).

3.

Rauch, B. J. et al. Cell 168, 150–158 (2017).

4.

Hynes, A. P. et al. Nat. Microbiol. 2, 1374–1380 (2017).

5.

Basgall, E. M. et al. Microbiology 164, 464–474 (2018).

6.

Shin, J. et al. Sci. Adv. 3, e1701620 (2017).

7.

Harper, S. M., Neil, L. C. & Gardner, K. H. Science 301, 1541–1544 (2003).

8.

Hoffmann, M. D., Bubeck, F., Eils, R. & Niopek, D. Adv. Biosyst. 2, 1800098 (2018).

9.

Dagliyan, O. et al. Science 354, 1441–1444 (2016).

10.

Kim, I. et al. Sci. Rep. 8, 3883 (2018).

11.

Dong, D. et al. Nature 546, 436–439 (2017).

12.

Yang, H. & Patel, D. J. Mol. Cell 67, 117–127 (2017).

13.

Brinkman, E. K., Chen, T., Amendola, M. & van Steensel, B. Nucleic Acids Res. 42, e168 (2014).

14.

Strickland, D. et al. Nat. Methods 9, 379–384 (2012).

15.

Strickland, D. et al. Nat. Methods 7, 623–626 (2010).

16.

Hu, J. H. et al. Nature 556, 57–63 (2018).

17.

Hilton, I. B. et al. Nat. Biotechnol. 33, 510–517 (2015).

18.

Chen, B. et al. Cell 155, 1479–1491 (2013).

19.

Pawluk, A. et al. Cell 167, 1829–1838 (2016).

20.

Vehlow, C. et al. Bioinformatics 27, 1573–1574 (2011).

21.

Kabsch, W. & Sander, C. Biopolymers 22, 2577–2637 (1983).

22.

Huang, P. S. et al. PLoS One 6, e24109 (2011).

23.

Canutescu, A. A. & Dunbrack, R. L. Jr. Protein Sci. 12, 963–972 (2003).

24.

Coutsias, E. A., Seok, C., Jacobson, M. P. & Dill, K. A. J. Comput. Chem. 25, 510–528 (2004).

25.

Mandell, D. J., Coutsias, E. A. & Kortemme, T. Nat. Methods 6, 551–552 (2009).

26.

Fleishman, S. J. et al. PLoS One 6, e20161 (2011).

27.

Engler, C., Kandzia, R. & Marillonnet, S. PLoS One 3, e3647 (2008).

28.

Senís, E. et al. Biotechnol. J. 9, 1402–1412 (2014).

29.

Börner, K. et al. Nucleic Acids Res. 41, e199 (2013).

30.

Livak, K. J. & Schmittgen, T. D. Methods 25, 402–408 (2001).

31.

Chu, V. T. et al. Nat. Biotechnol. 33, 543–548 (2015).
Acknowledgements
This study was funded by the Helmholtz association, the German Research Council (DFG) and the Federal Ministry of Education and Research (BMBF) (to R.E.). We thank M. Gunkel (BioQuant, Heidelberg) and the German Network for Bioinformatics Infrastructure (HD.HuB as part of de.NBI; grant 031A537C) for support with image analysis in KNIME. We thank K. Rippe (German Cancer Research Center (DKFZ), Heidelberg, Germany) and E. Wiedtke (Heidelberg University Clinics, Heidelberg, Germany) for providing cell lines, F. Zhang (Broad Institute of MIT and Harvard, Cambridge, MA, USA) for providing vector pSpCas9(BB)-2A-GFP, C. Gersbach (Department of Biomedical Engineering and Center for Genomic & Computational Biology, Duke University, Durham, NC, USA) for the dCas9–p300 construct, E. Sontheimer (RNA Therapeutics Institute, University of Massachusetts Medical School, Worcester, MA, USA) for pEJS477-pHAGE-TO-SpydCas9_3XmCherry-sgRNA/Telomere-All-in-one, the Synthetic Biology group (Heidelberg University) and Intelligent Imaging group (DKFZ, Heidelberg) for helpful discussions, and K. Niopek for critical reading of the manuscript. This work was supported by the Helmholtz International Graduate School for Cancer Research (DKFZ, Heidelberg; scholarship to M.D.H.), the German Center for Infection Research (DZIF; TTU-HIV 04.803 to K.B. and D.G.), the Cystic Fibrosis Foundation Therapeutics (CFFT; grant GRIMM15XX0 to J.F. and D.G.), Transregional Collaborative Research Center TRR179 (DFG; to C.S., D.G. and R.E.), the Cluster of Excellence CellNetworks (DFG; EXC81 to J.F., C.S. and D.G.), the European Research Council (starting grant 716058 to B.E.C.), the Swiss National Science Foundation (B.E.C. and Z.H.) and the Biltema Foundation (B.E.C.). The computational simulations were performed at the CSCS—Swiss National Supercomputing Centre through a grant obtained by B.E.C. Part of the computational work was supported by EPFL through the use of the facilities of its Scientific IT and Application Support Center.
Ethics declarations
Competing interests
F.B., M.D.H., A.B., M.C.W., J.F., L.D., D.G., R.E. and D.N. have filed European patent applications (17196813.4) related to this work.
Additional information
Publisher's note: Springer Nature remains neutral with regard to jurisdictional claims in published maps and institutional affiliations.
Integrated supplementary information
Supplementary information
About this article
Cite this article
Bubeck, F., Hoffmann, M.D., Harteveld, Z. et al. Engineered anti-CRISPR proteins for optogenetic control of CRISPR–Cas9. Nat Methods 15, 924–927 (2018). https://doi.org/10.1038/s41592-018-0178-9
Received:

Revised:

Accepted:

Published:

Issue Date: