Abstract
FLIRT (fast local infrared thermogenetics) is a microscopy-based technology to locally and reversibly manipulate protein function while simultaneously monitoring the effects in vivo. FLIRT locally inactivates fast-acting temperature-sensitive mutant proteins. We demonstrate that FLIRT can control temperature-sensitive proteins required for cell division, Delta–Notch cell fate signaling, and germline structure in Caenorhabditis elegans with cell-specific and even subcellular precision.
Access options
Subscribe to Journal
Get full journal access for 1 year
$119.00
only $9.92 per issue
All prices are NET prices.
VAT will be added later in the checkout.
Tax calculation will be finalised during checkout.
Rent or Buy article
Get time limited or full article access on ReadCube.
from$8.99
All prices are NET prices.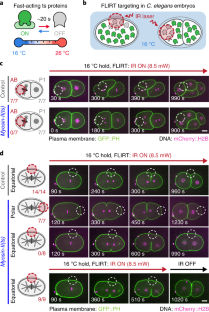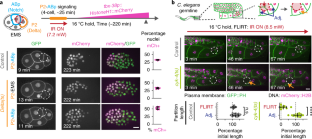 Data availability
The data that support the findings of this study are available from the corresponding author upon reasonable request.
References
1.

Liu, J., Maduzia, L. L., Shirayama, M. & Mello, C. C. Dev. Biol. 339, 366–373 (2010).

2.

Severson, A. F., Hamill, D. R., Carter, J. C., Schumacher, J. & Bowerman, B. Curr. Biol. 10, 1162–1171 (2000).

3.

Davies, T. et al. Dev. Cell. 30, 209–223 (2014).

4.

Mickey, K. M., Mello, C. C., Montgomery, M. K., Fire, A. & Priess, J. R. Development 122, 1791–1798 (1996).

5.

Mello, C. C., Draper, B. W. & Priess, J. R. Cell 77, 95–106 (1994).

6.

Davies, T. et al. Methods Cell Biol. 137, 283–306 (2017).

7.

Kamei, Y. et al. Nat. Methods 6, 79–81 (2009).

8.

Sundaramoorthy, S. et al. ACS Appl. Mater. Interfaces 9, 7929–7940 (2017).

9.

Singhal, A. & Shaham, S. Nat. Commun. 8, 14100 (2017).

10.

D'Avino, P. P., Giansanti, M. G. & Petronczki, M. Cold Spring Harb. Perspect. Biol. 7, a015834 (2015).

11.

Pollard, T. D. Curr. Opin. Cell Biol. 22, 50–56 (2010).

12.

Green, R. A., Paluch, E. & Oegema, K. Annu. Rev. Cell. Dev. Biol. 28, 29–58 (2012).

13.

Oyama, K. et al. Biophys. J. 109, 355–364 (2015).

14.

Mittasch, M. et al. Nat. Cell Biol. 20, 344–351 (2018).

15.

Crittenden, S. L., Rudel, D., Binder, J., Evans, T. C. & Kimble, J. Dev. Biol. 181, 36–46 (1997).

16.

Shelton, C. A. & Bowerman, B. Development 122, 2043–2050 (1996).

17.

Murray, J. I. et al. Genome Res. 22, 1282–1294 (2012).

18.

Good, K. et al. Development 131, 1967–1978 (2004).

19.

Neves, A. & Priess, J. R. Dev. Cell. 8, 867–879 (2005).

20.

Lee, K. Y. et al. eLife 7, e36919 (2018).

21.

Schindelin, J. et al. Nat. Methods 9, 676–682 (2012).

22.

Brenner, S. Genetics 77, 71–94 (1974).

23.

Stiernagle, T. Maintenance of C. elegans. WormBook https://doi.org/10.1895/wormbook.1.101.1 (2006).

24.

Audhya, A. et al. J. Cell Biol. 171, 267–279 (2005).

25.

Ai, E., Poole, D. S. & Skop, A. R. Mol. Biol. Cell 20, 1629–1638 (2009).

26.

Jordan, S. N. et al. J. Cell Biol. 212, 39–49 (2016).

27.

Schonegg, S., Constantinescu, A. T., Hoege, C. & Hyman, A. A. Proc. Natl Acad. Sci. USA 104, 14976–14981 (2007).

28.

Canman, J. C. et al. Science 322, 1543–1546 (2008).

29.

Widlund, P. O. et al. Mol. Biol. Cell 23, 4393–4401 (2012).

30.

Bossinger, O. & Cowan, C. R. Methods Cell Biol. 107, 207–238 (2012).

31.

Kim, E., Sun, L., Gabel, C. V. & Fang-Yen, C. PLoS One 8, e53419 (2013).
Acknowledgements
We thank all members of the Canman, Shirasu-Hiza, and Dumont laboratory for their support; H. Kim, I. Thomas, C. Walsh, B. Lesea-Pringle, K. Rimu, F. Jung, and E. Blake for laboratory assistance; C. Connors for comments on this manuscript; I. Greenwald, B. Bowerman, and B. Goldstein for helpful discussions; and J. Priess (Fred Hutchinson Cancer Research Center) and the Caenorhabditis Genomics Center for worm strains. We thank S. Wildfang, A. Ratz, and C. Anderson for technical assistance; A. Kummel and A. Garcia Badaracco for assistance on the thermochromatic dye analysis; and B. O'Shaughnessy, S. Wang, and S. Thiyagarajan for advice on thermal distribution. This work was funded by a Charles H. Revson Senior Fellowship in Biomedical Science (T.D.), FRM-DEQ20160334869 (J.D.); NIH-R01-GM105775 (S.M.H.); NIH-R01-AG045842 (MSH); NIH-DP2-OD008773 (J.C.C.); and NIH-R01GM117407 (J.C.C.).
Ethics declarations
Competing interests
The authors declare no competing interests.
Additional information
Publisher's note: Springer Nature remains neutral with regard to jurisdictional claims in published maps and institutional affiliations.
Integrated supplementary information
Supplementary information
About this article
Cite this article
Hirsch, S.M., Sundaramoorthy, S., Davies, T. et al. FLIRT: fast local infrared thermogenetics for subcellular control of protein function. Nat Methods 15, 921–923 (2018). https://doi.org/10.1038/s41592-018-0168-y
Received:

Accepted:

Published:

Issue Date: