Abstract
A fluorescent emitter simultaneously transmits its identity, location, and cellular context through its emission pattern. We developed smNet, a deep neural network for multiplexed single-molecule analysis to retrieve such information with high accuracy. We demonstrate that smNet can extract three-dimensional molecule location, orientation, and wavefront distortion with precision approaching the theoretical limit, and therefore will allow multiplexed measurements through the emission pattern of a single molecule.
This is a preview of subscription content
Access options
Subscribe to Journal
Get full journal access for 1 year
$119.00
only $9.92 per issue
All prices are NET prices.
VAT will be added later in the checkout.
Tax calculation will be finalised during checkout.
Rent or Buy article
Get time limited or full article access on ReadCube.
from$8.99
All prices are NET prices.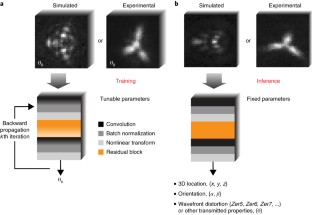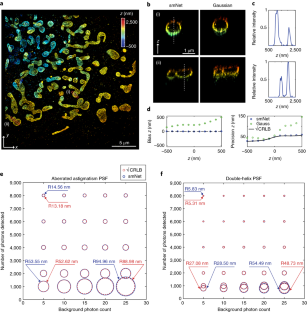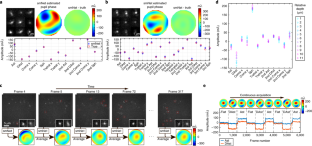 References
1.

Moerner, W. E. & Fromm, D. P. Rev. Sci. Instrum. 74, 3597–3619 (2003).

2.

von Diezmann, A., Shechtman, Y. & Moerner, W. E. Chem. Rev. 117, 7244–7275 (2017).

3.

Backlund, M. P., Lew, M. D., Backer, A. S., Sahl, S. J. & Moerner, W. E. ChemPhysChem 15, 587–599 (2014).

4.

Moon, S. et al. J. Am. Chem. Soc. 139, 10944–10947 (2017).

5.

Burke, D., Patton, B., Huang, F., Bewersdorf, J. & Booth, M. J. Optica 2, 177–185 (2015).

6.

Andrews, N. L. et al. Nat. Cell Biol. 10, 955–963 (2008).

7.

Femino, A. M., Fay, F. S., Fogarty, K. & Singer, R. H. Science 280, 585–590 (1998).

8.

Ha, T. et al. Proc. Natl. Acad. Sci. USA 93, 6264–6268 (1996).

9.

Baddeley, D. & Bewersdorf, J. Annu. Rev. Biochem. 87, 965–989 (2018).

10.

Sage, D. et al. Nat. Methods 12, 717–724 (2015).

11.

Pavani, S. R. et al. Proc. Natl. Acad. Sci. USA 106, 2995–2999 (2009).

12.

Babcock, H. P. & Zhuang, X. Sci. Rep. 7, 552 (2017).

13.

Li, Y. et al. Nat. Methods 15, 367–369 (2018).

14.

LeCun, Y., Bengio, Y. & Hinton, G. Nature 521, 436–444 (2015).

15.

Bowen, B. P., Scruggs, A., Enderlein, J., Sauer, M. & Woodbury, N. J. Phys. Chem. A 108, 4799–4804 (2004).

16.

Zhang, Y. et al. Protein Cell 4, 598–606 (2013).

17.

He, K., Zhang, X., Ren, S. & Sun, J. in Proc. 29th IEEE Conference on Computer Vision and Pattern Recognition: CVPR 2016 (eds Agapito, L. et al.) 770–778 (IEEE, Piscataway, NJ, 2016).

18.

Liu, S., Kromann, E. B., Krueger, W. D., Bewersdorf, J. & Lidke, K. A. Opt. Express 21, 29462–29487 (2013).

19.

Cutler, P. J. et al. PLoS One 8, e64320 (2013).

20.

Ji, N. Nat. Methods 14, 374–380 (2017).

21.

Lecun, Y., Bottou, L., Bengio, Y. & Haffner, P. Proc. IEEE Inst. Electr. Electron. Eng. 86, 2278–2324 (1998).

22.

Nielsen, M. A. Neural Networks and Deep Learning. (Determination Press, San Francisco, 2015).

23.

Ioffe, S. & Szegedy, C. in Proc. 32nd International Conference on Machine Learning Vol 37 (eds Bach, F. & Blei, D.) 448–456 (JMLR/Microtome Publishing, Cambridge, MA, 2015).

24.

He, K., Zhang, X., Ren, S. & Sun, J. in Proc. 2015 IEEE International Conference on Computer Vision (ICCV) (eds Bajcsy, R. et al.) 1026–1034 (IEEE, Piscataway, NJ, 2015).

25.

Huang, F. et al. Cell 166, 1028–1040 (2016).

26.

Wang, B. & Booth, M. J. Opt. Commun. 282, 4467–4474 (2009).

27.

Wyant, J. C. & Creath, K. in Applied Optics and Optical Engineering Vol XI (eds Shannon, R. R. & Wyant, J. C.) 1–53 (Academic, New York, 1992).

28.

Smith, C. S., Joseph, N., Rieger, B. & Lidke, K. A. Nat. Methods 7, 373–375 (2010).

29.

Hanser, B. M., Gustafsson, M. G. L., Agard, D. A. & Sedat, J. W. J. Microsc. 216, 32–48 (2004).

30.

Piestun, R., Schechner, Y. Y. & Shamir, J. J. Opt. Soc. Am. A Opt. Image Sci. Vis. 17, 294–303 (2000).

31.

Ober, R. J., Ram, S. & Ward, E. S. Biophys. J. 86, 1185–1200 (2004).

32.

Liu, S. & Lidke, K. A. ChemPhysChem 15, 696–704 (2014).
Acknowledgements
We thank A.J. Schaber for help with initial data acquisition and the Bindley Bioscience Center at Purdue, a core facility of the NIH-funded Indiana Clinical and Translational Sciences Institute. We thank K.A. Lidke and M.J. Wester from the University of New Mexico for an initial contribution to the PSF toolbox software. We thank E.B. Kromann (Technical University of Denmark) for sharing the phase unwrapping code. We thank C. Haig (Hamamatsu Photonics K.K.) and K.F. Ziegler for their help on the project, and P.-M. Ivey, Y. Li, and F. Xu for suggestions on the manuscript. P.Z., S.L., M.J.M., D.M., and F.H. were supported by the NIH (grant R35 GM119785) and DARPA (grant D16AP00093).
Ethics declarations
Competing interests
The authors declare no competing interests.
Additional information
Publisher's note: Springer Nature remains neutral with regard to jurisdictional claims in published maps and institutional affiliations.
Integrated supplementary information
Supplementary information
About this article
Cite this article
Zhang, P., Liu, S., Chaurasia, A. et al. Analyzing complex single-molecule emission patterns with deep learning. Nat Methods 15, 913–916 (2018). https://doi.org/10.1038/s41592-018-0153-5
Received:

Accepted:

Published:

Issue Date: