Abstract
Optical imaging through the intact mouse skull is challenging because of skull-induced aberrations and scattering. We found that three-photon excitation provided improved optical sectioning compared with that obtained with two-photon excitation, even when we used the same excitation wavelength and imaging system. Here we demonstrate three-photon imaging of vasculature through the adult mouse skull at >500-μm depth, as well as GCaMP6s calcium imaging over weeks in cortical layers 2/3 and 4 in awake mice, with 8.5 frames per second and a field of view spanning hundreds of micrometers.
Access options
Subscribe to Journal
Get full journal access for 1 year
$242.00
only $20.17 per issue
All prices are NET prices.
VAT will be added later in the checkout.
Rent or Buy article
Get time limited or full article access on ReadCube.
from$8.99
All prices are NET prices.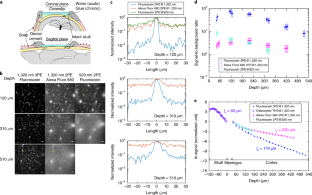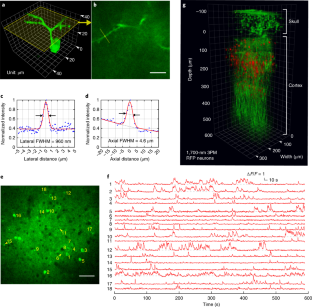 Data availability
The data that support the findings of this study are available from the corresponding author upon request.
References
1.

McGonigle, P. Biochem. Pharmacol. 87, 140–149 (2014).

2.

Holtmaat, A. et al. Nat. Protoc. 4, 1128–1144 (2009).

3.

Yang, G., Pan, F., Parkhurst, C. N., Grutzendler, J. & Gan, W.-B. Nat. Protoc. 5, 201–208 (2010).

4.

Drew, P. J. et al. Nat. Methods 7, 981–984 (2010).

5.

Dorand, R. D., Barkauskas, D. S., Evans, T. A., Petrosiute, A. & Huang, A. Y. Intravital 3, e29728 (2014).

6.

Rangroo Thrane, V. et al. Sci. Rep. 3, 2582 (2013).

7.

Jonckers, E., Shah, D., Hamaide, J., Verhoye, M. & Van der Linden, A. Front. Pharmacol. 6, 231 (2015).

8.

Wang, X., Pang, Y., Ku, G., Stoica, G. & Wang, L. V. Opt. Lett. 28, 1739–1741 (2003).

9.

Wang, R. K. et al. Opt. Express 15, 4083–4097 (2007).

10.

Hong, G. et al. Nat. Photonics 8, 723–730 (2014).

11.

Silasi, G., Xiao, D., Vanni, M. P., Chen, A. C. N. & Murphy, T. H. J. Neurosci. Methods 267, 141–149 (2016).

12.

Steinzeig, A., Molotkov, D. & Castrén, E. PLoS One 12, e0181788 (2017).

13.

Theer, P. & Denk, W. J. Opt. Soc. Am. A. Opt. Image. Sci. Vis. 23, 3139–3149 (2006).

14.

Park, J.-H., Sun, W. & Cui, M. Proc. Natl Acad. Sci. USA 112, 9236–9241 (2015).

15.

Zhao, Y.-J. et al. Light Sci. Appl. 7, 17153 (2018).

16.

Zhang, C. et al. Theranostics 8, 2696–2708 (2018).

17.

Horton, N. G. et al. Nat. Photonics 7, 205–209 (2013).

18.

Ouzounov, D. G. et al. Nat. Methods 14, 388–390 (2017).

19.

Wang, Y. et al. ACS Nano 11, 10452–10461 (2017).

20.

Ascenzi, A. & Fabry, C. J. Biophys. Biochem. Cytol. 6, 139–142 (1959).

21.

Tuchin, V. V. Tissue Optics: Light Scattering Methods and Instruments for Medical Diagnosis 2nd ed. 143–256 (SPIE, Bellingham, WA, 2000).

22.

Horton, N. G. & Xu, C. Biomed. Opt. Express 6, 1392–1397 (2015).

23.

Podgorski, K. & Ranganathan, G. bioRxiv Preprint at https://www.biorxiv.org/content/early/2016/06/06/057364 (2016).

24.

Yuryev, M. et al. Front. Cell. Neurosci. 9, 500 (2016).
Acknowledgements
We thank members of the Xu group and Schnitzer lab for discussion. We thank K. Podgorski and A. Hu (Janelia Research Campus) for advice on tissue-damage assessment. We also thank H.G. Chae and D. Florin Albeanu (Cold Spring Harbor Laboratory) for sharing the head-bar and holder design for awake imaging. Last, we thank the Warden lab (Cornell University) for providing the microtome for brain sectioning. The project was supported by DARPA (W911NF-14-1-0012 to C.X.; HR0011-16-2-0017 to M.J.S.), NIH/NINDS (U01NS090530 to C.X.), the National Science Foundation (NeuroNex Grant DBI-1707312 to C.X.), and the Intelligence Advanced Research Projects Activity (IARPA) via Department of Interior/Interior Business Center (DoI/IBC) (contract number D16PC00003 to C.X.). The US Government is authorized to reproduce and distribute reprints for Governmental purposes notwithstanding any copyright annotation thereon. Disclaimer: The views and conclusions contained herein are those of the authors and should not be interpreted as necessarily representing the official policies or endorsements, either expressed or implied, of IARPA, DoI/IBC, or the US Government.
Ethics declarations
Competing interests
The authors declare no competing interests.
Additional information
Publisher's note: Springer Nature remains neutral with regard to jurisdictional claims in published maps and institutional affiliations.
Integrated supplementary information
Supplementary information
About this article
Cite this article
Wang, T., Ouzounov, D.G., Wu, C. et al. Three-photon imaging of mouse brain structure and function through the intact skull. Nat Methods 15, 789–792 (2018). https://doi.org/10.1038/s41592-018-0115-y
Received:

Accepted:

Published:

Issue Date: