Abstract
We report XCMS-MRM and METLIN-MRM (http://xcmsonline-mrm.scripps.edu/ and http://metlin.scripps.edu/), a cloud-based data-analysis platform and a public multiple-reaction monitoring (MRM) transition repository for small-molecule quantitative tandem mass spectrometry. This platform provides MRM transitions for more than 15,500 molecules and facilitates data sharing across different instruments and laboratories.
Access options
Subscribe to Journal
Get full journal access for 1 year
$119.00
only $9.92 per issue
All prices are NET prices.
VAT will be added later in the checkout.
Tax calculation will be finalised during checkout.
Rent or Buy article
Get time limited or full article access on ReadCube.
from$8.99
All prices are NET prices.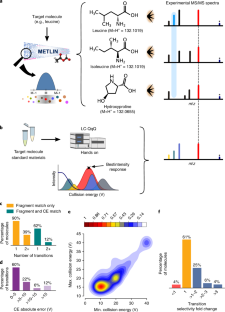 References
1.

Glish, G. L. & Vachet, R. W. Nat. Rev. Drug. Discov. 2, 140–150 (2003).

2.

Patti, G. J., Yanes, O. & Siuzdak, G. Nat. Rev. Mol. Cell Biol. 13, 263–269 (2012).

3.

Nordström, A. & Lewensohn, R. J. Neuroimmune. Pharmacol. 5, 4–17 (2010).

4.

Strathmann, F. G. & Hoofnagle, A. N. Am. J. Clin. Pathol. 136, 609–616 (2011).

5.

Vogeser, M. & Seger, C. Trends. Analyt. Chem. 84, 1–4 (2016).

6.

Hoffmann, W. D. & Jackson, G. P. Annu. Rev. Anal. Chem. (Palo Alto, Calif.) 8, 419–440 (2015).

7.

Sauer, S. & Kliem, M. Nat. Rev. Microbiol. 8, 74–82 (2010).

8.

Nicholson, J. K., Connelly, J., Lindon, J. C. & Holmes, E. Nat. Rev. Drug. Discov. 1, 153–161 (2002).

9.

Lange, V., Picotti, P., Domon, B. & Aebersold, R. Mol. Syst. Biol. 4, 222 (2008).

10.

Kusebauch, U. et al. Cell 166, 766–778 (2016).

11.

Matsumoto, M. et al. Nat. Methods 14, 251–258 (2017).

12.

MacLean, B. et al. Bioinformatics 26, 966–968 (2010).

13.

Cai, Y. & Weng, K. Metabolomics. 11, 1575–1586 (2015).

14.

Tsugawa, H., Kanazawa, M., Ogiwara, A. & Arita, M. Bioinformatics 30, 2379–2380 (2014).

15.

Guijas, C. et al. Anal. Chem. 90, 3156–3164 (2018).

16.

Melnik, A. V. et al. Anal. Chem. 89, 7549–7559 (2017).

17.

Domingo-Almenara, X., Montenegro-Burke, J. R., Benton, H. P. & Siuzdak, G. Anal. Chem. 90, 480–489 (2018).

18.

Tomoiagă, B., Chindriş, M., Sumper, A., Sudria-Andreu, A. & Villafafila-Robles, R. Energies 6, 1439–1455 (2013).

19.

Domingo-Almenara, X. et al. J. Chromatogr. A. 1409, 226–233 (2015).

20.

De Juan, A., Vander Heyden, Y., Tauler, R. & Massart, D. L. Anal. Chim. Acta 346, 307–318 (1997).

21.

Kessner, D., Chambers, M., Burke, R., Agus, D. & Mallick, P. Bioinformatics 24, 2534–2536 (2008).

22.

Caroline, H. J. et al. Cell Metab. 21, 891–897 (2015).
Acknowledgements
This research was partially funded by Ecosystems and Networks Integrated with Genes and Molecular Assemblies (ENIGMA), a Scientific Focus Area Program at Lawrence Berkeley National Laboratory for the US Department of Energy, Office of Science, Office of Biological and Environmental Research under contract DE-AC02-05CH11231 (G.S.); and National Institutes of Health grants R01 GM114368-03, P30 MH062261-17 and P01 DA026146-02 (G.S.). The MRC-NIHR National Phenome Centre (NPC) is supported by the UK Medical Research Council and the National Institute for Health Research (NIHR) (England) grant MC_PC_12025. Infrastructure support for the Clinical Phenotyping Centre (CPC) is also supported by the NIHR Imperial Biomedical Research Centre. The views expressed are those of the authors and not necessarily those of the NHS, the NIHR or the MRC (M.G.R., L.W., M.R.L. and J.K.N.).
Ethics declarations
Competing interests
The authors declare no competing interests.
Additional information
Publisher's note: Springer Nature remains neutral with regard to jurisdictional claims in published maps and institutional affiliations.
Integrated supplementary information
Supplementary information
Supplementary Figures 1–5 and Supplementary Tables 1–4
About this article
Cite this article
Domingo-Almenara, X., Montenegro-Burke, J.R., Ivanisevic, J. et al. XCMS-MRM and METLIN-MRM: a cloud library and public resource for targeted analysis of small molecules. Nat Methods 15, 681–684 (2018). https://doi.org/10.1038/s41592-018-0110-3
Received:

Accepted:

Published:

Issue Date: