Abstract
Spinal cord neural stem cells (NSCs) have great potential to reconstitute damaged spinal neural circuitry, but they have yet to be generated in vitro. We now report the derivation of spinal cord NSCs from human pluripotent stem cells (hPSCs). Our observations show that these spinal cord NSCs differentiate into a diverse population of spinal cord neurons occupying multiple positions along the dorso-ventral axis, and can be maintained for prolonged time periods. Grafts into injured spinal cords were rich with excitatory neurons, extended large numbers of axons over long distances, innervated their target structures, and enabled robust corticospinal regeneration. The grafts synaptically integrated into multiple host intraspinal and supraspinal systems, including the corticospinal projection, and improved functional outcomes after injury. hPSC-derived spinal cord NSCs could enable a broad range of biomedical applications for in vitro disease modeling and constitute an improved clinically translatable cell source for 'replacement' strategies in several spinal cord disorders.
Access options
Access Nature and 54 other Nature Portfolio journals
Get Nature+, our best-value online-access subscription
$29.99 / 30 days
cancel any time
Subscribe to this journal
Receive 12 print issues and online access
$259.00 per year
only $21.58 per issue
Rent or buy this article
Prices vary by article type
from$1.95
to$39.95
Prices may be subject to local taxes which are calculated during checkout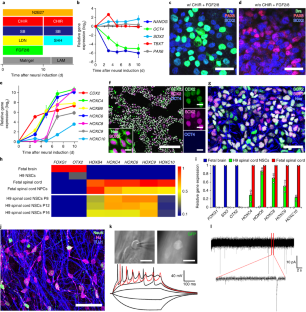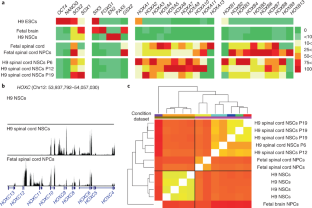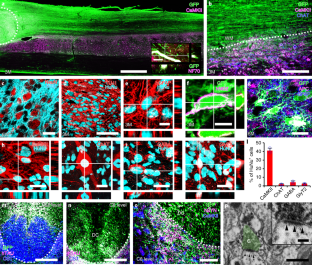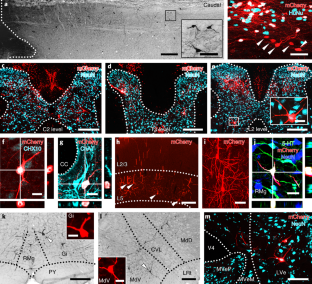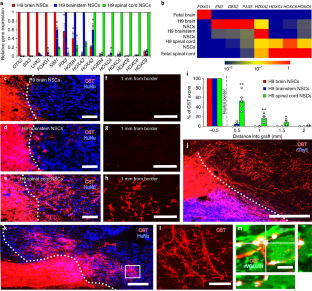 Similar content being viewed by others
References
Kadoya, K. et al. Spinal cord reconstitution with homologous neural grafts enables robust corticospinal regeneration. Nat. Med. 22, 479–487 (2016).

Ma, L. et al. Human embryonic stem cell-derived GABA neurons correct locomotion deficits in quinolinic acid-lesioned mice. Cell Stem Cell 10, 455–464 (2012).

Goldman, S. A. Stem and progenitor cell-based therapy of the central nervous system: hopes, hype, and wishful thinking. Cell Stem Cell 18, 174–188 (2016).

Lindvall, O. & Kokaia, Z. Stem cells in human neurodegenerative disorders—time for clinical translation? J. Clin. Invest. 120, 29–40 (2010).

Lemon, R. N. Descending pathways in motor control. Annu. Rev. Neurosci. 31, 195–218 (2008).

Tuszynski, M. H. & Steward, O. Concepts and methods for the study of axonal regeneration in the CNS. Neuron 74, 777–791 (2012).

Lu, P. et al. Long-distance growth and connectivity of neural stem cells after severe spinal cord injury. Cell 150, 1264–1273 (2012).

Gouti, M. et al. In vitro generation of neuromesodermal progenitors reveals distinct roles for Wnt signalling in the specification of spinal cord and paraxial mesoderm identity. PLoS Biol. 12, e1001937 (2014).

Henrique, D., Abranches, E., Verrier, L. & Storey, K. G. Neuromesodermal progenitors and the making of the spinal cord. Development 142, 2864–2875 (2015).

Gouti, M., Metzis, V. & Briscoe, J. The route to spinal cord cell types: a tale of signals and switches. Trends Genet. 31, 282–289 (2015).

Mazzoni, E. O. et al. Saltatory remodeling of Hox chromatin in response to rostrocaudal patterning signals. Nat. Neurosci. 16, 1191–1198 (2013).

Lippmann, E. S. et al. Deterministic HOX patterning in human pluripotent stem cell-derived neuroectoderm. Stem Cell Rep. 4, 632–644 (2015).

Liu, J. P., Laufer, E. & Jessell, T. M. Assigning the positional identity of spinal motor neurons: rostrocaudal patterning of Hox-c expression by FGFs, Gdf11, and retinoids. Neuron 32, 997–1012 (2001).

Philippidou, P. & Dasen, J. S. Hox genes: choreographers in neural development, architects of circuit organization. Neuron 80, 12–34 (2013).

Chambers, S. M. et al. Highly efficient neural conversion of human ES and iPS cells by dual inhibition of SMAD signaling. Nat. Biotechnol. 27, 275–280 (2009).

Alaynick, W. A., Jessell, T. M. & Pfaff, S. L. SnapShot: spinal cord development. Cell 146, 178 (2011).

Callaway, E. M. & Luo, L. Monosynaptic circuit tracing with glycoprotein-deleted rabies viruses. J. Neurosci. 35, 8979–8985 (2015).

Grskovic, M., Javaherian, A., Strulovici, B. & Daley, G. Q. Induced pluripotent stem cells—opportunities for disease modelling and drug discovery. Nat. Rev. Drug Discov. 10, 915–929 (2011).

Avior, Y., Sagi, I. & Benvenisty, N. Pluripotent stem cells in disease modelling and drug discovery. Nat. Rev. Mol. Cell Biol. 17, 170–182 (2016).

Sterneckert, J. L., Reinhardt, P. & Schöler, H. R. Investigating human disease using stem cell models. Nat. Rev. Genet. 15, 625–639 (2014).

Termsarasab, P., Thammongkolchai, T. & Frucht, S. J. Spinal-generated movement disorders: a clinical review. J. Clin. Mov. Disord. 2, 18 (2015).

Tao, Y. & Zhang, S. C. Neural subtype specification from human pluripotent stem cells. Cell Stem Cell 19, 573–586 (2016).

Zhang, X. et al. Pax6 is a human neuroectoderm cell fate determinant. Cell Stem Cell 7, 90–100 (2010).

Deschamps, J. & van Nes, J. Developmental regulation of the Hox genes during axial morphogenesis in the mouse. Development 132, 2931–2942 (2005).

Kim, W. Y. et al. GSK-3 is a master regulator of neural progenitor homeostasis. Nat. Neurosci. 12, 1390–1397 (2009).

Fuccillo, M., Joyner, A. L. & Fishell, G. Morphogen to mitogen: the multiple roles of Hedgehog signalling in vertebrate neural development. Nat. Rev. Neurosci. 7, 772–783 (2006).

Dunn, N. R., Vincent, S. D., Oxburgh, L., Robertson, E. J. & Bikoff, E. K. Combinatorial activities of Smad2 and Smad3 regulate mesoderm formation and patterning in the mouse embryo. Development 131, 1717–1728 (2004).

Takemoto, T. et al. Tbx6-dependent Sox2 regulation determines neural or mesodermal fate in axial stem cells. Nature 470, 394–398 (2011).

Gómez-Skarmeta, J. L., Campuzano, S. & Modolell, J. Half a century of neural prepatterning: the story of a few bristles and many genes. Nat. Rev. Neurosci. 4, 587–598 (2003).

Davis-Dusenbery, B. N., Williams, L. A., Klim, J. R. & Eggan, K. How to make spinal motor neurons. Development 141, 491–501 (2014).

Kelly, T. K., Karsten, S. L., Geschwind, D. H. & Kornblum, H. I. Cell lineage and regional identity of cultured spinal cord neural stem cells and comparison to brain-derived neural stem cells. PLoS One 4, e4213 (2009).

Goulding, M. Circuits controlling vertebrate locomotion: moving in a new direction. Nat. Rev. Neurosci. 10, 507–518 (2009).

Soshnikova, N. & Duboule, D. Epigenetic temporal control of mouse Hox genes in vivo. Science 324, 1320–1323 (2009).

Ni, Y. et al. Characterization of long descending premotor propriospinal neurons in the spinal cord. J. Neurosci. 34, 9404–9417 (2014).

Lu, P. et al. Prolonged human neural stem cell maturation supports recovery in injured rodent CNS. J. Clin. Invest. 127, 3287–3299 (2017).

Grealish, S. et al. Monosynaptic tracing using modified rabies virus reveals early and extensive circuit integration of human embryonic stem cell-derived neurons. Stem Cell Rep. 4, 975–983 (2015).

Adler, A. F., Lee-Kubli, C., Kumamaru, H., Kadoya, K. & Tuszynski, M. H. Comprehensive monosynaptic rabies virus mapping of host connectivity with neural progenitor grafts after spinal cord Injury. Stem Cell Rep. 8, 1525–1533 (2017).

Del Barrio, M. G. et al. A transcription factor code defines nine sensory interneuron subtypes in the mechanosensory area of the spinal cord. PLoS One 8, e77928 (2013).

Flynn, J. R., Graham, B. A., Galea, M. P. & Callister, R. J. The role of propriospinal interneurons in recovery from spinal cord injury. Neuropharmacology 60, 809–822 (2011).

Esposito, M. S., Capelli, P. & Arber, S. Brainstem nucleus MdV mediates skilled forelimb motor tasks. Nature 508, 351–356 (2014).

Kirkeby, A. et al. Generation of regionally specified neural progenitors and functional neurons from human embryonic stem cells under defined conditions. Cell Rep. 1, 703–714 (2012).

Basso, D. M., Beattie, M. S. & Bresnahan, J. C. A sensitive and reliable locomotor rating scale for open field testing in rats. J. Neurotrauma 12, 1–21 (1995).

Kloos, A. D., Fisher, L. C., Detloff, M. R., Hassenzahl, D. L. & Basso, D. M. Stepwise motor and all-or-none sensory recovery is associated with nonlinear sparing after incremental spinal cord injury in rats. Exp. Neurol. 191, 251–265 (2005).

Rosenzweig, E. S. et al. Restorative effects of human neural stem cell grafts on the primate spinal cord. Nat. Med. 24, 484–490 (2018).

Krtolica, A. et al. GROα regulates human embryonic stem cell self-renewal or adoption of a neuronal fate. Differentiation 81, 222–232 (2011).

Elkabetz, Y. et al. Human ES cell-derived neural rosettes reveal a functionally distinct early neural stem cell stage. Genes Dev. 22, 152–165 (2008).

Dobin, A. et al. STAR: ultrafast universal RNA-seq aligner. Bioinformatics 29, 15–21 (2013).
Acknowledgements
We thank P. Lu, J. Dulin, C. Lee-Kubli, and E. Staufenberg for experimental assistance; R. Kawaguchi and F. Gao for analysis of RNA-seq data; R.C. Addis (University of Pennsylvania, Philadelphia, PA, USA) for providing lentivirus expressing GCaMP5; S. Fisher (UCSF, San Francisco, CA, USA) for providing UCSF4 hESCs; T. Müller and C. Birchmeier (Max Delbrück Center for Molecular Medicine, Berlin, Germany) for providing TLX3 and LBX1 antibodies; S. Ross (University of Pittsburgh, Pittsburgh, PA, USA) for providing BHLHB5 antibody; and R. Darnell (the Rockefeller University, New York, NY, USA) for providing Hu antibody. This work was supported by the Veterans Administration Gordon Mansfield Spinal Cord Injury Consortium (to M.H.T.), the NIH (grants NS042291 and EB014986 to M.H.T.), the Craig H. Neilsen Foundation (to H.K. and K.K.), the Japan Society for the Promotion of Science (to H.K.), the Bernard and Anne Spitzer Charitable Trust (to M.H.T.), and the Dr. Miriam and Sheldon G. Adelson Medical Research Foundation (to M.H.T.).
Ethics declarations
Competing interests
H.K. and M.H.T are submitting a patent application related to this work.
Additional information
Publisher's note: Springer Nature remains neutral with regard to jurisdictional claims in published maps and institutional affiliations.
Integrated supplementary information
Supplementary information
About this article
Cite this article
Kumamaru, H., Kadoya, K., Adler, A.F. et al. Generation and post-injury integration of human spinal cord neural stem cells. Nat Methods 15, 723–731 (2018). https://doi.org/10.1038/s41592-018-0074-3
Received:

Accepted:

Published:

Issue Date:

DOI: https://doi.org/10.1038/s41592-018-0074-3