Abstract
Brain tumors are among the most lethal and devastating cancers. Their study is limited by genetic heterogeneity and the incompleteness of available laboratory models. Three-dimensional organoid culture models offer innovative possibilities for the modeling of human disease. Here we establish a 3D in vitro model called a neoplastic cerebral organoid (neoCOR), in which we recapitulate brain tumorigenesis by introducing oncogenic mutations in cerebral organoids via transposon- and CRISPR–Cas9-mediated mutagenesis. By screening clinically relevant mutations identified in cancer genome projects, we defined mutation combinations that result in glioblastoma-like and central nervous system primitive neuroectodermal tumor (CNS-PNET)-like neoplasms. We demonstrate that neoCORs are suitable for use in investigations of aspects of tumor biology such as invasiveness, and for evaluation of drug effects in the context of specific DNA aberrations. NeoCORs will provide a valuable complement to the current basic and preclinical models used to study brain tumor biology.
Relevant articles
Open Access articles citing this article.
Yueh Chien

,

Yu-Jer Hsiao

…

Yi-Ping Yang

Journal of Nanobiotechnology Open Access 03 December 2022

Renshun Dong

,

Bixiang Zhang

&

Xuewu Zhang

Cell & Bioscience Open Access 09 September 2022
Access options
Subscribe to Nature+
Get immediate online access to Nature and 55 other Nature journal
Subscribe to Journal
Get full journal access for 1 year
$99.00
only $8.25 per issue
All prices are NET prices.
VAT will be added later in the checkout.
Tax calculation will be finalised during checkout.
Buy article
Get time limited or full article access on ReadCube.
$32.00
All prices are NET prices.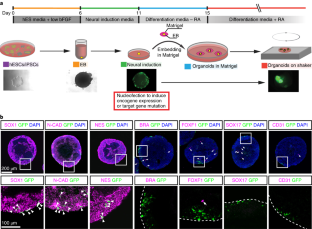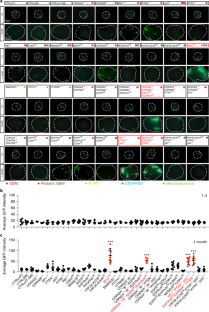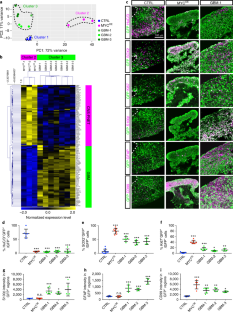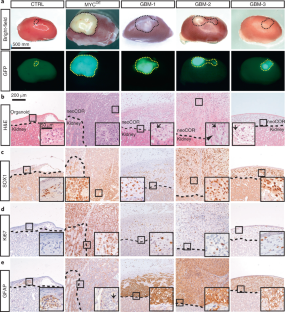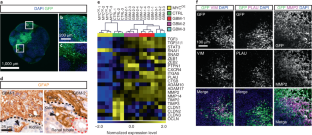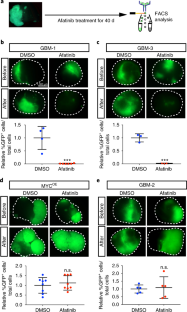 References
Ostrom, Q. T. et al. CBTRUS Statistical Report: Primary Brain and Other Central Nervous System Tumors Diagnosed in the United States in 2009–2013. Neuro Oncol. 18, v1–v75 (2016).

Lui, J. H., Hansen, D. V. & Kriegstein, A. R. Development and evolution of the human neocortex. Cell 146, 18–36 (2011).

Cancer Genome Atlas Research Network. Comprehensive genomic characterization defines human glioblastoma genes and core pathways. Nature 455, 1061–1068 (2008).

Brennan, C. W. et al. The somatic genomic landscape of glioblastoma. Cell 155, 462–477 (2013).

Parsons, D. W. et al. The genetic landscape of the childhood cancer medulloblastoma. Science 331, 435–439 (2011).

Huszthy, P. C. et al. In vivo models of primary brain tumors: pitfalls and perspectives. Neuro Oncol. 14, 979–993 (2012).

Hu, B. et al. Epigenetic activation of WNT5A drives glioblastoma stem cell differentiation and invasive growth. Cell 167, 1281–1295 (2016).

Singh, S. K. et al. Identification of human brain tumour initiating cells. Nature 432, 396–401 (2004).

Hubert, C. G. et al. A three-dimensional organoid culture system derived from human glioblastomas recapitulates the hypoxic gradients and cancer stem cell heterogeneity of tumors found in vivo. Cancer Res. 76, 2465–2477 (2016).

Zhu, Z. et al. Zika virus has oncolytic activity against glioblastoma stem cells. J. Exp. Med. 214, 2843–2857 (2017).

Sato, T. et al. Single Lgr5 stem cells build crypt-villus structures in vitro without a mesenchymal niche. Nature 459, 262–265 (2009).

Kelava, I. & Lancaster, M. A. Stem cell models of human brain development. Cell Stem Cell 18, 736–748 (2016).

Clevers, H., Loh, K. M. & Nusse, R. An integral program for tissue renewal and regeneration: Wnt signaling and stem cell control. Science 346, 1248012 (2014).

Lancaster, M. A. & Knoblich, J. A. Organogenesis in a dish: modeling development and disease using organoid technologies. Science 345, 1247125 (2014).

Johnson, J. Z. & Hockemeyer, D. Human stem cell-based disease modeling: prospects and challenges. Curr. Opin. Cell Biol. 37, 84–90 (2015).

Neal, J. T. & Kuo, C. J. Organoids as models for neoplastic transformation. Annu. Rev. Pathol. 11, 199–220 (2016).

Lancaster, M. A. et al. Cerebral organoids model human brain development and microcephaly. Nature 501, 373–379 (2013).

Bershteyn, M. et al. Human iPSC-derived cerebral organoids model cellular features of lissencephaly and reveal prolonged mitosis of outer radial glia. Cell Stem Cell 20, 435–449 (2017).

Mariani, J. et al. FOXG1-dependent dysregulation of GABA/glutamate neuron differentiation in autism spectrum disorders. Cell 162, 375–390 (2015).

Iefremova, V. et al. An organoid-based model of cortical development identifies non-cell-autonomous defects in Wnt signaling contributing to Miller-Dieker syndrome. Cell Rep. 19, 50–59 (2017).

Louis, D. N. et al. The2016 World Health Organization Classification of Tumors of the Central Nervous System: a summary. Acta Neuropathol. 131, 803–820 (2016).

Zhu, Y. et al. Early inactivation of p53 tumor suppressor gene cooperating with NF1 loss induces malignant astrocytoma. Cancer Cell 8, 119–130 (2005).

Kwon, C.-H. et al. Pten haploinsufficiency accelerates formation of high-grade astrocytomas. Cancer Res. 68, 3286–3294 (2008).

Zheng, H. et al. p53 and Pten control neural and glioma stem/progenitor cell renewal and differentiation. Nature 455, 1129–1133 (2008).

Marino, S., Vooijs, M., van Der Gulden, H., Jonkers, J. & Berns, A. Induction of medulloblastomas inp53-null mutant mice by somatic inactivation of Rb in the external granular layer cells of the cerebellum. Genes Dev. 14, 994–1004 (2000).

Gibson, P. et al. Subtypes of medulloblastoma have distinct developmental origins. Nature 468, 1095–1099 (2010).

Momota, H., Shih, A. H., Edgar, M. A. & Holland, E. C. c-Myc and β-catenin cooperate with loss of p53 to generate multiple members of the primitive neuroectodermal tumor family in mice. Oncogene 27, 4392–4401 (2008).

Han, Z.-Y. et al. The occurrence of intracranial rhabdoid tumours in mice depends on temporal control of Smarcb1 inactivation. Nat. Commun. 7, 10421 (2016).

Chen, J., McKay, R. M. & Parada, L. F. Malignant glioma: lessons from genomics, mouse models, and stem cells. Cell 149, 36–47 (2012).

Sturm, D. et al. New brain tumor entities emerge from molecular classification of CNS-PNETs. Cell 164, 1060–1072 (2016).

Biegel, J. A. et al. Germ-line and acquired mutations of INI1 in atypical teratoid and rhabdoid tumors. Cancer Res. 59, 74–79 (1999).

Rogers, H. A. et al. WNT/β-catenin pathway activation in Myc immortalised cerebellar progenitor cells inhibits neuronal differentiation and generates tumours resembling medulloblastoma. Br. J. Cancer 107, 1144–1152 (2012).

Hutter, S., Bolin, S., Weishaupt, H. & Swartling, F. J. Modeling and targeting MYC genes in childhood brain tumors. Genes (Basel) 8, 107–119 (2017).

Atkins, M. et al. An ectopic network of transcription factors regulated by Hippo signaling drives growth and invasion of a malignant tumor model. Curr. Biol. 26, 2101–2113 (2016).

Gutmann, D. H., Saporito-Irwin, S., DeClue, J. E., Wienecke, R. & Guha, A. Alterations in the rap1 signaling pathway are common in human gliomas. Oncogene 15, 1611–1616 (1997).

Clark, P. A. et al. Activation of multiple ERBB family receptors mediates glioblastoma cancer stem-like cell resistance to EGFR-targeted inhibition. Neoplasia 14, 420–428 (2012).

Mayer, A., Schneider, F., Vaupel, P., Sommer, C. & Schmidberger, H. Differential expression of HIF-1 in glioblastoma multiforme and anaplastic astrocytoma. Int. J. Oncol. 41, 1260–1270 (2012).

Puliyappadamba, V. T., Hatanpaa, K. J., Chakraborty, S. & Habib, A. A. The role of NF-κB in the pathogenesis of glioma. Mol. Cell. Oncol. 1, e963478 (2014).

Tavares, C. B. et al. Expression of estrogen and progesterone receptors in astrocytomas: a literature review. Clin. (São Paulo) 71, 481–486 (2016).

Ellison, D. et al. Neuropathology. 3rd edn (Mosby: Maryland Heights, MO, 2013).

Rocchi, A. et al. CD99 inhibits neural differentiation of human Ewing sarcoma cells and thereby contributes to oncogenesis. J. Clin. Invest. 120, 668–680 (2010).

Schmitz, M. et al. Identification of SOX2 as a novel glioma-associated antigen and potential target for T cell-based immunotherapy. Br. J. Cancer 96, 1293–1301 (2007).

Seol, H. J. et al. Overexpression of CD99 increases the migration and invasiveness of human malignant glioma cells. Genes Cancer 3, 535–549 (2012).

Iwadate, Y. Epithelial-mesenchymal transition in glioblastoma progression. Oncol. Lett. 11, 1615–1620 (2016).

Binder, D. K. & Berger, M. S. Proteases and the biology of glioma invasion. J. Neurooncol. 56, 149–158 (2002).

Paw, I., Carpenter, R. C., Watabe, K., Debinski, W. & Lo, H.-W. Mechanisms regulating glioma invasion. Cancer Lett. 362, 1–7 (2015).

Trojanowski, J. Q. et al. In vivo and in vitro models of medulloblastomas and other primitive neuroectodermal brain tumors of childhood. Mol. Chem. Neuropathol. 21, 219–239 (1994).

Grotzer, M. A., Neve, A. & Baumgartner, M. Dissecting brain tumor growth and metastasis in vitro and ex vivo. J. Cancer Metastasis Treat. 2, 149–162 (2016).

Muffat, J. et al. Efficient derivation of microglia-like cells from human pluripotent stem cells. Nat. Med. 22, 1358–1367 (2016).

Cui, X. et al. Hacking macrophage-associated immunosuppression for regulating glioblastoma angiogenesis. Biomaterials 161, 164–178 (2018).

Bian, S. & Knoblich, J.A. Genetic engineering to initiate tumorigenesis in cerebral organoids. Protoc. Exch. https://doi.org/10.1038/protex.2018.071 (2018).

Mátés, L. et al. Molecular evolution of a novel hyperactive Sleeping Beauty transposase enables robust stable gene transfer in vertebrates. Nat. Genet. 41, 753–761 (2009).

Matsuda, T. & Cepko, C. L. Electroporation and RNA interference in the rodent retina in vivo and in vitro. Proc. Natl. Acad. Sci. USA 101, 16–22 (2004).

Wang, J. et al. Primate-specific endogenous retrovirus-driven transcription defines naive-like stem cells. Nature 516, 405–409 (2014).

Ran, F. A. et al. Genome engineering using the CRISPR-Cas9 system. Nat. Protoc. 8, 2281–2308 (2013).

Huang, W., Sherman, B. T. & Lempicki, R. A. Systematic and integrative analysis of large gene lists using DAVID bioinformatics resources. Nat. Protoc. 4, 44–57 (2009).

Saeed, A. I. et al. TM4: a free, open-source system for microarray data management and analysis. Biotechniques 34, 374–378 (2003).

Bagley, J. A., Reumann, D., Bian, S., Lévi-Strauss, J. & Knoblich, J. A. Fused cerebral organoids model interactions between brain regions. Nat. Methods 14, 743–751 (2017).
Acknowledgements
We are grateful to all members of the Knoblich laboratory for discussions, and H. Gustafson and S. Wolfinger for technical support. We thank O. Wüseke and F. Bonnay for comments on the manuscript. We thank T. Müller, P. Pasierbek, G. Petri, M. Weninger, G. Schmauss, and T. Lendl for FACS and help with imaging. We thank A. Piszczek, T. Engelmaier, J. Klughofer, and M. Zeba for tissue processing and immunohistochemical staining. We thank the Next Generation Sequencing Facility for next-generation sequencing. We thank Boehringer Ingelheim RCV GmbH & Co KG for providing EGFR inhibitors. We thank W. Hu for statistical advice. J.A. Bagley received funding from an EMBO postdoctoral fellowship, and from the European Union's Horizon 2020 research and innovation program under Marie Skłodowska-Curie grant agreement no. 707109. Work in the Knoblich laboratory is supported by the Austrian Academy of Sciences, the Austrian Science Fund (Z_153_B09), and an advanced grant from the European Research Council (ERC).
Ethics declarations
Competing interests
S.B. and J.A.K. have filed a patent application (EP 17190447.7) for use of this method in future disease modeling and preclinical investigation.
Additional information
Publisher's note: Springer Nature remains neutral with regard to jurisdictional claims in published maps and institutional affiliations.
Integrated supplementary information
Supplementary information
About this article
Cite this article
Bian, S., Repic, M., Guo, Z. et al. Genetically engineered cerebral organoids model brain tumor formation. Nat Methods 15, 631–639 (2018). https://doi.org/10.1038/s41592-018-0070-7
Received:

Accepted:

Published:

Issue Date:

DOI: https://doi.org/10.1038/s41592-018-0070-7