Abstract
The RNA-guided endonuclease Cas9 can be converted into a programmable transcriptional repressor, but inefficiencies in target-gene silencing have limited its utility. Here we describe an improved Cas9 repressor based on the C-terminal fusion of a rationally designed bipartite repressor domain, KRAB–MeCP2, to nuclease-dead Cas9. We demonstrate the system's superiority in silencing coding and noncoding genes, simultaneously repressing a series of target genes, improving the results of single and dual guide RNA library screens, and enabling new architectures of synthetic genetic circuits.
Your institute does not have access to this article
Relevant articles
Open Access articles citing this article.
Yanqiong Chen

,

Wenting Zhang

…

Yi Liu

BMC Cancer Open Access 10 July 2022

Zhiquan Wang

,

Huihuang Yan

…

Neil E. Kay

Blood Cancer Journal Open Access 01 July 2022

Kim Theilgaard-Mönch

,

Sachin Pundhir

…

Bo T. Porse

Nature Communications Open Access 23 June 2022
Access options
Subscribe to Nature+
Get immediate online access to the entire Nature family of 50+ journals
Subscribe to Journal
Get full journal access for 1 year
$119.00
only $9.92 per issue
All prices are NET prices.
VAT will be added later in the checkout.
Tax calculation will be finalised during checkout.
Buy article
Get time limited or full article access on ReadCube.
$32.00
All prices are NET prices.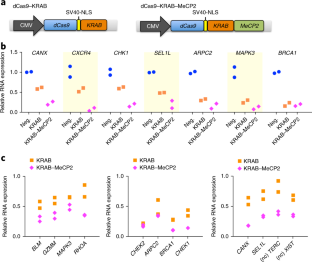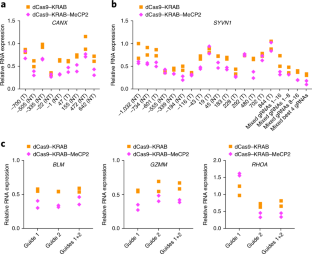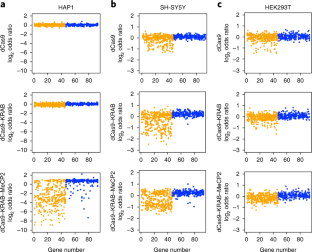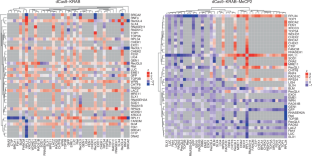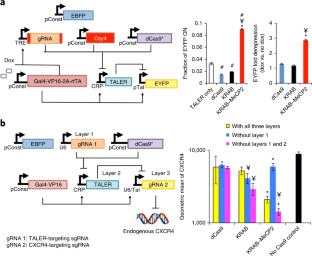 References
Cho, S. W., Kim, S., Kim, J. M. & Kim, J.-S. Targeted genome engineering in human cells with the Cas9 RNA-guided endonuclease. Nat. Biotechnol. 31, 230–232 (2013).

Cong, L. et al. Multiplex genome engineering using CRISPR/Cas systems. Science 339, 819–823 (2013).

Mali, P. et al. RNA-guided human genome engineering via Cas9. Science 339, 823–826 (2013).

Jinek, M. et al. A programmable dual-RNA-guided DNA endonuclease in adaptive bacterial immunity. Science 337, 816–821 (2012).

DiCarlo, J. E. et al. Genome engineering in Saccharomyces cerevisiae using CRISPR-Cas systems. Nucleic Acids Res. 41, 4336–4343 (2013).

Hwang, W. Y. et al. Efficient genome editing in zebrafish using a CRISPR-Cas system. Nat. Biotechnol. 31, 227–229 (2013).

Wang, H. et al. One-step generation of mice carrying mutations in multiple genes by CRISPR/Cas-mediated genome engineering. Cell 153, 910–918 (2013).

Zhou, Y. et al. High-throughput screening of a CRISPR/Cas9 library for functional genomics in human cells. Nature 509, 487–491 (2014).

Shalem, O. et al. Genome-scale CRISPR-Cas9 knockout screening in human cells. Science 343, 84–87 (2014).

Wang, T., Wei, J. J., Sabatini, D. M. & Lander, E. S. Genetic screens in human cells using the CRISPR-Cas9 system. Science 343, 80–84 (2014).

Koike-Yusa, H., Li, Y., Tan, E.-P., del Castillo Velasco-Herrera, M. & Yusa, K. Genome-wide recessive genetic screening in mammalian cells with a lentiviral CRISPR-guide RNA library. Nat. Biotechnol. 32, 267–273 (2014).

Mandegar, M. A. et al. CRISPR interference efficiently induces specific and reversible gene silencing in human iPSCs. Cell Stem Cell 18, 541–553 (2016).

Qi, L. S. et al. Repurposing CRISPR as an RNA-guided platform for sequence-specific control of gene expression. Cell 152, 1173–1183 (2013).

Gilbert, L. A. et al. CRISPR-mediated modular RNA-guided regulation of transcription in eukaryotes. Cell 154, 442–451 (2013).

Gilbert, L. A. et al. Genome-scale CRISPR-mediated control of gene repression and activation. Cell 159, 647–661 (2014).

Thakore, P. I., Black, J. B., Hilton, I. B. & Gersbach, C. A. Editing the epigenome: technologies for programmable transcription and epigenetic modulation. Nat. Methods 13, 127–137 (2016).

Konermann, S. et al. Optical control of mammalian endogenous transcription and epigenetic states. Nature 500, 472–476 (2013).

La Russa, M. F. & Qi, L. S. The new state of the art: Cas9 for gene activation and repression. Mol. Cell Biol. 35, 3800–3809 (2015).

Evers, B. et al. CRISPR knockout screening outperforms shRNA and CRISPRi in identifying essential genes. Nat. Biotechnol. 34, 631–633 (2016).

Chavez, A. et al. Highly efficient Cas9-mediated transcriptional programming. Nat. Methods 12, 326–328 (2015).

Konermann, S. et al. Genome-scale transcriptional activation by an engineered CRISPR-Cas9 complex. Nature 517, 583–588 (2015).

Zalatan, J. G. et al. Engineering complex synthetic transcriptional programs with CRISPR RNA scaffolds. Cell 160, 339–350 (2015).

Tanenbaum, M. E., Gilbert, L. A., Qi, L. S., Weissman, J. S. & Vale, R. D. A protein-tagging system for signal amplification in gene expression and fluorescence imaging. Cell 159, 635–646 (2014).

Shao, S. et al. Multiplexed sgRNA expression allows versatile single non-repetitive DNA labeling and endogenous gene regulation. bioRxiv Preprint at https://www.biorxiv.org/content/early/2017/03/29/121905 (2017).

Stolzenburg, S. et al. Stable oncogenic silencing in vivo by programmable and targeted de novo DNA methylation in breast cancer. Oncogene 34, 5427–5435 (2015).

Li, F. et al. Chimeric DNA methyltransferases target DNA methylation to specific DNA sequences and repress expression of target genes. Nucleic Acids Res. 35, 100–112 (2007).

Stepper, P. et al. Efficient targeted DNA methylation with chimeric dCas9-Dnmt3a-Dnmt3L methyltransferase. Nucleic Acids Res. 45, 1703–1713 (2017).

Li, W. et al. MAGeCK enables robust identification of essential genes from genome-scale CRISPR/Cas9 knockout screens. Genome Biol. 15, 554 (2014).

Shen, J. P. et al. Combinatorial CRISPR-Cas9 screens for de novo mapping of genetic interactions. Nat. Methods 14, 573–576 (2017).

Dixon, S. J., Costanzo, M., Baryshnikova, A., Andrews, B. & Boone, C. Systematic mapping of genetic interaction networks. Annu. Rev. Genet. 43, 601–625 (2009).

Menche, J. et al. Uncovering disease-disease relationships through the incomplete interactome. Science 347, 1257601 (2015).

Costanzo, M. et al. A global genetic interaction network maps a wiring diagram of cellular function. Science 353, aaf1420 (2016).

Sajesh, B. V. & McManus, K. J. Targeting SOD1 induces synthetic lethal killing in BLM- and CHEK2-deficient colorectal cancer cells. Oncotarget 6, 27907–27922 (2015).

Imamura, O. & Campbell, J. L. The human Bloom syndrome gene suppresses the DNA replication and repair defects of yeast dna2 mutants. Proc. Natl Acad. Sci. USA 100, 8193–8198 (2003).

Budd, M. E. & Campbell, J. L. The pattern of sensitivity of yeast dna2 mutants to DNA damaging agents suggests a role in DSB and postreplication repair pathways. Mutat. Res. 459, 173–186 (2000).

Popuri, V., Croteau, D. L., Brosh, R. M. Jr. & Bohr, V. A. RECQ1 is required for cellular resistance to replication stress and catalyzes strand exchange on stalled replication fork structures. Cell Cycle 11, 4252–4265 (2012).

Kiani, S. et al. CRISPR transcriptional repression devices and layered circuits in mammalian cells. Nat. Methods 11, 723–726 (2014).

Friedman, J. R. et al. KAP-1, a novel corepressor for the highly conserved KRAB repression domain. Genes Dev. 10, 2067–2078 (1996).

Kim, S. S. et al. A novel member of the RING finger family, KRIP-1, associates with the KRAB-A transcriptional repressor domain of zinc finger proteins. Proc. Natl. Acad. Sci. USA 93, 15299–15304 (1996).

Moosmann, P., Georgiev, O., Le Douarin, B., Bourquin, J. P. & Schaffner, W. Transcriptional repression by RING finger protein TIF1 beta that interacts with the KRAB repressor domain of KOX1. Nucleic Acids Res. 24, 4859–4867 (1996).

Jones, P. L. et al. Methylated DNA and MeCP2 recruit histone deacetylase to repress transcription. Nat. Genet. 19, 187–191 (1998).

Nan, X. et al. Transcriptional repression by the methyl-CpG-binding protein MeCP2 involves a histone deacetylase complex. Nature 393, 386–389 (1998).

Wade, P. A. et al. Histone deacetylase directs the dominant silencing of transcription in chromatin: association with MeCP2 and the Mi-2 chromodomain SWI/SNF ATPase. Cold Spring Harb. Symp. Quant. Biol. 63, 435–445 (1998).

Kimura, H. & Shiota, K. Methyl-CpG-binding protein, MeCP2, is a target molecule for maintenance DNA methyltransferase, Dnmt1. J. Biol. Chem. 278, 4806–4812 (2003).

Kleinstiver, B. P. et al. High-fidelity CRISPR-Cas9 nucleases with no detectable genome-wide off-target effects. Nature 529, 490–495 (2016).

Fu, Y., Sander, J. D., Reyon, D., Cascio, V. M. & Joung, J. K. Improving CRISPR-Cas nuclease specificity using truncated guide RNAs. Nat. Biotechnol. 32, 279–284 (2014).

Polstein, L. R. et al. Genome-wide specificity of DNA binding, gene regulation, and chromatin remodeling by TALE- and CRISPR/Cas9-based transcriptional activators. Genome Res. 25, 1158–1169 (2015).

Wu, X. et al. Genome-wide binding of the CRISPR endonuclease Cas9 in mammalian cells. Nat. Biotechnol. 32, 670–676 (2014).

Kuscu, C., Arslan, S., Singh, R., Thorpe, J. & Adli, M. Genome-wide analysis reveals characteristics of off-target sites bound by the Cas9 endonuclease. Nat. Biotechnol. 32, 677–683 (2014).

Chavez, A. et al. Comparison of Cas9 activators in multiple species. Nat. Methods 13, 563–567 (2016).

Livak, K. J. & Schmittgen, T. D. Analysis of relative gene expression data using real-time quantitative PCR and the 2–ΔΔC(T) method. Methods 25, 402–408 (2001).
Acknowledgements
This work was supported by the NIH (grants RM1 HG008525 and P50 HG005550 to G.M.C.), the National Cancer Institute (grant 5T32CA009216-34 to A.C.), the Burroughs Wellcome Fund (Career Award for Medical Scientists to A.C.), NIGMS (R35 GM119850 to N.E.L.), the Novo Nordisk Foundation (NNF10CC1016517 to N.E.L.), DARPA (Young Faculty Award D16AP00047 to S.K.), the Arizona State University Fulton Schools of Engineering startup fund (S.K.), and the Paul G. Allen Frontiers Group (J.J.C.). HEK293T cells were a gift from P. Mali (University of California, San Diego, San Diego, CA, USA). psPAX2 was a gift from D. Trono (Ecole Polytechnique Federale de Lausanne, Lausanne, Switzerland). pCMV-VSV-G was a gift from B. Weinberg (Massachusetts Institute of Technology, Boston, MA, USA). The plasmid containing a single gRNA library targeting essential genes was a gift from R. Bernards (The Netherlands Cancer Institute, Amsterdam, the Netherlands).
Ethics declarations
Competing interests
G.M.C. is a founder of and advisor for Editas Medicine. G.M.C. has equity in Editas and Caribou Biosciences (for the full disclosure list, please see http://arep.med.harvard.edu/gmc/tech.html).
Additional information
Publisher's note: Springer Nature remains neutral with regard to jurisdictional claims in published maps and institutional affiliations.
Integrated supplementary information
Supplementary information
About this article
Cite this article
Yeo, N.C., Chavez, A., Lance-Byrne, A. et al. An enhanced CRISPR repressor for targeted mammalian gene regulation. Nat Methods 15, 611–616 (2018). https://doi.org/10.1038/s41592-018-0048-5
Received:

Accepted:

Published:

Issue Date:

DOI: https://doi.org/10.1038/s41592-018-0048-5