Abstract
Acquired genomic structural variants (SVs) are major hallmarks of cancer genomes, but they are challenging to reconstruct from short-read sequencing data. Here we exploited the long reads of the nanopore platform using our customized pipeline, Picky (https://github.com/TheJacksonLaboratory/Picky), to reveal SVs of diverse architecture in a breast cancer model. We identified the full spectrum of SVs with superior specificity and sensitivity relative to short-read analyses, and uncovered repetitive DNA as the major source of variation. Examination of genome-wide breakpoints at nucleotide resolution uncovered micro-insertions as the common structural features associated with SVs. Breakpoint density across the genome is associated with the propensity for interchromosomal connectivity and was found to be enriched in promoters and transcribed regions of the genome. Furthermore, we observed an over-representation of reciprocal translocations from chromosomal double-crossovers through phased SVs. We demonstrate that Picky analysis is an effective tool for comprehensive detection of SVs in cancer genomes from long-read data.
Access options
Subscribe to Journal
Get full journal access for 1 year
$59.00
only $4.92 per issue
All prices are NET prices.
VAT will be added later in the checkout.
Tax calculation will be finalised during checkout.
Rent or Buy article
Get time limited or full article access on ReadCube.
from$8.99
All prices are NET prices.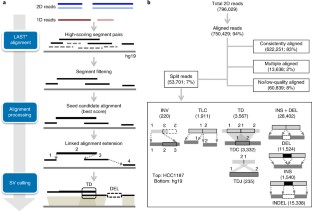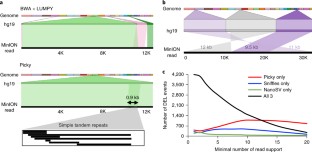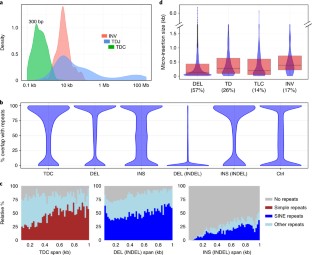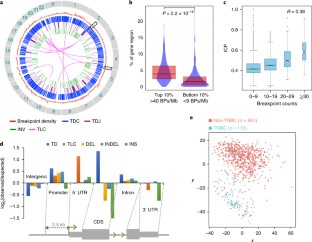 References
1.

Sudmant, P. H. et al. An integrated map of structural variation in 2,504 human genomes. Nature 526, 75–81 (2015).

2.

Feuk, L., Carson, A. R. & Scherer, S. W. Structural variation in the human genome. Nat. Rev. Genet. 7, 85–97 (2006).

3.

1000 Genomes Project Consortium. A global reference for human genetic variation. Nature 526, 68–74 (2015).

4.

Bochukova, E. G. et al. Large, rare chromosomal deletions associated with severe early-onset obesity. Nature 463, 666–670 (2010).

5.

Diskin, S. J. et al. Copy number variation at 1q21.1 associated with neuroblastoma. Nature 459, 987–991 (2009).

6.

Edwards, P. A. Fusion genes and chromosome translocations in the common epithelial cancers. J. Pathol. 220, 244–254 (2010).

7.

Menghi, F. et al. The tandem duplicator phenotype as a distinct genomic configuration in cancer. Proc. Natl. Acad. Sci. USA 113, E2373–E2382 (2016).

8.

Weischenfeldt, J., Symmons, O., Spitz, F. & Korbel, J. O. Phenotypic impact of genomic structural variation: insights from and for human disease. Nat. Rev. Genet. 14, 125–138 (2013).

9.

Stankiewicz, P. & Lupski, J. R. Structural variation in the human genome and its role in disease. Annu. Rev. Med. 61, 437–455 (2010).

10.

Chaisson, M. J. et al. Resolving the complexity of the human genome using single-molecule sequencing. Nature 517, 608–611 (2015).

11.

Goodwin, S., McPherson, J. D. & McCombie, W. R. Coming of age: ten years of next-generation sequencing technologies. Nat. Rev. Genet. 17, 333–351 (2016).

12.

Alkan, C., Coe, B. P. & Eichler, E. E. Genome structural variation discovery and genotyping. Nat. Rev. Genet. 12, 363–376 (2011).

13.

Mills, R. E. et al. Mapping copy number variation by population-scale genome sequencing. Nature 470, 59–65 (2011).

14.

Sović, I. et al. Fast and sensitive mapping of nanopore sequencing reads with GraphMap. Nat. Commun. 7, 11307 (2016).

15.

Spies, N. et al. Genome-wide reconstruction of complex structural variants using read clouds. Nat. Methods 14, 915–920 (2017).

16.

Cretu Stancu, M. et al. Mapping and phasing of structural variation in patient genomes using nanopore sequencing. Nat. Commun. 8, 1326 (2017).

17.

Sedlazeck, F.J. et al. Accurate detection of complex structural variations using single molecule sequencing. bioRxiv Preprint at https://www.biorxiv.org/content/early/2017/07/28/169557 (2017).

18.

Jain, M. et al. Improved data analysis for the MinION nanopore sequencer. Nat. Methods 12, 351–356 (2015).

19.

Deamer, D., Akeson, M. & Branton, D. Three decades of nanopore sequencing. Nat. Biotechnol. 34, 518–524 (2016).

20.

Jain, M., Olsen, H. E., Paten, B. & Akeson, M. The Oxford Nanopore MinION: delivery of nanopore sequencing to the genomics community. Genome Biol. 17, 239 (2016).

21.

Jain, M. et al. Nanopore sequencing and assembly of a human genome with ultra-long reads. Nat. Biotechnol. 36, 338–345 (2018).

22.

Gazdar, A. F. et al. Characterization of paired tumor and non-tumor cell lines established from patients with breast cancer. Int. J. Cancer 78, 766–774 (1998).

23.

Li, H. Minimap2: fast pairwise alignment for long nucleotide sequences. arXiv Preprint at https://arxiv.org/abs/1708.01492 (2017).

24.

Kiełbasa, S. M., Wan, R., Sato, K., Horton, P. & Frith, M. C. Adaptive seeds tame genomic sequence comparison. Genome Res. 21, 487–493 (2011).

25.

Frith, M. C., Hamada, M. & Horton, P. Parameters for accurate genome alignment. BMC Bioinformatics 11, 80 (2010).

26.

Layer, R. M., Chiang, C., Quinlan, A. R. & Hall, I. M. LUMPY: a probabilistic framework for structural variant discovery. Genome Biol. 15, R84 (2014).

27.

Stephens, P. J. et al. Complex landscapes of somatic rearrangement in human breast cancer genomes. Nature 462, 1005–1010 (2009).

28.

Pendleton, M. et al. Assembly and diploid architecture of an individual human genome via single-molecule technologies. Nat. Methods 12, 780–786 (2015).

29.

Bignell, G. R. et al. Architectures of somatic genomic rearrangement in human cancer amplicons at sequence-level resolution. Genome Res. 17, 1296–1303 (2007).

30.

Campbell, P. J. et al. Identification of somatically acquired rearrangements in cancer using genome-wide massively parallel paired-end sequencing. Nat. Genet. 40, 722–729 (2008).

31.

Cahill, D., Connor, B. & Carney, J. P. Mechanisms of eukaryotic DNA double strand break repair. Front. Biosci. 11, 1958–1976 (2006).

32.

Howarth, K. D. et al. Array painting reveals a high frequency of balanced translocations in breast cancer cell lines that break in cancer-relevant genes. Oncogene 27, 3345–3359 (2008).

33.

Kalhor, R., Tjong, H., Jayathilaka, N., Alber, F. & Chen, L. Genome architectures revealed by tethered chromosome conformation capture and population-based modeling. Nat. Biotechnol. 30, 90–98 (2011).

34.

Branco, M. R. & Pombo, A. Intermingling of chromosome territories in interphase suggests role in translocations and transcription-dependent associations. PLoS Biol. 4, e138 (2006).

35.

Tjong, H. et al. Population-based 3D genome structure analysis reveals driving forces in spatial genome organization. Proc. Natl. Acad. Sci. USA 113, E1663–E1672 (2016).

36.

Chung, I. F. et al. DriverDBv2: a database for human cancer driver gene research. Nucleic Acids Res. 44, D975–D979 (2016).
Acknowledgements
The authors thank P. Shreckengast for collecting the HCC1187 cells; C. Robinett and A. Lau for their comments on the manuscript; and B. Hanson and M. Bolisetty for their help in setting up the initial nanopore runs. Research reported in this publication was partially supported by the National Cancer Institute of the National Institutes of Health under Award Number P30CA034196. The content is solely the responsibility of the authors and does not necessarily represent the official views of the National Institutes of Health.
Ethics declarations
Competing interests
L.G., C.-H.W., and C.-L.W. have received a few batches of reagent from Oxford Nanopore. C.-L.W. has received travel and accommodation support from Oxford Nanopore as an invited speaker at the Oxford Nanopore user meeting.
Additional information
Publisher's note: Springer Nature remains neutral with regard to jurisdictional claims in published maps and institutional affiliations.
Integrated supplementary information
Supplementary information
About this article
Cite this article
Gong, L., Wong, CH., Cheng, WC. et al. Picky comprehensively detects high-resolution structural variants in nanopore long reads. Nat Methods 15, 455–460 (2018). https://doi.org/10.1038/s41592-018-0002-6
Received:

Accepted:

Published:

Issue Date: