Abstract
Recent progress in targeting KRASG12C has provided both insight and inspiration for targeting alternative KRAS mutants. In this study, we evaluated the mechanism of action and anti-tumor efficacy of MRTX1133, a potent, selective and non-covalent KRASG12D inhibitor. MRTX1133 demonstrated a high-affinity interaction with GDP-loaded KRASG12D with KD and IC50 values of ~0.2 pM and <2 nM, respectively, and ~700-fold selectivity for binding to KRASG12D as compared to KRASWT. MRTX1133 also demonstrated potent inhibition of activated KRASG12D based on biochemical and co-crystal structural analyses. MRTX1133 inhibited ERK1/2 phosphorylation and cell viability in KRASG12D-mutant cell lines, with median IC50 values of ~5 nM, and demonstrated >1,000-fold selectivity compared to KRASWT cell lines. MRTX1133 exhibited dose-dependent inhibition of KRAS-mediated signal transduction and marked tumor regression (≥30%) in a subset of KRASG12D-mutant cell-line-derived and patient-derived xenograft models, including eight of 11 (73%) pancreatic ductal adenocarcinoma (PDAC) models. Pharmacological and CRISPR-based screens demonstrated that co-targeting KRASG12D with putative feedback or bypass pathways, including EGFR or PI3Kα, led to enhanced anti-tumor activity. Together, these data indicate the feasibility of selectively targeting KRAS mutants with non-covalent, high-affinity small molecules and illustrate the therapeutic susceptibility and broad dependence of KRASG12D mutation-positive tumors on mutant KRAS for tumor cell growth and survival.
Access options
Subscribe to Nature+
Get immediate online access to Nature and 55 other Nature journal
Subscribe to Journal
Get full journal access for 1 year
$79.00
only $6.58 per issue
All prices are NET prices.
VAT will be added later in the checkout.
Tax calculation will be finalised during checkout.
Buy article
Get time limited or full article access on ReadCube.
$32.00
All prices are NET prices.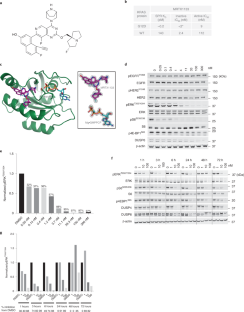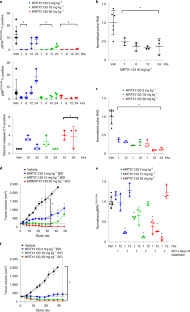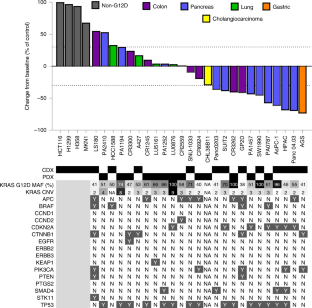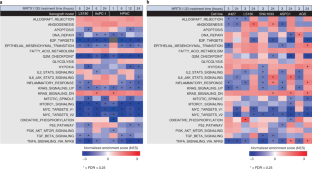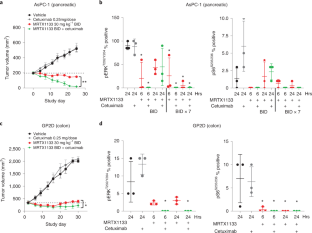 References
Sanchez-Vega, F. et al. Oncogenic signaling pathways in the cancer genome atlas. Cell 173, 321–337 (2018).

Simanshu, D. K., Nissley, D. V. & McCormick, F. RAS proteins and their regulators in human disease. Cell 170, 17–33 (2017).

Canon, J. et al. The clinical KRAS(G12C) inhibitor AMG 510 drives anti-tumour immunity. Nature 575, 217–223 (2019).

Hallin, J. et al. The KRASG12C inhibitor MRTX849 provides insight toward therapeutic susceptibility of KRAS-mutant cancers in mouse models and patients. Cancer Discov. 10, 54–71 (2020).

Ostrem, J. M., Peters, U., Sos, M. L., Wells, J. A. & Shokat, K. M. K-Ras(G12C) inhibitors allosterically control GTP affinity and effector interactions. Nature 503, 548–551 (2013).

Li, S., Balmain, A. & Counter, C. M. A model for RAS mutation patterns in cancers: finding the sweet spot. Nat. Rev. Cancer 18, 767–777 (2018).

Hunter, J. C. et al. Biochemical and structural analysis of common cancer-associated KRAS mutations. Mol. Cancer Res 13, 1325–1335 (2015).

Lito, P., Solomon, M., Li, L. S., Hansen, R. & Rosen, N. Allele-specific inhibitors inactivate mutant KRAS G12C by a trapping mechanism. Science 351, 604–608 (2016).

Patricelli, M. P. et al. Selective inhibition of oncogenic KRAS output with small molecules targeting the inactive state. Cancer Discov. 6, 316–329 (2016).

Wang, X. et al. Identification of MRTX1133, a noncovalent, potent, and selective KRASG12D inhibitor. J. Med. Chem. 65, 3123–3133 (2022).

Olson, P. & Hanahan, D. Cancer. Breaching the cancer fortress. Science 324, 1400–1401 (2009).

Whatcott, C. J., Posner, R. G., Von Hoff, D. D. & Han, H. Desmoplasia and chemoresistance in pancreatic cancer. In Pancreatic Cancer and Tumor Microenvironment (eds Grippo, P. J. & Munshi, H. G.) (Trivandrum, 2012).

Janne, P. et al. KRYSTAL-1: updated safety and efficacy data with adagrasib (MRTX849) in NSCLC with KRASG12C mutation from a phase 1/2 study. https://www.mirati.com/wp-content/uploads/Janne-849-001_NSCLC-ENA-Presentation_25Oct2020_FINAL.pdf (2020).

Skoulidis, F. et al. Sotorasib for lung cancers with KRAS p.G12C mutation. N. Engl. J. Med. 384, 2371–2381 (2021).

He, L. et al. Methods for high-throughput drug combination screening and synergy scoring. Methods Mol. Biol. 1711, 351–398 (2018).

Cunningham, D. et al. Cetuximab monotherapy and cetuximab plus irinotecan in irinotecan-refractory metastatic colorectal cancer. N. Engl. J. Med. 351, 337–345 (2004).

Navas, C. et al. EGF receptor signaling is essential for K-Ras oncogene-driven pancreatic ductal adenocarcinoma. Cancer Cell 22, 318–330 (2012).

Lievre, A. et al. KRAS mutation status is predictive of response to cetuximab therapy in colorectal cancer. Cancer Res. 66, 3992–3995 (2006).

The Cancer Genome Atlas Network.Comprehensive molecular characterization of human colon and rectal cancer. Nature 487, 330–337 (2012).

Bailey, P. et al. Genomic analyses identify molecular subtypes of pancreatic cancer. Nature 531, 47–52 (2016).

Yaeger, R. et al. Clinical sequencing defines the genomic landscape of metastatic colorectal cancer. Cancer Cell 33, 125–136 (2018).

Janes, M. R. et al. Targeting KRAS mutant cancers with a covalent G12C-specific inhibitor. Cell 172, 578–589 (2018).

Christensen, J. Discovery and characterization of MRTX1133, a selective, non-covalent inhibitor of KRASG12D. https://mirati.com/wp-content/uploads/ENA_Oct-2021_MRTX1133_vF.pdf (2021).

Weiss, J. et al. KRYSTAL-1: adagrasib (MRTX849) as monotherapy or in combination with cetuximab in patients with colorectal cancer harboring a KRASG12C mutation. https://www.mirati.com/wp-content/uploads/KRYSTAL-1-Adagrasib-MRTX849-Monotherapy-Cetuximab-CRC-KRASG12C_final.pdf (2021).

Feldmann, G., Beaty, R., Hruban, R. H. & Maitra, A. Molecular genetics of pancreatic intraepithelial neoplasia. J. Hepatobiliary Pancreat. Surg. 14, 224–232 (2007).

Kanda, M. et al. Presence of somatic mutations in most early-stage pancreatic intraepithelial neoplasia. Gastroenterology 142, 730–733 (2012).

Zill, O. A. et al. The landscape of actionable genomic alterations in cell-free circulating tumor DNA from 21,807 advanced cancer patients. Clin. Cancer Res. 24, 3528–3538 (2018).

Chalmers, Z. R. et al. Analysis of 100,000 human cancer genomes reveals the landscape of tumor mutational burden. Genome Med. 9, 34 (2017).

Guinney, J. et al. The consensus molecular subtypes of colorectal cancer. Nat. Med. 21, 1350–1356 (2015).

Campbell, J. D. et al. Distinct patterns of somatic genome alterations in lung adenocarcinomas and squamous cell carcinomas. Nat. Genet. 48, 607–616 (2016).

Rieder, S., Michalski, C. W., Friess, H. & Kleeff, J. Insulin-like growth factor signaling as a therapeutic target in pancreatic cancer. Anticancer Agents Med. Chem. 11, 427–433 (2011).

Rozengurt, E., Sinnett-Smith, J. & Kisfalvi, K. Crosstalk between insulin/insulin-like growth factor-1 receptors and G protein-coupled receptor signaling systems: a novel target for the antidiabetic drug metformin in pancreatic cancer. Clin. Cancer Res. 16, 2505–2511 (2010).

Ulanet, D. B., Ludwig, D. L., Kahn, C. R. & Hanahan, D. Insulin receptor functionally enhances multistage tumor progression and conveys intrinsic resistance to IGF-1R targeted therapy. Proc. Natl Acad. Sci. USA 107, 10791–10798 (2010).

Cespedes, M. V. et al. K-ras Asp12 mutant neither interacts with Raf, nor signals through Erk and is less tumorigenic than K-ras Val12. Carcinogenesis 27, 2190–2200 (2006).

Ihle, N. T. et al. Effect of KRAS oncogene substitutions on protein behavior: implications for signaling and clinical outcome. J. Natl Cancer Inst. 104, 228–239 (2012).

Kabsch, W. XDS. Acta Crystallogr. D Biol. Crystallogr. 66, 125–132 (2010).

Winn, M. D. et al. Overview of the CCP4 suite and current developments. Acta Crystallogr. D Biol. Crystallogr. 67, 235–242 (2011).

Afonine, P. V. et al. Towards automated crystallographic structure refinement with phenix.refine. Acta Crystallogr. D Biol. Crystallogr. 68, 352–367 (2012).

Clark, N. A. et al. GRcalculator: an online tool for calculating and mining dose-response data. BMC Cancer 17, 698 (2017).

Conway, T. et al. Xenome—a tool for classifying reads from xenograft samples. Bioinformatics 28, i172–i178 (2012).

Schneider, V. A. et al. Evaluation of GRCh38 and de novo haploid genome assemblies demonstrates the enduring quality of the reference assembly. Genome Res. 27, 849–864 (2017).

Dobin, A. et al. STAR: ultrafast universal RNA-seq aligner. Bioinformatics 29, 15–21 (2013).

Ritchie, M. E. et al. limma powers differential expression analyses for RNA-sequencing and microarray studies. Nucleic Acids Res. 43, e47 (2015).

Subramanian, A. et al. Gene set enrichment analysis: a knowledge-based approach for interpreting genome-wide expression profiles. Proc. Natl Acad. Sci. USA 102, 15545–15550 (2005).

Tran, T. H. et al. KRAS interaction with RAF1 RAS-binding domain and cysteine-rich domain provides insights into RAS-mediated RAF activation. Nat. Commun. 12, 1176 (2021).
Acknowledgements
The authors thank Crown Bioscience and Molecular Diagnostic Services for animal study support and Flagship Biosciences for immunohistochemistry and image analysis. The authors thank InviCRO, LLC, for BLI and MRI imaging and analysis of pancreatic orthotopic models. The X-ray crystallography work described herein is based upon research conducted at the Northeastern Collaborative Access Team beamlines, which is funded by the National Institute of General Medical Sciences from the NIH (P30 GM124165). The Eiger 16M detector on 24-ID-E is funded by an NIH-ORIP High-End Instrumentation grant (S10OD021527). This research used resources of the Advanced Photon Source, a US Department of Energy (DOE) Office of Science User Facility operated for the DOE Office of Science by Argonne National Laboratory under contract number DE-AC02-06CH11357.
Ethics declarations
Competing interests
J.H., V.B., A.C., D.M.B., L.H., L.D.E., J.L., D.V., E.L., D.T., N.H., X.W., J.D.L., R.J.G., C.R.S., N.C.T., J.R.H., L.R., M.A.M., P.O. and J.G.C. are employees and shareholders of Mirati Therapeutics, Inc. A.P. is a shareholder of Mirati Therapeutics, Inc. M.M., A.B., F.S., K.B. and S.W. were employees and shareholders of Array BioPharma. The other authors declare no competing interests.
Peer review
Peer review information
Nature Medicine thanks Nabeel Bardeesy, Hana Algül and the other, anonymous, reviewer(s) for their contribution to the peer review of this work. Primary handling editor: Michael Basson, in collaboration with the Nature Medicine team.
Additional information
Publisher's note Springer Nature remains neutral with regard to jurisdictional claims in published maps and institutional affiliations.
Supplementary information
Rights and permissions
Springer Nature or its licensor (e.g. a society or other partner) holds exclusive rights to this article under a publishing agreement with the author(s) or other rightsholder(s); author self-archiving of the accepted manuscript version of this article is solely governed by the terms of such publishing agreement and applicable law.
About this article
Cite this article
Hallin, J., Bowcut, V., Calinisan, A. et al. Anti-tumor efficacy of a potent and selective non-covalent KRASG12D inhibitor. Nat Med 28, 2171–2182 (2022). https://doi.org/10.1038/s41591-022-02007-7
Received:

Accepted:

Published:

Issue Date:

DOI: https://doi.org/10.1038/s41591-022-02007-7
This article is cited by
Nature (2022)

Cancer Gene Therapy (2022)