Abstract
Endomyocardial biopsy (EMB) screening represents the standard of care for detecting allograft rejections after heart transplant. Manual interpretation of EMBs is affected by substantial interobserver and intraobserver variability, which often leads to inappropriate treatment with immunosuppressive drugs, unnecessary follow-up biopsies and poor transplant outcomes. Here we present a deep learning-based artificial intelligence (AI) system for automated assessment of gigapixel whole-slide images obtained from EMBs, which simultaneously addresses detection, subtyping and grading of allograft rejection. To assess model performance, we curated a large dataset from the United States, as well as independent test cohorts from Turkey and Switzerland, which includes large-scale variability across populations, sample preparations and slide scanning instrumentation. The model detects allograft rejection with an area under the receiver operating characteristic curve (AUC) of 0.962; assesses the cellular and antibody-mediated rejection type with AUCs of 0.958 and 0.874, respectively; detects Quilty B lesions, benign mimics of rejection, with an AUC of 0.939; and differentiates between low-grade and high-grade rejections with an AUC of 0.833. In a human reader study, the AI system showed non-inferior performance to conventional assessment and reduced interobserver variability and assessment time. This robust evaluation of cardiac allograft rejection paves the way for clinical trials to establish the efficacy of AI-assisted EMB assessment and its potential for improving heart transplant outcomes.
Access options
Access Nature and 54 other Nature Portfolio journals
Get Nature+, our best-value online-access subscription
$29.99 / 30 days
cancel any time
Subscribe to this journal
Receive 12 print issues and online access
$209.00 per year
only $17.42 per issue
Rent or buy this article
Prices vary by article type
from$1.95
to$39.95
Prices may be subject to local taxes which are calculated during checkout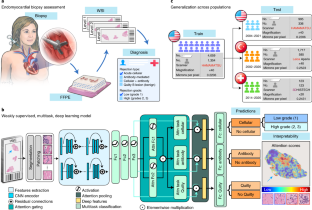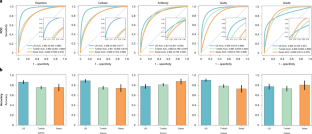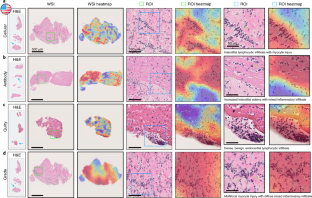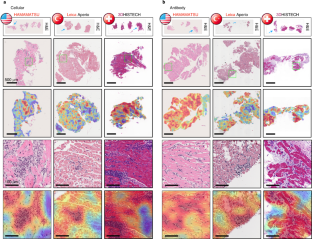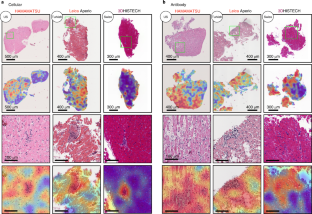 Similar content being viewed by others
Data availability
Please email all requests for academic use of raw and processed data to the corresponding author. Restrictions apply to the availability of the in-house and external data, which were used with institutional permission for the current study, and are thus not publicly available. All requests will be promptly evaluated based on institutional and departmental policies to determine whether the data requested are subject to intellectual property or patient privacy obligations. Data can only be shared for non-commercial academic purposes and will require a data user agreement. A subset of whole-slide images used in the study can be accessed through the interactive demonstration available at http://crane.mahmoodlab.org. ImageNet data are available at https://image-net.org/.Source data are provided with this paper.
Code availability
All code was implemented in Python using PyTorch as the primary deep learning package. All code and scripts to reproduce the experiments of this paper are available at https://github.com/mahmoodlab/CRANE.
References
Ziaeian, B. & Fonarow, G. C. Epidemiology and aetiology of heart failure. Nat. Rev. Cardiol. 13, 368–378 (2016).

Benjamin, E. J. et al. Heart disease and stroke statistics–2018 update: a report from the American Heart Association. Circulation 137, e67–e492 (2018).

Badoe, N. & Shah, P. in Contemporary Heart Transplantation (eds Bogar, L. & Stempien-Otero, A.) 3–12 (Springer, 2020).

Orrego, C. M., Cordero-Reyes, A. M., Estep, J. D., Loebe, M. & Torre-Amione, G. Usefulness of routine surveillance endomyocardial biopsy 6 months after heart transplantation. J. Heart Lung Transplant. 31, 845–849 (2012).

Lund, L. H. et al. The Registry of the International Society for Heart and Lung Transplantation: thirty-fourth adult heart transplantation report—2017; focus theme: allograft ischemic time. J. Heart Lung Transplant. 36, 1037–1046 (2017).

Colvin-Adams, M. & Agnihotri, A. Cardiac allograft vasculopathy: current knowledge and future direction. Clin. Transplant. 25, 175–184 (2011).

Kfoury, A. G. et al. Cardiovascular mortality among heart transplant recipients with asymptomatic antibody-mediated or stable mixed cellular and antibody-mediated rejection. J .Heart Lung Transplant. 28, 781–784 (2009).

Costanzo, M. R. et al. The International Society of Heart and Lung Transplantation Guidelines for the care of heart transplant recipients. J. Heart Lung Transplant. 29, 914–956 (2010).

Kobashigawa, J. A. The search for a gold standard to detect rejection in heart transplant patients: are we there yet? Circulation 135, 936–938 (2017).

Angelini, A. et al. A web-based pilot study of inter-pathologist reproducibility using the ISHLT 2004 working formulation for biopsy diagnosis of cardiac allograft rejection: the European experience. J. Heart Lung Transplant. 30, 1214–1220 (2011).

Crespo-Leiro, M. G. et al. Concordance among pathologists in the second Cardiac Allograft Rejection Gene Expression Observational Study (CARGO II). Transplantation 94, 1172–1177 (2012).

Esteva, A. et al. Dermatologist-level classification of skin cancer with deep neural networks. Nature 542, 115–118 (2017).

Bejnordi, B. E. et al. Diagnostic assessment of deep learning algorithms for detection of lymph node metastases in women with breast cancer. JAMA 318, 2199–2210 (2017).

Ouyang, D. et al. Video-based AI for beat-to-beat assessment of cardiac function. Nature 580, 252–256 (2020).

Chen, P.-H. C. et al. An augmented reality microscope with real-time artificial intelligence integration for cancer diagnosis. Nat. Med. 25, 1453–1457 (2019).

McKinney, S. M. et al. International evaluation of an AI system for breast cancer screening. Nature 577, 89–94 (2020).

Lu, M. Y. et al. Data-efficient and weakly supervised computational pathology on whole-slide images. Nat. Biomed. Eng. 5, 555–570 (2021).

Campanella, G. et al. Clinical-grade computational pathology using weakly supervised deep learning on whole slide images. Nat. Med. 25, 1301–1309 (2019).

Bulten, W. et al. Automated deep-learning system for Gleason grading of prostate cancer using biopsies: a diagnostic study. Lancet Oncol. 21, 233–241 (2020).

Chen, R. J. et al. Pathomic fusion: an integrated framework for fusing histopathology and genomic features for cancer diagnosis and prognosis. IEEE Trans. Med. Imaging https://doi.org/10.1109/TMI.2020.3021387 (2020).

Mahmood, F. et al. Deep adversarial training for multi-organ nuclei segmentation in histopathology images. IEEE Trans. Med. Imaging 39, 3257–3267 (2020).

Fu, Y. et al. Pan-cancer computational histopathology reveals mutations, tumor composition and prognosis. Nat. Cancer 1, 800–810 (2020).

Kather, J. N. et al. Pan-cancer image-based detection of clinically actionable genetic alterations. Nat. Cancer 1, 789–799 (2020).

Lu, M. Y. et al. AI-based pathology predicts origins for cancers of unknown primary. Nature 594, 106–110 (2021).

Peyster, E. G. et al. An automated computational image analysis pipeline for histological grading of cardiac allograft rejection. Eur. Heart J. 42, 2356–2369 (2021).

Tong, L., Hoffman, R., Deshpande, S. R. & Wang, M. D. Predicting heart rejection using histopathological whole-slide imaging and deep neural network with dropout. In 2017 IEEE EMBS International Conference on Biomedical & Health Informatics (BHI) 1–4 (IEEE, 2017).

Nirschl, J. J. et al. A deep-learning classifier identifies patients with clinical heart failure using whole-slide images of H&E tissue. PLoS ONE 13, e0192726 (2018).

Peyster, E. G., Madabhushi, A. & Margulies, K. B. Advanced morphologic analysis for diagnosing allograft rejection: the case of cardiac transplant rejection. Transplantation 102, 1230–1239 (2018).

Sellaro, T. L. et al. Relationship between magnification and resolution in digital pathology systems. J. Pathol. Inform. 4, 21 (2013).

Ilse, M., Tomczak, J. & Welling, M. Attention-based deep multiple instance learning. In Proc. 35th International Conference on Machine Learning (eds Dy, J. & Krause, A.) 2132–2141 (PMLR, 2018).

Halloran, P. F. et al. Exploring the cardiac response to injury in heart transplant biopsies. JCI Insight 3, e123674 (2018).

Schmauch, B. et al. A deep learning model to predict RNA-seq expression of tumours from whole slide images. Nat. Commun. 11, 3877 (2020).

Coudray, N. et al. Classification and mutation prediction from non-small cell lung cancer histopathology images using deep learning. Nat. Med. 24, 1559–1567 (2018).

Karimi, D., Dou, H., Warfield, S. K. & Gholipour, A. Deep learning with noisy labels: exploring techniques and remedies in medical image analysis. Med. Image Anal. 65, 101759 (2020).

Mitani, A., Hammel, N. & Liu, Y. Retinal detection of kidney disease and diabetes. Nat. Biomed. Eng. 5, 487–489 (2021).

Biscotti, C. V. et al. Assisted primary screening using the automated ThinPrep Imaging System. Am. J. Clin. Pathol. 123, 281–287 (2005).

Halloran, P. F. et al. Building a tissue-based molecular diagnostic system in heart transplant rejection: the heart Molecular Microscope Diagnostic (MMDx) System. J. Heart Lung Transplant. 36, 1192–1200 (2017).

Duong Van Huyen, J.-P. et al. MicroRNAs as non-invasive biomarkers of heart transplant rejection. Eur. Heart J. 35, 3194–3202 (2014).

Giarraputo, A. et al. A changing paradigm in heart transplantation: an integrative approach for invasive and non-invasive allograft rejection monitoring. Biomolecules 11, 201 (2021).

De Vlaminck, I. et al. Circulating cell-free DNA enables noninvasive diagnosis of heart transplant rejection. Sci. Transl. Med. 6, 241ra77 (2014).

Kennel, P. J. et al. Serum exosomal protein profiling for the non-invasive detection of cardiac allograft rejection. J. Heart Lung Transplant. 37, 409–417 (2018).

Anglicheau, D. & Suthanthiran, M. Noninvasive prediction of organ graft rejection and outcome using gene expression patterns. Transplantation 86, 192–199 (2008).

Dong, Q., Gong, S. & Zhu, X. Imbalanced deep learning by minority class incremental rectification. IEEE Trans. Pattern Anal. Mach. Intell. 41, 1367–1381 (2019).

Matesanz, R., Mahillo, B., Alvarez, M. & Carmona, M. Global observatory and database on donation and transplantation: world overview on transplantation activities. Transplant. Proc. 41, 2297–2301 (2009).

He, K., Zhang, X., Ren, S. & Sun, J. Deep residual learning for image recognition. In 2016 IEEE Conference on ComputerVision and Pattern Recognition (CVPR) 770-778 (2016).

Russakovsky, O. et al. ImageNet large scale visual recognition challenge.Int. J. Comput. Vis. 115, 211–252 (2015).

Tan, M. & Le, Q. V. EfficientNet: rethinking model scaling for convolutional neural networks. In Proc. 36th International Conference on Machine Learning (eds Chaudhuri, K. & Salakhutdinov, R.) 6105–6114 (PMLR, 2019).
Acknowledgements
We thank A. Bruce for scanning internal cohorts of patient histology slides at Brigham and Women's Hospital (BWH); K. Bronstein, L. Cirelli and E. Askeland for querying the BWH slide database and retrieving archival slides; C. Li for assistance with EMRs and the Research Patient Data Registry (RPDR); M. Bragg, T. Mellen, S. Zimmet and T. A. Mages for logistical support; and K. Tung for anatomical illustrations. Y.B. and K.E.O. thank the Translational Research Unit team at the Institute of Pathology of the University of Bern for technical assistance and IT assistance; in particular, M. Skowronska, L. Daminescu and S. Reinhard. This work was supported in part by the BWH President's Fund, National Institute of General Medical Sciences (NIGMS) R35GM138216 (to F.M.), Google Cloud Research Grant, Nvidia GPU Grant Program and internal funds from BWH and Massachusetts General Hospital (MGH) Pathology. M.S. was supported by the National Institutes of Health (NIH) National Library of Medicine (NLM) Biomedical Informatics and Data Science Research Training Program, T15LM007092. M.W. was funded by the NIH National Human Genome Research Institute (NHGRI) Ruth L. Kirschstein National Research Service Award Bioinformatics Training Grant, T32HG002295. T.Y.C. was funded by the NIH National Cancer Institute (NCI) Ruth L. Kirschstein National Service Award, T32CA251062. R.J.C. was funded by the National Science Foundation (NSF) Graduate Fellowship. The content is solely the responsibility of the authors and does not reflect the official views of the NIGMS, NIH, NLM, NHGRI, NCI or NSF.
Ethics declarations
Competing interests
The authors declare no competing interests.
Peer review
Peer review information
Nature Medicine thanks Geert Litjens and the other, anonymous, reviewer(s) for their contribution to the peer review of this work. Primary Handling Editor: Michael Basson, in collaboration with the Nature Medicine team.
Additional information
Publisher's note Springer Nature remains neutral with regard to jurisdictional claims in published maps and institutional affiliations.
Supplementary information
Supplementary Tables 1–9.
About this article
Cite this article
Lipkova, J., Chen, T.Y., Lu, M.Y. et al. Deep learning-enabled assessment of cardiac allograft rejection from endomyocardial biopsies. Nat Med 28, 575–582 (2022). https://doi.org/10.1038/s41591-022-01709-2
Received:

Accepted:

Published:

Issue Date:

DOI: https://doi.org/10.1038/s41591-022-01709-2