Abstract
Epidural electrical stimulation (EES) targeting the dorsal roots of lumbosacral segments restores walking in people with spinal cord injury (SCI). However, EES is delivered with multielectrode paddle leads that were originally designed to target the dorsal column of the spinal cord. Here, we hypothesized that an arrangement of electrodes targeting the ensemble of dorsal roots involved in leg and trunk movements would result in superior efficacy, restoring more diverse motor activities after the most severe SCI. To test this hypothesis, we established a computational framework that informed the optimal arrangement of electrodes on a new paddle lead and guided its neurosurgical positioning. We also developed software supporting the rapid configuration of activity-specific stimulation programs that reproduced the natural activation of motor neurons underlying each activity. We tested these neurotechnologies in three individuals with complete sensorimotor paralysis as part of an ongoing clinical trial (www.clinicaltrials.gov identifier NCT02936453). Within a single day, activity-specific stimulation programs enabled these three individuals to stand, walk, cycle, swim and control trunk movements. Neurorehabilitation mediated sufficient improvement to restore these activities in community settings, opening a realistic path to support everyday mobility with EES in people with SCI.
Relevant articles
Open Access articles citing this article.
Na Li

,

Lu Chen

…

Shiqing Feng

Cell Death Discovery Open Access 24 August 2023

Zhengang Sun

,

Danzhu Zhu

…

Yongming Xi

Journal of Nanobiotechnology Open Access 24 July 2023

Xiao Hu

,

Wei Xu

…

Liming Cheng

Signal Transduction and Targeted Therapy Open Access 26 June 2023
Access options
Access Nature and 54 other Nature Portfolio journals
Get Nature+, our best-value online-access subscription
$29.99 / 30 days
cancel any time
Subscribe to this journal
Receive 12 print issues and online access
$209.00 per year
only $17.42 per issue
Rent or buy this article
Prices vary by article type
from$1.95
to$39.95
Prices may be subject to local taxes which are calculated during checkout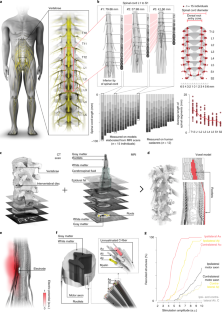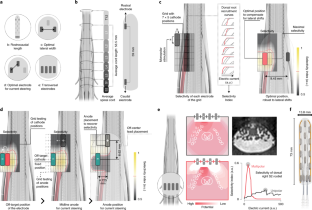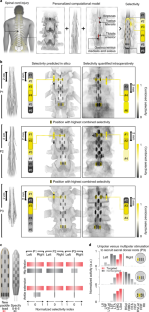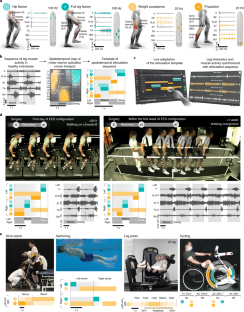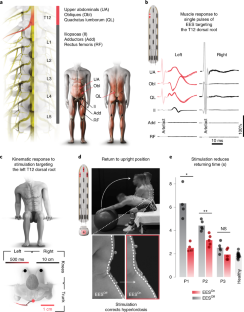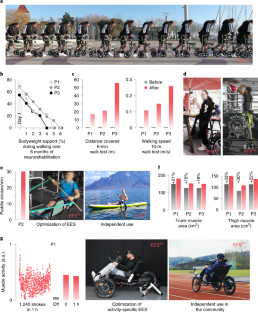 Code availability
Software routines developed for the data analysis will be made available upon reasonable request to gregoire.courtine@epfl.ch.
References
Ichiyama, R. M. et al. Step training reinforces specific spinal locomotor circuitry in adult spinal rats. J. Neurosci. 28, 7370–7375 (2008).

Courtine, G. et al. Transformation of nonfunctional spinal circuits into functional states after the loss of brain input. Nat. Neurosci. 12, 1333–1342 (2009).

Wenger, N. et al. Closed-loop neuromodulation of spinal sensorimotor circuits controls refined locomotion after complete spinal cord injury. Sci. Transl. Med. 6, 255ra133–255ra133 (2014).

Wenger, N. et al. Spatiotemporal neuromodulation therapies engaging muscle synergies improve motor control after spinal cord injury. Nat. Med. 22, 138–145 (2016).

Brand, Rvanden et al. Restoring voluntary control of locomotion after paralyzing spinal cord injury. Science 336, 1182–1185 (2012).

Asboth, L. et al. Cortico–reticulo–spinal circuit reorganization enables functional recovery after severe spinal cord contusion. Nat. Neurosci. 21, 576–588 (2018).

Gill, M. L. et al. Neuromodulation of lumbosacral spinal networks enables independent stepping after complete paraplegia. Nat. Med. 24, 1677–1682 (2018).

Wagner, F. B. et al. Targeted neurotechnology restores walking in humans with spinal cord injury. Nature 563, 65–71 (2018).

Harkema, S. et al. Effect of epidural stimulation of the lumbosacral spinal cord on voluntary movement, standing, and assisted stepping after motor complete paraplegia: a case study. Lancet 377, 1938–1947 (2011).

Angeli, C. A. et al. Recovery of over-ground walking after chronic motor complete spinal cord injury. N. Engl. J. Med. 379, 1244–1250 (2018).

Danner, S. M. et al. Human spinal locomotor control is based on flexibly organized burst generators. Brain 138, 577–588 (2015).

Formento, E. et al. Electrical spinal cord stimulation must preserve proprioception to enable locomotion in humans with spinal cord injury. Nat. Neurosci. 21, 1728–1741 (2018).

Herman, R., He, J., D'Luzansky, S., Willis, W. & Dilli, S. Spinal cord stimulation facilitates functional walking in a chronic, incomplete spinal cord injured. Spinal Cord 40, 65–68 (2002).

Barolat, G., Myklebust, J. B. & Wenninger, W. Enhancement of voluntary motor function following spinal cord stimulation: case study. Appl. Neurophysiol. 49, 307–314 (1986).

Dimitrijevic, M. R., Gerasimenko, Y. & Pinter, M. M. Evidence for a spinal central pattern generator in humans. Ann. N Y Acad. Sci. 860, 360–376 (1998).

& Darrow, D. et al. Epidural spinal cord stimulation facilitates immediate restoration of dormant motor and autonomic supraspinal pathways after chronic neurologically complete spinal cord injury. J. Neurotrauma 36, 2325–2336 (2019).

Gerasimenko, Y. P. et al. Spinal cord reflexes induced by epidural spinal cord stimulation in normal awake rats. J. Neurosci. Methods 157, 253–263 (2006).

Rattay, F. et al. Mechanisms of electrical stimulation with neural prostheses. Neuromodulation 6, 42–56 (2003).

Capogrosso, M. et al. A computational model for epidural electrical stimulation of spinal sensorimotor circuits. J. Neurosci. 33, 19326–19340 (2013).

Moraud, E. M. et al. Mechanisms underlying the neuromodulation of spinal circuits for correcting gait and balance deficits after spinal cord injury. Neuron 89, 814–828 (2016).

Capogrosso, M. et al. A brain–spine interface alleviating gait deficits after spinal cord injury in primates. Nature 539, 284–288 (2016).

Minev, I. R. et al. Electronic dura mater for long-term multimodal neural interfaces. Science 347, 159–163 (2015).

Capogrosso, M. et al. Configuration of electrical spinal cord stimulation through real-time processing of gait kinematics. Nat. Protoc. 13, 2031–2061 (2018).

Yakovenko, S., Mushahwar, V., VanderHorst, V., Holstege, G. & Prochazka, A. Spatiotemporal activation of lumbosacral motoneurons in the locomotor step cycle. J. Neurophysiol. 87, 1542–1553 (2002).

Cappellini, G., Ivanenko, Y. P., Dominici, N., Poppele, R. E. & Lacquaniti, F. Migration of motor pool activity in the spinal cord reflects body mechanics in human locomotion. J. Neurophysiol. 104, 3064–3073 (2010).

Molnar, G. & Barolat, G. Principles of cord activation during spinal cord stimulation. Neuromodulation 17, 12–21 (2014).

Minassian, K., Hofstoetter, U., Tansey, K. & Mayr, W. Neuromodulation of lower limb motor control in restorative neurology. Clin. Neurol. Neurosurg. 114, 489–497 (2012).

Moraud, E. M. et al. Closed-loop control of trunk posture improves locomotion through the regulation of leg proprioceptive feedback after spinal cord injury. Sci. Rep. 8, 76 (2018).

Gill, M. et al. Epidural electrical stimulation of the lumbosacral spinal cord improves trunk stability during seated reaching in two humans with severe thoracic spinal cord injury. Front. Syst. Neurosci. 14, 79 (2020).

Greiner, N. et al. Recruitment of upper-limb motoneurons with epidural electrical stimulation of the cervical spinal cord. Nat. Commun. 12, 435 (2021).

Neufeld, E., Szczerba, D., Chavannes, N. & Kuster, N. A novel medical image data-based multi-physics simulation platform for computational life sciences. Interface Focus 3, 20120058 (2013).

Kinany, N., Pirondini, E., Micera, S. & Ville, D. V. D. Dynamic functional connectivity of resting-state spinal cord fMRI reveals fine-grained intrinsic architecture. Neuron 108, 424–435 (2020).

Landelle, C. et al. Functional brain changes in the elderly for the perception of hand movements: a greater impairment occurs in proprioception than touch. Neuroimage 220, 117056 (2020).

Courtine, G., Nunzio, A. M. D., Schmid, M., Beretta, M. V. & Schieppati, M. Stance- and locomotion-dependent processing of vibration-induced proprioceptive inflow from multiple muscles in humans. J. Neurophysiol. 97, 772–779 (2007).

Roll, J. P., Vedel, J. P. & Ribot, E. Alteration of proprioceptive messages induced by tendon vibration in man: a microneurographic study. Exp. Brain Res. 76, 213–222 (1989).

Pierrot-Deseilligny, E. & Burke, D. The Circuitry of the Human Spinal Cord (Cambridge University Press, 2005).

Lempka, S. F. et al. Patient‐specific analysis of neural activation during spinal cord stimulation for pain. Neuromodulation 23, 572–581 (2020).

Mignardot, J.-B. et al. A multidirectional gravity-assist algorithm that enhances locomotor control in patients with stroke or spinal cord injury. Sci. Transl. Med. 9, eaah3621 (2017).

Shokur, S., Mazzoni, A., Schiavone, G., Weber, D. J. & Micera, S. A modular strategy for next-generation upper-limb sensory-motor neuroprostheses. Med 2, 912–937 (2021).

Edgerton, V. R. & Harkema, S. Epidural stimulation of the spinal cord in spinal cord injury: current status and future challenges. Expert Rev. Neurother. 11, 1351–1353 (2011).

Courtine, G. & Sofroniew, M. V. Spinal cord repair: advances in biology and technology. Nat. Med. 25, 898–908 (2019).

Morse, L. R. et al. Meeting proceedings for SCI 2020: launching a decade of disruption in spinal cord injury research. J. Neurotrauma 38, 1251–1266 (2021).

Schiavone, G. et al. Soft, implantable bioelectronic interfaces for translational research. Adv. Mater. 32, 1906512 (2020).

Barra, B. et al. Epidural electrical stimulation of the cervical dorsal roots restores voluntary arm control in paralyzed monkeys. Preprint at bioRxiv https://doi.org/10.1101/2020.11.13.379750 (2021).

Bonizzato, M. et al. Brain-controlled modulation of spinal circuits improves recovery from spinal cord injury. Nat. Commun. 9, 3015 (2018).

Benabid, A. L. et al. An exoskeleton controlled by an epidural wireless brain–machine interface in a tetraplegic patient: a proof-of-concept demonstration. Lancet Neurol. 18, 1112–1122 (2019).

Chen, C.-L. et al. The relationship between sitting stability and functional performance in patients with paraplegia. Arch. Phys. Med. Rehab 84, 1276–1281 (2003).

Anderson, K. D. Targeting recovery: priorities of the spinal cord-injured population. J. Neurotrauma 21, 1371–1383 (2004).

Herrity, A. N., Williams, C. S., Angeli, C. A., Harkema, S. J. & Hubscher, C. H. Lumbosacral spinal cord epidural stimulation improves voiding function after human spinal cord injury. Sci. Rep. 8, 8688 (2018).

Squair, J. W. et al. Neuroprosthetic baroreflex controls haemodynamics after spinal cord injury. Nature 590, 308–314 (2021).

Ditterline, B. E. L. et al. Beneficial cardiac structural and functional adaptations after lumbosacral spinal cord epidural stimulation and task-specific interventions: a pilot study. Front Neurosci. 14, 554018 (2020).

Soloukey, S. et al. The dorsal root ganglion as a novel neuromodulatory target to evoke strong and reproducible motor responses in chronic motor complete spinal cord injury: a case series of five patients. Neuromodulation 24, 779–793 (2021).

Kirshblum, S. & Waring, W. Updates of the International Standards for Neurologic Classification of Spinal Cord Injury. Phys. Med. Rehabil. Clin. N. Am. 25, 505–517 (2014).

Roll, J. P. & Vedel, J. P. Kinaesthetic role of muscle afferents in man, studied by tendon vibration and microneurography. Exp. Brain Res. 47, 177–190 (1982).

Landelle, C., Ahmadi, A. E. & Kavounoudias, A. Age-related impairment of hand movement perception based on muscle proprioception and touch. Neuroscience 381, 91–104 (2018).

Kavounoudias, A. et al. Proprio-tactile integration for kinesthetic perception: an fMRI study. Neuropsychologia 46, 567–575 (2008).

Jenkinson, M., Beckmann, C. F., Behrens, T. E. J., Woolrich, M. W. & Smith, S. M. FSL. Neuroimage 62, 782–790 (2012).

Leener, B. D. et al. SCT: Spinal Cord Toolbox, an open-source software for processing spinal cord MRI data. Neuroimage 145, 24–43 (2017).

Jenkinson, M., Bannister, P., Brady, M. & Smith, S. Improved optimization for the robust and accurate linear registration and motion correction of brain images. Neuroimage 17, 825–841 (2002).

Gros, C. et al. Automatic spinal cord localization, robust to MRI contrasts using global curve optimization. Med. Image Anal. 44, 215–227 (2018).

Cohen-Adad, J. et al. Venous effect in spinal cord fMRI: insights from intrinsic optical imaging and laser speckle. Neuroimage 47, S186 (2009).

Power, J. D. et al. Methods to detect, characterize, and remove motion artifact in resting state fMRI. Neuroimage 84, 320–341 (2014).

Gros, C. et al. Automatic segmentation of the spinal cord and intramedullary multiple sclerosis lesions with convolutional neural networks. Neuroimage 184, 901–915 (2019).

Eippert, F., Kong, Y., Jenkinson, M., Tracey, I. & Brooks, J. C. W. Denoising spinal cord fMRI data: approaches to acquisition and analysis. Neuroimage 154, 255–266 (2017).

Brooks, J. C. W. et al. Physiological noise modelling for spinal functional magnetic resonance imaging studies. Neuroimage 39, 680–692 (2008).

Kong, Y., Jenkinson, M., Andersson, J., Tracey, I. & Brooks, J. C. W. Assessment of physiological noise modelling methods for functional imaging of the spinal cord. Neuroimage 60, 1538–1549 (2012).

Behzadi, Y., Restom, K., Liau, J. & Liu, T. T. A component-based noise correction method (CompCor) for BOLD and perfusion-based fMRI. Neuroimage 37, 90–101 (2007).

Kasper, L. et al. The PhysIO Toolbox for modeling physiological noise in fMRI data. J. Neurosci. Meth 276, 56–72 (2017).

Woolrich, M. W., Ripley, B. D., Brady, M. & Smith, S. M. Temporal autocorrelation in univariate linear modeling of FMRI data. Neuroimage 14, 1370–1386 (2001).

Woolrich, M. W., Behrens, T. E. J. & Smith, S. M. Constrained linear basis sets for HRF modelling using variational Bayes. Neuroimage 21, 1748–1761 (2004).

Gomez‐Perez, S. L. et al. Measuring abdominal circumference and skeletal muscle from a single cross‐sectional computed tomography image. Jpen-parenter. Enter. 40, 308–318 (2016).

Schirmer, C. M. et al. Heuristic map of myotomal innervation in humans using direct intraoperative nerve root stimulation. J. Neurosurg. Spine 15, 64–70 (2011).
Acknowledgements
We thank our study participants for their commitment and trust. All participants gave their informed consent for publication of their images. We thank A. Curt for support; A. van der Kolk and F. Visser for support in imaging data collection and inspection; and many students, interns and former employees for various contributions, including R. Wang, C. Puffay, Y. L. R. Wan, I. Perret, E. Revol, M. Van Campenhoudt, I. Youssef, I. Turcu, F. Sellet, G. Carparelli, C. Moerman, D. Scherrer-Ma, F. Magaud, M. Damiani and N. Regazzi. Investigational implantable stimulators and paddle leads were donated by Medtronic and ONWARD Medical. This work was supported by Wings for Life, the Defitech Foundation, the International Foundation for Research in Paraplegia, Rolex for Enterprise, Carigest Promex, Riders4Riders, ALARME, the Panacée Foundation, the Pictet Group Charitable Foundation, the Firmenich Foundation, ONWARD Medical, European Union's Horizon 2020 (785907 Human Brain Project SGA2), RESTORE: Eurostars E10889, CONFIRM!: Eurostars E!12743, the Swiss National Science Foundation (NCCR Robotics), the European Research Council (ERC-2015-CoG HOW2WALKAGAIN 682999), the Commission of Technology and Innovation Innosuisse (CTI 41871.1 IP_LS and CTI 25761.1) and the H2020-MSCACOFUND-2015 EPFL fellows program (grant 665667 to F.B.W.).
Ethics declarations
Competing interests
G.C., J. Bloch, S.M., K.M., F.B.W. and M.Capogrosso hold various patents in relation with the present work. V.D., D.G., J. Bakker, H.L., A.W., C.J., M.D., M. Caban and E. Paoles are ONWARD Medical employees. G.C. is a consultant with ONWARD Medical. G.C., J. Bloch, S.M. and V.D. are shareholders of ONWARD Medical, a company with direct relationships with the presented work. N.K. and E.N. are shareholders of ZMT Zurich MedTech AG, which produces the Sim4Life software. C.W. handles intellectual property for ONWARD Medical. The remaining authors declare no competing interests.
Peer review
Peer review information
Nature Medicine thanks Bruce Dobkin, Philip Star, Blair Calancie and the other, anonymous, reviewer(s) for their contribution to the peer review of this work. Jerome Staal was the primary editor on this article and managed its editorial process and peer review in collaboration with the rest of the editorial team.
Additional information
Publisher's note Springer Nature remains neutral with regard to jurisdictional claims in published maps and institutional affiliations.
Supplementary information
About this article
Cite this article
Rowald, A., Komi, S., Demesmaeker, R. et al. Activity-dependent spinal cord neuromodulation rapidly restores trunk and leg motor functions after complete paralysis. Nat Med 28, 260–271 (2022). https://doi.org/10.1038/s41591-021-01663-5
Received:

Accepted:

Published:

Issue Date:

DOI: https://doi.org/10.1038/s41591-021-01663-5