Abstract
Intracranial aneurysm (IA) rupture leads to subarachnoid hemorrhage, a sudden-onset disease that often causes death or severe disability. Although genome-wide association studies have identified common genetic variants that increase IA risk moderately, the contribution of variants with large effect remains poorly defined. Using whole-exome sequencing, we identified significant enrichment of rare, deleterious mutations in PPIL4, encoding peptidyl-prolyl cis-trans isomerase-like 4, in both familial and index IA cases. Ppil4 depletion in vertebrate models causes intracerebral hemorrhage, defects in cerebrovascular morphology and impaired Wnt signaling. Wild-type, but not IA-mutant, PPIL4 potentiates Wnt signaling by binding JMJD6, a known angiogenesis regulator and Wnt activator. These findings identify a novel PPIL4-dependent Wnt signaling mechanism involved in brain-specific angiogenesis and maintenance of cerebrovascular integrity and implicate PPIL4 gene mutations in the pathogenesis of IA.
Access options
Subscribe to Nature+
Get immediate online access to Nature and 55 other Nature journal
Subscribe to Journal
Get full journal access for 1 year
$79.00
only $6.58 per issue
All prices are NET prices.
VAT will be added later in the checkout.
Tax calculation will be finalised during checkout.
Buy article
Get time limited or full article access on ReadCube.
$32.00
All prices are NET prices.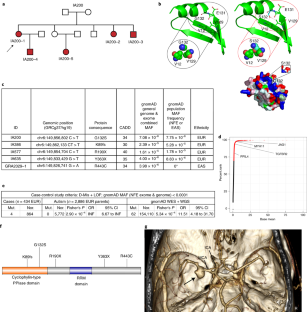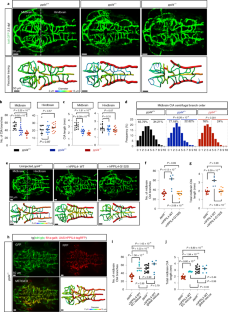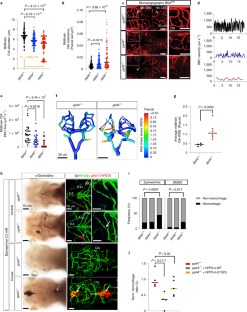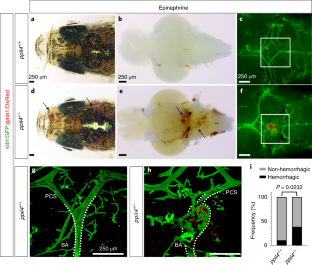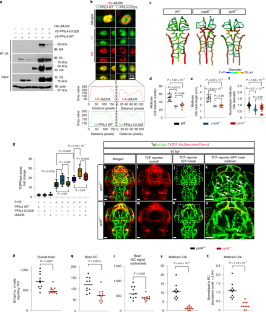 Data availability
All summary statistics for case–control burden analysis are fully detailed in Supplementary Tables 1–4. Each variant in Supplementary Tables 1 and 2 is annotated with information regarding genomic location, variant effect, amino acid change, CADD (version 3) score for deleteriousness and general and subpopulation MAF in gnomAD and ExAC. In addition, individual-level phenotypic data from patients with PPIL4 mutations are provided in Supplementary Table 3. Case–control burden analysis (two-tailed Fisher's exact test) result for 17 genes that are co-segregating in all affected individuals with general gnomAD MAF < 0.005 is shown in Supplementary Table 3. Additionally, sequencing data of all patients in the IA cohort with PPIL4 mutations have been deposited in the European Genome-phenome Archive under accession number EGAS00001005518. Zebrafish expression data are reported in Supplementary Tables 5 and 6. Additionally, public expression and genomics datasets were obtained from the GtEX portal (https://gtexportal.org/home/), the database of gene expression in adult mouse brain and lung vascular and perivascular cell (https://betsholtzlab.org/VascularSingleCells/database.html) and the Genome Aggregation Database (https://gnomad.broadinstitute.org/). Gene enrichment analysis was performed using the Molecular Signatures Database (https://www.gsea-msigdb.org/gsea/msigdb/) and Metascape (https://metascape.org/gp/index.html#/main/step1). CRISPRscan was used for sgRNA design (https://www.crisprscan.org/). The BioPlex (version 3.0)(https://bioplex.hms.harvard.edu/explorer/home) database was used to explore potential protein interactors of PPIL4. VarCards67 (http://159.226.67.237/sun/varcards/) was used for variant annotation of the data individually downloaded from the gnomAD website. Source data are provided with this paper.
References
Vlak, M. H., Algra, A., Brandenburg, R. & Rinkel, G. J. Prevalence of unruptured intracranial aneurysms, with emphasis on sex, age, comorbidity, country, and time period: a systematic review and meta-analysis. Lancet Neurol. 10, 626–636 (2011).

Korja, M., Lehto, H., Juvela, S. & Kaprio, J. Incidence of subarachnoid hemorrhage is decreasing together with decreasing smoking rates. Neurology 87, 1118–1123 (2016).

Lindbohm, J. V., Kaprio, J., Jousilahti, P., Salomaa, V. & Korja, M. Risk factors of sudden death from subarachnoid hemorrhage. Stroke 48, 2399–2404 (2017).

Korja, M. et al. Cause-specific mortality of 1-year survivors of subarachnoid hemorrhage. Neurology 80, 481–486 (2013).

Kissela, B. M. et al. Subarachnoid hemorrhage: a preventable disease with a heritable component. Stroke 33, 1321–1326 (2002).

Graf, C. J. Familial intracranial aneurysms: report of four cases. J. Neurosurg. 25, 304–308 (1966).

Schievink, W. I., Schaid, D. J., Michels, V. V. & Piepgras, D. G. Familial aneurysmal subarachnoid hemorrhage: a community-based study. J. Neurosurg. 83, 426–429 (1995).

Bor, A. S. E., Rinkel, G. J., van Norden, J. & Wermer, M. J. Long-term, serial screening for intracranial aneurysms in individuals with a family history of aneurysmal subarachnoid haemorrhage: a cohort study. Lancet Neurol. 13, 385–392 (2014).

Santiago-Sim, T. et al. THSD1 (thrombospondin type 1 domain containing protein 1) mutation in the pathogenesis of intracranial aneurysm and subarachnoid hemorrhage. Stroke 47, 3005–3013 (2016).

Bourcier, R. et al. Rare coding variants in ANGPTL6 are associated with familial forms of intracranial aneurysm. Am. J. Hum. Genet. 102, 133–141 (2018).

Zhou, S. et al. RNF213 is associated with intracranial aneurysms in the French-Canadian population. Am. J. Hum. Genet. 99, 1072–1085 (2016).

Yasuno, K. et al. Genome-wide association study of intracranial aneurysm identifies three new risk loci. Nat. Genet. 42, 420 (2010).

Yasuno, K. et al. Common variant near the endothelin receptor type A (EDNRA) gene is associated with intracranial aneurysm risk. Proc. Natl Acad. Sci. USA 108, 19707–19712 (2011).

Bilguvar, K. et al. Susceptibility loci for intracranial aneurysm in European and Japanese populations. Nat. Genet. 40, 1472 (2008).

McKenna, A. et al. The genome analysis toolkit: a MapReduce framework for analyzing next-generation DNA sequencing data. Genome Res. 20, 1297–1303 (2010).

DePristo, M. A. et al. A framework for variation discovery and genotyping using next-generation DNA sequencing data. Nat. Genet. 43, 491 (2011).

Van der Auwera, G. A. et al. From FastQ data to high‐confidence variant calls: the Genome Analysis Toolkit best practices pipeline. Curr. Protoc. Bioinformatics 43, 11.10. 11–11.10. 33 (2013).

Krumm, N. et al. Excess of rare, inherited truncating mutations in autism. Nat. Genet. 47, 582 (2015).

Karczewski, K. J. et al. The mutational constraint spectrum quantified from variation in 141,456 humans. Nature 581, 434–443 (2020).

Cras, T. Y. et al. Determinants of the presence and size of intracranial aneurysms in the general population: the Rotterdam Study. Stroke 51, 2103–2110 (2020).

Taylor, C. L., Yuan, Z., Selman, W. R., Ratcheson, R. A. & Rimm, A. A. Cerebral arterial aneurysm formation and rupture in 20,767 elderly patients: hypertension and other risk factors. J. Neurosurg. 83, 812–819 (1995).

Zeng, L. et al. Molecular cloning, structure and expression of a novel nuclear RNA-binding cyclophilin-like gene (PPIL4) from human fetal brain. Cytogenetic Genome Res. 95, 43–47 (2001).

Hanes, S. D. Prolyl isomerases in gene transcription. Biochim. Biophys. Acta 1850, 2017–2034 (2015).

Lang, K., Schmid, F. X. & Fischer, G. Catalysis of protein folding by prolyl isomerase. Nature 329, 268–270 (1987).

Ando, K. et al. Clarification of mural cell coverage of vascular endothelial cells by live imaging of zebrafish. Development 143, 1328–1339 (2016).

Zhang, Y. et al. An RNA-sequencing transcriptome and splicing database of glia, neurons, and vascular cells of the cerebral cortex. J. Neurosci. 34, 11929–11947 (2014).

Vanlandewijck, M. et al. A molecular atlas of cell types and zonation in the brain vasculature. Nature 554, 475–480 (2018).

He, L. et al. Single-cell RNA sequencing of mouse brain and lung vascular and vessel-associated cell types. Sci. Data 5, 180160 (2018).

DeCicco-Skinner, K. L. et al. Endothelial cell tube formation assay for the in vitro study of angiogenesis. J. Vis. Exp. e51312 (2014).

Hillen, B., Drinkenburg, B. A., Hoogstraten, H. W. & Post, L. Analysis of flow and vascular resistance in a model of the cricle of Willis. J. Biomech. 21, 807–814 (1988).

Kamoun, W. S. et al. Simultaneous measurement of RBC velocity, flux, hematocrit and shear rate in vascular networks. Nat. Methods 7, 655 (2010).

Van Dijk, D. et al. Recovering gene interactions from single-cell data using data diffusion. Cell 174, 716–729 (2018).

Liberzon, A. In: Stem Cell Transcriptional Networks 153–160 (Springer, 2014).

Daneman, R. et al. Wnt/β-catenin signaling is required for CNS, but not non-CNS, angiogenesis. Proc. Natl Acad. Sci. USA 106, 641–646 (2009).

Stenman, J. M. et al. Canonical Wnt signaling regulates organ-specific assembly and differentiation of CNS vasculature. Science 322, 1247–1250 (2008).

Boeckel, J.-N. et al. Jumonji domain-containing protein 6 (Jmjd6) is required for angiogenic sprouting and regulates splicing of VEGF-receptor 1. Proc. Natl Acad. Sci. USA 108, 3276–3281 (2011).

Schneider, J. E. et al. Identification of cardiac malformations in mice lacking Ptdsr using a novel high-throughput magnetic resonance imaging technique. BMC Dev. Biol. 4, 16 (2004).

Zhou, D. et al. Inhibition of JMJD6 expression reduces the proliferation, migration and invasion of neuroglioma stem cells. Neoplasma 64, 700–708 (2017).

Zhang, X. et al. JmjC domain-containing protein 6 (Jmjd6) derepresses the transcriptional repressor transcription factor 7-like 1 (Tcf7l1) and is required for body axis patterning during Xenopus embryogenesis. J. Biol. Chem. 290, 20273–20283 (2015).

Zhang, Z., Yang, Y. & Zhang, X. MiR-770 inhibits tumorigenesis and EMT by targeting JMJD6 and regulating WNT/β-catenin pathway in non-small cell lung cancer. Life Sci. 188, 163–171 (2017).

Huttlin, E. L. et al. Architecture of the human interactome defines protein communities and disease networks. Nature 545, 505 (2017).

Huttlin, E. L. et al. The BioPlex network: a systematic exploration of the human interactome. Cell 162, 425–440 (2015).

Böse, J. et al. The phosphatidylserine receptor has essential functions during embryogenesis but not in apoptotic cell removal. J. Biol. 3, 15 (2004).

Akhtar, S., Gremse, F., Kiessling, F., Weber, C. & Schober, A. CXCL12 promotes the stabilization of atherosclerotic lesions mediated by smooth muscle progenitor cells in Apoe-deficient mice. Arterioscler. Thromb. Vasc. Biol. 33, 679–686 (2013).

Vanhollebeke, B. et al. Tip cell-specific requirement for an atypical Gpr124-and Reck-dependent Wnt/β-catenin pathway during brain angiogenesis. eLife 4, e06489 (2015).

Cho, C., Smallwood, P. M. & Nathans, J. Reck and Gpr124 are essential receptor cofactors for Wnt7a/Wnt7b-specific signaling in mammalian CNS angiogenesis and blood–brain barrier regulation. Neuron 95, 1056–1073 (2017).

Moro, E. et al. In vivo Wnt signaling tracing through a transgenic biosensor fish reveals novel activity domains. Dev. Biol. 366, 327–340 (2012).

Sato, N., Meijer, L., Skaltsounis, L., Greengard, P. & Brivanlou, A. H. Maintenance of pluripotency in human and mouse embryonic stem cells through activation of Wnt signaling by a pharmacological GSK-3-specific inhibitor. Nat. Med. 10, 55–63 (2004).

Kircher, M. et al. A general framework for estimating the relative pathogenicity of human genetic variants. Nat. Genet. 46, 310 (2014).

Landrum, M. J. et al. ClinVar: improving access to variant interpretations and supporting evidence. Nucleic Acids Res. 46, D1062–D1067 (2017).

Price, A. L. et al. Principal components analysis corrects for stratification in genome-wide association studies. Nat. Genet. 38, 904 (2006).

Wang, C. et al. Ancestry estimation and control of population stratification for sequence-based association studies. Nat. Genet. 46, 409 (2014).

Purcell, S. et al. PLINK: a tool set for whole-genome association and population-based linkage analyses. Am. J. Hum. Genet. 81, 559–575 (2007).

Chen, X. et al. MLL-AF9 initiates transformation from fast-proliferating myeloid progenitors. Nat. Commun. 10, 1–15 (2019).

Mootha, V. K. et al. PGC-1α-responsive genes involved in oxidative phosphorylation are coordinately downregulated in human diabetes. Nat. Genet. 34, 267–273 (2003).

Moon, K. R. et al. Visualizing structure and transitions in high-dimensional biological data. Nat. Biotechnol. 37, 1482–1492 (2019).

Moreno-Mateos, M. A. et al. CRISPRscan: designing highly efficient sgRNAs for CRISPR–Cas9 targeting in vivo. Nat. Methods 12, 982 (2015).

Narayanan, A. et al. In vivo mutagenesis of miRNA gene families using a scalable multiplexed CRISPR/Cas9 nuclease system. Sci. Rep. 6, 32386 (2016).

Kasper, D. M. et al. MicroRNAs establish uniform traits during the architecture of vertebrate embryos. Dev. Cell 40, 552–565. e555 (2017).

Brend, T. & Holley, S. A. Zebrafish whole mount high-resolution double fluorescent in situ hybridization. J. Vis. Exp. 1229 (2009).

Martin, M. Cutadapt removes adapter sequences from high-throughput sequencing reads. EMBnet J. 17, 10–12 (2011).

Dobin, A. et al. STAR: ultrafast universal RNA-seq aligner. Bioinformatics 29, 15–21 (2013).

Anders, S., Pyl, P. T. & Huber, W. HTSeq—a Python framework to work with high-throughput sequencing data. Bioinformatics 31, 166–169 (2015).

Love, M. I., Huber, W. & Anders, S. Moderated estimation of fold change and dispersion for RNA-seq data with DESeq2. Genome Biol. 15, 1–21 (2014).

Smedley, D. et al. BioMart—biological queries made easy. BMC Genomics 10, 1–12 (2009).

Zhou, Y. et al. Metascape provides a biologist-oriented resource for the analysis of systems-level datasets. Nat. Commun. 10, 1–10 (2019).

Li, J. et al. VarCards: an integrated genetic and clinical database for coding variants in the human genome. Nucleic Acids Res. 46, D1039–D1048 (2018).
Acknowledgements
We are indebted to the patients and families who have contributed to this study. We would like to thank M. Cavanaugh for the zebrafish husbandry. Funding: This work was supported by Yale University funds (to M. Günel) and National Institutes of Health grants 4R01NS057756-10 (to M. Günel.), 1R01NS111935-01 (to M. Günel, A.L. and K.M.-G.) and R01 NS109160-04 and R01 HL130246-05 (to S.N.).
Ethics declarations
Competing interests
The authors declare no competing interests.
Additional information
Peer review information Nature Medicine thanks John Kolega, R. Loch Macdonald, Alan Shuldiner and the other, anonymous, reviewer(s) for their contribution to the peer review of this work. Anna Maria Ranzoni was the primary editor on this article and managed its editorial process and peer review in collaboration with the rest of the editorial team.
Publisher's note Springer Nature remains neutral with regard to jurisdictional claims in published maps and institutional affiliations.
Supplementary information
Source data
Original gel images for Fig. 5
Original gel images for Extended Data Fig. 9
About this article
Cite this article
Barak, T., Ristori, E., Ercan-Sencicek, A.G. et al. PPIL4 is essential for brain angiogenesis and implicated in intracranial aneurysms in humans. Nat Med 27, 2165–2175 (2021). https://doi.org/10.1038/s41591-021-01572-7
Received:

Accepted:

Published:

Issue Date:

DOI: https://doi.org/10.1038/s41591-021-01572-7
This article is cited by
Nature Cardiovascular Research (2022)