Abstract
Germline SAMD9 and SAMD9L mutations (SAMD9/9Lmut) predispose to myelodysplastic syndromes (MDS) with propensity for somatic rescue. In this study, we investigated a clinically annotated pediatric MDS cohort (n = 669) to define the prevalence, genetic landscape, phenotype, therapy outcome and clonal architecture of SAMD9/9L syndromes. In consecutively diagnosed MDS, germline SAMD9/9Lmut accounted for 8% and were mutually exclusive with GATA2 mutations present in 7% of the cohort. Among SAMD9/9Lmut cases, refractory cytopenia was the most prevalent MDS subtype (90%); acquired monosomy 7 was present in 38%; constitutional abnormalities were noted in 57%; and immune dysfunction was present in 28%. The clinical outcome was independent of germline mutations. In total, 67 patients had 58 distinct germline SAMD9/9Lmut clustering to protein middle regions. Despite inconclusive in silico prediction, 94% of SAMD9/9Lmut suppressed HEK293 cell growth, and mutations expressed in CD34+ cells induced overt cell death. Furthermore, we found that 61% of SAMD9/9Lmut patients underwent somatic genetic rescue (SGR) resulting in clonal hematopoiesis, of which 95% was maladaptive (monosomy 7 ± cancer mutations), and 51% had adaptive nature (revertant UPD7q, somatic SAMD9/9Lmut). Finally, bone marrow single-cell DNA sequencing revealed multiple competing SGR events in individual patients. Our findings demonstrate that SGR is common in SAMD9/9Lmut MDS and exemplify the exceptional plasticity of hematopoiesis in children.
Relevant articles
Open Access articles citing this article.
Minako Mori

,

Yasuo Kubota

…

Jaroslaw P. Maciejewski

Leukemia Open Access 26 August 2023

Nabih Maslah

,

Lina Benajiba

…

Bruno Cassinat

Leukemia Open Access 31 March 2023

Francesco Baccelli

,

Davide Leardini

…

Riccardo Masetti

Annals of Hematology Open Access 15 February 2023
Access options
Access Nature and 54 other Nature Portfolio journals
Get Nature+, our best-value online-access subscription
$29.99 / 30 days
cancel any time
Subscribe to this journal
Receive 12 print issues and online access
$209.00 per year
only $17.42 per issue
Rent or buy this article
Prices vary by article type
from$1.95
to$39.95
Prices may be subject to local taxes which are calculated during checkout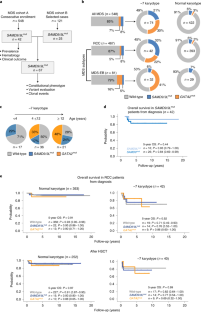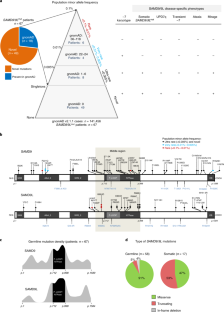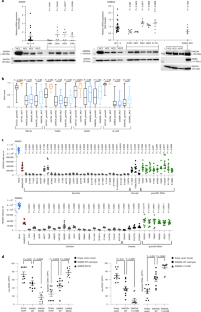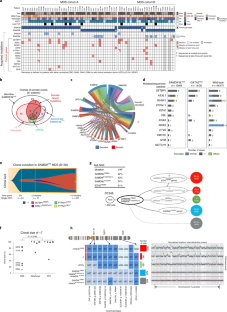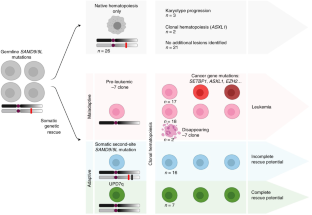 References
Lemos de Matos, A., Liu, J., McFadden, G. & Esteves, P. J. Evolution and divergence of the mammalian SAMD9/SAMD9L gene family. BMC Evol. Biol. 13, 121 (2013).

Wu, L. et al. miR-96 induces cisplatin chemoresistance in non-small cell lung cancer cells by downregulating SAMD9. Oncol. Lett. 11, 945–952 (2016).

Topaz, O. et al. A deleterious mutation in SAMD9 causes normophosphatemic familial tumoral calcinosis. Am. J. Hum. Genet. 79, 759–764 (2006).

Liu, J. & McFadden, G. SAMD9 is an innate antiviral host factor with stress response properties that can be antagonized by poxviruses. J. Virol. 89, 1925–1931 (2015).

Nagamachi, A. et al. Haploinsufficiency of SAMD9L, an endosome fusion facilitator, causes myeloid malignancies in mice mimicking human diseases with monosomy 7. Cancer Cell 24, 305–317 (2013).

Narumi, S. et al. SAMD9 mutations cause a novel multisystem disorder, MIRAGE syndrome, and are associated with loss of chromosome 7. Nat. Genet. 48, 792–797 (2016).

Thomas 3rd, M. E. et al. Pediatric MDS and bone marrow failure-associated germline mutations in SAMD9 and SAMD9L impair multiple pathways in primary hematopoietic cells. Leukemia https://doi.org/10.1038/s41375-021-01212-6 (2021).

Allenspach, E. J. et al. Germline SAMD9L truncation variants trigger global translational repression. J. Exp. Med. 218, e20201195 (2021).

Liu, J., Wennier, S., Zhang, L. & McFadden, G. M062 is a host range factor essential for myxoma virus pathogenesis and functions as an antagonist of host SAMD9 in human cells. J. Virol. 85, 3270–3282 (2011).

Meng, X., Krumm, B., Li, Y., Deng, J. & Xiang, Y. Structural basis for antagonizing a host restriction factor by C7 family of poxvirus host-range proteins. Proc. Natl Acad. Sci. USA 112, 14858–14863 (2015).

Nounamo, B. et al. An interaction domain in human SAMD9 is essential for myxoma virus host-range determinant M062 antagonism of host anti-viral function. Virology 503, 94–102 (2017).

Meng, X. et al. A paralogous pair of mammalian host restriction factors form a critical host barrier against poxvirus infection. PLoS Pathog. 14, e1006884 (2018).

Mekhedov, S. L., Makarova, K. S. & Koonin, E. V. The complex domain architecture of SAMD9 family proteins, predicted STAND-like NTPases, suggests new links to inflammation and apoptosis. Biol. Direct 12, 13 (2017).

Jiang, Q. et al. The Samd9L gene: transcriptional regulation and tissue-specific expression in mouse development. J. Invest. Dermatol 131, 1428–1434 (2011).

Li, C. F. et al. Human sterile alpha motif domain 9, a novel gene identified as down-regulated in aggressive fibromatosis, is absent in the mouse. BMC Genomics 8, 92 (2007).

Chen, D. H. et al. Ataxia-pancytopenia syndrome is caused by missense mutations in SAMD9L. Am. J. Hum. Genet. 98, 1146–1158 (2016).

Tesi, B. et al. Gain-of-function SAMD9L mutations cause a syndrome of cytopenia, immunodeficiency, MDS and neurological symptoms. Blood 129, 2266–2279 (2017).

Schwartz, J. R. et al. Germline SAMD9 mutation in siblings with monosomy 7 and myelodysplastic syndrome. Leukemia 31, 1827–1830 (2017).

Amano, N. et al. Genetic defects in pediatric-onset adrenal insufficiency in Japan. Eur. J. Endocrinol. 177, 187–194 (2017).

Jeffries, L. et al. A novel SAMD9 mutation causing MIRAGE syndrome: an expansion and review of phenotype, dysmorphology, and natural history. Am. J. Med. Genet. A 176, 415–420 (2018).

Kim, Y. M. et al. A case of an infant suspected as IMAGE syndrome who were finally diagnosed with MIRAGE syndrome by targeted Mendelian exome sequencing. BMC Med. Genet. 19, 35 (2018).

Shima, H. et al. Two patients with MIRAGE syndrome lacking haematological features: role of somatic second-site reversion SAMD9 mutations. J. Med. Genet 55, 81–85 (2018).

Shima, H. et al. MIRAGE syndrome is a rare cause of 46,XY DSD born SGA without adrenal insufficiency. PLoS ONE 13, e0206184 (2018).

Csillag, B. et al. Somatic mosaic monosomy 7 and UPD7q in a child with MIRAGE syndrome caused by a novel SAMD9 mutation. Pediatr. Blood Cancer 66, e27589 (2019).

Thunstrom, S. & Axelsson, M. Leukoencephalopathia, demyelinating peripheral neuropathy and dural ectasia explained by a not formerly described de novo mutation in the SAMD9L gene, ends 27 years of investigations—a case report. BMC Neurol. 19, 89 (2019).

Cheah, J. J. C. et al. A novel germline SAMD9L mutation in a family with ataxia-pancytopenia syndrome and pediatric acute lymphoblastic leukemia. Haematologica 104, e318–e321 (2019).

Mengen, E. & Kucukcongar Yavas, A. A rare etiology of 46, XY disorder of sex development and adrenal insufficiency: a case of MIRAGE syndrome caused by mutations in SAMD9 gene. J. Clin. Res. Pediatr. Endocrinol. 12, 206–211 (2019).

Perisa, M. P. et al. A novel SAMD9 variant identified in patient with MIRAGE syndrome: further defining syndromic phenotype and review of previous cases. Pediatr. Blood Cancer 66, e27726 (2019).

Buonocore, F. et al. Somatic mutations and progressive monosomy modify SAMD9-related phenotypes in humans. J. Clin. Invest. 127, 1700–1713 (2017).

Schwartz, J. R. et al. The genomic landscape of pediatric myelodysplastic syndromes. Nat. Commun. 8, 1557 (2017).

Wong, J. C. et al. Germline SAMD9 and SAMD9L mutations are associated with extensive genetic evolution and diverse hematologic outcomes. JCI Insight 3, e121086 (2018).

Bluteau, O. et al. A landscape of germ line mutations in a cohort of inherited bone marrow failure patients. Blood 131, 717–732 (2018).

Pastor, V. B. et al. Constitutional SAMD9L mutations cause familial myelodysplastic syndrome and transient monosomy 7. Haematologica 103, 427–437 (2018).

de Jesus, A. A. et al. Distinct interferon signatures and cytokine patterns define additional systemic autoinflammatory diseases. J. Clin. Invest. 130, 1669–1682 (2020).

Ishiwa, S. et al. A girl with MIRAGE syndrome who developed steroid-resistant nephrotic syndrome: a case report. BMC Nephrol. 21, 340 (2020).

Ahmed, I. A. et al. Outcomes of hematopoietic cell transplantation in patients with germline SAMD9/SAMD9L mutations. Biol. Blood Marrow Transpl. 25, 2186–2196 (2019).

Yoshida, M. et al. Prevalence of germline GATA2 and SAMD9/9L variants in paediatric haematological disorders with monosomy 7. Br. J. Haematol. 191, 835–843 (2020).

Bamshad, M. J. et al. Exome sequencing as a tool for Mendelian disease gene discovery. Nat. Rev. Genet. 12, 745–755 (2011).

Wlodarski, M. W., Collin, M. & Horwitz, M. S. GATA2 deficiency and related myeloid neoplasms. Semin. Hematol. 54, 81–86 (2017).

Revy, P., Kannengiesser, C. & Fischer, A. Somatic genetic rescue in Mendelian haematopoietic diseases. Nat. Rev. Genet. 20, 582–598 (2019).

Huisman, S. A., Redeker, E. J., Maas, S. M., Mannens, M. M. & Hennekam, R. C. High rate of mosaicism in individuals with Cornelia de Lange syndrome. J. Med. Genet. 50, 339–344 (2013).

Erickson, R. P. Somatic gene mutation and human disease other than cancer: an update. Mutat. Res. 705, 96–106 (2010).

Jordan, D. M. et al. Identification of cis-suppression of human disease mutations by comparative genomics. Nature 524, 225–229 (2015).

Leipe, D. D., Koonin, E. V. & Aravind, L. STAND, a class of P-loop NTPases including animal and plant regulators of programmed cell death: multiple, complex domain architectures, unusual phyletic patterns, and evolution by horizontal gene transfer. J. Mol. Biol. 343, 1–28 (2004).

Cordero, M. D., Alcocer-Gomez, E. & Ryffel, B. Gain of function mutation and inflammasome driven diseases in human and mouse models. J. Autoimmun. 91, 13–22 (2018).

Nagamachi, A. et al. Multiorgan failure with abnormal receptor metabolism in mice mimicking Samd9/9L syndromes. J. Clin. Invest. 131, e140147 (2021).

Sarthy, J. et al. Poor outcome with hematopoietic stem cell transplantation for bone marrow failure and MDS with severe MIRAGE syndrome phenotype. Blood Adv. 2, 120–125 (2018).

Baumann, I. et al. Childhood myelodysplastic syndrome. In: WHO Classification of Tumours of Haematopoietic and Lymphoid Tissues (International Agency for Research on Cancer, 2017).

Richards, S. et al. Standards and guidelines for the interpretation of sequence variants: a joint consensus recommendation of the American College of Medical Genetics and Genomics and the Association for Molecular Pathology. Genet. Med. 17, 405–424 (2015).

Bailey, M. H. et al. Comprehensive characterization of cancer driver genes and mutations. Cell 173, 371–385 (2018).

Ma, X. et al. Pan-cancer genome and transcriptome analyses of 1,699 paediatric leukaemias and solid tumours. Nature 555, 371–376 (2018).

Grobner, S. N. et al. The landscape of genomic alterations across childhood cancers. Nature 555, 321–327 (2018).

Zhang, M. Y. et al. Germline ETV6 mutations in familial thrombocytopenia and hematologic malignancy. Nat. Genet. 47, 180–185 (2015).

Lindsley, R. C. et al. Prognostic mutations in myelodysplastic syndrome after stem-cell transplantation. N. Engl. J. Med. 376, 536–547 (2017).

Papaemmanuil, E. et al. Clinical and biological implications of driver mutations in myelodysplastic syndromes. Blood 122, 3616–3627 (2013).

Pastor, V. et al. Mutational landscape in children with myelodysplastic syndromes is distinct from adults: specific somatic drivers and novel germline variants. Leukemia 31, 759–762 (2017).

Wang, K., Li, M. & Hakonarson, H. ANNOVAR: functional annotation of genetic variants from high-throughput sequencing data. Nucleic Acids Res. 38, e164 (2010).

Ioannidis, N. M. et al. REVEL: an ensemble method for predicting the pathogenicity of rare missense variants. Am. J. Hum. Genet. 99, 877–885 (2016).

Nykamp, K. et al. Sherloc: a comprehensive refinement of the ACMG-AMP variant classification criteria. Genet. Med. 19, 1105–1117 (2017).

Shihab, H. A. et al. An integrative approach to predicting the functional effects of non-coding and coding sequence variation. Bioinformatics 31, 1536–1543 (2015).

Mather, C. A. et al. CADD score has limited clinical validity for the identification of pathogenic variants in noncoding regions in a hereditary cancer panel. Genet. Med. 18, 1269–1275 (2016).

Quang, D., Chen, Y. & Xie, X. DANN: a deep learning approach for annotating the pathogenicity of genetic variants. Bioinformatics 31, 761–763 (2015).

Ng, P. C. & Henikoff, S. SIFT: predicting amino acid changes that affect protein function. Nucleic Acids Res. 31, 3812–3814 (2003).

Adzhubei, I. A. et al. A method and server for predicting damaging missense mutations. Nat. Methods 7, 248–249 (2010).

Schwarz, J. M., Rodelsperger, C., Schuelke, M. & Seelow, D. MutationTaster evaluates disease-causing potential of sequence alterations. Nat. Methods 7, 575–576 (2010).

Reva, B., Antipin, Y. & Sander, C. Predicting the functional impact of protein mutations: application to cancer genomics. Nucleic Acids Res. 39, e118 (2011).

Lek, M. et al. Analysis of protein-coding genetic variation in 60,706 humans. Nature 536, 285–291 (2016).

Kircher, M. et al. A general framework for estimating the relative pathogenicity of human genetic variants. Nat. Genet. 46, 310-+ (2014).

van der Velde, K. J. et al. GAVIN: Gene-Aware Variant INterpretation for medical sequencing. Genome Biol. 18, 6 (2017).

Liu, X., Wu, C., Li, C. & Boerwinkle, E. dbNSFP v3.0: a one-stop database of functional predictions and annotations for human nonsynonymous and splice-site SNVs. Hum. Mutat. 37, 235–241 (2016).

Gelb, B. D. et al. ClinGen's RASopathy Expert Panel consensus methods for variant interpretation. Genet. Med. 20, 1334–1345 (2018).

Duployez, N. et al. Familial myeloid malignancies with germline TET2 mutation. Leukemia 34, 1450–1453 (2020).

Kaasinen, E. et al. Impact of constitutional TET2 haploinsufficiency on molecular and clinical phenotype in humans. Nat. Commun. 10, 1252 (2019).

Takaoka, K. et al. A germline HLTF mutation in familial MDS induces DNA damage accumulation through impaired PCNA polyubiquitination. Leukemia 33, 1773–1782 (2019).

Gohring, G. et al. Complex karyotype newly defined: the strongest prognostic factor in advanced childhood myelodysplastic syndrome. Blood 116, 3766–3769 (2010).
Acknowledgements
This work was supported by grants from the Deutsche Krebshilfe Max-Eder-Nachwuchsgruppenprogramm 70109005 (to M.W.W.), ERA PerMED GATA2-HuMo German Federal Ministry of Education and Research (BMBF) 2018-123/01KU1904 (to M.W.W.), German Cancer Consortium DKTK (to M.W.W. and C.M.N.), Fritz-Thyssen Foundation 10.17.1.026MN (to M.W.W.), Deutsche Kinderkrebsstifung 2017.03 (to M.W.W.), BMBF MyPred 01GM1911A (to M.W.W., M.E., C.M.N., G.G., B.S. and C.F.), José Carreras Leukämie-Stiftung (to V.B.P.), DFG SFB1160 (to M.K.), AIRC (Associazione Italiana Ricerca sul Cancro) Special Program Metastatic disease: the key unmet need in oncology 5 per mille 2018, project code 21147 (to F.L.), Cancer Center Core Grant (CA021765, to St. Jude) and Cooperative Centers of Excellence in Hematology NIDDK U54 grant (DK106829 to Fred Hutchinson Cancer Research Center). S.S.S. is a previous recipient of a Spemann Graduate School of Biology and Medicine scholarship. We thank S. Krueger, C. Jaeger, S. Zolles, S. Hollander, M. Teller and A.-R. Kaya for excellent laboratory assistance; A. Breier, A. Fischer, W. Truckenmueller, M. Siskou-Zwecker, A. Gebert, M. Boerries and H. Busch for data management (all University of Freiburg); D. Cullins (St. Jude) for FACS services; and P. Mitra for technical support. We extend great appreciation to M. Weiss and J. Crispino (St. Jude) for valuable and constructive discussions. We also acknowledge the Hilda Biobank Freiburg and Genomics Core Facility at the German Cancer Research Center/DKFZ for specimen processing. Patient care within the EWOG-MDS consortium would not have been possible without the continuous effort of the National Reference Pathologists, National Reference Cytogeneticists, physicians, nurses and other staff of pediatric oncology units and transplant centers in all 17 participating countries (www.ewog-mds-saa.org).
Ethics declarations
Competing interests
J.B. declares personal fees, advisory board/steering committee honorarium and/or non-financial support from Novartis, Pfizer, Kite and Janssen Pharma. P.B. declares research grants from Neovii, Reimser and Medac to his affiliated institution; is on the advisory board for Novartis, Cellgene, Amgen, Medac and Servier, both for personal and on behalf of his affiliated institution; and is part of the speaker's bureau for Miltenyi, Jazz, Reimser, Novartis and Amgen, on behalf of his affiliated institution. Also, P.B. holds patents and receives royalties from Medac. R.D.-D. is employed by Mission Bio and owns equity in Mission Bio.
Additional information
Peer review information Nature Medicine thanks Valeria Santini and the other, anonymous, reviewer(s) for their contribution to the peer review of this work. Joao Monteiro was the primary editor on this article and managed its editorial process and peer review in collaboration with the rest of the editorial team.
Publisher's note Springer Nature remains neutral with regard to jurisdictional claims in published maps and institutional affiliations.
Supplementary information
Source data
Unprocessed western blots with relevant samples lanes marked within a box
Unprocessed western blots with relevant samples lanes marked within a box
About this article
Cite this article
Sahoo, S.S., Pastor, V.B., Goodings, C. et al. Clinical evolution, genetic landscape and trajectories of clonal hematopoiesis in SAMD9/SAMD9L syndromes. Nat Med 27, 1806–1817 (2021). https://doi.org/10.1038/s41591-021-01511-6
Received:

Accepted:

Published:

Issue Date:

DOI: https://doi.org/10.1038/s41591-021-01511-6