Machine learning applied to electronic medical records can be used to create personalized lab-test reference ranges and to quantify disease risk, which will pave the way for precision medicine in clinical care.
Access options
Subscribe to Journal
Get full journal access for 1 year
$59.00
only $4.92 per issue
All prices are NET prices.
VAT will be added later in the checkout.
Tax calculation will be finalised during checkout.
Rent or Buy article
Get time limited or full article access on ReadCube.
from$8.99
All prices are NET prices.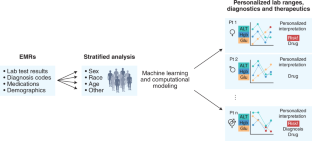 References
1.

MedlinePlus. U.S. National Library of Medicine https://medlineplus.gov/genetics/understanding/precisionmedicine/definition/ (accessed 20 July 2021).

2.

Berger, M. F. & Mardis, E. R. Nat. Rev. Clin. Oncol. 15, 353–365 (2018).

3.

Denny, J. C. & Collins, F. S. Cell 184, 1415–1419 (2021).

4.

Cohen, N. M. et al. Nat. Med. https://doi.org/10.1038/s41591-021-01468-6 (2021).

5.

Tarca, A. L., Carey, V. J., Chen, X., Romero, R. & Drăghici, S. PLOS Comput. Biol. 3, e116 (2007).

6.

Wainberg, M., Merico, D., Delong, A. & Frey, B. J. Nat. Biotechnol. 36, 829–838 (2018).

7.

Rappoport, N. et al. J. Appl. Lab. Med. 3, 366–377 (2018).

8.

Li, L. et al. Sci. Transl. Med. 7, 311ra174 (2015).

9.

Glicksberg, B. S. et al. Bioinformatics 32, i101–i110 (2016).

10.

Marić, I. et al. Front. Med. 8, 639804 (2021).

11.

Yee, S. W. et al. Clin. Pharmacol. Ther. 110, 108–122 (2021).
Ethics declarations
Competing interests
The authors declare no competing interests.
About this article
Cite this article
Tang, A., Oskotsky, T. & Sirota, M. Personalizing routine lab tests with machine learning. Nat Med 27, 1514–1515 (2021). https://doi.org/10.1038/s41591-021-01486-4