Abstract
Gemcitabine-cisplatin (GP) chemotherapy is the standard first-line systemic treatment for recurrent or metastatic nasopharyngeal carcinoma (RM-NPC). In this international, double-blind, phase 3 trial (ClinicalTrials.gov identifier: NCT03581786), 289 patients with RM-NPC and no previous chemotherapy for recurrent or metastatic disease were randomized (1/1) to receive either toripalimab, a monoclonal antibody against human programmed death-1 (PD-1), or placebo in combination with GP every 3 weeks for up to six cycles, followed by monotherapy with toripalimab or placebo. The primary endpoint was progression-free survival (PFS) as assessed by a blinded independent review committee according to RECIST v.1.1. At the prespecified interim PFS analysis, a significant improvement in PFS was detected in the toripalimab arm compared to the placebo arm: median PFS of 11.7 versus 8.0 months, hazard ratio (HR) = 0.52 (95% confidence interval (CI): 0.36–0.74), P = 0.0003. An improvement in PFS was observed across key subgroups, including PD-L1 expression. As of 18 February 2021, a 40% reduction in risk of death was observed in the toripalimab arm compared to the placebo arm (HR = 0.603 (95% CI: 0.364–0.997)). The incidence of grade ≥3 adverse events (AEs) (89.0 versus 89.5%), AEs leading to discontinuation of toripalimab/placebo (7.5 versus 4.9%) and fatal AEs (2.7 versus 2.8%) was similar between the two arms; however, immune-related AEs (irAEs) (39.7 versus 18.9%) and grade ≥3 irAEs (7.5 versus 0.7%) were more frequent in the toripalimab arm. In conclusion, the addition of toripalimab to GP chemotherapy as a first-line treatment for patients with RM-NPC provided superior PFS compared to GP alone, and with a manageable safety profile.
Relevant articles
Open Access articles citing this article.
Yuyi Yao

,

Xuesong Sun

…

Tongyu Lin

Radiation Oncology Open Access 21 January 2023

Ying Lu

,

Haixin Huang

…

Zhou Jiang

Journal of Cancer Research and Clinical Oncology Open Access 08 September 2022

Jianyun Jiang

&

Hongmei Ying

Journal of Experimental & Clinical Cancer Research Open Access 13 August 2022
Access options
Subscribe to Nature+
Get immediate online access to Nature and 55 other Nature journal
Subscribe to Journal
Get full journal access for 1 year
$79.00
only $6.58 per issue
All prices are NET prices.
VAT will be added later in the checkout.
Tax calculation will be finalised during checkout.
Buy article
Get time limited or full article access on ReadCube.
$32.00
All prices are NET prices.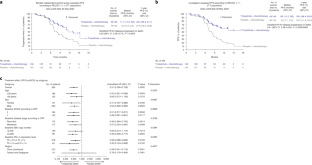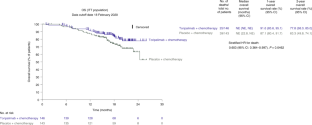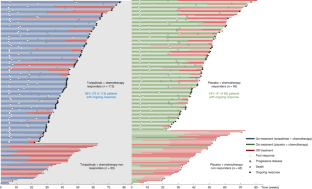 Data availability
All requests for data will be reviewed by the leading clinical site, Sun Yat-Sen University Cancer Center, and the study sponsor, Shanghai Junshi Biosciences, to verify whether the request is subject to any intellectual property or confidentiality obligations. Requests for access to the patient-level data from this study can be submitted via email to xurh@sysucc.org.cn with detailed proposals for approval. A signed data access agreement with the sponsor is required before accessing shared data. Source data are provided with this paper.
Code availability
No custom code was used for statistical analysis in this study.
References
Chen, Y. P. et al. Nasopharyngeal carcinoma. Lancet 394, 64–80 (2019).

Ngan, H. L., Wang, L., Lo, K. W. & Lui, V. W. Y. Genomic landscapes of EBV-associated nasopharyngeal carcinoma vs. HPV-associated head and neck cancer. Cancers (Basel) 10, 210 (2018).

Ou, S. I., Zell, J. A., Ziogas, A. & Anton-Culver, H. Epidemiology of nasopharyngeal carcinoma in the United States: improved survival of Chinese patients within the keratinizing squamous cell carcinoma histology. Ann. Oncol. 18, 29–35 (2007).

Chin, Y. et al. HLA-A SNPs and amino acid variants are associated with nasopharyngeal carcinoma in Malaysian Chinese. Int. J. Cancer 136, 678–687 (2015).

Tian, W. et al. Sequence-based typing of HLA-A gene in 930 patients with nasopharyngeal carcinoma in Hunan province, southern China. Tissue Antigens 86, 15–20 (2015).

Ferris, R. L. et al. Nivolumab for recurrent squamous-cell carcinoma of the head and neck. N. Engl. J. Med. 375, 1856–1867 (2016).

Chow, L. Q. M. et al. Antitumor activity of pembrolizumab in biomarker-unselected patients with recurrent and/or metastatic head and neck squamous cell carcinoma: results from the phase Ib KEYNOTE-012 expansion cohort. J. Clin. Oncol. 34, 3838–3845 (2016).

Zhang, L. et al. Gemcitabine plus cisplatin versus fluorouracil plus cisplatin in recurrent or metastatic nasopharyngeal carcinoma: a multicentre, randomised, open-label, phase 3 trial. Lancet 388, 1883–1892 (2016).

Huang, Z. L. et al. The prognostic significance of PD-L1 and PD-1 expression in patients with nasopharyngeal carcinoma: a systematic review and meta-analysis. Cancer Cell Int. 19, 141 (2019).

Wang, F. H. et al. Efficacy, safety, and correlative biomarkers of toripalimab in previously treated recurrent or metastatic nasopharyngeal carcinoma: a phase II clinical trial (POLARIS-02). J. Clin. Oncol. 39, 704–712 (2021).

Ma, B. B. Y. et al. Antitumor activity of nivolumab in recurrent and metastatic nasopharyngeal carcinoma: an international, multicenter study of the Mayo Clinic Phase 2 Consortium (NCI-9742). J. Clin. Oncol. 36, 1412–1418 (2018).

Hsu, C. et al. Safety and antitumor activity of pembrolizumab in patients with programmed death-ligand 1-positive nasopharyngeal carcinoma: results of the KEYNOTE-028 study. J. Clin. Oncol. 35, 4050–4056 (2017).

Fang, W. et al. Camrelizumab (SHR-1210) alone or in combination with gemcitabine plus cisplatin for nasopharyngeal carcinoma: results from two single-arm, phase 1 trials. Lancet Oncol. 19, 1338–1350 (2018).

Wei, X. L. et al. A phase I study of toripalimab, an anti-PD-1 antibody, in patients with refractory malignant solid tumors. Cancer Commun. (Lond.) 40, 345–354 (2020).

Ren, C. et al. Clinical response and biomarker analysis of a phase II basket trial of toripalimab, a PD-1 mAb in combination with standard chemotherapy as a first-line treatment for patients with solid tumors. J. Clin. Oncol. 38, Suppl. abstract e15083 (2020).

Tang, B. et al. Safety, efficacy and biomarker analysis of toripalimab in previously treated advanced melanoma: results of the POLARIS-01 multicenter phase II trial. Clin. Cancer Res. 26, 4250–4259 (2020).

Chen, Y. P. et al. Surrogate endpoints for overall survival in combined chemotherapy and radiotherapy trials in nasopharyngeal carcinoma: meta-analysis of randomised controlled trials. Radiother. Oncol. 116, 157–166 (2015).

Hui, E. P. et al. Efficacy, safety, and pharmacokinetics of axitinib in nasopharyngeal carcinoma: a preclinical and phase II correlative study. Clin. Cancer Res. 24, 1030–1037 (2018).

Zhao, C. et al. Anti-epidermal growth factor receptor (EGFR) monoclonal antibody combined with cisplatin and 5-fluorouracil in patients with metastatic nasopharyngeal carcinoma after radical radiotherapy: a multicentre, open-label, phase II clinical trial. Ann. Oncol. 30, 637–643 (2019).

Brahmer, J. et al. Nivolumab versus docetaxel in advanced squamous-cell non-small-cell lung cancer. N. Engl. J. Med. 373, 123–135 (2015).

Rizvi, N. A. et al. Activity and safety of nivolumab, an anti-PD-1 immune checkpoint inhibitor, for patients with advanced, refractory squamous non-small-cell lung cancer (CheckMate 063): a phase 2, single-arm trial. Lancet Oncol. 16, 257–265 (2015).

Wang, Z. et al. Safety, antitumor activity, and pharmacokinetics of toripalimab, a programmed cell death 1 inhibitor, in patients with advanced non-small cell lung cancer: a phase 1 Trial. JAMA Netw. Open 3, e2013770 (2020).

Corry, J., Fisher, R., Rischin, D. & Peters, L. J. Relapse patterns in WHO 2/3 nasopharyngeal cancer: is there a difference between ethnic Asian vs. non-Asian patients? Int. J. Radiat. Oncol. Biol. Phys. 64, 63–71 (2006).

Sun, L. M., Li, C. I., Huang, E. Y. & Vaughan, T. L. Survival differences by race in nasopharyngeal carcinoma. Am. J. Epidemiol. 165, 271–278 (2007).

Chen, Y. P. et al. Chemotherapy in combination with radiotherapy for definitive-intent treatment of stage II-IVA nasopharyngeal carcinoma: CSCO and ASCO guideline. J. Clin. Oncol. 39, 840–859 (2021).

Tang, L. Q. et al. Prospective study of tailoring whole-body dual-modality [18F]fluorodeoxyglucose positron emission tomography/computed tomography with plasma Epstein–Barr virus DNA for detecting distant metastasis in endemic nasopharyngeal carcinoma at initial staging. J. Clin. Oncol. 31, 2861–2869 (2013).
Acknowledgements
This study is sponsored by Shanghai Junshi Biosciences. The authors thank the patients who participated in this study and their families. This work was supported by National Major Science & Technology Major Projects (no. 2017ZX09302009) awarded to H.F., and a Shanghai Science and Technology Committee Technology Grant awarded to H.F. (no. 17431900700).
Ethics declarations
Competing interests
H.F. and S.Y. are employed by Shanghai Junshi Bioscience and TopAlliance Biosciences. P.K. is employed by TopAlliance Biosciences. R.-H.X. has served in consulting or advisory roles for Bristol-Myers Squibb, Merck Serono, Roche, Astellas and AstraZeneca. The remaining authors have no competing interests.
Additional information
Peer review information Nature Medicine thanks J. Jack Lee, Anthony Chan and Douglas Adkins for their contribution to the peer review of this work. Javier Carmona was the primary editor on this article and managed its editorial process and peer review in collaboration with the rest of the editorial team.
Publisher's note Springer Nature remains neutral with regard to jurisdictional claims in published maps and institutional affiliations.
Supplementary information
Supplementary Tables 1–24.
About this article
Cite this article
Mai, HQ., Chen, QY., Chen, D. et al. Toripalimab or placebo plus chemotherapy as first-line treatment in advanced nasopharyngeal carcinoma: a multicenter randomized phase 3 trial. Nat Med 27, 1536–1543 (2021). https://doi.org/10.1038/s41591-021-01444-0
Received:

Accepted:

Published:

Issue Date:

DOI: https://doi.org/10.1038/s41591-021-01444-0