Abstract
Despite initial responses1,2,3, most melanoma patients develop resistance4 to immune checkpoint blockade (ICB). To understand the evolution of resistance, we studied 37 tumor samples over 9 years from a patient with metastatic melanoma with complete clinical response to ICB followed by delayed recurrence and death. Phylogenetic analysis revealed co-evolution of seven lineages with multiple convergent, but independent resistance-associated alterations. All recurrent tumors emerged from a lineage characterized by loss of chromosome 15q, with post-treatment clones acquiring additional genomic driver events. Deconvolution of bulk RNA sequencing and highly multiplexed immunofluorescence (t-CyCIF) revealed differences in immune composition among different lineages. Imaging revealed a vasculogenic mimicry phenotype in NGFRhi tumor cells with high PD-L1 expression in close proximity to immune cells. Rapid autopsy demonstrated two distinct NGFR spatial patterns with high polarity and proximity to immune cells in subcutaneous tumors versus a diffuse spatial pattern in lung tumors, suggesting different roles of this neural-crest-like program in different tumor microenvironments. Broadly, this study establishes a high-resolution map of the evolutionary dynamics of resistance to ICB, characterizes a de-differentiated neural-crest tumor population in melanoma immunotherapy resistance and describes site-specific differences in tumor–immune interactions via longitudinal analysis of a patient with melanoma with an unusual clinical course.
Relevant articles
Open Access articles citing this article.
Bianca Dietsch

,

Céline Weller

…

Sebastian A. Wohlfeil

BMC Cancer Open Access 13 May 2023

Sixue Liu

,

Prashanthi Dharanipragada

…

Roger S. Lo

Nature Medicine Open Access 27 April 2023

Daniel Delgado-Bellido

,

Esteban Zamudio-Martínez

…

F. J. Oliver

Cell Death & Disease Open Access 17 February 2023
Access options
Access Nature and 54 other Nature Portfolio journals
Get Nature+, our best-value online-access subscription
$29.99 / 30 days
cancel any time
Subscribe to this journal
Receive 12 print issues and online access
$189.00 per year
only $15.75 per issue
Rent or buy this article
Get just this article for as long as you need it
$39.95
Prices may be subject to local taxes which are calculated during checkout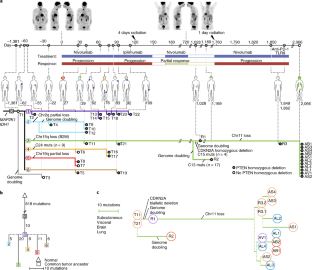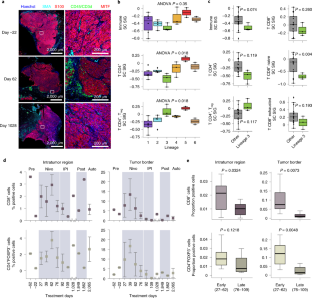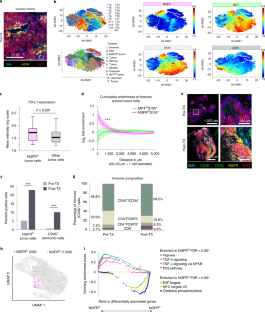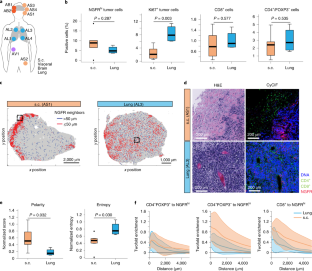 Data availability
All requests for raw and analyzed data and materials will be promptly reviewed by the senior author (G.M.B.) to verify whether the request is subject to any intellectual property or confidentiality obligations. Patient-related data not included in the paper may be subject to patient confidentiality. Any data and materials that can be shared will be released via a material transfer agreement. All analyzed sequencing data are in supplementary data available at the journal website and any additional data made publicly available after publication will be found at https://github.com/davidliu-lab/Pt98. All t-CyCIF tissue images are available for online viewing: https://www.cycif.org/data/liu-lin-2019/. Raw sequencing data have been deposited into dbGAP, phs001427.v2.p1, which is publicly accessible. Matched clinical and sequencing characteristics of tumors are in Supplementary Table 1.
References
Wolchok, J. D. et al. Overall survival with combined nivolumab and ipilimumab in advanced melanoma. N. Engl. J. Med. 377, 1345–1356 (2017).

Robert, C. et al. Pembrolizumab versus ipilimumab in advanced melanoma. N. Engl. J. Med. 372, 2521–2532 (2015).

Larkin, J. et al. Five-year survival with combined nivolumab and ipilimumab in advanced melanoma. N. Engl. J. Med. 381, 1535–1546 (2019).

Sharma, P., Hu-Lieskovan, S., Wargo, J. A. & Ribas, A. Primary, adaptive, and acquired resistance to cancer immunotherapy. Cell 168, 707–723 (2017).

Spranger, S., Bao, R. & Gajewski, T. F. Melanoma-intrinsic β-catenin signalling prevents anti-tumour immunity. Nature 523, 231 (2015).

George, S. et al. Loss of PTEN is associated with resistance to anti-PD-1 checkpoint blockade therapy in metastatic uterine leiomyosarcoma. Immunity 46, 197–204 (2017).

Xiao, Q. et al. DKK2 imparts tumor immunity evasion through β-catenin-independent suppression of cytotoxic immune-cell activation. Nat. Med. 24, 262–270 (2018).

Peng, W. et al. Loss of PTEN promotes resistance to T cell-mediated immunotherapy. Cancer Discov. 6, 202–216 (2016).

Zaretsky, J. M. et al. Mutations associated with acquired resistance to PD-1 blockade in melanoma. N. Engl. J. Med. 375, 819–829 (2016).

Sade-Feldman, M. et al. Resistance to checkpoint blockade therapy through inactivation of antigen presentation. Nat Commun. 8, 1136 (2017).

Gao, J. et al. Loss of IFN-γ pathway genes in tumor cells as a mechanism of resistance to anti-CTLA-4 therapy. Cell 167, 397–404 (2016).

Davoli, T., Uno, H., Wooten, E. C. & Elledge S. J. Tumor aneuploidy correlates with markers of immune evasion and with reduced response to immunotherapy. Science https://doi.org/10.1126/science.aaf8399 (2017).

Roh, W. et al. Integrated molecular analysis of tumor biopsies on sequential CTLA-4 and PD-1 blockade reveals markers of response and resistance. Sci. Transl. Med. https://doi.org/10.1126/scitranslmed.aah3560 (2017).

Goel, S. et al. CDK4/6 inhibition triggers anti-tumour immunity. Nature 548, 471 (2017).

Rambow, F. et al. Toward minimal residual disease-directed therapy in melanoma. Cell 174, 843–855 (2018).

Restivo, G. et al. The low affinity neurotrophin receptor CD271 regulates phenotype switching in melanoma. Nat. Commun. 8, 1988 (2017).

Jerby-Arnon, L. et al. A cancer cell program promotes T cell exclusion and resistance to checkpoint blockade. Cell 175, 984–997 (2018).

Burrell, R. A., McGranahan, N., Bartek, J. & Swanton, C. The causes and consequences of genetic heterogeneity in cancer evolution. Nature 501, 338–345 (2013).

Gerlinger, M. et al. Intratumor heterogeneity and branched evolution revealed by multiregion sequencing. N. Engl. J. Med. 366, 883–892 (2012).

Jamal-Hanjani, M. et al. Tracking the evolution of non–small-cell lung cancer. N. Engl. J. Med. 376, 2109–2121 (2017).

Faltas, B. M. et al. Clonal evolution of chemotherapy-resistant urothelial carcinoma. Nat. Genet. https://doi.org/10.1038/ng.3692 (2016).

Andor, N. et al. Pan-cancer analysis of the extent and consequences of intratumor heterogeneity. Nat. Med. 22, 105–113 (2016).

Ding, L. et al. Clonal architectures and driver mutations in metastatic melanomas. PLoS ONE 9, e111153 (2014).

Jiménez-Sánchez, A. et al. Heterogeneous tumor-immune microenvironments among differentially growing metastases in an ovarian cancer patient. Cell 170, 927–938 (2017).

Liu, D. et al. Mutational patterns in chemotherapy resistant muscle-invasive bladder cancer. Nat. Commun. 8, 2193 (2017).

Juric, D. et al. Convergent loss of PTEN leads to clinical resistance to a PI(3)Kα inhibitor. Nature 518, 240–244 (2015).

Chen, P.-L. et al. Analysis of immune signatures in longitudinal tumor samples yields insight into biomarkers of response and mechanisms of resistance to immune checkpoint blockade. Cancer Discov. 6, 827–837 (2016).

Edwards, J. et al. Prevalence and cellular distribution of novel immune checkpoint targets across longitudinal specimens in treatment-naive melanoma patients: implications for clinical trials. Clin. Cancer Res. 25, 3247–3258 (2019).

Dewhurst, S. M. et al. Tolerance of whole-genome doubling propagates chromosomal instability and accelerates cancer genome evolution. Cancer Discov. 4, 175–185 (2014).

The Cancer Genome Atlas. Genomic classification of cutaneous melanoma. Cell 161, 1681–1696 (2015).

Liu, D. et al. Integrative molecular and clinical modeling of clinical outcomes to PD1 blockade in patients with metastatic melanoma. Nat. Med. 25, 1916–1927 (2019).

Barbie, D. A. et al. Systematic RNA interference reveals that oncogenic KRAS-driven cancers require TBK1. Nature 462, 108–112 (2009).

Liberzon, A. et al. The molecular signatures database hallmark gene set collection. Cell Syst. 1, 417–425 (2015).

Maniotis, A. J. et al. Vascular channel formation by human melanoma cells in vivo and in vitro: vasculogenic mimicry. Am. J. Pathol. 155, 739–752 (1999).

Landsberg, J. et al. Melanomas resist T-cell therapy through inflammation-induced reversible dedifferentiation. Nature 490, 412–416 (2012).

Sottoriva, A. et al. A Big Bang model of human colorectal tumor growth. Nat. Genet. 47, 209–216 (2015).

Rooney, M. S., Shukla, S. A., Wu, C. J., Getz, G. & Hacohen, N. Molecular and genetic properties of tumors associated with local immune cytolytic activity. Cell 160, 48–61 (2015).

Riaz, N. et al. Tumor and microenvironment evolution during immunotherapy with nivolumab. Cell https://doi.org/10.1016/j.cell.2017.09.028 (2017).

Lehraiki, A. et al. Increased CD271 expression by the NF-κB pathway promotes melanoma cell survival and drives acquired resistance to BRAF inhibitor vemurafenib. Cell Discov. 1, 1–13 (2015).

Shaffer, S. M. et al. Rare cell variability and drug-induced reprogramming as a mode of cancer drug resistance. Nature 546, 431–435 (2017).

Boshuizen, J. et al. Reversal of pre-existing NGFR-driven tumor and immune therapy resistance. Nat. Commun. 11, 3946 (2020).

Valyi-Nagy, K., Kormos, B., Ali, M., Shukla, D. & Valyi-Nagy, T. Stem cell marker CD271 is expressed by vasculogenic mimicry-forming uveal melanoma cells in three-dimensional cultures. Mol. Vis. 18, 588–592 (2012).

Tan, L. Y. et al. Control of immune cell entry through the tumour vasculature: a missing link in optimising melanoma immunotherapy? Clin. Transl. Immunol. 6, e134 (2017).

Shi, A. et al. Plasma-derived extracellular vesicle analysis and deconvolution enable prediction and tracking of melanoma checkpoint blockade outcome. Sci. Adv. 6, eabb3461 (2020).

Marsavela, G. et al. Circulating tumor DNA predicts outcome from first-, but not second-line treatment and identifies melanoma patients who may benefit from combination immunotherapy. Clin. Cancer Res. 26, 5926–5933 (2020).

Langmead, B. & Salzberg, S. L. Fast gapped-read alignment with Bowtie 2. Nat. Methods 9, 357–359 (2012).

Van Allen, E. M. et al. Whole-exome sequencing and clinical interpretation of formalin-fixed, paraffin-embedded tumor samples to guide precision cancer medicine. Nat. Med. 20, 682–688 (2014).

Fisher, S. et al. A scalable, fully automated process for construction of sequence-ready human exome targeted capture libraries. Genome Biol. 12, R1 (2011).

Gnirke, A. et al. Solution hybrid selection with ultra-long oligonucleotides for massively parallel targeted sequencing. Nat. Biotechnol. 27, 182–189 (2009).

Cibulskis, K. et al. ContEst: estimating cross-contamination of human samples in next generation sequencing data. Bioinformatics 27, 2601–2602 (2011).

Lawrence, M. S. et al. Discovery and saturation analysis of cancer genes across 21 tumour types. Nature 505, 495–501 (2014).

Hodis, E. et al. A landscape of driver mutations in melanoma. Cell 150, 251–263 (2012).

Cibulskis, K. et al. Sensitive detection of somatic point mutations in impure and heterogeneous cancer samples. Nat. Biotechnol. 31, 213–219 (2013).

Saunders, C. T. et al. Strelka: accurate somatic small-variant calling from sequenced tumor–normal sample pairs. Bioinformatics 28, 1811–1817 (2012).

Ramos, A. H. et al. Oncotator: cancer variant annotation tool. Hum. Mutat. 36, E2423–E2429 (2015).

Costello, M. et al. Discovery and characterization of artifactual mutations in deep coverage targeted capture sequencing data due to oxidative DNA damage during sample preparation. Nucleic Acids Res. 41, e67 (2013).

Olshen, A. B., Venkatraman, E. S., Lucito, R. & Wigler, M. Circular binary segmentation for the analysis of array-based DNA copy number data. Biostatistics 5, 557–572 (2004).

Shen, R., Olshen, A. B. & Ladanyi, M. Integrative clustering of multiple genomic data types using a joint latent variable model with application to breast and lung cancer subtype analysis. Bioinformatics 25, 2906–2912 (2009).

Carter, S. L. et al. Absolute quantification of somatic DNA alterations in human cancer. Nat. Biotechnol. 30, 413–421 (2012).

Brastianos, P. K. et al. Genomic characterization of brain metastases reveals branched evolution and potential therapeutic targets. Cancer Discov. 5, 1164–1177 (2015).

Burrell, R. A. et al. Replication stress links structural and numerical cancer chromosomal instability. Nature 494, 492–496 (2013).

Roth, A. et al. PyClone: statistical inference of clonal population structure in cancer. Nat. Methods 11, 396–398 (2014).

Leshchiner, I. et al. Comprehensive analysis of tumour initiation, spatial and temporal progression under multiple lines of treatment. Preprint at bioRxiv https://doi.org/10.1101/508127 (2018).

Li, B. & Dewey, C. N. RSEM: accurate transcript quantification from RNA-seq data with or without a reference genome. BMC Bioinf. 12, 323 (2011).

Shukla, S. A. et al. Comprehensive analysis of cancer-associated somatic mutations in class I HLA genes. Nat. Biotechnol. 33, 1152 (2015).

Jurtz, V. et al. NetMHCpan-4.0: improved peptide-MHC class I interaction predictions integrating eluted ligand and peptide binding affinity data. J. Immunol. 199, 3360–3368 (2017).

Hundal, J. et al. pVAC-seq: a genome-guided in silico approach to identifying tumor neoantigens. Genome Med. 8, 11 (2016).

Lin, J.-R. et al. Highly multiplexed immunofluorescence imaging of human tissues and tumors using t-CyCIF and conventional optical microscopes. eLife https://doi.org/10.7554/eLife.31657 (2018).

Lin, J.-R., Fallahi-Sichani, M. & Sorger, P. K. Highly multiplexed imaging of single cells using a high-throughput cyclic immunofluorescence method. Nat. Commun. 6, 8390 (2015).

Amir, E. D. et al. viSNE enables visualization of high dimensional single-cell data and reveals phenotypic heterogeneity of leukemia. Nat. Biotechnol. 31, 545–552 (2013).

Satija, R., Farrell, J. A., Gennert, D., Schier, A. F. & Regev, A. Spatial reconstruction of single-cell gene expression data. Nat. Biotechnol. 33, 495–502 (2015).

Wolf, F. A., Angerer, P. & Theis, F. J. SCANPY: large-scale single-cell gene expression data analysis. Genome Biol. 19, 15 (2018).

DeTomaso, D. et al. Functional interpretation of single cell similarity maps. Nat. Commun. 10, 4376 (2019).

Tirosh, I. et al. Dissecting the multicellular ecosystem of metastatic melanoma by single-cell RNA-seq. Science 352, 189–196 (2016).

Subramanian, A. et al. Gene set enrichment analysis: a knowledge-based approach for interpreting genome-wide expression profiles. Proc. Natl Acad. Sci. USA 102, 15545–15550 (2005).
Acknowledgements
This work was supported by the Dr. Miriam and Sheldon G. Adelson Medical Research Foundation (M.H.), the Harvard Ludwig Center for Cancer Research, the National Science Foundation (grant no. DGE-1144152, Graduate Research Fellowship no. 2016226995), the Conquer Cancer Foundation Young Investigator Award (D.L.), the Damon Runyon Cancer Research Foundation (Physician Scientist Training Grant (D.L.), Postdoctoral Fellowship (DRQ-03-20, D.S.)), the National Institutes of Health (grants R01CA227388, K08CA222663 (B.I.), K08CA234458 (D.L.) and U54-CA225088 (B.I., J.L., S.W., S.M., D.S. and P.K.S.), P01 CA114046 (M.H.), P50 CA174523 (M.H.), U54 CA224070 (M.H.)), DoD – PRCRP W81XWH-16-1-0119 (CA150619) (M.H.), DoD–CDMRP W81XWH-19-1-0143 (G.M.B.), BroadNext10 (E.M.V.A.), Society for Immunotherapy of Cancer Translational Postdoctoral Fellowship (D.L.), the Burroughs Wellcome Fund Career Award for Medical Scientists (B.I.), the Louis V. Gerstner, Jr Scholars Program (B.I.), the Velocity Fellow Program (B.I.), Abeloff V foundation scholar grant (B.I.), the Barr Award for Innovative Translational Research, Early Postdoc Mobility fellowship (no. P2ZHP3_181475) (D.S.) and the Swiss National Science Foundation (no. P2ZHP3_178022) (M.M).
Ethics declarations
Competing interests
D.L. reports funding by a postdoctoral fellowship from the Society for Immunotherapy of Cancers which is funded in part by an educational grant from Bristol-Meyers Squibb (BMS). BMS has had no input into the conception, conduct or reporting of the submitted work. D.C. has received consulting (GSK, Lilly, Boston Pharmaceuticals) and travel/speaking (Merck) support outside the scope of the present work. G.M.B. had sponsored research agreements with Takeda Oncology, Palleon Pharmaceuticals and Olink Proteomics, which were not used to support this work. She served as a speaker for Novartis and on scientific advisory boards for Nektar Therapeutics and Novartis and consults for Merck, all of which are outside the scope of this work. P.K.B has consulted for Angiochem, Genentech-Roche, Lilly, Tesaro, Voyager Therapeutics, ElevateBio, Pfizer (Array), Pfizer, SK Life Sciences and Dantari, received grant/research support (to Massachusetts General Hospital) from Merck, BMS and Lilly and honoraria from Merck, Pfizer, Genentech-Roche and Lilly, outside the scope of this present work. R.J.S. has served as consultant and/or on Scientific Advisory Boards for Asana Biosciences, AstraZeneca, BMS, Eisai, Iovance, Merck, Novartis, Oncosec, Pfizer, Replimune and reports research funding from Merck outside the scope of this present work. A.S. has received consulting (Lead Pharma, Checkmate and C-reveal Therapeutics) support outside the scope of the present work. K.T.F. has/had served on the Board of Directors of Loxo Oncology, Clovis Oncology, Strata Oncology, Vivid Biosciences, Checkmate Pharmaceuticals and Kinnate Pharmaceuticals; Corporate Advisory Board of X4 Pharmaceuticals; Scientific Advisory Boards of PIC Therapeutics, Sanofi, Amgen, Asana, Adaptimmune, Aeglea, Shattuck Labs, Tolero, Apricity, Oncoceutics, Fog Pharma, Neon, Tvardi, xCures, Monopteros and Vibliome; and as consultant to Lilly, Novartis, Genentech, BMS, Merck, Takeda, Verastem, Boston Biomedical, Pierre Fabre and Debiopharm; and received research funding from Novartis and Sanofi. B.I. is a consultant for Merck and Volastra Therapeutics. A.S. has received consulting (Lead Pharma, Checkmate and C-reveal Therapeutics) support outside the scope of the present work. P.K.S. is a member of the Board of Directors of Applied Biomath and Glencoe Software and member of the SAB for RareCyte and NanoString; he has equity in the first three of these companies. In the last 5 years the Sorger laboratory has received research funding from Novartis and Merck. E.M.V.A. has consulted or advised for Tango Therapeutics, Genome Medical, Invitae, Enara Bio, Janssen, Manifold Bio and Monte Rosa and holds equity in Tango Therapeutics, Genome Medical, Syapse, Enara Bio, Manifold Bio, Microsoft and Monte Rosa; has received research support from Novartis and BMS, travel reimbursement from Roche/Genentech and has Institutional patents filed on chromatin mutations and immunotherapy response and methods for clinical interpretation. All other authors declare no competing interests.
Additional information
Publisher's note Springer Nature remains neutral with regard to jurisdictional claims in published maps and institutional affiliations.
Supplementary information
About this article
Cite this article
Liu, D., Lin, JR., Robitschek, E.J. et al. Evolution of delayed resistance to immunotherapy in a melanoma responder. Nat Med 27, 985–992 (2021). https://doi.org/10.1038/s41591-021-01331-8
Received:

Accepted:

Published:

Issue Date:

DOI: https://doi.org/10.1038/s41591-021-01331-8