Increased activity in perivascular fibroblasts could precede motor-neuron degeneration and be a predictor of shorter survival in amyotrophic lateral sclerosis.
Access options
Subscribe to Journal
Get full journal access for 1 year
$59.00
only $4.92 per issue
All prices are NET prices.
VAT will be added later in the checkout.
Tax calculation will be finalised during checkout.
Rent or Buy article
Get time limited or full article access on ReadCube.
from$8.99
All prices are NET prices.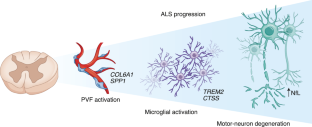 References
1.

Taylor, J.P., Brown, R.H. Jr. & Cleveland, D.W. Nature 539, 197–206

2.

Månberg, A. et al. Nat. Med. https://doi.org/10.1038/s41591-021-01295-9 (2021).

3.

Steinacker, P. et al. J. Neurol. Neurosurg. Psychiatry 87, 12–20 (2016).

4.

Chiu, I. M. et al. Cell Rep. 4, 385–401 (2013).

5.

Vanlandewijck, M. et al. Nature 554, 475–480 (2018).

6.

Winkler, E. A. et al. Proc. Natl Acad. Sci. USA 111, E1035–E1042 (2014).

7.

Icer, M. A. & Gezmen-Karadag, M. Clin. Biochem. 59, 17–24 (2018).

8.

Li, Y. et al. eNeuro 4, ENEURO.0253-16.2016 (2017).

9.

Miller, T. et al. N. Engl. J. Med. 383, 109–119 (2020).
Ethics declarations
Competing interests
T.M.M. reports serving on the advisory board of Biogen, consulting for and a license agreement with Ionis Pharmaceuticals, consulting for Disarm Therapeutics and Cytokinetics, and a licensing agreement with C2N.
About this article
Cite this article
Kreple, C.J., Schoch, K.M. & Miller, T.M. Is presymptomatic ALS perivascular?. Nat Med 27, 585–586 (2021). https://doi.org/10.1038/s41591-021-01311-y