Abstract
Langerhans cell histiocytosis (LCH) is a potentially fatal condition characterized by granulomatous lesions with characteristic clonal mononuclear phagocytes (MNPs) harboring activating somatic mutations in mitogen-activated protein kinase (MAPK) pathway genes, most notably BRAFV600E. We recently discovered that the BRAFV600E mutation can also affect multipotent hematopoietic progenitor cells (HPCs) in multisystem LCH disease. How the BRAFV600E mutation in HPCs leads to LCH is not known. Here we show that enforced expression of the BRAFV600E mutation in early mouse and human multipotent HPCs induced a senescence program that led to HPC growth arrest, apoptosis resistance and a senescence-associated secretory phenotype (SASP). SASP, in turn, promoted HPC skewing toward the MNP lineage, leading to the accumulation of senescent MNPs in tissue and the formation of LCH lesions. Accordingly, elimination of senescent cells using INK-ATTAC transgenic mice, as well as pharmacologic blockade of SASP, improved LCH disease in mice. These results identify senescent cells as a new target for the treatment of LCH.
Access options
Subscribe to Journal
Get full journal access for 1 year
$59.00
only $4.92 per issue
All prices are NET prices.
VAT will be added later in the checkout.
Tax calculation will be finalised during checkout.
Rent or Buy article
Get time limited or full article access on ReadCube.
from$8.99
All prices are NET prices.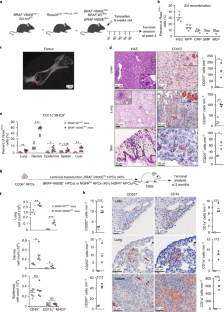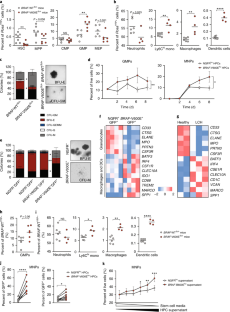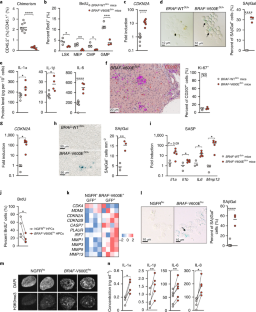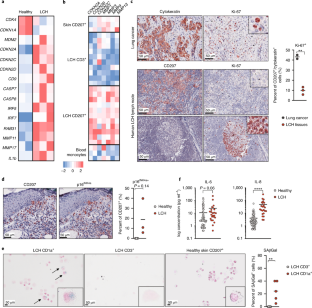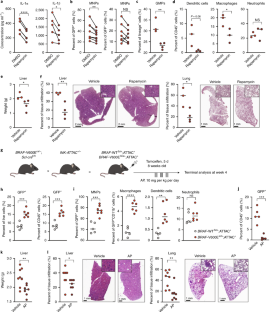 Data availability
Datasets supporting the findings presented in this study are available from the corresponding author upon reasonable request. Any data that can be shared will be released via a material transfer agreement. Microarray sequencing data obtained from CD34+ BM cells transduced with BRAFV600E or control NGFR lentiviral vector are listed in Supplementary Table 3. RNA-seq data obtained from CD34+ cells purified from the BM of patients with LCH and healthy donors are listed in Supplementary Table 4. Source data are provided with this paper.
References
1.

Merad, M., Ginhoux, F. & Collin, M. Origin, homeostasis and function of Langerhans cells and other langerin-expressing dendritic cells. Nat. Rev. Immunol. 8, 935–947 (2008).

2.

Stålemark, H. et al. Incidence of Langerhans cell histiocytosis in children: a population-based study. Pediatr. Blood Cancer 51, 76–81 (2008).

3.

Allen, C. E., Merad, M. & McClain, K. L. Langerhans-cell histiocytosis. N. Engl. J. Med. 379, 856–868 (2018).

4.

Badalian-Very, G. et al. Recurrent BRAF mutations in Langerhans cell histiocytosis. Blood 116, 1919–1923 (2010).

5.

Chakraborty, R. et al. Mutually exclusive recurrent somatic mutations in MAP2K1 and BRAF support a central role for ERK activation in LCH pathogenesis. Blood 124, 3007–3015 (2014).

6.

Chakraborty, R. et al. Alternative genetic mechanisms of BRAF activation in Langerhans cell histiocytosis. Blood 128, 2533–2537 (2016).

7.

Lim, K. P. H. et al. Circulating CD1c+ myeloid dendritic cells are potential precursors to LCH lesion CD1a+CD207+ cells. Blood Adv. 4, 87–99 (2020).

8.

Berres, M.-L. et al. BRAF-V600E expression in precursor versus differentiated dendritic cells defines clinically distinct LCH risk groups. J. Exp. Med. 211, 669–683 (2014).

9.

Durham, B. H. et al. Functional evidence for derivation of systemic histiocytic neoplasms from hematopoietic stem/progenitor cells. Blood 130, 176–180 (2017).

10.

Milne, P. et al. Hematopoietic origin of Langerhans cell histiocytosis and Erdheim–Chester disease in adults. Blood 130, 167–175 (2017).

11.

Berres, M.-L., Merad, M. & Allen, C. E. Progress in understanding the pathogenesis of Langerhans cell histiocytosis: back to Histiocytosis X? Br. J. Haematol. 169, 3–13 (2015).

12.

Göthert, J. R. et al. In vivo fate-tracing studies using the Scl stem cell enhancer: embryonic hematopoietic stem cells significantly contribute to adult hematopoiesis. Blood 105, 2724–2732 (2005).

13.

Michaloglou, C. et al. BRAFE600-associated senescence-like cell cycle arrest of human naevi. Nature 436, 720–724 (2005).

14.

Hernandez-Segura, A., Nehme, J. & Demaria, M. Hallmarks of cellular senescence. Trends Cell Biol. 28, 436–453 (2018).

15.

Muñoz-Espín, D. & Serrano, M. Cellular senescence: from physiology to pathology. Nat. Rev. Mol. Cell Biol. 15, 482–496 (2014).

16.

Kuilman, T. et al. Oncogene-induced senescence relayed by an interleukin-dependent inflammatory network. Cell 133, 1019–1031 (2008).

17.

McClain, K. L. et al. CNS Langerhans cell histiocytosis: common hematopoietic origin for LCH-associated neurodegeneration and mass lesions. Cancer 124, 2607–2620 (2018).

18.

Herranz, N. et al. mTOR regulates MAPKAPK2 translation to control the senescence-associated secretory phenotype. Nat. Cell Biol. 17, 1205–1217 (2015).

19.

Laberge, R.-M. et al. MTOR regulates the pro-tumorigenic senescence-associated secretory phenotype by promoting IL1A translation. Nat. Cell Biol. 17, 1049–1061 (2015).

20.

Baker, D. J. et al. Clearance of p16Ink4a-positive senescent cells delays ageing-associated disorders. Nature 479, 232–236 (2011).

21.

Wilson, W. H. et al. Navitoclax, a targeted high-affinity inhibitor of BCL-2, in lymphoid malignancies: a phase 1 dose-escalation study of safety, pharmacokinetics, pharmacodynamics, and antitumour activity. Lancet. Oncol. 11, 1149–1159 (2010).

22.

Bussian, T. J. et al. Clearance of senescent glial cells prevents tau-dependent pathology and cognitive decline. Nature 562, 578–582 (2018).

23.

Chang, J. et al. Clearance of senescent cells by ABT263 rejuvenates aged hematopoietic stem cells in mice. Nat. Med. 22, 78–83 (2016).

24.

Jeon, O. H. et al. Local clearance of senescent cells attenuates the development of post-traumatic osteoarthritis and creates a pro-regenerative environment. Nat. Med. 23, 775–781 (2017).

25.

Hogstad, B. et al. RAF/MEK/extracellular signal-related kinase pathway suppresses dendritic cell migration and traps dendritic cells in Langerhans cell histiocytosis lesions. J. Exp. Med. 215, 319–336 (2018).

26.

Xerri, L. et al. CDKN2A/B deletion and double-hit mutations of the MAPK pathway underlie the aggressive behavior of Langerhans cell tumors. Am. J. Surg. Pathol. 42, 150–159 (2018).

27.

Picarsic, J. & Jaffe, R. Nosology and pathology of Langerhans cell histiocytosis. Hematol. Oncol. Clin. North Am. 29, 799–823 (2015).

28.

McClain, K., Jin, H., Gresik, V. & Favara, B. Langerhans cell histiocytosis: lack of a viral etiology. Am. J. Hematol. 47, 16–20 (1994).

29.

Jenson, H. B., McClain, K. L., Leach, C. T., Deng, J. H. & Gao, S. J. Evaluation of human herpesvirus type 8 infection in childhood Langerhans cell histiocytosis. Am. J. Hematol. 64, 237–241 (2000).

30.

Montecino-Rodriguez, E., Berent-Maoz, B. & Dorshkind, K. Causes, consequences, and reversal of immune system aging. J. Clin. Invest. 123, 958–965 (2013).

31.

Cohen Aubart, F. et al. Targeted therapies in 54 patients with Erdheim–Chester disease, including follow-up after interruption (the LOVE study). Blood 130, 1377–1380 (2017).

32.

Diamond, E. L. et al. Efficacy of MEK inhibition in patients with histiocytic neoplasms. Nature 567, 521–524 (2019).

33.

Eckstein, O. S., Visser, J., Rodriguez-Galindo, C. & Allen, C. E. Clinical responses and persistent BRAF V600E+ blood cells in children with LCH treated with MAPK pathway inhibition. Blood 133, 1691–1694 (2019).

34.

Lee, J. et al. Lineage specification of human dendritic cells is marked by IRF8 expression in hematopoietic stem cells and multipotent progenitors. Nat. Immunol. 18, 877–888 (2017).

35.

Dankort, D. et al. A new mouse model to explore the initiation, progression, and therapy of BRAFV600E-induced lung tumors. Genes Dev. 21, 379–384 (2007).

36.

Baccarini, A. et al. Kinetic analysis reveals the fate of a microRNA following target regulation in mammalian cells. Curr. Biol. 21, 369–376 (2011).

37.

Remark, R. et al. In-depth tissue profiling using multiplexed immunohistochemical consecutive staining on single slide. Sci. Immunol. 1, aaf6925 (2016).
Acknowledgements
We thank the Biorepository and Pathology Core and the Flow Cytometry Core Facilities at the Icahn School of Medicine at Mount Sinai for their technical expertise. We also thank K. Phaik Har Lim, T.-K. Man, T. Burke and B. Scull for their help with the generation of microarray sequencing data. We thank J. Kofler for kindly providing LCH-ND pictures and performing immunostaining. We thank L. Troncoso for her help. We thank C. Woods, image application specialist, Cincinnati Children's Hospital Medical Center, for figure preparation for human studies (Fig. 4g) and J. Kofler, UPMC Division of Neuropathology, for creating Extended Data Fig. 4e. M.M. received funding from the National Institute of Health (R01 CA154947 and R01 CA190400). C.B. received fellowships from the Fondation pour la Recherche Médicale (FDM20170638478), from l'Institut Servier and from Assistance Publique Hôpitaux de Paris (Année Recherche). C.M.W. is supported by the Swiss National Science Foundation (SNSF PostDoc Mobility Fellowship P400PM_186740) and by the Swiss Cancer League (grant for bursaries BIL KFS 4724-02-2019). We thank the research coordinators of the Histio–Lymphoma team at Texas Children's Cancer Center for their help with patient sample collection. The TXCH Histiocytosis Program is supported by a research grant from the HistioCure Foundation. This work was supported by the Department of Defense through the Peer Reviewed Cancer Research Program under award no. W81XWH-19-1-0167 (R.C.).
Ethics declarations
Competing interests
The authors declare no competing interests.
Additional information
Peer review information Nature Medicine thanks the anonymous reviewers for their contribution to the peer review of this work. Joao Monteiro was the primary editor on this article and managed its editorial process and peer review in collaboration with the rest of the editorial team.
Publisher's note Springer Nature remains neutral with regard to jurisdictional claims in published maps and institutional affiliations.
Supplementary information
About this article
Cite this article
Bigenwald, C., Le Berichel, J., Wilk, C.M. et al. BRAFV600E-induced senescence drives Langerhans cell histiocytosis pathophysiology. Nat Med 27, 851–861 (2021). https://doi.org/10.1038/s41591-021-01304-x
Received:

Accepted:

Published:

Issue Date: