Abstract
Leber congenital amaurosis due to CEP290 ciliopathy is being explored by treatment with the antisense oligonucleotide (AON) sepofarsen. One patient who was part of a larger cohort (ClinicalTrials.gov NCT03140969) was studied for 15 months after a single intravitreal sepofarsen injection. Concordant measures of visual function and retinal structure reached a substantial efficacy peak near 3 months after injection. At 15 months, there was sustained efficacy, even though there was evidence of reduction from peak response. Efficacy kinetics can be explained by the balance of AON-driven new CEP290 protein synthesis and a slow natural rate of CEP290 protein degradation in human foveal cone photoreceptors.
Access options
Subscribe to Journal
Get full journal access for 1 year
$59.00
only $4.92 per issue
All prices are NET prices.
VAT will be added later in the checkout.
Tax calculation will be finalised during checkout.
Rent or Buy article
Get time limited or full article access on ReadCube.
from$8.99
All prices are NET prices.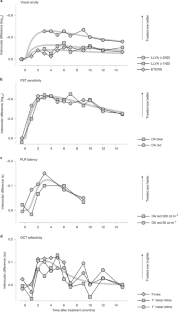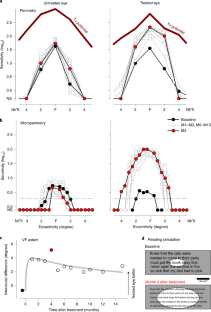 Data availability
All relevant patient-level data are displayed in the figures. All requests for data will be reviewed by ProQR Therapeutics and the University of Pennsylvania to verify whether the request is subject to any intellectual property or confidentiality obligations. Patient-related data might be subject to confidentiality. Any data that can be shared will be released.
References
1.

Hanany, M., Rivolta, C. & Sharon, D. Worldwide carrier frequency and genetic prevalence of autosomal recessive inherited retinal diseases. Proc. Natl Acad. Sci. USA 117, 2710–2716 (2020).

2.

den Hollander, A. I. et al. Mutations in the CEP290 (NPHP6) gene are a frequent cause of Leber congenital amaurosis. Am. J. Hum. Genet. 79, 556–561 (2006).

3.

Cideciyan, A. V. et al. Centrosomal-ciliary gene CEP290/NPHP6 mutations result in blindness with unexpected sparing of photoreceptors and visual brain: implications for therapy of Leber congenital amaurosis. Hum. Mutat. 28, 1074–1083 (2007).

4.

Cideciyan, A. V. et al. Cone photoreceptors are the main targets for gene therapy of NPHP5 (IQCB1) or NPHP6 (CEP290) blindness: generation of an all-cone Nphp6 hypomorph mouse that mimics the human retinal ciliopathy. Hum. Mol. Genet. 20, 1411–1423 (2011).

5.

Jacobson, S. G. et al. Outcome measures for clinical trials of Leber congenital amaurosis caused by the intronic mutation in the CEP290 gene. Invest. Ophthalmol. Vis. Sci. 58, 2609–2622 (2017).

6.

Cideciyan, A. V. & Jacobson, S. G. Leber congenital amaurosis (LCA): potential for improvement of vision. Invest. Ophthalmol. Vis. Sci. 60, 1680–1695 (2019).

7.

Cideciyan, A. V. et al. Effect of an intravitreal antisense oligonucleotide on vision in Leber congenital amaurosis due to a photoreceptor cilium defect. Nat. Med. 25, 225–228 (2019).

8.

Sumaroka, A. et al. Treatment potential for macular cone vision in Leber congenital amaurosis due to CEP290 or NPHP5 mutations: predictions from artificial intelligence. Invest. Ophthalmol. Vis. Sci. 60, 2551–2562 (2019).

9.

Krishnan, A. K. et al. Transient pupillary light reflex in CEP290- or NPHP5-associated Leber congenital amaurosis: latency as a potential outcome measure of cone function. Vis. Res. 168, 53–63 (2020).

10.

Dulla, K. et al. Splice-modulating oligonucleotide QR-110 restores CEP290 mRNA and function in human c.2991+1655A>G LCA10 models. Mol. Ther. Nucleic Acids 12, 730–740 (2018).

11.

Walia, S. et al. Visual acuity in patients with Leber's congenital amaurosis and early childhood-onset retinitis pigmentosa. Ophthalmology 117, 1190–1198 (2010).

12.

Trapani, I. & Auricchio, A. Seeing the light after 25 years of retinal gene therapy. Trends Mol. Med. 24, 669–681 (2018).

13.

Maeder, M. L. et al. Development of a gene-editing approach to restore vision loss in Leber congenital amaurosis type 10. Nat. Med. 25, 229–233 (2019).

14.

Doudna, J. A. The promise and challenge of therapeutic genome editing. Nature 578, 229–236 (2020).

15.

Schoch, K. M. & Miller, T. M. Antisense oligonucleotides: translation from mouse models to human neurodegenerative diseases. Neuron 94, 1056–1070 (2017).

16.

Henry, S. P. et al. Antiviral activity and ocular kinetics of antisense oligonucleotides designed to inhibit CMV replication. Invest. Ophthalmol. Vis. Sci. 42, 2646–2651 (2001).

17.

Kocaoglu, O. P. et al. Photoreceptor disc shedding in the living human eye. Biomed. Opt. Express 7, 4554–4568 (2016).

18.

Baehr, W. et al. Insights into photoreceptor ciliogenesis revealed by animal models. Prog. Retin Eye Res. 71, 26–56 (2019).

19.

Potter V. L., Moye A. R., Robichaux M. A., Wensel T. G. Superresolution microscopy reveals photoreceptor-specific subciliary location and function of Cep290. Preprint at bioRxiv https://doi.org/10.1101/2020.10.28.357806 (2020).

20.

Littink, K. W. et al. A novel nonsense mutation in CEP290 induces exon skipping and leads to a relatively mild retinal phenotype. Invest. Ophthalmol. Vis. Sci. 51, 3646–3652 (2010).

21.

Pasadhika, S. et al. Differential macular morphology in patients with RPE65-, CEP290-, GUCY2D-, and AIPL1-related Leber congenital amaurosis. Invest. Ophthalmol. Vis. Sci. 51, 2608–2614 (2010).

22.

Yzer, S. et al. Ocular and extra-ocular features of patients with Leber congenital amaurosis and mutations in CEP290. Mol. Vis. 18, 412–425 (2012).

23.

Collison, F. T., Park, J. C., Fishman, G. A., McAnany, J. J. & Stone, E. M. Full-field pupillary light responses, luminance thresholds, and light discomfort thresholds in CEP290 Leber congenital amaurosis patients. Invest. Ophthalmol. Vis. Sci. 56, 7130–7136 (2015).

24.

Sheck, L. et al. Leber congenital amaurosis associated with mutations in CEP290, clinical phenotype, and natural history in preparation for trials of novel therapies. Ophthalmology 125, 894–903 (2018).

25.

Feldhaus, B. et al. CEP290 mutation spectrum and delineation of the associated phenotype in a large German cohort: a monocentric study. Am. J. Ophthalmol. 211, 142–150 (2020).

26.

Ferris, F. L. 3rd, Kassoff, A., Bresnick, G. H. & Bailey, I. New visual acuity charts for clinical research. Am. J. Ophthalmol. 94, 91–96 (1982).

27.

Sunness, J. S. et al. Low luminance visual dysfunction as a predictor of subsequent visual acuity loss from geographic atrophy in age-related macular degeneration. Ophthalmology 115, 1480–1488 (2008).

28.

Roman, A. J. et al. Quantifying rod photoreceptor-mediated vision in retinal degenerations: dark-adapted thresholds as outcome measures. Exp. Eye Res. 80, 259–272 (2005).

29.

Roman, A. J., Cideciyan, A. V., Aleman, T. S. & Jacobson, S. G. Full-field stimulus testing (FST) to quantify visual perception in severely blind candidates for treatment trials. Physiol. Meas. 28, N51–N56 (2007).

30.

Jacobson, S. G. et al. Determining consequences of retinal membrane guanylyl cyclase (RetGC1) deficiency in human Leber congenital amaurosis en route to therapy: residual cone–photoreceptor vision correlates with biochemical properties of the mutants. Hum. Mol. Genet. 22, 168–183 (2013).

31.

Klein, M. & Birch, D. G. Psychophysical assessment of low visual function in patients with retinal degenerative diseases (RDDs) with the Diagnosys full-field stimulus threshold (D-FST). Doc. Ophthalmol. 119, 217–224 (2009).

32.

Collison, F. T., Fishman, G. A., McAnany, J. J., Zernant, J. & Allikmets, R. Psychophysical measurement of rod and cone thresholds in Stargardt disease with full-field stimuli. Retina 34, 1888–1895 (2014).

33.

Cideciyan, A. V. et al. Human cone visual pigment deletions spare sufficient photoreceptors to warrant gene therapy. Hum. Gene Ther. 24, 993–1006 (2013).

34.

Cideciyan, A. V. et al. Reduced-illuminance autofluorescence imaging in ABCA4-associated retinal degenerations. J. Opt. Soc. Am. A 24, 1457–1467 (2007).

35.

Herrera, W. et al. Retinal disease in Usher syndrome III caused by mutations in the clarin-1 gene. Invest. Ophthalmol. Vis. Sci. 49, 2651–2660 (2008).

36.

Gibbs, D., Cideciyan, A. V., Jacobson, S. G. & Williams, D. S. Retinal pigment epithelium defects in humans and mice with mutations in MYO7A: imaging melanosome-specific autofluorescence. Invest. Ophthalmol. Vis. Sci. 50, 4386–4393 (2009).

37.

Saletu, B. & Grünberger, J. Drug profiling by computed electroencephalography and brain maps, with special consideration of sertraline and its psychometric effects. J. Clin. Psychiatry 49, 59–71 (1988).

38.

Granholm, E. et al. Tropicamide effects on pupil size and pupillary light reflexes in Alzheimer's and Parkinson's disease. Int. J. Psychophysiol. 47, 95–115 (2003).

39.

Cideciyan, A. V. et al. Pseudo-fovea formation after gene therapy for RPE65-LCA. Invest. Ophthalmol. Vis. Sci. 56, 526–537 (2014).

40.

Cideciyan, A. V. et al. Macular function in macular degenerations: repeatability of microperimetry as a potential outcome measure for ABCA4-associated retinopathy trials. Invest. Ophthalmol. Vis. Sci. 53, 841–852 (2012).
Acknowledgements
This work was supported by a clinical trial contract from ProQR Therapeutics to A.V.C., administered by the University of Pennsylvania. There was also partial support by the National Institutes of Health grant UL1 TR001878.
Ethics declarations
Competing interests
M.R.S. and A.G. are employees of ProQR Therapeutics. All other authors have no competing financial interests.
Additional information
Peer review information Nature Medicine thanks Hendrik Scholl and the other, anonymous, reviewers for their contribution to the peer review of this work. Joao Monteiro was the primary editor on this article and managed its editorial process and peer review in collaboration with the rest of the editorial team.
Publisher's note Springer Nature remains neutral with regard to jurisdictional claims in published maps and institutional affiliations.
Supplementary information
About this article
Cite this article
Cideciyan, A.V., Jacobson, S.G., Ho, A.C. et al. Durable vision improvement after a single treatment with antisense oligonucleotide sepofarsen: a case report. Nat Med (2021). https://doi.org/10.1038/s41591-021-01297-7
Received:

Accepted:

Published: