Abstract
B cell maturation antigen (BCMA) is a target for various immunotherapies and a biomarker for tumor load in multiple myeloma (MM). We report a case of irreversible BCMA loss in a patient with MM who was enrolled in the KarMMa trial (NCT03361748) and progressed after anti-BCMA CAR T cell therapy. We identified selection of a clone with homozygous deletion of TNFRSF17 (BCMA) as the underlying mechanism of immune escape. Furthermore, we found heterozygous TNFRSF17 loss or monosomy 16 in 37 out of 168 patients with MM, including 28 out of 33 patients with hyperhaploid MM who had not been previously treated with BCMA-targeting therapies, suggesting that heterozygous TNFRSF17 deletion at baseline could theoretically be a risk factor for BCMA loss after immunotherapy.
Relevant articles
Open Access articles citing this article.
Hailin Chen

,

Tengteng Yu

…

Yu-Tzu Tai

Blood Cancer Journal Open Access 16 August 2022

Leo Rasche

,

Carolina Schinke

…

Niels Weinhold

Nature Communications Open Access 03 August 2022

Shaji Kumar

,

Lawrence Baizer

…

Noopur S. Raje

Blood Cancer Journal Open Access 29 June 2022
Access options
Subscribe to Nature+
Get immediate online access to the entire Nature family of 50+ journals
Subscribe to Journal
Get full journal access for 1 year
$99.00
only $8.25 per issue
All prices are NET prices.
VAT will be added later in the checkout.
Tax calculation will be finalised during checkout.
Buy article
Get time limited or full article access on ReadCube.
$32.00
All prices are NET prices.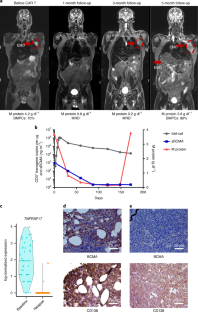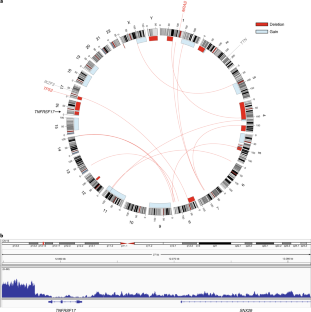 Data availability
All requests for raw and analyzed data and materials will be promptly reviewed by University Hospital Würzburg and Münchner Leukämielabor to verify if the request is subject to any confidentiality and data protection obligations. Any data and materials that can be shared will be released via a material transfer agreement. All raw and analyzed scRNA-seq data can be found in the National Center for Biotechnology Information Gene Expression Omnibus (accession no. GSE143317). Adherence to the Datenschutz-Grundverordnung (https://dsgvo-gesetz.de/ and https://data.consilium.europa.eu/doc/document/ST-5419-2016-REV-1/en/pdf) is mandatory for sharing WGS data. Thus, the complete whole-genome raw dataset of a single patient cannot be shared according to European law. Processed data from which the identification of a patient is not possible can be made available. WGS data derived from public datasets are deposited in the European Genome-phenome Archive with the references EGAS00001002111 (ref. 7) and EGAS00001001810 (ref. 9). Source data are provided with this paper.
References
Shah, N., Chari, A., Scott, E., Mezzi, K. & Usmani, S. Z. B-cell maturation antigen (BCMA) in multiple myeloma: rationale for targeting and current therapeutic approaches. Leukemia 34, 985–1005 (2020).

Raje, N. et al. Anti-BCMA CAR T-Cell therapy bb2121 in relapsed or refractory multiple myeloma. N. Engl. J. Med. 380, 1726–1737 (2019).

Cohen, A. D. et al. B cell maturation antigen-specific CAR T cells are clinically active in multiple myeloma. J. Clin. Invest. 129, 2210–2221 (2019).

Brudno, J. N. et al. T cells genetically modified to express an anti-B-cell maturation antigen chimeric antigen receptor cause remissions of poor-prognosis relapsed multiple myeloma. J. Clin. Oncol. 36, 2267–2280 (2018).

Cheng, J. et al. Pan-cancer analysis of homozygous deletions in primary tumours uncovers rare tumour suppressors. Nat. Commun. 8, 1221 (2017).

Tai, Y.-T. et al. APRIL and BCMA promote human multiple myeloma growth and immunosuppression in the bone marrow microenvironment. Blood 127, 3225–3236 (2016).

Rasche, L. et al. Spatial genomic heterogeneity in multiple myeloma revealed by multi-region sequencing. Nat. Commun. 8, 268 (2017).

Sawyer, J. R. et al. Hyperhaploidy is a novel high-risk cytogenetic subgroup in multiple myeloma. Leukemia 31, 637–644 (2017).

Weinhold, N. et al. Clonal selection and double-hit events involving tumor suppressor genes underlie relapse in myeloma. Blood 128, 1735–1744 (2016).

Orlando, E. J. et al. Genetic mechanisms of target antigen loss in CAR19 therapy of acute lymphoblastic leukemia. Nat. Med. 24, 1504–1506 (2018).

Neelapu, S. S. et al. Axicabtagene ciloleucel CAR T-Cell therapy in refractory large B-cell lymphoma. N. Engl. J. Med. 377, 2531–2544 (2017).

Bannerji, R. et al. Clinical activity of REGN1979, a bispecific human, anti-CD20 × anti-CD3 antibody, in patients with relapsed/refractory (R/R) B-cell non-Hodgkin lymphoma (B-NHL). Blood 134, 762 (2019).

Paul, M. R., Wong, V., Aristizabal, P. & Kuo, D. J. Treatment of recurrent refractory pediatric pre-B acute lymphoblastic leukemia using inotuzumab ozogamicin monotherapy resulting in CD22 antigen expression loss as a mechanism of therapy resistance. J. Pediatr. Hematol. Oncol. 41, e546–e549 (2019).

Martin, N. et al. Correlation of tumor BCMA expression with response and acquired resistance to idecabtagene vicleucel in the KarMMa study in relapsed and refractory multiple myeloma. HemaSphere https://doi.org/10.1097/HS9.0000000000000404 (2020).

Rustad, E. H. et al. Revealing the impact of structural variants in multiple myeloma. Blood Cancer Discov. 1, 258–273 (2020).

Fernández de Larrea, C. et al. Defining an optimal dual-targeted CAR T-cell therapy approach simultaneously targeting BCMA and GPRC5D to prevent BCMA escape-driven relapse in multiple myeloma. Blood Cancer Discov. 1, 146–154 (2020).

Garfall, A. L. & June, C. H. Trispecific antibodies offer a third way forward for anticancer immunotherapy. Nature 575, 450–451 (2019).

Pillarisetti, K. et al. A T-cell-redirecting bispecific G-protein-coupled receptor class 5 member D × CD3 antibody to treat multiple myeloma. Blood 135, 1232–1243 (2020).

Gogishvili, T. et al. SLAMF7-CAR T cells eliminate myeloma and confer selective fratricide of SLAMF7+ normal lymphocytes. Blood 130, 2838–2847 (2017).

Casucci, M. et al. CD44v6-targeted T cells mediate potent antitumor effects against acute myeloid leukemia and multiple myeloma. Blood 122, 3461–3472 (2013).

Butler, A., Hoffman, P., Smibert, P., Papalexi, E. & Satija, R. Integrating single-cell transcriptomic data across different conditions, technologies, and species. Nat. Biotechnol. 36, 411–420 (2018).

McInnes, L. et al. UMAP: Uniform Manifold Approximation and Projection. J. Open Source Softw. 3, 861 (2018).

Waltman, L. & van Eck, N. J. A smart local moving algorithm for large-scale modularity-based community detection. Eur. Phys. J. B 86, 471 (2013).

Kowalczyk, M. S. et al. Single-cell RNA-seq reveals changes in cell cycle and differentiation programs upon aging of hematopoietic stem cells. Genome Res. 25, 1860–1872 (2015).

Erhard, F. Estimating pseudocounts and fold changes for digital expression measurements. Bioinformatics 34, 4054–4063 (2018).

Raczy, C. et al. Isaac: ultra-fast whole-genome secondary analysis on Illumina sequencing platforms. Bioinformatics 29, 2041–2043 (2013).

Chen, X. et al. Manta: rapid detection of structural variants and indels for germline and cancer sequencing applications. Bioinformatics 32, 1220–1222 (2016).

Kim, S. et al. Strelka2: fast and accurate calling of germline and somatic variants. Nat. Methods 15, 591–594 (2018).
Acknowledgements
We thank S. Roth for her excellent technical support. We acknowledge the work and contribution of T. Mack from Bristol Myers Squibb. L.R. was supported by the German Cancer Aid via the MSNZ program and IZKF Würzburg. H.E and M.H. were supported by the DFG via SFB/TR 221 project A3. A.-E.S. and O.D. were supported by the German Research Society graduate college 2157. Bristol Myers Squibb provided clinical trial data related to the presented case but no financial support for the study.
Ethics declarations
Competing interests
K.H. and S.K. are employees of Bristol Myers Squibb. M.H. is listed as an inventor on patent applications and granted patents related to CAR T cell therapy and CAR T cell technologies; he has received speaker honoraria from Celgene/Bristol Myers Squibb, Janssen and Kite/Gilead. H.E. received research funding from Janssen, Bristol Myers Squibb/Celgene, Amgen, Novartis, Sanofi, GSK and Janssen and has received speaker honoraria from Bristol Myers Squibb/Celgene, Amgen, Novartis, Takeda, Sanofi and GSK. L.R. has received speaker honoraria from Bristol Myers Squibb/Celgene, Sanofi, GSK, Oncopeptides and Janssen. The remaining authors declare no competing interests.
Additional information
Peer review information Nature Medicine thanks Eric Smith, Premal Lulla and Alfred Garfall for their contribution to the peer review of this work. Saheli Sadanand was the primary editor on this article and managed its editorial process and peer review in collaboration with the rest of the editorial team.
Publisher's note Springer Nature remains neutral with regard to jurisdictional claims in published maps and institutional affiliations.
Supplementary information
Supplementary Tables 1–3.
About this article
Cite this article
Da Vià, M.C., Dietrich, O., Truger, M. et al. Homozygous BCMA gene deletion in response to anti-BCMA CAR T cells in a patient with multiple myeloma. Nat Med 27, 616–619 (2021). https://doi.org/10.1038/s41591-021-01245-5
Received:

Accepted:

Published:

Issue Date:

DOI: https://doi.org/10.1038/s41591-021-01245-5