Abstract
Multiple myeloma (MM) is a neoplastic plasma-cell disorder characterized by clonal proliferation of malignant plasma cells. Despite extensive research, disease heterogeneity within and between treatment-resistant patients is poorly characterized. In the present study, we conduct a prospective, multicenter, single-arm clinical trial (NCT04065789), combined with longitudinal single-cell RNA-sequencing (scRNA-seq) to study the molecular dynamics of MM resistance mechanisms. Newly diagnosed MM patients (41), who either failed to respond or experienced early relapse after a bortezomib-containing induction regimen, were enrolled to evaluate the safety and efficacy of a daratumumab, carfilzomib, lenalidomide and dexamethasone combination. The primary clinical endpoint was safety and tolerability. Secondary endpoints included overall response rate, progression-free survival and overall survival. Treatment was safe and well tolerated; deep and durable responses were achieved. In prespecified exploratory analyses, comparison of 41 primary refractory and early relapsed patients, with 11 healthy subjects and 15 newly diagnosed MM patients, revealed new MM molecular pathways of resistance, including hypoxia tolerance, protein folding and mitochondria respiration, which generalized to larger clinical cohorts (CoMMpass). We found peptidylprolyl isomerase A (PPIA), a central enzyme in the protein-folding response pathway, as a potential new target for resistant MM. CRISPR–Cas9 deletion of PPIA or inhibition of PPIA with a small molecule inhibitor (ciclosporin) significantly sensitizes MM tumor cells to proteasome inhibitors. Together, our study defines a roadmap for integrating scRNA-seq in clinical trials, identifies a signature of highly resistant MM patients and discovers PPIA as a potent therapeutic target for these tumors.
Relevant articles
Open Access articles citing this article.
Mengping Chen

,

Yike Wan

…

Jian Hou

Cell & Bioscience Open Access 30 January 2023

Ryan P. Staupe

,

Kenneth E. Lodge

…

Nicole L. Sullivan

Communications Biology Open Access 21 December 2022

Yuanzheng Liang

,

Haiyan He

…

Liang Wang

Molecular Cancer Open Access 22 September 2022
Access options
Access Nature and 54 other Nature Portfolio journals
Get Nature+, our best-value online-access subscription
$29.99 per month
cancel any time
Subscribe to this journal
Receive 12 print issues and online access
$189.00 per year
only $15.75 per issue
Rent or buy this article
Get just this article for as long as you need it
$39.95
Prices may be subject to local taxes which are calculated during checkout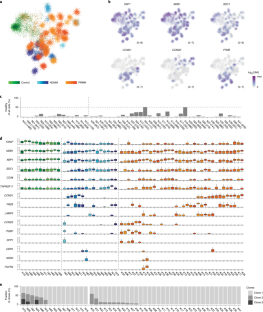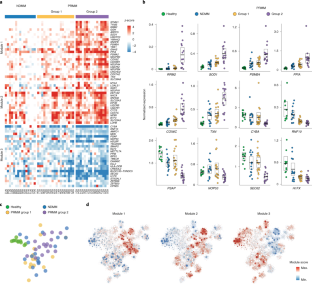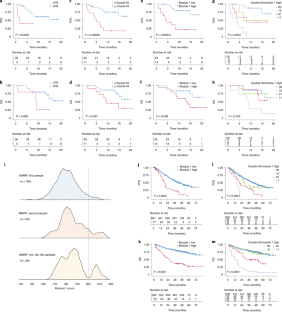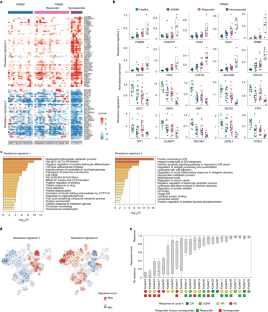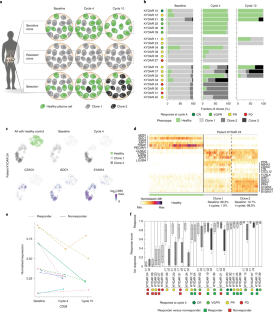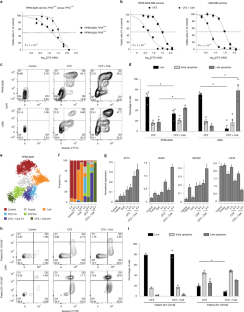 Data availability
The scRNA-seq data were deposited at the National Center for Biotechnology Information's Gene Expression Omnibus with accession no. GSE161195. The IA14 release of CoMMpass data was downloaded from the MMRF researcher gateway portal (https://research.themmrf.org). Source data are provided with this paper.
References
Kyle, R. A. & Rajkumar, S. V. Treatment of multiple myeloma: a comprehensive review. Clin. Lymphoma Myeloma 9, 278–288 (2009).

Palumbo, A. & Anderson, K. Multiple myeloma. N. Engl. J. Med. 364, 1046–1060 (2011).

Yan, Y. et al. The impact of response kinetics for multiple myeloma in the era of novel agents. Blood Adv. 3, 2895–2904 (2019).

Nijhof, I. S., van de Donk, N. W. C. J., Zweegman, S. & Lokhorst, H. M. Current and new therapeutic strategies for relapsed and refractory multiple myeloma: an update. Drugs 78, 19–37 (2018).

Rajkumar, S. V. Multiple myeloma: 2020 update on diagnosis, risk-stratification and management. Am. J. Hematol. https://doi.org/10.1002/ajh.25791 (2020).

Majithia, N. et al. Outcomes of primary refractory multiple myeloma and the impact of novel therapies. Am. J. Hematol. 90, 981–985 (2015).

Cohen, Y. C. et al. Primary failure of bortezomib in newly diagnosed multiple myeloma—understanding the magnitude, predictors, and significance. Leuk. Lymphoma https://doi.org/10.3109/10428194.2015.1121258 (2016).

Corre, J. et al. Early relapse after autologous transplant for myeloma is associated with poor survival regardless of cytogenetic risk. Haematologica https://doi.org/10.3324/haematol.2019.236588 (2019).

Kumar, S. K. et al. Early relapse after autologous hematopoietic cell transplantation remains a poor prognostic factor in multiple myeloma but outcomes have improved over time. Leukemia 32, 986–995 (2018).

Kastritis, E. et al. Early relapse post autologous transplant is associated with very poor survival and identifies an ultra high risk group of myeloma patients. Clin. Lymphoma Myeloma Leuk. https://doi.org/10.1016/j.clml.2019.10.014 (2020).

van de Donk, N. W. C. J. et al. Treatment of relapsed and refractory multiple myeloma in the era of novel agents. Cancer Treatment Rev. 37, 266–283 (2011).

Wallington-Beddoe, C. T. & Coghlan, D. W. Resistance Mechanisms to Novel Therapies in Myeloma. in Update on Multiple Myeloma (ed., K. Ahmed Al-Anazi) (IntechOpen, 2019). https://doi.org/10.5772/intechopen.77004

Krishnan, S. R., Jaiswal, R., Brown, R. D., Luk, F. & Bebawy, M. Multiple myeloma and persistence of drug resistance in the age of novel drugs (Review). Int. J. Oncol. 49, 33–50 (2016).

Niewerth, D. et al. Molecular basis of resistance to proteasome inhibitors in hematological malignancies. Drug Resist. Update 18, 18–35 (2015).

Harding, T., Baughn, L. & Kumar, S. & Van Ness, B. The future of myeloma precision medicine: integrating the compendium of known drug resistance mechanisms with emerging tumor profiling technologies. Leukemia 33, 863–883 (2019).

Papadas, A. & Asimakopoulos, F. Mechanisms of Resistance in Multiple Myeloma. Handb. Exp. Pharmacol. 249, 251–288 (Springer, 2018).

Nikesitch, N. & Ling, S. C. W. Molecular mechanisms in multiple myeloma drug resistance. J. Clin. Pathol. 69, 97–101 (2016).

Narayanan, S. et al. Targeting the ubiquitin-proteasome pathway to overcome anti-cancer drug resistance. Drug Resist. Update 48, 100663 (2020).

Vincenz, L., Jäger, R., O'Dwyer, M. & Samali, A. Endoplasmic reticulum stress and the unfolded protein response: targeting the Achilles heel of multiple myeloma. Mol. Cancer Therapeut. 12, 831–843 (2013).

Ling, S. C. W. et al. Response of myeloma to the proteasome inhibitor bortezomib is correlated with the unfolded protein response regulator XBP-1. Haematologica 97, 64–72 (2012).

Klein, A. M. & Treutlein, B. Single cell analyses of development in the modern era. Development https://doi.org/10.1242/dev.181396 (2019).

Ledergor, G. et al. Single cell dissection of plasma cell heterogeneity in symptomatic and asymptomatic myeloma. Nat. Med. 24, 1867–1876 (2018).

Kawano, Y. et al. Targeting the bone marrow microenvironment in multiple myeloma. Immunol. Rev. 263, 160–172 (2015).

Cohen, M. et al. Lung single-cell signaling interaction map reveals basophil role in macrophage imprinting. Cell 175, 1031–1044.e18 (2018).

Medaglia, C. et al. Spatial reconstruction of immune niches by combining photoactivatable reporters and scRNA-seq. Science 358, 1622–1626 (2017).

Baran, Y. et al. MetaCell: analysis of single-cell RNA-seq data using K-nn graph partitions. Genome Biol. 20, 206 (2019).

Bergsagel, P. L. et al. Cyclin D dysregulation: an early and unifying pathogenic event in multiple myeloma. Blood 106, 296–303 (2005).

Zhan, F. et al. The molecular classification of multiple myeloma. Blood 108, 2020–2028 (2006).

Khan, R. et al. Four genes predict high risk of progression from smoldering to symptomatic multiple myeloma (SWOG s0120). Haematologica 100, 1214–1221 (2015).

Decaux, O. et al. Prediction of survival in multiple myeloma based on gene expression profiles reveals cell cycle and chromosomal instability signatures in high-risk patients and hyperdiploid signatures in low-risk patients: a study of the Intergroupe Francophone du Myélome. J. Clin. Oncol. 26, 4798–4805 (2008).

Shaughnessy, J. D. et al. A validated gene expression model of high-risk multiple myeloma is defined by deregulated expression of genes mapping to chromosome 1. Blood 109, 2276–2284 (2007).

Shaughnessy, J. D. et al. Pharmacogenomics of bortezomib test-dosing identifies hyperexpression of proteasome genes, especially PSMD4, as novel high-risk feature in myeloma treated with total therapy 3. Blood 118, 3512–3524 (2011).

Jakubowiak, A. J. et al. Daratumumab (DARA) in combination with carfilzomib, lenalidomide, and dexamethasone (KRd) in patients (pts) with newly diagnosed multiple myeloma (MMY1001): an open-label, phase 1b study. J. Clin. Oncol. 35, 8000 (2017).

Landgren, O. et al. Bone marrow-based and longitudinal blood-based MRD tracking in newly diagnosed multiple myeloma patients treated with daratumumab, carfilzomib, lenalidomide and dexamethasone (DKRd): a correlative and clinical phase II study. Blood 132, 3281 (2018).

Chari, A. et al. Daratumumab (DARA) in combination with carfilzomib, lenalidomide, and dexamethasone (KRd) in patients with newly diagnosed multiple myeloma (MMY1001): updated results from an open-label, phase 1b study. Blood 130, 3110 (2017).

Van De Donk, N. W. C. J. & Usmani, S. Z. CD38 antibodies in multiple myeloma: mechanisms of action and modes of resistance. Front. Immunol. 9, 2134 (2018).

Krejcik, J. et al. Daratumumab depletes CD38+ immune regulatory cells, promotes T-cell expansion, and skews T-cell repertoire in multiple myeloma. Blood 128, 384–394 (2016).

Robak, P., Drozdz, I., Szemraj, J. & Robak, T. Drug resistance in multiple myeloma. Cancer Treat. Rev. 70, 199–208 (2018).

Tsvetkov, P. et al. Mitochondrial metabolism promotes adaptation to proteotoxic stress. Nat. Chem. Biol. 15, 681–689 (2019).

Greaves, M. & Maley, C. C. Clonal evolution in cancer. Nature 481, 306–313 (2012).

Keats, J. J. et al. Clonal competition with alternating dominance in multiple myeloma. Blood 120, 1067–1076 (2012).

Khoo, W. H. et al. A niche-dependent myeloid transcriptome signature defines dormant myeloma cells. Blood 134, 30–43 (2019).

Nigro, P., Pompilio, G. & Capogrossi, M. C. Cyclophilin A: a key player for human disease. Cell Death Dis. 4, e888–e888 (2013).

Kyu, J. C. et al. Overexpressed cyclophilin A in cancer cells renders resistance to hypoxia- and cisplatin-induced cell death. Cancer Res. 67, 3654–3662 (2007).

Matsuda, S. & Koyasu, S. Mechanisms of action of cyclosporine. Immunopharmacology 47, 119–125 (2000).

Nikesitch, N., Lee, J. M., Ling, S. & Roberts, T. L. Endoplasmic reticulum stress in the development of multiple myeloma and drug resistance. Clin. Transl. Immunol. 7, e1007 (2018).

Lee, J. & Kim, S. S. An overview of cyclophilins in human cancers. J. Int. Med. Res. 38, 1561–1574 (2010).

Jaitin, D. A. et al. Massively parallel single-cell RNA-seq for marker-free decomposition of tissues into cell types. Science 343, 776–779 (2014).

Paul, F. et al. Transcriptional heterogeneity and lineage commitment in myeloid progenitors. Cell 163, 1663–1677 (2015).

Keren-Shaul, H. et al. A unique microglia type associated with restricting development of Alzheimer's disease. Cell 169, 1276–1290.e17 (2017).

Klages, N., Zufferey, R. & Trono, D. A stable system for the high-titer production of multiply attenuated lentiviral vectors. Mol. Ther. 2, 170–176 (2000).

Kumar, S. et al. International Myeloma Working Group consensus criteria for response and minimal residual disease assessment in multiple myeloma. Lancet Oncol. 17, e328–e346 (2016).
Acknowledgements
We thank the following: the patients and their families; the clinical study research teams across all participating sites; the clinical research associates, L. Poor Porges, S. Shaibi and Y. Piltz; N. Lowenton-Spier for managing the study team; K. Bjorklof and F. Suzan from Amgen and A. Grossman from Medison for their support in the setup of the clinical trial; and A. Giladi for a review of the manuscript. We thank T. Wiesel from the Scientific Illustration unit of the Weizmann Institute for artwork, and members of the I. Amit's lab for fruitful discussions. Extended Data Figs. 4d and 9a were created using BioRender.com. I. Amit is an Eden and Steven Romick Professorial Chair, supported by Merck KGaA, Darmstadt, Germany, the Chan Zuckerberg Initiative, the ISF Israel Precision Medicine Program (IPMP; 607/20, grant no. P128245), the HHMI International Scholar award, the European Research Council Consolidator Grant (ERC-COG; grant no. 724471, HemTree2.0), an SCA award of the Wolfson Foundation and Family Charitable Trust, the Thompson Family Foundation, an MRA Established Investigator Award (no. 509044), the Israel Science Foundation (703/15), the Ernest and Bonnie Beutler Research Program for Excellence in Genomic Medicine, the Helen and Martin Kimmel award for innovative investigation, the NeuroMac DFG/Transregional Collaborative Research Center Grant, an International Progressive MS Alliance/NMSS PA-1604 08459, Dan and Betty Kahn Foundation and an Adelis Foundation grant. Y.C. received an investigator-initiated research grant from Amgen for the present study (AMGEN IIS grant protocal KRD-OW-TA009; REF#20167107). S.-Y.W. is an EMBO long‐term fellow (ALTF 263‐2018) and received the NWO Rubicon award (019.181EN.038).
Ethics declarations
Competing interests
The clinical trial was an investigator-initiated study (IIS); as such, Y.C. acted as sponsor for the study. The IIS was approved by Amgen, who provided funding and supply of the clinical drug CFZ. Y.C. is a consultant for Janssen, Amgen, Neopharm, Takeda and Madison. A patent application has been filed related to this work. The other authors declare no competing interests.
Additional information
Peer review information Javier Carmona was the primary editor on this article, and managed its editorial process and peer review in collaboration with the rest of the editorial team. Peer reviewer reports are available.
Publisher's note Springer Nature remains neutral with regard to jurisdictional claims in published maps and institutional affiliations.
Supplementary information
About this article
Cite this article
Cohen, Y.C., Zada, M., Wang, SY. et al. Identification of resistance pathways and therapeutic targets in relapsed multiple myeloma patients through single-cell sequencing. Nat Med 27, 491–503 (2021). https://doi.org/10.1038/s41591-021-01232-w
Received:

Accepted:

Published:

Issue Date:

DOI: https://doi.org/10.1038/s41591-021-01232-w