Abstract
Sustained pain is a major characteristic of clinical pain disorders, but it is difficult to assess in isolation from co-occurring cognitive and emotional features in patients. In this study, we developed a functional magnetic resonance imaging signature based on whole-brain functional connectivity that tracks experimentally induced tonic pain intensity and tested its sensitivity, specificity and generalizability to clinical pain across six studies (total n = 334). The signature displayed high sensitivity and specificity to tonic pain across three independent studies of orofacial tonic pain and aversive taste. It also predicted clinical pain severity and classified patients versus controls in two independent studies of clinical low back pain. Tonic and clinical pain showed similar network-level representations, particularly in somatomotor, frontoparietal and dorsal attention networks. These patterns were distinct from representations of experimental phasic pain. This study identified a brain biomarker for sustained pain with high potential for clinical translation.
Relevant articles
Open Access articles citing this article.
Rongtao Jiang

,

Margaret L. Westwater

…

Dustin Scheinost

BMC Medicine Open Access 09 September 2022

M. E. Hoeppli

,

H. Nahman-Averbuch

…

R. C. Coghill

Nature Communications Open Access 22 June 2022

Xuyang Wang

,

Kwangsun Yoo

…

Rong Li

npj Parkinson's Disease Open Access 22 April 2022
Access options
Access Nature and 54 other Nature Portfolio journals
Get Nature+, our best-value online-access subscription
$29.99 per month
cancel any time
Subscribe to this journal
Receive 12 print issues and online access
$189.00 per year
only $15.75 per issue
Rent or buy this article
Get just this article for as long as you need it
$39.95
Prices may be subject to local taxes which are calculated during checkout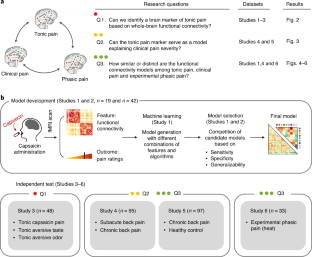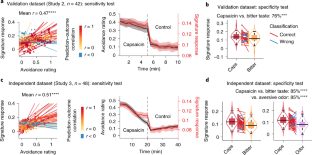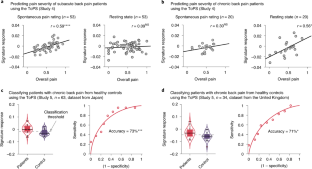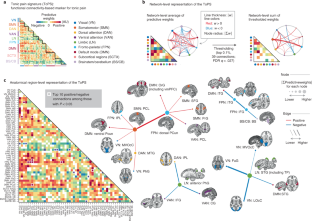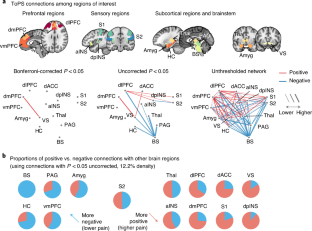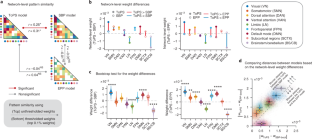 References
Dahlhamer, J. et al. Prevalence of chronic pain and high-impact chronic pain among adults - United States, 2016. MMWR Morb. Mortal. Wkly. Rep. 67, 1001–1006 (2018).

Gaskin, D. J. & Richard, P. The economic costs of pain in the United States. J. Pain 13, 715–724 (2012).

Chapman, C. R. & Gavrin, J. Suffering: the contributions of persistent pain. Lancet 353, 2233–2237 (1999).

Apkarian, A. V. Pain perception in relation to emotional learning. Curr. Opin. Neurobiol. 18, 464–468 (2008).

Hashmi, J. A. et al. Shape shifting pain: chronification of back pain shifts brain representation from nociceptive to emotional circuits. Brain 136, 2751–2768 (2013).

Baliki, M. N. & Apkarian, A. V. Nociception, pain, negative moods, and behavior selection. Neuron 87, 474–491 (2015).

Loggia, M. L. et al. Default mode network connectivity encodes clinical pain: an arterial spin labeling study. Pain 154, 24–33 (2013).

Kucyi, A. et al. Enhanced medial prefrontal-default mode network functional connectivity in chronic pain and its association with pain rumination. J. Neurosci. 34, 3969–3975 (2014).

Dubuisson, D. & Dennis, S. G. The formalin test: a quantitative study of the analgesic effects of morphine, meperidine, and brain stem stimulation in rats and cats. Pain 4, 161–174 (1977).

Stohler, C. S. & Kowalski, C. J. Spatial and temporal summation of sensory and affective dimensions of deep somatic pain. Pain 79, 165–173 (1999).

Rainville, P., Feine, J. S., Bushnell, M. C. & Duncan, G. H. A psychophysical comparison of sensory and affective responses to four modalities of experimental pain. Somatosens. Mot. Res. 9, 265–277 (1992).

Huang, T. et al. Identifying the pathways required for coping behaviours associated with sustained pain. Nature 565, 86–90 (2019).

Wiech, K. et al. Modulation of pain processing in hyperalgesia by cognitive demand. Neuroimage 27, 59–69 (2005).

Reckziegel, D. et al. Deconstructing biomarkers for chronic pain: context- and hypothesis-dependent biomarker types in relation to chronic pain. Pain 160, S37–S48 (2019).

Davis, K. D. et al. Brain imaging tests for chronic pain: medical, legal and ethical issues and recommendations. Nat. Rev. Neurol. 13, 624–638 (2017).

Khoutorsky, A. & Price, T. J. Translational control mechanisms in persistent pain. Trends Neurosci. 41, 100–114 (2018).

Basbaum, A. I. Distinct neurochemical features of acute and persistent pain. Proc. Natl Acad. Sci. USA 96, 7739–7743 (1999).

Woo, C. W., Chang, L. J., Lindquist, M. A. & Wager, T. D. Building better biomarkers: brain models in translational neuroimaging. Nat. Neurosci. 20, 365–377 (2017).

Lindquist, M. A., Xu, Y., Nebel, M. B. & Caffo, B. S. Evaluating dynamic bivariate correlations in resting-state fMRI: a comparison study and a new approach. Neuroimage 101, 531–546 (2014).

Fan, L. et al. The human brainnetome atlas: a new brain atlas based on connectional architecture. Cereb. Cortex 26, 3508–3526 (2016).

Hastie, T., Tibshirani, R. & Friedman, J. H. The Elements of Statistical Learning: Data Mining, Inference, and Prediction (Springer, 2009).

Rosenberg, M. D., Finn, E. S., Scheinost, D., Constable, R. T. & Chun, M. M. Characterizing attention with predictive network models. Trends Cogn. Sci. 21, 290–302 (2017).

Scheinost, D. et al. Ten simple rules for predictive modeling of individual differences in neuroimaging. Neuroimage 193, 35–45 (2019).

Baliki, M. N. et al. Corticostriatal functional connectivity predicts transition to chronic back pain. Nat. Neurosci. 15, 1117–1119 (2012).

Vachon-Presseau, E. et al. Corticolimbic anatomical characteristics predetermine risk for chronic pain. Brain 139, 1958–1970 (2016).

Mano, H. et al. Classification and characterisation of brain network changes in chronic back pain: a multicenter study. Wellcome Open Res. 3, 19 (2018).

Yeo, B. T. et al. The organization of the human cerebral cortex estimated by intrinsic functional connectivity. J. Neurophysiol. 106, 1125–1165 (2011).

Senkowski, D., Hofle, M. & Engel, A. K. Crossmodal shaping of pain: a multisensory approach to nociception. Trends Cogn. Sci. 18, 319–327 (2014).

Ploner, M., Lee, M. C., Wiech, K., Bingel, U. & Tracey, I. Flexible cerebral connectivity patterns subserve contextual modulations of pain. Cereb. Cortex 21, 719–726 (2011).

Kong, J. et al. Functional connectivity of the frontoparietal network predicts cognitive modulation of pain. Pain 154, 459–467 (2013).

Roy, M., Piche, M., Chen, J. I., Peretz, I. & Rainville, P. Cerebral and spinal modulation of pain by emotions. Proc. Natl Acad. Sci. USA 106, 20900–20905 (2009).

Ploghaus, A. et al. Exacerbation of pain by anxiety is associated with activity in a hippocampal network. J. Neurosci. 21, 9896–9903 (2001).

Ossipov, M. H., Dussor, G. O. & Porreca, F. Central modulation of pain. J. Clin. Invest. 120, 3779–3787 (2010).

Basbaum, A. I. & Fields, H. L. Endogenous pain control systems: brainstem spinal pathways and endorphin circuitry. Annu. Rev. Neurosci. 7, 309–338 (1984).

Bushnell, M. C., Ceko, M. & Low, L. A. Cognitive and emotional control of pain and its disruption in chronic pain. Nat. Rev. Neurosci. 14, 502–511 (2013).

Apkarian, A. V., Bushnell, M. C., Treede, R. D. & Zubieta, J. K. Human brain mechanisms of pain perception and regulation in health and disease. Eur. J. Pain 9, 463–484 (2005).

Ayoub, L. J., Seminowicz, D. A. & Moayedi, M. A meta-analytic study of experimental and chronic orofacial pain excluding headache disorders. Neuroimage Clin. 20, 901–912 (2018).

Lorenz, J., Minoshima, S. & Casey, K. L. Keeping pain out of mind: the role of the dorsolateral prefrontal cortex in pain modulation. Brain 126, 1079–1091 (2003).

Wiech, K., Ploner, M. & Tracey, I. Neurocognitive aspects of pain perception. Trends Cogn. Sci. 12, 306–313 (2008).

Seminowicz, D. A. & Davis, K. D. Pain enhances functional connectivity of a brain network evoked by performance of a cognitive task. J. Neurophysiol. 97, 3651–3659 (2007).

Wager, T. D. et al. An fMRI-based neurologic signature of physical pain. N. Engl. J. Med. 368, 1388–1397 (2013).

Woo, C. W., Roy, M., Buhle, J. T. & Wager, T. D. Distinct brain systems mediate the effects of nociceptive input and self-regulation on pain. PLoS Biol. 13, e1002036 (2015).

Gabrieli, J. D. E., Ghosh, S. S. & Whitfield-Gabrieli, S. Prediction as a humanitarian and pragmatic contribution from human cognitive neuroscience. Neuron 85, 11–26 (2015).

Woo, C. W. et al. Quantifying cerebral contributions to pain beyond nociception. Nat. Commun. 8, 14211 (2017).

Coghill, R. C., Sang, C. N., Maisog, J. M. & Iadarola, M. J. Pain intensity processing within the human brain: a bilateral, distributed mechanism. J. Neurophysiol. 82, 1934–1943 (1999).

Seminowicz, D. A. & Moayedi, M. The dorsolateral prefrontal cortex in acute and chronic pain. J. Pain 18, 1027–1035 (2017).

Baars, B. J. Global workspace theory of consciousness: toward a cognitive neuroscience of human experience. Prog. Brain Res. 150, 45–53 (2005).

Wager, T. D., Atlas, L. Y., Leotti, L. A. & Rilling, J. K. Predicting individual differences in placebo analgesia: contributions of brain activity during anticipation and pain experience. J. Neurosci .31, 439–452 (2011).

Tetreault, P. et al. Brain connectivity predicts placebo response across chronic pain clinical trials. PLoS Biol. 14, e1002570 (2016).

Segerdahl, A. R., Mezue, M., Okell, T. W., Farrar, J. T. & Tracey, I. The dorsal posterior insula subserves a fundamental role in human pain. Nat. Neurosci. 18, 499–500 (2015).

Mazzola, L., Isnard, J., Peyron, R. & Mauguiere, F. Stimulation of the human cortex and the experience of pain: Wilder Penfield's observations revisited. Brain 135, 631–640 (2012).

Bushnell, M. C. et al. Pain perception: is there a role for primary somatosensory cortex? Proc. Natl Acad. Sci. USA 96, 7705–7709 (1999).

Rainville, P., Duncan, G. H., Price, D. D., Carrier, B. & Bushnell, M. C. Pain affect encoded in human anterior cingulate but not somatosensory cortex. Science 277, 968–971 (1997).

Atlas, L. Y., Bolger, N., Lindquist, M. A. & Wager, T. D. Brain mediators of predictive cue effects on perceived pain. J. Neurosci. 30, 12964–12977 (2010).

Horing, B., Sprenger, C. & Buchel, C. The parietal operculum preferentially encodes heat pain and not salience. PLoS Biol. 17, e3000205 (2019).

Zhang, S. et al. The control of tonic pain by active relief learning. eLife 7, e31949 (2018).

Seymour, B. et al. Opponent appetitive-aversive neural processes underlie predictive learning of pain relief. Nat. Neurosci. 8, 1234–1240 (2005).

Baliki, M. N. et al. Chronic pain and the emotional brain: specific brain activity associated with spontaneous fluctuations of intensity of chronic back pain. J. Neurosci. 26, 12165–12173 (2006).

Rodriguez, E. et al. A craniofacial-specific monosynaptic circuit enables heightened affective pain. Nat. Neurosci. 20, 1734–1743 (2017).

Garcia, J., Hankins, W. G. & Rusiniak, K. W. Behavioral regulation of the milieu interne in man and rat. Science 185, 824–831 (1974).

Buckner, R. L., Krienen, F. M., Castellanos, A., Diaz, J. C. & Yeo, B. T. The organization of the human cerebellum estimated by intrinsic functional connectivity. J. Neurophysiol. 106, 2322–2345 (2011).

Choi, E. Y., Yeo, B. T. & Buckner, R. L. The organization of the human striatum estimated by intrinsic functional connectivity. J. Neurophysiol. 108, 2242–2263 (2012).

Eickhoff, S. B. et al. A new SPM toolbox for combining probabilistic cytoarchitectonic maps and functional imaging data. Neuroimage 25, 1325–1335 (2005).

Diedrichsen, J. et al. Imaging the deep cerebellar nuclei: a probabilistic atlas and normalization procedure. Neuroimage 54, 1786–1794 (2011).

Glasser, M. F. et al. A multi-modal parcellation of human cerebral cortex. Nature 536, 171–178 (2016).

Allen, E. A. et al. Tracking whole-brain connectivity dynamics in the resting state. Cereb. Cortex 24, 663–676 (2014).

Shen, X. et al. Using connectome-based predictive modeling to predict individual behavior from brain connectivity. Nat. Protoc. 12, 506–518 (2017).

Cochran, W. G. Sampling Techniques (Wiley, 1977).
Acknowledgements
We thank M. C. Reddan for help with conducting experiments; the OpenPain Project (principal investigator: A. V. Apkarian) for data sharing; and M. A. Lindquist for helpful comments on using dynamic connectivity analysis tools. This work was supported by IBS-R015-D1 (Institute for Basic Science; to C.-W.W.), 2019R1C1C1004512 (National Research Foundation of Korea; to C.-W.W.), 18-BR-03 and 2019-0-01367-BabyMind (Ministry of Science and ICT, Korea; to C.-W.W.); by R01DA035484 and R01MH076136 (National Institutes of Health; to T.D.W.); and by 2018H1A2A1059844 (National Research Foundation of Korea; to J.-J.L.).
Ethics declarations
Competing interests
The authors declare no competing interests.
Additional information
Peer review information Jerome Staal and Kate Gao were the primary editors on this article and managed its editorial process and peer review in collaboration with the rest of the editorial team.
Publisher's note Springer Nature remains neutral with regard to jurisdictional claims in published maps and institutional affiliations.
Supplementary information
Supplementary Methods, Supplementary Results, Supplementary Figs. 1–9 and Supplementary Tables 1–4.
About this article
Cite this article
Lee, JJ., Kim, H.J., Čeko, M. et al. A neuroimaging biomarker for sustained experimental and clinical pain. Nat Med 27, 174–182 (2021). https://doi.org/10.1038/s41591-020-1142-7
Received:

Accepted:

Published:

Issue Date:

DOI: https://doi.org/10.1038/s41591-020-1142-7