Abstract
We developed a metagenomic next-generation sequencing (mNGS) test using cell-free DNA from body fluids to identify pathogens. The performance of mNGS testing of 182 body fluids from 160 patients with acute illness was evaluated using two sequencing platforms in comparison to microbiological testing using culture, 16S bacterial PCR and/or 28S–internal transcribed ribosomal gene spacer (28S–ITS) fungal PCR. Test sensitivity and specificity of detection were 79 and 91% for bacteria and 91 and 89% for fungi, respectively, by Illumina sequencing; and 75 and 81% for bacteria and 91 and 100% for fungi, respectively, by nanopore sequencing. In a case series of 12 patients with culture/PCR-negative body fluids but for whom an infectious diagnosis was ultimately established, seven (58%) were mNGS positive. Real-time computational analysis enabled pathogen identification by nanopore sequencing in a median 50-min sequencing and 6-h sample-to-answer time. Rapid mNGS testing is a promising tool for diagnosis of unknown infections from body fluids.
Relevant articles
Open Access articles citing this article.
Vladimir Lazarevic

,

Nadia Gaïa

…

Jacques Schrenzel

ISME Communications Open Access 26 December 2022

Cormac M. Kinsella

,

Arthur W. D. Edridge

…

Lia van der Hoek

Fluids and Barriers of the CNS Open Access 22 December 2022

Qing Miao

,

Tianzhu Liang

…

Junhua Li

Respiratory Research Open Access 14 December 2022
Access options
Subscribe to Nature+
Get immediate online access to Nature and 55 other Nature journal
Subscribe to Journal
Get full journal access for 1 year
$79.00
only $6.58 per issue
All prices are NET prices.
VAT will be added later in the checkout.
Tax calculation will be finalised during checkout.
Buy article
Get time limited or full article access on ReadCube.
$32.00
All prices are NET prices.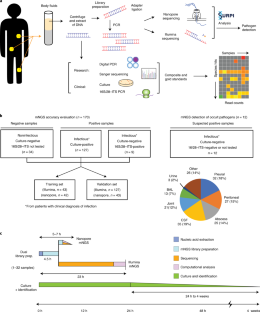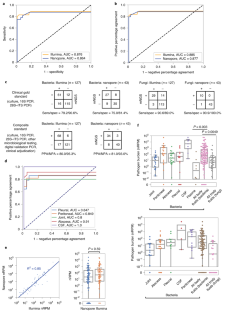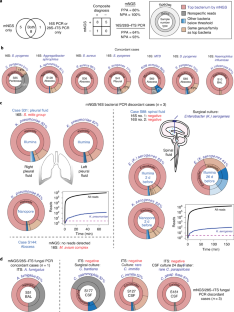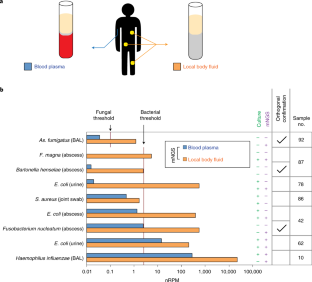 Data availability
Metagenomic sequencing data (FASTQ files) after removal of human genomic reads have been deposited in the NCBI Sequence Read Archive (SRA) (PRJNA558701, under umbrella project PRJNA234047).
References
Messacar, K., Parker, S. K., Todd, J. K. & Dominguez, S. R. Implementation of rapid molecular infectious disease diagnostics: the role of diagnostic and antimicrobial stewardship. J. Clin. Microbiol. 55, 715–723 (2017).

Rea, B., Maisel, J. R., Glaser, L. & Alby, K. Identification of clinically relevant mycobacterial species after extended incubation times in the BACTEC MGIT System. Am. J. Clin. Pathol. 151, 63–67 (2019).

Janda, J. M. & Abbott, S. L. 16S rRNA gene sequencing for bacterial identification in the diagnostic laboratory: pluses, perils, and pitfalls. J. Clin. Microbiol. 45, 2761–2764 (2007).

Petti, C. A., Polage, C. R. & Schreckenberger, P. The role of 16S rRNA gene sequencing in identification of microorganisms misidentified by conventional methods. J. Clin. Microbiol. 43, 6123–6125 (2005).

Reuwer, A. Q., van den Bijllaardt, W., Murk, J. L., Buiting, A. G. M. & Verweij, J. J. Added diagnostic value of broad-range 16S PCR on periprosthetic tissue and clinical specimens from other normally sterile body sites. J. Appl. Microbiol. 126, 661–666 (2019).

Wilson, M. R. et al. Actionable diagnosis of neuroleptospirosis by next-generation sequencing. N. Engl. J. Med. 370, 2408–2417 (2014).

Wilson, M. R. et al. Clinical metagenomic sequencing for diagnosis of meningitis and encephalitis. N. Engl. J. Med. 380, 2327–2340 (2019).

Glimaker, M. et al. Adult bacterial meningitis: earlier treatment and improved outcome following guideline revision promoting prompt lumbar puncture. Clin. Infect. Dis. 60, 1162–1169 (2015).

Kumar, A. et al. Duration of hypotension before initiation of effective antimicrobial therapy is the critical determinant of survival in human septic shock. Crit. Care Med. 34, 1589–1596 (2006).

Weiss, S. L. et al. Delayed antimicrobial therapy increases mortality and organ dysfunction duration in pediatric sepsis. Crit. Care Med. 42, 2409–2417 (2014).

Llor, C. & Bjerrum, L. Antimicrobial resistance: risk associated with antibiotic overuse and initiatives to reduce the problem. Ther. Adv. Drug Saf. 5, 229–241 (2014).

Chiu, C. Y. & Miller, S. A. Clinical metagenomics. Nat. Rev. Genet. 20, 341–355 (2019).

Gu, W., Miller, S. & Chiu, C. Y. Clinical metagenomic next-generation sequencing for pathogen detection. Annu. Rev. Pathol. 14, 319–338 (2019).

Simner, P. J., Miller, S. & Carroll, K. C. Understanding the promises and hurdles of metagenomic next-generation sequencing as a diagnostic tool for infectious diseases. Clin. Infect. Dis. 66, 778–788 (2018).

Blauwkamp, T. A. et al. Analytical and clinical validation of a microbial cell-free DNA sequencing test for infectious disease. Nat. Microbiol. 4, 663–674 (2019).

Charalampous, T. et al. Nanopore metagenomics enables rapid clinical diagnosis of bacterial lower respiratory infection. Nat. Biotechnol. 37, 783–792 (2019).

Ivy, M. I. et al. Direct detection and identification of prosthetic joint infection pathogens in synovial fluid by metagenomic shotgun sequencing. J. Clin. Microbiol. 56, e00402-18 (2018).

Langelier, C. et al. Integrating host response and unbiased microbe detection for lower respiratory tract infection diagnosis in critically ill adults. Proc. Natl Acad. Sci. USA 115, E12353–E12362 (2018).

Leo, S. et al. Detection of bacterial pathogens from broncho-alveolar lavage by next-generation sequencing. Int. J. Mol. Sci. 18, 2011 (2017).

Miller, S. et al. Laboratory validation of a clinical metagenomic sequencing assay for pathogen detection in cerebrospinal fluid. Genome Res. 29, 831–842 (2019).

Schlaberg, R. et al. Validation of metagenomic next-generation sequencing tests for universal pathogen detection. Arch. Pathol. Lab Med. 141, 776–786 (2017).

Schmidt, K. et al. Identification of bacterial pathogens and antimicrobial resistance directly from clinical urines by nanopore-based metagenomic sequencing. J. Antimicrob. Chemother. 72, 104–114 (2017).

Thoendel, M. J. et al. Identification of prosthetic joint infection pathogens using a shotgun metagenomics approach. Clin. Infect. Dis. 67, 1333–1338 (2018).

Wilson, M. R. et al. Chronic meningitis investigated via metagenomic next-generation sequencing. JAMA Neurol. 75, 947–955 (2018).

Lucas, M. J., Brouwer, M. C. & van de Beek, D. Neurological sequelae of bacterial meningitis. J. Infect. 73, 18–27 (2016).

Schlaberg, R. et al. Viral pathogen detection by metagenomics and pan-viral group polymerase chain reaction in children with pneumonia lacking identifiable etiology. J. Infect. Dis. 215, 1407–1415 (2017).

Costales, C. & Butler-Wu, S. M. A real pain: diagnostic quandaries and septic arthritis. J. Clin. Microbiol. 56, e01358-17 (2018).

McGill, F., Heyderman, R. S., Panagiotou, S., Tunkel, A. R. & Solomon, T. Acute bacterial meningitis in adults. Lancet 388, 3036–3047 (2016).

Singal, A. K., Salameh, H. & Kamath, P. S. Prevalence and in-hospital mortality trends of infections among patients with cirrhosis: a nationwide study of hospitalised patients in the United States. Aliment. Pharm. Ther. 40, 105–112 (2014).

Greninger, A. L. et al. Rapid metagenomic identification of viral pathogens in clinical samples by real-time nanopore sequencing analysis. Genome Med. 7, 99 (2015).

Faria, N. R. et al. Mobile real-time surveillance of Zika virus in Brazil. Genome Med. 8, 97 (2016).

Kafetzopoulou, L. E. et al. Metagenomic sequencing at the epicenter of the Nigeria 2018 Lassa fever outbreak. Science 363, 74–77 (2019).

Quick, J. et al. Real-time, portable genome sequencing for Ebola surveillance. Nature 530, 228–232 (2016).

Raith, E. P. et al. Prognostic accuracy of the SOFA Score, SIRS Criteria, and qSOFA score for in-hospital mortality among adults with suspected infection admitted to the intensive care unit. JAMA 317, 290–300 (2017).

Deng, X. et al. Metagenomic sequencing with spiked primer enrichment for viral diagnostics and surveillance. Nat. Microbiol. 5, 443–454 (2020).

Fan, H. C., Blumenfeld, Y. J., Chitkara, U., Hudgins, L. & Quake, S. R. Analysis of the size distributions of fetal and maternal cell-free DNA by paired-end sequencing. Clin. Chem. 56, 1279–1286 (2010).

De Vlaminck, I. et al. Temporal response of the human virome to immunosuppression and antiviral therapy. Cell 155, 1178–1187 (2013).

Focosi, D., Antonelli, G., Pistello, M. & Maggi, F. Torquetenovirus: the human virome from bench to bedside. Clin. Microbiol. Infect. 22, 589–593 (2016).

Abril, M. K. et al. Diagnosis of Capnocytophaga canimorsus sepsis by whole-genome next-generation sequencing. Open Forum Infect. Dis. 3, ofw144 (2016).

Grumaz, S. et al. Next-generation sequencing diagnostics of bacteremia in septic patients. Genome Med. 8, 73 (2016).

Long, Y. et al. Diagnosis of sepsis with cell-free DNA by next-generation sequencing technology in ICU patients. Arch. Med. Res. 47, 365–371 (2016).

De Mattos-Arruda, L. et al. Cerebrospinal fluid-derived circulating tumour DNA better represents the genomic alterations of brain tumours than plasma. Nat. Commun. 6, 8839 (2015).

Dudley, J. C. et al. Detection and surveillance of bladder cancer using urine tumor DNA. Cancer Discov. 9, 500–509 (2019).

Pan, W., Gu, W., Nagpal, S., Gephart, M. H. & Quake, S. R. Brain tumor mutations detected in cerebral spinal fluid. Clin. Chem. 61, 514–522 (2015).

Springer, S. U. et al. Non-invasive detection of urothelial cancer through the analysis of driver gene mutations and aneuploidy. eLife 7, e32143 (2018).

Wang, Y. et al. Evaluation of liquid from the Papanicolaou test and other liquid biopsies for the detection of endometrial and ovarian cancers. Sci. Transl. Med. 10, eaap8793 (2018).

Corless, C. E. et al. Contamination and sensitivity issues with a real-time universal 16S rRNA PCR. J. Clin. Microbiol. 38, 1747–1752 (2000).

Klindworth, A. et al. Evaluation of general 16S ribosomal RNA gene PCR primers for classical and next-generation sequencing-based diversity studies. Nucleic Acids Res. 41, e1 (2013).

Salipante, S. J. et al. Performance comparison of Illumina and ion torrent next-generation sequencing platforms for 16S rRNA-based bacterial community profiling. Appl. Environ. Microbiol. 80, 7583–7591 (2014).

Wang, Y. & Qian, P. Y. Conservative fragments in bacterial 16S rRNA genes and primer design for 16S ribosomal DNA amplicons in metagenomic studies. PLoS ONE 4, e7401 (2009).

Hoggard, M. et al. Characterizing the human Mycobiota: a comparison of small subunit rRNA, ITS1, ITS2, and large subunit rRNA genomic targets. Front. Microbiol. 9, 2208 (2018).

Chan, K. C. et al. Molecular characterization of circulating EBV DNA in the plasma of nasopharyngeal carcinoma and lymphoma patients. Cancer Res. 63, 2028–2032 (2003).

Greninger, A. L. et al. Clinical metagenomic identification of Balamuthia mandrillaris encephalitis and assembly of the draft genome: the continuing case for reference genome sequencing. Genome Med. 7, 113 (2015).

Mongkolrattanothai, K. et al. Neurobrucellosis: unexpected answer from metagenomic next-generation sequencing. J. Pediatr. Infect. Dis. 6, 393–398 (2017).

Sardi, S. I. et al. Coinfections of Zika and Chikungunya viruses in Bahia, Brazil, identified by metagenomic next-generation sequencing. J. Clin. Microbiol. 54, 2348–2353 (2016).

Wilson, M. R. et al. Diagnosing Balamuthia mandrillaris encephalitis with metagenomic deep sequencing. Ann. Neurol. 78, 722–730 (2015).

World Medical Association World Medical Association Declaration of Helsinki: ethical principles for medical research involving human subjects. JAMA 310, 2191–2194 (2013).

Naccache, S. N. et al. A cloud-compatible bioinformatics pipeline for ultrarapid pathogen identification from next-generation sequencing of clinical samples. Genome Res. 24, 1180–1192 (2014).

Zaharia, M. et al. Faster and more accurate sequence alignment with SNAP. Preprint at https://arxiv.org/abs/1111.5572 (2011).

Zinter, M. S., Mayday, M. Y., Ryckman, K. K., Jelliffe-Pawlowski, L. L. & DeRisi, J. L. Towards precision quantification of contamination in metagenomic sequencing experiments. Microbiome 7, 62 (2019).

McIntyre, A. B. R. et al. Comprehensive benchmarking and ensemble approaches for metagenomic classifiers. Genome Biol. 18, 182 (2017).

Strain, M. C. et al. Highly precise measurement of HIV DNA by droplet digital PCR. PLoS ONE 8, e55943 (2013).

Taylor, S. C., Laperriere, G. & Germain, H. Droplet digital PCR versus qPCR for gene expression analysis with low abundant targets: from variable nonsense to publication quality data. Sci. Rep. 7, 2409 (2017).

Altschul, S. F., Gish, W., Miller, W., Myers, E. W. & Lipman, D. J. Basic local alignment search tool. J. Mol. Biol. 215, 403–410 (1990).

Burnham, P. et al. Urinary cell-free DNA is a versatile analyte for monitoring infections of the urinary tract. Nat. Commun. 9, 2412 (2018).
Acknowledgements
We thank H. Reyes, A. Chan, D. Ingebrigtsen, L. Dang, W. Lorizio, J. Streithorst, B. Fung and the UCSF clinical laboratory staff for assistance with orthogonal testing. We thank R. Da for assistance with sequencing runs. We thank S. Shiboski for biostatistics feedback. We thank members of the Chiu, Miller and DeRisi laboratories for feedback and support. This work was funded in part by an NIH grant (no. K08-CA230156) and a Burroughs-Wellcome Award to W.G., by Abbott Laboratories (C.Y.C.), a NIH/NHLBI grant (no. R01-HL105704, to C.Y.C.), a NIH/NIAID grant (no. R33-AI120977, to C.Y.C.), the California Initiative to Advance Precision Medicine (C.Y.C.), a UC Center for Accelerated Innovation grant funded by NIH grant U54HL119893 and NIH/NCATS UCSF-CTSI grant UL1TR000004 (C.Y.C.), and the Charles and Helen Schwab Foundation (C.Y.C.).
Ethics declarations
Competing interests
C.Y.C. is the director of the UCSF-Abbott Viral Diagnostics and Discovery Center and receives research support funding from Abbott Laboratories, Inc. C.Y.C., D.S., S.F. and S.M. are inventors on a patent application on algorithms related to SURPI+ software (no. PCT/US/16/52912, 'Pathogen Detection using Next-Generation Sequencing'). C.Y.C., X.D. and S.F. are inventors on a patent pending on algorithms related to SURPIrt software (Case no. SF2015-154, 'Methods for Real-Time Sequencing Analysis of Infectious Diseases'). Other coauthors declare no competing interests.
Additional information
Peer review information Alison Farrell is the primary editor on this article and managed its editorial process and peer review in collaboration with the rest of the editorial team.
Publisher's note Springer Nature remains neutral with regard to jurisdictional claims in published maps and institutional affiliations.
Supplementary information
About this article
Cite this article
Gu, W., Deng, X., Lee, M. et al. Rapid pathogen detection by metagenomic next-generation sequencing of infected body fluids. Nat Med 27, 115–124 (2021). https://doi.org/10.1038/s41591-020-1105-z
Received:

Accepted:

Published:

Issue Date:

DOI: https://doi.org/10.1038/s41591-020-1105-z