Abstract
Ribonucleoprotein (RNP) granules are biomolecular condensates—liquid–liquid phase-separated droplets that organize and manage messenger RNA metabolism, cell signaling, biopolymer assembly, biochemical reactions and stress granule responses to cellular adversity. Dysregulated RNP granules drive neuromuscular degenerative disease but have not previously been linked to heart failure. By exploring the molecular basis of congenital dilated cardiomyopathy (DCM) in genome-edited pigs homozygous for an RBM20 allele encoding the pathogenic R636S variant of human RNA-binding motif protein-20 (RBM20), we discovered that RNP granules accumulated abnormally in the sarcoplasm, and we confirmed this finding in myocardium and reprogrammed cardiomyocytes from patients with DCM carrying the R636S allele. Dysregulated sarcoplasmic RBM20 RNP granules displayed liquid-like material properties, docked at precisely spaced intervals along cytoskeletal elements, promoted phase partitioning of cardiac biomolecules and fused with stress granules. Our results link dysregulated RNP granules to myocardial cellular pathobiology and heart failure in gene-edited pigs and patients with DCM caused by RBM20 mutation.
Relevant articles
Open Access articles citing this article.
Takuma Yamamoto

,

Rie Sano

…

Hajime Nishio

Journal of Molecular Medicine Open Access 05 October 2022

Michele Vendruscolo

&

Monika Fuxreiter

Nature Communications Open Access 22 September 2022

Aidan M. Fenix

,

Yuichiro Miyaoka

…

Nathan Salomonis

Nature Communications Open Access 03 November 2021
Access options
Subscribe to Nature+
Get immediate online access to Nature and 55 other Nature journal
Subscribe to Journal
Get full journal access for 1 year
$79.00
only $6.58 per issue
All prices are NET prices.
VAT will be added later in the checkout.
Tax calculation will be finalised during checkout.
Buy article
Get time limited or full article access on ReadCube.
$32.00
All prices are NET prices.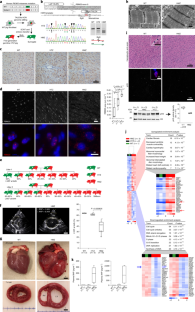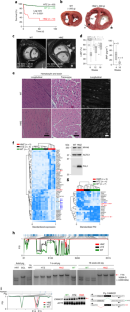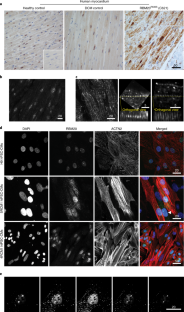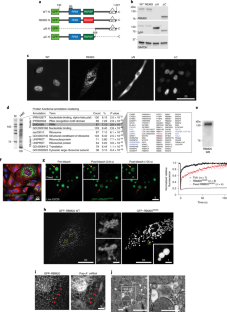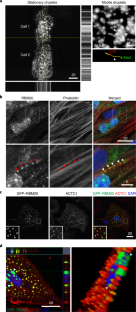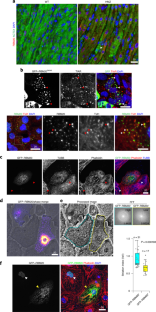 Data availability
Additional information and detailed protocols regarding all experimental methodologies are available upon request from J.W.S. The RBM20R636S genetically engineered pig is commercially available through Recombinetics (D.F.C.) and/or through collaboration with Discovery Engine at Mayo Clinic (J.W.S. or T.J.N.; timothy.nelson@mayo.edu). Data on the human iPSCs and iPSC-derived cardiomyocytes used in this study, unique Mayo Clinic identifiers 5RCM1 and 4RCM1, unrelated patients with DCM heterozygous for the R636S variant (described in ref. 1) and normal control hiPSCs and derived cardiomyocytes (81HLH4) are available upon request from J.W.S. and T.J.N. (timothy.nelson@mayo.edu) through the Mayo Clinic Discovery Engine and ReGen Theranostics (Rochester, Minnesota). The myocardial biopsy materials used in this study (from the patients described in ref. 1) are available upon request from T.M.O. (timothy.olson@mayo.edu) at the Mayo Clinic Discovery Engine. For the human and animal studies, all approved IRB, informed consent and IACUC animal treatment and husbandry protocols are available upon request from J.W.S. at Mayo Clinic or Recombinetics. Data on the plasmid DNA and all primer DNA sequences used in this study are available from J.W.S. upon request. There are no restrictions on data availability for any part of this paper. Source data are provided with this paper.
References
Brauch, K. M. et al. Mutations in ribonucleic acid binding protein gene cause familial dilated cardiomyopathy. J. Am. Coll. Cardiol. 54, 930–941 (2009).

Li, S., Guo, W., Dewey, C. N. & Greaser, M. L. Rbm20 regulates titin alternative splicing as a splicing repressor. Nucleic Acids Res. 41, 2659–2672 (2013).

Watanabe, T., Kimura, A. & Kuroyanagi, H. Alternative splicing regulator RBM20 and cardiomyopathy. Front. Mol. Biosci. 5, 105 (2018).

Murayama, R. et al. Phosphorylation of the RSRSP stretch is critical for splicing regulation by RNA-binding motif protein 20 (RBM20) through nuclear localization. Sci. Rep. 8, 8970 (2018).

Filippello, A., Lorenzi, P., Bergamo, E. & Romanelli, M. G. Identification of nuclear retention domains in the RBM20 protein. FEBS Lett. 587, 2989–2995 (2013).

Guo, W. et al. RBM20, a gene for hereditary cardiomyopathy, regulates titin splicing. Nat. Med. 18, 766–773 (2012).

Methawasin, M. et al. Experimentally increasing the compliance of titin through RNA binding motif-20 (RBM20) inhibition improves diastolic function in a mouse model of heart failure with preserved ejection fraction. Circulation 134, 1085–1099 (2016).

Bertero, A. et al. Dynamics of genome reorganization during human cardiogenesis reveal an RBM20-dependent splicing factory. Nat. Commun. 10, 1538 (2019).

Linke, W. A. & Bucker, S. King of hearts: a splicing factor rules cardiac proteins. Nat. Med. 18, 660–661 (2012).

Van den Hoogenhof, M. M., Pinto, Y. M. & Creemers, E. E. RNA splicing: regulation and dysregulation in the heart. Circ. Res. 118, 454–468 (2016).

Shin, Y. & Brangwynne, C. P. Liquid phase condensation in cell physiology and disease. Science 357, eaaf4382 (2017).

Nedelsky, N. B. & Taylor, J. P. Bridging biophysics and neurology: aberrant phase transitions in neurodegenerative disease. Nat. Rev. Neurol. 15, 272–286 (2019).

Ramaswami, M., Taylor, J. P. & Parker, R. Altered ribostasis: RNA–protein granules in degenerative disorders. Cell 154, 727–736 (2013).

Ito, D., Hatano, M. & Suzuki, N. RNA binding proteins and the pathological cascade in ALS/FTD neurodegeneration. Sci. Transl. Med. 9, eaah5436 (2017).

Banani, S. F., Lee, H. O., Hyman, A. A. & Rosen, M. K. Biomolecular condensates: organizers of cellular biochemistry. Nat. Rev. Mol. Cell Biol. 18, 285–298 (2017).

Cutler, A. A., Ewachiw, T. E., Corbet, G. A., Parker, R. & Olwin, B. B.Myo-granules connect physiology and pathophysiology. J. Exp. Neurosci. 13, 1179069519842157 (2019).

Vogler, T. O. et al. TDP-43 and RNA form amyloid-like myo-granules in regenerating muscle. Nature 563, 508–513 (2018).

Protter, D. S. W. & Parker, R. Principles and properties of stress granules. Trends Cell Biol. 26, 668–679 (2016).

Gilks, N. et al. Stress granule assembly is mediated by prion-like aggregation of TIA-1. Mol. Biol. Cell 15, 5383–5398 (2004).

Waris, S., Wilce, M. C. & Wilce, J. A. RNA recognition and stress granule formation by TIA proteins. Int. J. Mol. Sci. 15, 23377–23388 (2014).

Li, Y. R., King, O. D., Shorter, J. & Gitler, A. D. Stress granules as crucibles of ALS pathogenesis. J. Cell Biol. 201, 361–372 (2013).

Wolozin, B. Physiological protein aggregation run amuck: stress granules and the genesis of neurodegenerative disease. Discov. Med. 17, 47–52 (2014).

Boeynaems, S., Tompa, P. & Van Den Bosch, L. Phasing in on the cell cycle. Cell Div. 13, 1 (2018).

Jourdain, A. A., Boehm, E., Maundrell, K. & Martinou, J. C. Mitochondrial RNA granules: compartmentalizing mitochondrial gene expression. J. Cell Biol. 212, 611–614 (2016).

Kato, M. et al. Cell-free formation of RNA granules: low complexity sequence domains form dynamic fibers within hydrogels. Cell 149, 753–767 (2012).

Jain, S. et al. ATPase-modulated stress granules contain a diverse proteome and substructure. Cell 164, 487–498 (2016).

Sutcliffe, M. D. et al. High content analysis identifies unique morphological features of reprogrammed cardiomyocytes. Sci. Rep. 8, 1258 (2018).

Arrell, D. K. Delineating RBM20 regulation of alternative splicing in dilated cardiomyopathy. Circ. Cardiovasc. Genet. 7, 732–733 (2014).

Refaat, M. M. et al. Genetic variation in the alternative splicing regulator RBM20 is associated with dilated cardiomyopathy. Heart Rhythm 9, 390–396 (2012).

Rexiati, M., Sun, M. & Guo, W. Muscle-specific mis-splicing and heart disease exemplified by RBM20. Genes 9, 18 (2018).

Weeland, C. J., van den Hoogenhof, M. M., Beqqali, A. & Creemers, E. E. Insights into alternative splicing of sarcomeric genes in the heart. J. Mol. Cell Cardiol. 81, 107–113 (2015).

Alberti, S. The wisdom of crowds: regulating cell function through condensed states of living matter. J. Cell Sci. 130, 2789–2796 (2017).

Kato, M. & McKnight, S. L. Cross-β polymerization of low complexity sequence domains. Cold Spring Harb. Perspect. Biol. 9, a023598 (2017).

Kato, M. & McKnight, S. L. A solid-state conceptualization of information transfer from gene to message to protein. Annu. Rev. Biochem. 87, 351–390 (2018).

De Graeve, F. & Besse, F. Neuronal RNP granules: from physiological to pathological assemblies. Biol. Chem. 399, 623–635 (2018).

Kiebler, M. A. & Bassell, G. J. Neuronal RNA granules: movers and makers. Neuron 51, 685–690 (2006).

Zarnescu, D. C. & Gregorio, C. C. Fragile hearts: new insights into translational control in cardiac muscle. Trends Cardiovasc. Med. 23, 275–281 (2013).

Labeit, S., Kolmerer, B. & Linke, W. A. The giant protein titin. Emerging roles in physiology and pathophysiology. Circulation Res. 80, 290–294 (1997).

Khong, A. et al. The stress granule transcriptome reveals principles of mRNA accumulation in stress granules. Mol. Cell 68, 808–820.e5 (2017).

Lee, C. Y. & Seydoux, G. Dynamics of mRNA entry into stress granules. Nat. Cell Biol. 21, 116–117 (2019).

Moon, S. L. et al. Multicolour single-molecule tracking of mRNA interactions with RNP granules. Nat. Cell Biol. 21, 162–168 (2019).

Anderson, P. & Kedersha, N. Stress granules: the Tao of RNA triage. Trends Biochem. Sci. 33, 141–150 (2008).

Buchan, J. R. & Parker, R. Eukaryotic stress granules: the ins and outs of translation. Mol. Cell 36, 932–941 (2009).

Thomas, M. G., Loschi, M., Desbats, M. A. & Boccaccio, G. L. RNA granules: the good, the bad and the ugly. Cell Signal. 23, 324–334 (2011).

Vanderweyde, T., Youmans, K., Liu-Yesucevitz, L. & Wolozin, B. Role of stress granules and RNA-binding proteins in neurodegeneration: a mini-review. Gerontology 59, 524–533 (2013).

Harvey, R., Dezi, V., Pizzinga, M. & Willis, A. E. Post-transcriptional control of gene expression following stress: the role of RNA-binding proteins. Biochem. Soc. Trans. 45, 1007–1014 (2017).

Hey, T. M. et al. Pathogenic RBM20-variants are associated with a severe disease expression in male patients with dilated cardiomyopathy. Circ. Heart Fail. 12, e005700 (2019).

Gacita, A. M. & McNally, E. M. Genetic spectrum of arrhythmogenic cardiomyopathy. Circ. Heart Fail. 12, e005850 (2019).

Parikh, V. N. et al. Regional variation in RBM20 causes a highly penetrant arrhythmogenic cardiomyopathy. Circ. Heart Fail. 12, e005371 (2019).
Acknowledgements
We thank the patients who contributed cells and tissues to this study, E. Olson and J. Hill for support during the transition of J.W.S. from the University of Texas Southwestern Medical Center to Mayo Clinic, and J. Dearani and A. Terzic at Mayo Clinic. We also thank C. Riggs and N. Kedersha (Harvard Medical School) for sharing FRAP plasmids, and M. Rosen and S. McKnight (University of Texas Southwestern Medical Center) for sharing resources and helpful discussions. We also acknowledge grant support from NIH/NHLBI U01HL100404 (Progenitor Cell Biology Consortium) and NIH U54HD087351 (Wellstone Center for Muscular Dystrophy Research) to J.W.S., American Heart Association grant 19TPA34830072 to W.G., JSPS KAKENHI Grant Number JP20K21385 and Nanken-Kyoten, TMDU to H.K. and Steinmetz Cardiomyopathy Fund to L.M.S.
Ethics declarations
Competing interests
Generation of the RBM20R636S pig by gene-editing technology represents a collaborative partnership between Recombinetics (St. Paul, Minnesota), a commercial entity and Mayo Clinic in Rochester (Minnesota). T.M., A.W.C., D.A.W., D.F.C. and S.C.F. are shareholders in Recombinetics (St. Paul, Minnesota), which seeks to commercialize the RBM20R636S pig. The Todd and Karen Wanek Family Program for Hypoplastic Left Heart Syndrome at Mayo Clinic—the co-inventor of the RBM20R636S pig—maintains a profit-sharing agreement with Recombinetics regarding this gene-edited pig.
Additional information
Peer review information Michael Basson was the primary editor on this article and managed its editorial process and peer review in collaboration with the rest of the editorial team.
Publisher's note Springer Nature remains neutral with regard to jurisdictional claims in published maps and institutional affiliations.
Supplementary information
About this article
Cite this article
Schneider, J.W., Oommen, S., Qureshi, M.Y. et al. Dysregulated ribonucleoprotein granules promote cardiomyopathy in RBM20 gene-edited pigs. Nat Med 26, 1788–1800 (2020). https://doi.org/10.1038/s41591-020-1087-x
Received:

Accepted:

Published:

Issue Date:

DOI: https://doi.org/10.1038/s41591-020-1087-x