Abstract
Vα24-invariant natural killer T (NKT) cells have shown potent anti-tumor properties in murine tumor models and have been linked to favorable outcomes in patients with cancer. However, low numbers of these cells in humans have hindered their clinical applications. Here we report interim results from all three patients enrolled on dose level 1 in a phase 1 dose-escalation trial of autologous NKT cells engineered to co-express a GD2-specific chimeric antigen receptor (CAR) with interleukin-15 in children with relapsed or resistant neuroblastoma (NCT03294954). Primary and secondary objectives were to assess safety and anti-tumor responses, respectively, with immune response evaluation as an additional objective. We ex vivo expanded highly pure NKT cells (mean ± s.d., 94.7 ± 3.8%) and treated patients with 3 × 106 CAR-NKT cells per square meter of body surface area after lymphodepleting conditioning with cyclophosphamide/fludarabine (Cy/Flu). Cy/Flu conditioning was the probable cause for grade 3–4 hematologic adverse events, as they occurred before CAR-NKT cell infusion, and no dose-limiting toxicities were observed. CAR-NKT cells expanded in vivo, localized to tumors and, in one patient, induced an objective response with regression of bone metastatic lesions. These initial results suggest that CAR-NKT cells can be expanded to clinical scale and safely applied to treat patients with cancer.
Access options
Subscribe to Journal
Get full journal access for 1 year
$209.00
only $17.42 per issue
All prices are NET prices.
VAT will be added later in the checkout.
Rent or Buy article
Get time limited or full article access on ReadCube.
from$8.99
All prices are NET prices.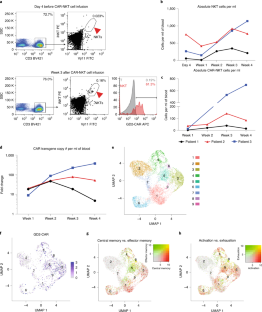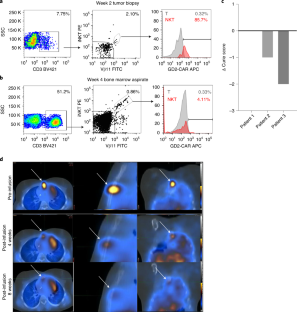 Data availability
All requests for raw and analyzed data and materials will be promptly reviewed by the Baylor College of Medicine Licensing Group to verify whether the request is subject to any intellectual property or confidentiality obligations. Patient-related data not included in the paper were generated as part of the clinical trial and might be subject to patient confidentiality restrictions. Any data and materials that can be shared will be released via a material transfer agreement. All raw data for single-cell sequencing have been deposited in the Gene Expression Omnibus with the accession code GSE154037. Source data are provided with this paper.
References
1.

Godfrey, D. I., MacDonald, H. R., Kronenberg, M., Smyth, M. J. & Van Kaer, L. NKT cells: what's in a name? Nat. Rev. Immunol. 4, 231–237 (2004).

2.

Savage, A. K. et al. The transcription factor PLZF directs the effector program of the NKT cell lineage. Immunity 29, 391–403 (2008).

3.

Metelitsa, L. S. Anti-tumor potential of type-I NKT cells against CD1d-positive and CD1d-negative tumors in humans. Clin. Immunol. 140, 119–129 (2011).

4.

Metelitsa, L. S. et al. Natural killer T cells infiltrate neuroblastomas expressing the chemokine CCL2. J. Exp. Med. 199, 1213–1221 (2004).

5.

Song, L. et al. Valpha24-invariant NKT cells mediate antitumor activity via killing of tumor-associated macrophages. J. Clin. Invest. 119, 1524–1536 (2009).

6.

Tachibana, T. et al. Increased intratumor Valpha24-positive natural killer T cells: a prognostic factor for primary colorectal carcinomas. Clin. Cancer Res. 11, 7322–7327 (2005).

7.

Cortesi, F. et al. Bimodal CD40/Fas-dependent crosstalk between iNKT cells and tumor-associated macrophages impairs prostate cancer progression. Cell Rep. 22, 3006–3020 (2018).

8.

Noy, R. & Pollard, J. W. Tumor-associated macrophages: from mechanisms to therapy. Immunity 41, 49–61 (2014).

9.

Chang, D. H. et al. Sustained expansion of NKT cells and antigen-specific T cells after injection of alpha-galactosyl-ceramide loaded mature dendritic cells in cancer patients. J. Exp. Med. 201, 1503–1517 (2005).

10.

Motohashi, S., Okamoto, Y., Yoshino, I. & Nakayama, T. Anti-tumor immune responses induced by iNKT cell-based immunotherapy for lung cancer and head and neck cancer. Clin. Immunol. 140, 167–176 (2011).

11.

Exley, M. A. et al. Adoptive transfer of invariant NKT cells as immunotherapy for advanced melanoma: a phase I clinical trial. Clin. Cancer Res. 23, 3510–3519 (2017).

12.

Heczey, A. et al. Invariant NKT cells with chimeric antigen receptor provide a novel platform for safe and effective cancer immunotherapy. Blood 124, 2824–2833 (2014).

13.

Rotolo, A. et al. Enhanced anti-lymphoma activity of CAR19-iNKT cells underpinned by dual CD19 and CD1d targeting. Cancer Cell 34, 596–610 (2018).

14.

Tahir, S. M. et al. Loss of IFN-gamma production by invariant NK T cells in advanced cancer. J. Immunol. 167, 4046–4050 (2001).

15.

Tian, G. et al. CD62L+ NKT cells have prolonged persistence and antitumor activity in vivo. J. Clin. Invest. 126, 2341–2355 (2016).

16.

Schulz, G. et al. Detection of ganglioside GD2 in tumor tissues and sera of neuroblastoma patients. Cancer Res. 44, 5914–5920 (1984).

17.

Heczey, A. et al. CAR T cells administered in combination with lymphodepletion and PD-1 inhibition to patients with neuroblastoma. Mol. Ther. 25, 2214–2224 (2017).

18.

Liu, D. et al. IL-15 protects NKT cells from inhibition by tumor-associated macrophages and enhances antimetastatic activity. J. Clin. Invest. 122, 2221–2233 (2012).

19.

Xu, X., et al. NKT cells co-expressing a GD2-specific chimeric antigen receptor and IL-15 show enhanced in vivo persistence and antitumor activity against neuroblastoma. Clin. Cancer Res. 25, 7126–7138 (2019).

20.

Cohn, S. L. et al. The international neuroblastoma risk group (INRG) classification system: an INRG task force report. J. Clin. Oncol. 27, 289–297 (2009).

21.

Ghassemi, S. et al. Reducing ex vivo culture improves the antileukemic activity of chimeric antigen receptor (CAR) T cells. Cancer Immunol. Res. 6, 1100–1109 (2018).

22.

Gattinoni, L. et al. Removal of homeostatic cytokine sinks by lymphodepletion enhances the efficacy of adoptively transferred tumor-specific CD8+ T cells. J. Exp. Med. 202, 907–912 (2005).

23.

Park, J. R. et al. Revisions to the international neuroblastoma response criteria: a consensus statement from the National Cancer Institute Clinical Trials Planning Meeting. J. Clin. Oncol. 35, 2580–2587 (2017).

24.

Decarolis, B. et al. Iodine-123 metaiodobenzylguanidine scintigraphy scoring allows prediction of outcome in patients with stage 4 neuroblastoma: results of the Cologne Interscore Comparison Study. J. Clin. Oncol. 31, 944–951 (2013).

25.

Ngai, H. et al. IL-21 selectively protects CD62L+ NKT cells and enhances their effector functions for adoptive immunotherapy. J. Immunol. 201, 2141–2153 (2018).

26.

Stoeckius, M. et al. Cell hashing with barcoded antibodies enables multiplexing and doublet detection for single cell genomics. Genome Biol. 19, 224 (2018).

27.

Stuart, T. et al. Comprehensive integration of single-cell data. Cell 177, 1888–1902 (2019).

28.

Hafemeister, C. & Satija, R. Normalization and variance stabilization of single-cell RNA-seq data using regularized negative binomial regression. Genome Biol. 20, 296 (2019).

29.

Butler, A., Hoffman, P., Smibert, P., Papalexi, E. & Satija, R. Integrating single-cell transcriptomic data across different conditions, technologies, and species. Nat. Biotechnol. 36, 411–420 (2018).

30.

Guo, X. et al. Global characterization of T cells in non-small-cell lung cancer by single-cell sequencing. Nat. Med. 24, 978–985 (2018).

31.

Zhang, L. et al. Lineage tracking reveals dynamic relationships of T cells in colorectal cancer. Nature 564, 268–272 (2018).

32.

Yost, K. E. et al. Clonal replacement of tumor-specific T cells following PD-1 blockade. Nat. Med. 25, 1251–1259 (2019).

33.

Langmead, B. & Salzberg, S. L. Fast gapped-read alignment with Bowtie 2. Nat. Methods 9, 357–359 (2012).
Acknowledgements
The authors are grateful to M. Brenner, H. Heslop and personnel from the cGMP facility at the Center for Cell and Gene Therapy for manufacturing CAR-NKT cells; A. Sher, K. Kukreja and P. Srivaths; staff of the Flow Cytometry Core Laboratory of the Texas Children's Cancer and Hematology Center; P. Saha for excellent technical assistance; and E. Chomsky, E. Kiner and H. Sharim for help with scRNA-seq. This work was supported by grants and contracts from Alex's Lemonade Stand Foundation for Childhood Cancer, Kuur Therapeutics (to L.S.M. and A.H.), the American Cancer Society (to A.H.), Cookies for Kids' Cancer Foundation (to L.S.M.) and the Cancer Prevention and Research Institute of Texas (Baylor College of Medicine Comprehensive Cancer Center Training Program, RP160283, to H.N.).
Ethics declarations
Competing interests
A.H., A.N.C., G.D. and L.S.M are co-inventors on pending patent applications that relate to the use of NKT cells in cancer immunotherapy and have been licensed by Baylor College of Medicine to Kuur Therapeutics for commercial development. Kuur Therapeutics provided research support for this project (to L.S.M.) via a sponsored research agreement with Baylor College of Medicine. A.M., S.R., K.L., M.L., N.G., O.D., B.L., T.R.-S., C.N.C.-F., X.X., H.N., E.J.D.P. and B.S. declare no competing financial interests.
Additional information
Peer review information Saheli Sadanand was the primary editor on this article and managed its editorial process and peer review in collaboration with the rest of the editorial team.
Publisher's note Springer Nature remains neutral with regard to jurisdictional claims in published maps and institutional affiliations.
Supplementary information
Supplementary Tables 1, 2 and 4; Supplementary Figs. 1–5; and Clinical Protocol.
About this article
Cite this article
Heczey, A., Courtney, A.N., Montalbano, A. et al. Anti-GD2 CAR-NKT cells in patients with relapsed or refractory neuroblastoma: an interim analysis. Nat Med (2020). https://doi.org/10.1038/s41591-020-1074-2
Received:

Accepted:

Published: