Abstract
PD-1 blockade is highly effective in classical Hodgkin lymphomas (cHLs), which exhibit frequent copy-number gains of CD274 (PD-L1) and PDC1LG2 (PD-L2) on chromosome 9p24.1. However, in this largely MHC-class-I-negative tumor, the mechanism of action of anti-PD-1 therapy remains undefined. We utilized the complementary approaches of T cell receptor (TCR) sequencing and cytometry by time-of-flight analysis to obtain a peripheral immune signature of responsiveness to PD-1 blockade in 56 patients treated in the CheckMate 205 phase II clinical trial (NCT02181738). Anti-PD-1 therapy was most effective in patients with a diverse baseline TCR repertoire and an associated expansion of singleton clones during treatment. CD4+, but not CD8+, TCR diversity significantly increased during therapy, most strikingly in patients who had achieved complete responses. Additionally, patients who responded to therapy had an increased abundance of activated natural killer cells and a newly identified CD3−CD68+CD4+GrB+ subset. These studies highlight the roles of recently expanded, clonally diverse CD4+ T cells and innate effectors in the efficacy of PD-1 blockade in cHL.
Relevant articles
Open Access articles citing this article.
Natasja L. de Vries

,

Joris van de Haar

…

Emile E. Voest

Nature Open Access 11 January 2023

Kuang Du

,

Shiyou Wei

…

Gao Zhang

Nature Communications Open Access 15 October 2021

Marc A. Weniger

&

Ralf Küppers

Leukemia Open Access 08 March 2021
Access options
Subscribe to Nature+
Get immediate online access to Nature and 55 other Nature journal
Subscribe to Journal
Get full journal access for 1 year
$79.00
only $6.58 per issue
All prices are NET prices.
VAT will be added later in the checkout.
Tax calculation will be finalised during checkout.
Buy article
Get time limited or full article access on ReadCube.
$32.00
All prices are NET prices.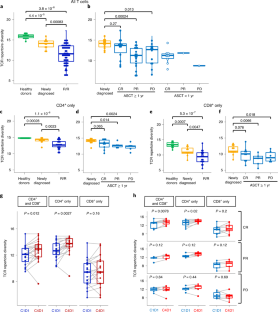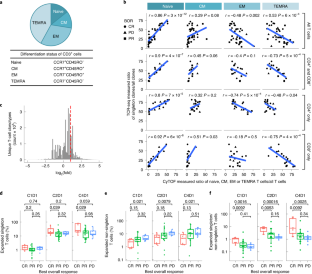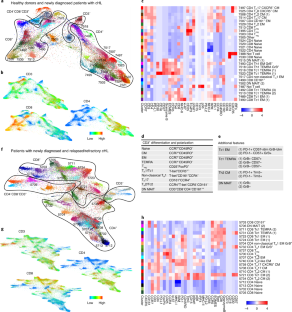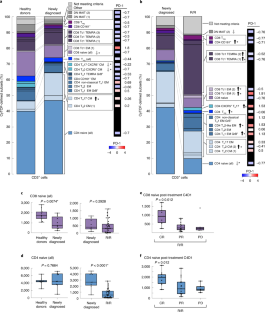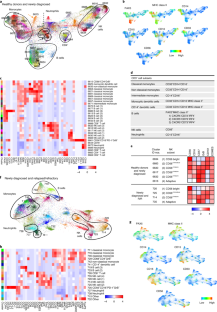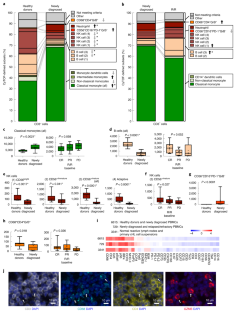 Code availability
CyTOF data was processed by VorteX (26 April 2018) and the output was processed by a custom R script. TCR-seq data was processed and analyzed by custom Python and R scripts. The code is available at https://github.com/huxihao/cHL-PBMC.
References
Mathas, S., Hartmann, S. & Kuppers, R. Hodgkin lymphoma: pathology and biology. Semin. Hematol. 53, 139–147 (2016).

Green, M. R. et al. Integrative analysis reveals selective 9p24.1 amplification, increased PD-1 ligand expression, and further induction via JAK2 in nodular sclerosing Hodgkin lymphoma and primary mediastinal large B-cell lymphoma. Blood 116, 3268–3277 (2010).

Roemer, M. G. et al. PD-L1 and PD-L2 genetic alterations define classical hodgkin lymphoma and predict outcome. J. Clin. Oncol. 34, 2690–2697 (2016).

Roemer, M. G. M. et al. Major histocompatibility complex class II and programmed death ligand 1 expression predict outcome after programmed death 1 blockade in classic hodgkin lymphoma. J. Clin. Oncol. 36, 942–950 (2018).

Wienand, K. et al. Genomic analyses of flow-sorted hodgkin reed-sternberg cells reveal complementary mechanisms of immune evasion. Blood Adv. 3, 4065–4080 (2019).

Wherry, E. J. & Kurachi, M. Molecular and cellular insights into T cell exhaustion. Nat. Rev. Immunol. 15, 486–499 (2015).

Ansell, S. M. et al. PD-1 blockade with nivolumab in relapsed or refractory Hodgkin's lymphoma. N. Engl. J. Med. 372, 311–319 (2015).

Armand, P. et al. Nivolumab for relapsed/refractory classic hodgkin lymphoma after failure of autologous hematopoietic cell transplantation: Extended follow-up of the multicohort single-arm phase II CheckMate 205 trial. J. Clin. Oncol. 36, 1428–1439 (2018).

Armand, P. et al. Programmed death-1 blockade with pembrolizumab in patients with classical hodgkin lymphoma after brentuximab vedotin failure. J. Clin. Oncol. 34, 3733–3739 (2016).

Chen, R. et al. Phase II study of the efficacy and safety of pembrolizumab for relapsed/refractory classic hodgkin lymphoma. J. Clin. Oncol. 35, 2125–2132 (2017).

Shi, Y. et al. Safety and activity of sintilimab in patients with relapsed or refractory classical Hodgkin lymphoma (ORIENT-1): a multicentre, single-arm, phase 2 trial. Lancet Haematol. 6, e12–e19 (2019).

Song, Y. et al. Treatment of relapsed or refractory classical Hodgkin lymphoma with the anti-PD-1, tislelizumab: results of a phase 2, single-arm, multicenter study. Leukemia 34, 533–542 (2020).

Song, Y. et al. A single-arm, multicenter, phase 2 study of camrelizumab in relapsed or refractory classical Hodgkin lymphoma. Clin. Cancer Res. 25, 7363–7369 (2019).

Merryman, R. W., Armand, P., Wright, K. T. & Rodig, S. J. Checkpoint blockade in Hodgkin and non-Hodgkin lymphoma. Blood Adv. 1, 2643–2654 (2017).

Ramchandren, R. et al. Nivolumab for newly diagnosed advanced-stage classic hodgkin lymphoma: safety and efficacy in the phase II CheckMate 205 study. J. Clin. Oncol. 37, 1997–2007 (2019).

Tumeh, P. C. et al. PD-1 blockade induces responses by inhibiting adaptive immune resistance. Nature 515, 568–571 (2014).

Im, S. J. et al. Defining CD8+ T cells that provide the proliferative burst after PD-1 therapy. Nature 537, 417–421 (2016).

Kamphorst, A. O. et al. Rescue of exhausted CD8 T cells by PD-1-targeted therapies is CD28-dependent. Science 355, 1423–1427 (2017).

Juneja, V. R. et al. PD-L1 on tumor cells is sufficient for immune evasion in immunogenic tumors and inhibits CD8 T cell cytotoxicity. J. Exp. Med. 214, 895–904 (2017).

Reichel, J. et al. Flow sorting and exome sequencing reveal the oncogenome of primary Hodgkin and Reed–Sternberg cells. Blood 125, 1061–1072 (2015).

Roemer, M. G. et al. Classical hodgkin lymphoma with reduced β2M/MHC class I expression is associated with inferior outcome independent of 9p24.1 status. Cancer Immunol. Res. 4, 910–916 (2016).

Johnson, D. B. et al. Melanoma-specific MHC-II expression represents a tumour-autonomous phenotype and predicts response to anti-PD-1/PD-L1 therapy. Nat. Commun. 7, 10582 (2016).

Kreiter, S. et al. Mutant MHC class II epitopes drive therapeutic immune responses to cancer. Nature 520, 692–696 (2015).

Linnemann, C. et al. High-throughput epitope discovery reveals frequent recognition of neo-antigens by CD4+ T cells in human melanoma. Nat. Med. 21, 81–85 (2015).

Ott, P. A. et al. An immunogenic personal neoantigen vaccine for patients with melanoma. Nature 547, 217–221 (2017).

Choi, I. K. et al. Signaling by the Epstein–Barr virus LMP1 protein induces potent cytotoxic CD4+ and CD8+ T cell responses. Proc. Natl Acad. Sci. USA 115, E686–E695 (2018).

Alspach, E. et al. MHC-II neoantigens shape tumour immunity and response to immunotherapy. Nature 574, 696–701 (2019).

Kanzler, H., Kuppers, R., Hansmann, M. L. & Rajewsky, K. Hodgkin and Reed–Sternberg cells in Hodgkin's disease represent the outgrowth of a dominant tumor clone derived from (crippled) germinal center B cells. J. Exp. Med. 184, 1495–1505 (1996).

Weniger, M. A. et al. Human CD30+ B cells represent a unique subset related to Hodgkin lymphoma cells. J. Clin. Invest. 128, 2996–3007 (2018).

Carey, C. D. et al. Topological analysis reveals a PD-L1-associated microenvironmental niche for Reed–Sternberg cells in Hodgkin lymphoma. Blood 130, 2420–2430 (2017).

Cader, F. Z. et al. Mass cytometry of Hodgkin lymphoma reveals a CD4+ regulatory T-cell-rich and exhausted T-effector microenvironment. Blood 132, 825–836 (2018).

Bakhru, P. et al. Combination central tolerance and peripheral checkpoint blockade unleashes antimelanoma immunity. JCI Insight 2, e93265 (2017).

Hogan, S. A. et al. Peripheral blood TCR repertoire profiling may facilitate patient stratification for immunotherapy against melanoma. Cancer Immunol. Res. 7, 77–85 (2019).

Jacquelot, N. et al. Predictors of responses to immune checkpoint blockade in advanced melanoma. Nat. Commun. 8, 592 (2017).

Krieg, C. et al. High-dimensional single-cell analysis predicts response to anti-PD-1 immunotherapy. Nat. Med. 24, 144–153 (2018).

Manjarrez-Orduno, N. et al. Circulating T cell subpopulations correlate with immune responses at the tumor site and clinical response to PD1 inhibition in non-small cell lung cancer. Front Immunol. 9, 1613 (2018).

Spitzer, M. H. et al. Systemic immunity is required for effective cancer immunotherapy. Cell 168, 487–502 (2017).

Zuazo, M. et al. Functional systemic CD4 immunity is required for clinical responses to PD-L1/PD-1 blockade therapy. EMBO Mol. Med 11, e10293 (2019).

Mackall, C. L. T-cell immunodeficiency following cytotoxic antineoplastic therapy: a review. Stem Cells 18, 10–18 (2000).

Glowala-Kosinska, M. et al. Thymic activity and T cell repertoire recovery after autologous hematopoietic stem cell transplantation preceded by myeloablative radiotherapy or chemotherapy. Biol. Blood Marrow Transpl. 22, 834–842 (2016).

Ljungman, P. et al. Vaccination of hematopoietic cell transplant recipients. Bone Marrow Transpl. 44, 521–526 (2009).

Samusik, N., Good, Z., Spitzer, M. H., Davis, K. L. & Nolan, G. P. Automated mapping of phenotype space with single-cell data. Nat. Methods 13, 493–496 (2016).

Godfrey, D. I., Koay, H. F., McCluskey, J. & Gherardin, N. A. The biology and functional importance of MAIT cells. Nat. Immunol. 20, 1110–1128 (2019).

Pillay, J., Tak, T., Kamp, V. M. & Koenderman, L. Immune suppression by neutrophils and granulocytic myeloid-derived suppressor cells: similarities and differences. Cell. Mol. Life Sci. 70, 3813–3827 (2013).

Freud, A. G., Mundy-Bosse, B. L., Yu, J. & Caligiuri, M. A. The broad spectrum of human natural killer cell diversity. Immunity 47, 820–833 (2017).

Vari, F. et al. Immune evasion via PD-1/PD-L1 on NK cells and monocyte/macrophages is more prominent in Hodgkin lymphoma than DLBCL. Blood 131, 1809–1819 (2018).

Pauken, K. E. et al. Epigenetic stability of exhausted T cells limits durability of reinvigoration by PD-1 blockade. Science 354, 1160–1165 (2016).

Sen, D. R. et al. The epigenetic landscape of T cell exhaustion. Science 354, 1165–1169 (2016).

Kurtulus, S. et al. Checkpoint blockade immunotherapy induces dynamic changes in PD-1–CD8+ tumor-infiltrating T cells. Immunity 50, 181–194 e186 (2019).

Siddiqui, I. et al. Intratumoral Tcf1+PD-1+CD8+ T cells with stem-like properties promote tumor control in response to vaccination and checkpoint blockade immunotherapy. Immunity 50, 195–211 e110 (2019).

Miller, B. C. et al. Subsets of exhausted CD8+ T cells differentially mediate tumor control and respond to checkpoint blockade. Nat. Immunol. 20, 326–336 (2019).

Sade-Feldman, M. et al. Defining T cell states associated with response to checkpoint immunotherapy in melanoma. Cell 175, 998–1013 e1020 (2018).

Acharya, N. & Anderson, A. C. New clones on the block. Immunity 51, 606–608 (2019).

Yost, K. E. et al. Clonal replacement of tumor-specific T cells following PD-1 blockade. Nat. Med. 25, 1251–1259 (2019).

Perez-Diez, A. et al. CD4 cells can be more efficient at tumor rejection than CD8 cells. Blood 109, 5346–5354 (2007).

Porichis, F. et al. Immune checkpoint blockade restores HIV-specific CD4 T cell help for NK cells. J. Immunol. 201, 971–981 (2018).

Barry, K. C. et al. A natural killer-dendritic cell axis defines checkpoint therapy-responsive tumor microenvironments. Nat. Med. 24, 1178–1191 (2018).

Elavazhagan, S. et al. Granzyme B expression is enhanced in human monocytes by TLR8 agonists and contributes to antibody-dependent cellular cytotoxicity. J. Immunol. 194, 2786–2795 (2015).

Hu, X. et al. Landscape of B cell immunity and related immune evasion in human cancers. Nat. Genet. 51, 560–567 (2019).

Carlson, C. S. et al. Using synthetic templates to design an unbiased multiplex PCR assay. Nat. Commun. 4, 2680 (2013).

Rempala, G. A. & Seweryn, M. Methods for diversity and overlap analysis in T-cell receptor populations. J. Math. Biol. 67, 1339–1368 (2013).

Cuzick, J. A Wilcoxon-type test for trend. Stat. Med. 4, 87–90 (1985).

Benjamini, Y. & Hochberg, Y. Controlling the false discovery rate: a practical and powerful approach to multiple testing. J. R. Stat. Soc. 57, 289–300 (1995).

Keskin, D. B. et al. Neoantigen vaccine generates intratumoral T cell responses in phase Ib glioblastoma trial. Nature 565, 234–239 (2019).
Acknowledgements
This work was supported in part by Bloodwise Fellowship 14042 and a Helen Gurley Brown Fellowship (F.Z.C.), a R01 CA161026 (M.A.S.), the Miller Family Fund (M.A.S.), the BMS International Immuno-Oncology Network (M.A.S. and S.J.R.) and a R01 CA234018 (X.S.L.). The authors thank L. Boyne (Dana-Farber Cancer Institute) for providing editorial assistance.
Ethics declarations
Competing interests
After completing the current studies at DFCI, F.Z.C. and X.H. became full-time employees at Astra Zeneca and GV20, respectively. P.A. consults for Merck, Bristol Myers Squibb (BMS), Pfizer, Affimed, Adaptive, Infinity, ADC Therapeutics and Celgene and receives institutional research funding from Merck, BMS, Affimed, Adaptive, Roche, Tensha, Otsuka, Sigma Tau, Genentech and IGM and honoraria from Merck and BMS. S.J.R. has received research funding from BMS, Merck, Affimed and Kite/Gilead. X.S.L. is a cofounder and board member of GV20 Oncotherapy, SAB of 3DMedCare, consultant for Genentech, and stockholder of BMY, TMO, WBA, ABT, ABBV, and JNJ. X.S.L. has received funding from Takeda and Sanofi. M.A.S. has received research funding from BMS, Merck and Bayer and has served on advisory boards for BMS and Celgene. The remaining authors declare no competing financial interests.
Additional information
Peer review information Saheli Sadanand was the primary editor on this article and managed its editorial process and peer review in collaboration with the rest of the editorial team.
Publisher's note Springer Nature remains neutral with regard to jurisdictional claims in published maps and institutional affiliations.
Supplementary information
About this article
Cite this article
Cader, F.Z., Hu, X., Goh, W.L. et al. A peripheral immune signature of responsiveness to PD-1 blockade in patients with classical Hodgkin lymphoma. Nat Med 26, 1468–1479 (2020). https://doi.org/10.1038/s41591-020-1006-1
Received:

Accepted:

Published:

Issue Date:

DOI: https://doi.org/10.1038/s41591-020-1006-1