Abstract
An increasing fraction of patients with metastatic cancer develop leptomeningeal dissemination of disease (LMD), and survival is dismal1,2,3. We conducted a single-arm, phase 2 study of pembrolizumab in patients with solid tumor malignancies and LMD (NCT02886585). Patients received 200 mg of pembrolizumab intravenously every 3 weeks until definitive progression or unacceptable toxicity. The primary endpoint was rate of overall survival at 3 months (OS3). Secondary objectives included toxicity, response rate and time to intracranial or extracranial disease progression. A Simon two-stage design was used to compare a null hypothesis OS3 of 18% against an alternative of 43%. Twenty patients—17 with breast cancer, two with lung cancer and one with ovarian cancer—were enrolled into the pre-specified evaluation group having received at least one dose of pembrolizumab. The median follow-up of surviving patients was 6.3 months (range, 2.2–12.5 months). The percentage of patients who experienced one (or more) grade 3 or higher adverse events at least possibly related to treatment was 40%, the most frequent being hyperglycemia (n = 6), nausea (n = 7) and vomiting (n = 7). The study met the primary endpoint, as 12 of 20 (OS3, 0.60; 90% confidence interval, 0.39–0.78) patients were alive at 3 months after enrollment. Pembrolizumab is safe and feasible and displays promising activity in patients with LMD. Further investigations are needed to identify which patients with LMD can benefit from pembrolizumab.
Relevant articles
Open Access articles citing this article.
Jessica A. Wilcox

,

Min Jun Li

&

Adrienne A. Boire

Neurotherapeutics Open Access 05 July 2022

Mei-Mei Zheng

,

Yang-Si Li

…

Yi-Long Wu

BMC Medicine Open Access 30 May 2022

Silvia Hofer

&

Emilie Le Rhun

memo - Magazine of European Medical Oncology Open Access 16 March 2021
Access options
Subscribe to Nature+
Get immediate online access to Nature and 55 other Nature journal
Subscribe to Journal
Get full journal access for 1 year
$79.00
only $6.58 per issue
All prices are NET prices.
VAT will be added later in the checkout.
Tax calculation will be finalised during checkout.
Buy article
Get time limited or full article access on ReadCube.
$32.00
All prices are NET prices.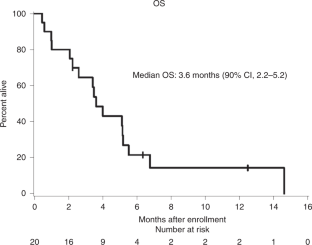 Data availability
Any requests for raw and analyzed data will be reviewed by the Dana-Farber/Harvard Cancer Center institutional review board. Patient-related data not included in the paper were generated as part of a clinical trial and are subject to patient confidentiality. Any data and materials (for example, tissue samples or imaging data) that can be shared will need approval from the Dana-Farber/Harvard Cancer Center institutional review board and a Material Transfer Agreement in place. All data shared will be de-identified.
References
Brastianos, P.K., Brastianos, H. & Eichler, A.F. Leptomeningeal carcinomatosis. in Central Nervous System Metastasis, the Biological Basis and Clinical Consideraiton (ed. Palmieri, D.) 187–201 (Springer, 2013).

Le Rhun, E. et al. Diagnosis and treatment patterns for patients with leptomeningeal metastasis from solid tumors across Europe. J. Neurooncol. 133, 419–427 (2017).

Wang, N., Bertalan, M. S. & Brastianos, P. K. Leptomeningeal metastasis from systemic cancer: review and update on management. Cancer 124, 21–35 (2018).

Grossman, S. A. et al. Randomized prospective comparison of intraventricular methotrexate and thiotepa in patients with previously untreated neoplastic meningitis. Eastern Cooperative Oncology Group. J. Clin. Oncol. 11, 561–569 (1993).

Ongerboer de Visser, B. W. et al. Intraventricular methotrexate therapy of leptomeningeal metastasis from breast carcinoma. Neurology 33, 1565–1572 (1983).

Grossman, S. A. & Krabak, M. J. Leptomeningeal carcinomatosis. Cancer Treat. Rev. 25, 103–119 (1999).

Little, J. R., Dale, A. J. & Okazaki, H. Meningeal carcinomatosis. Clinical manifestations. Arch. Neurol. 30, 138–143 (1974).

Lara-Medina, F. et al. Clinical features and prognostic factors in patients with carcinomatous meningitis secondary to breast cancer. Breast J. 18, 233–241 (2012).

Chamberlain, M. C. Neurotoxicity of intra-CSF liposomal cytarabine (DepoCyt) administered for the treatment of leptomeningeal metastases: a retrospective case series. J. Neurooncol. 109, 143–148 (2012).

Chuang, T. Y., Yu, C. J., Shih, J. Y., Yang, P. C. & Kuo, S. H. Cytologically proven meningeal carcinomatosis in patients with lung cancer: clinical observation of 34 cases. J. Formos. Med. Assoc. 107, 851–856 (2008).

Clamon, G. & Doebbeling, B. Meningeal carcinomatosis from breast cancer: spinal cord vs. brain involvement. Breast Cancer Res. Treat. 9, 213–217 (1987).

Boyle, R., Thomas, M. & Adams, J. H. Diffuse involvement of the leptomeninges by tumour–a clinical and pathological study of 63 cases. Postgrad. Med. J. 56, 149–158 (1980).

Rosen, S. T. et al. Carcinomatous leptomeningitis in small cell lung cancer: a clinicopathologic review of the National Cancer Institute experience. Medicine 61, 45–53 (1982).

El Shafie, R. A. et al. Palliative radiotherapy for leptomeningeal carcinomatosis-analysis of outcome, prognostic factors, and symptom response. Front. Oncol. 8, 641 (2018).

Glantz, M. J. et al. A randomized controlled trial comparing intrathecal sustained-release cytarabine (DepoCyt) to intrathecal methotrexate in patients with neoplastic meningitis from solid tumors. Clin. Cancer Res. 5, 3394–3402 (1999).

Long, G. V. et al. Combination nivolumab and ipilimumab or nivolumab alone in melanoma brain metastases: a multicentre randomised phase 2 study. Lancet Oncol. 19, 672–681 (2018).

Margolin, K. et al. Ipilimumab in patients with melanoma and brain metastases: an open-label, phase 2 trial. Lancet Oncol. 13, 459–465 (2012).

Tawbi, H. A. et al. Combined nivolumab and ipilimumab in melanoma metastatic to the brain. N. Engl. J. Med. 379, 722–730 (2018).

Goldberg, S. B. et al. Pembrolizumab for patients with melanoma or non-small-cell lung cancer and untreated brain metastases: early analysis of a non-randomised, open-label, phase 2 trial. Lancet Oncol. 17, 976–983 (2016).

Wasserstrom, W. R., Glass, J. P. & Posner, J. B. Diagnosis and treatment of leptomeningeal metastases from solid tumors: experience with 90 patients. Cancer 49, 759–772 (1982).

Okada, H. et al. Immunotherapy response assessment in neuro-oncology: a report of the RANO working group. Lancet Oncol. 16, e534–e542 (2015).

Schmid, P. et al. Atezolizumab and nab-paclitaxel in advanced triple-negative breast cancer. N. Engl. J. Med. 379, 2108–2121 (2018).

Dirix, L. Y. et al. Avelumab, an anti-PD-L1 antibody, in patients with locally advanced or metastatic breast cancer: a phase 1b JAVELIN Solid Tumor study. Breast Cancer Res. Treat. 167, 671–686 (2018).

Duchnowska, R. et al. Immune response in breast cancer brain metastases and their microenvironment: the role of the PD-1/PD-L axis. Breast Cancer Res. 18, 43 (2016).

Chamberlain, M. C. Leptomeningeal metastasis. Semin. Neurol. 30, 236–244 (2010).

Gani, C. et al. Outcome after whole brain radiotherapy alone in intracranial leptomeningeal carcinomatosis from solid tumors. Strahlenther. Onkol. 188, 148–153 (2012).

Waki, F. et al. Prognostic factors and clinical outcomes in patients with leptomeningeal metastasis from solid tumors. J. Neurooncol. 93, 205–212 (2009).

Hendriks, L. E. L. et al. Survival of patients with non-small cell lung cancer having leptomeningeal metastases treated with immune checkpoint inhibitors. Eur. J. Cancer 116, 182–189 (2019).
Acknowledgements
Funding was provided by the Melanoma Research Alliance, the Breast Cancer Research Foundation, Merck and the Massachusetts General Hospital. P.K.B. and S.L.C. are supported by the National Cancer Institute (1R01CA227156-01, 5R21CA220253-02 and 1R01CA244975-01). P.K.B. is also currently supported by the Damon Runyon Cancer Research Foundation and has previously received funding from the Susan G. Komen Foundation, the American Brain Tumor Association, the Terri Brodeur Breast Cancer Foundation and the Conquer Cancer Foundation. We also thank the patients and their families for contributing to research efforts.
Ethics declarations
Competing interests
P.K.B. has consulted for Tesaro, Angiochem, Genentech-Roche, ElevateBio and Eli Lilly, has received institutional research funding (to Massachusetts General Hospital) from Merck, Eli Lilly, BMS and Pfizer and has received honoraria from Merck and Genentech-Roche. J.C. has received consulting fees from Sanofi-Genzyme and BMS. D.P.C. has consulted for Eli Lilly and Boston Pharmaceuticals and has received travel and speaking fees from Merck. S.M.T. receives institutional research funding from Novartis, Genentech, Eli Lilly, Pfizer, Merck, Exelixis, Eisai, Bristol Meyers Squibb, AstraZeneca, Cyclacel, Immunomedics, Odenate and Nektar. S.M.T. has served as an advisor and consultant to Novartis, Eli Lilly, Pfizer, Merck, AstraZeneca, Eisai, Puma, Genentech, Immunomedics, Nektar, Tesaro, Daiichi Sankyo, Athenex, Sanofi, Bristol Meyers Squibb and Nanostring. N.U.L. has received institutional research funding from Seattle Genetics, Genentech, Merck and Pfizer. N.U.L. has also served on an advistory board or consulted for PUMA Biotechnology, Seattle Genetics and Daichii Sankyo. R.J.S. has received research funding from Amgen and Merck and has served as a paid consultant and/or been on an advisory board for Array BioPharma, Amgen, Asan Biosciences, BMS, Compugen, Genentech, Merck, Novartis and Replimmune. E.Q.L. has received royalties from Wolters Kluwers (UpToDate, Inc) and has consulted for Eli Lilly. B.M. has received institutional research funding from PUMA Biotechnology. D.A.F. is an Eli Lilly shareholder. I.K. has received personal fees for being a member of a Merck DSMC, has received research funding from Genentech and Pfizer and has served as a paid consultant and/or been on an advisory board for Genentech, Bristol Meyers Squibb, Daiichi/Sankyo, Macrogenics and AstraZeneca. T.T.B. is on the Scientific Advisory Board for Genomicare. M.D.W. is a consultant at Boston Pharmaceuticals. Dana-Farber Cancer Institute has a financial interest in pembrolizumab and has taken steps to manage any actual or potential conflict of interest created by this financial interest, which was described in the information sheet available to all participants in this study.
Additional information
Peer review information Saheli Sadanand was the primary editor on this article and managed its editorial process and peer review in collaboration with the rest of the editorial team.
Publisher's note Springer Nature remains neutral with regard to jurisdictional claims in published maps and institutional affiliations.
Supplementary information
Consort Checklist Clinical Protocol Document
About this article
Cite this article
Brastianos, P.K., Lee, E.Q., Cohen, J.V. et al. Single-arm, open-label phase 2 trial of pembrolizumab in patients with leptomeningeal carcinomatosis. Nat Med 26, 1280–1284 (2020). https://doi.org/10.1038/s41591-020-0918-0
Received:

Accepted:

Published:

Issue Date:

DOI: https://doi.org/10.1038/s41591-020-0918-0