A machine-learning model can predict differences between people in how they respond to meals.
Access options
Subscribe to Journal
Get full journal access for 1 year
$225.00
only $18.75 per issue
All prices are NET prices.
VAT will be added later in the checkout.
Rent or Buy article
Get time limited or full article access on ReadCube.
from$8.99
All prices are NET prices.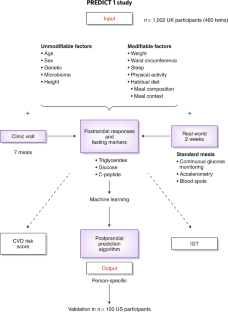 References
1.

Berry, S. et al. Nat. Med. https://doi.org/10.1038/s41591-020-0934-0 (2020).

2.

Temelkova-Kurktschiev, T. S. et al. Diabetes Care 23, 1830–1834 (2000).

3.

Nordestgaard, B. G. & Varbo, A. Lancet 384, 626–635 (2014).

4.

Zeevi, D. et al. Cell 163, 1079–1094 (2015).

5.

Bao, J., Atkinson, F., Petocz, P., Willett, W. C. & Brand-Miller, J. C. Am. J. Clin. Nutr. 93, 984–996 (2011).

6.

Buyken, A. E., Mitchell, P., Ceriello, A. & Brand-Miller, J. Diabetologia 53, 406–418 (2010).

7.

Wycherley, T. P., Moran, L. J., Clifton, P. M., Noakes, M. & Brinkworth, G. D. Am. J. Clin. Nutr. 96, 1281–1298 (2012).

8.

Zafar, M. I. et al. Am. J. Clin. Nutr. 110, 891–902 (2019).

9.

Livesey, G. et al. Nutrients 11, 1280 (2019).

10.

Livesey, G. & Livesey, H. Quality & Outcomes 3, 52–69 (2019).

11.

Celis-Morales, C. et al. Int. J. Epidemiol. 46, 578–588 (2017).

12.

Ordovas, J. M., Ferguson, L. R., Tai, E. S. & Mathers, J. C. Br. Med. J. 361, bmj.k2173 (2018).
Ethics declarations
Competing interests
J.B.-M. is the co-author of books about nutrition and the glycemic index of foods; is the president of the Glycemic Index Foundation, a not-for-profit food endorsement program; and oversees a glycemic index testing service at the University of Sydney. J.B.-M. and A.B. are a members of the International Carbohydrate Quality Consortium, and A.B. is a member of the Carbohydrate Task Force, ILSI Europe.
About this article
Cite this article
Brand-Miller, J., Buyken, A. Mapping postprandial responses sets the scene for targeted dietary advice. Nat Med 26, 828–830 (2020). https://doi.org/10.1038/s41591-020-0909-1