Abstract
The prognosis of colon cancer (CC) is dictated by tumor-infiltrating lymphocytes, including follicular helper T (TFH) cells and the efficacy of chemotherapy-induced immune responses. It remains unclear whether gut microbes contribute to the elicitation of TFH cell-driven responses. Here, we show that the ileal microbiota dictates tolerogenic versus immunogenic cell death of ileal intestinal epithelial cells (IECs) and the accumulation of TFH cells in patients with CC and mice. Suppression of IEC apoptosis led to compromised chemotherapy-induced immunosurveillance against CC in mice. Protective immune responses against CC were associated with residence of Bacteroides fragilis and Erysipelotrichaceae in the ileum. In the presence of these commensals, apoptotic ileal IECs elicited PD-1+ TFH cells in an interleukin-1R1- and interleukin-12-dependent manner. The ileal microbiome governed the efficacy of chemotherapy and PD-1 blockade in CC independently of microsatellite instability. These findings demonstrate that immunogenic ileal apoptosis contributes to the prognosis of chemotherapy-treated CC.
Relevant articles
Open Access articles citing this article.
Hebin Che

,

Qi Xiong

…

Baicun Hou

BMC Cancer Open Access 19 August 2022

Namjoo Kim

,

Jeong-An Gim

…

Chungyeul Kim

Scientific Reports Open Access 04 August 2022
Access options
Access Nature and 54 other Nature Portfolio journals
Get Nature+, our best-value online-access subscription
$29.99 per month
cancel any time
Subscribe to this journal
Receive 12 print issues and online access
$189.00 per year
only $15.75 per issue
Rent or buy this article
Get just this article for as long as you need it
$39.95
Prices may be subject to local taxes which are calculated during checkout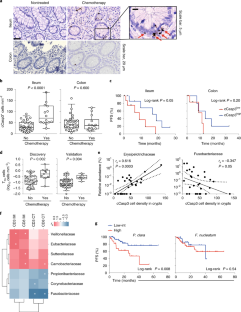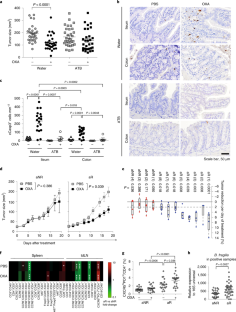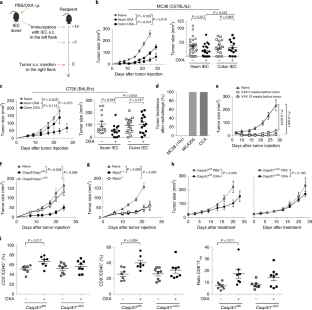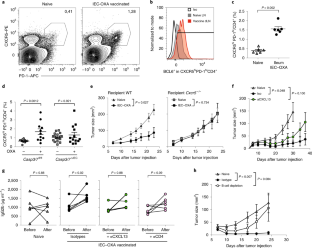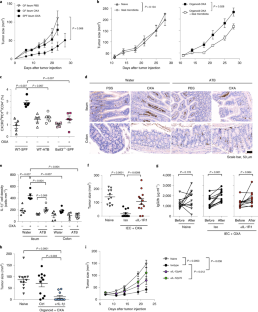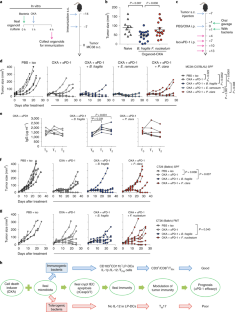 Data availability
All raw sequencing data and de-aggregated and de-identified patient and mouse metadata can be found at the NCBI Sequence Read Archive (https://www.ncbi.nlm.nih.gov/bioproject or https://www.ncbi.nlm.nih.gov/sra/) under accession number PRJNA478491 (Ileal Apoptosis and Microbiome Shape Immunosurveillance and Prognosis of Proximal Colon Cancer).
All BioSample (PATIENTS_Metadata.csv, MICE_Metadata.csv) and Run Metadata files (PATIENTS_Run.csv, MICE_Run.csv) are also provided in Supplementary Dataset 1 to ease metadata availability.
References
Sears, C. L. & Garrett, W. S. Microbes, microbiota, and colon cancer. Cell Host Microbe 15, 317–328 (2014).

Geis, A. L. et al. Regulatory T cell response to enterotoxigenic Bacteroides fragilis colonization triggers IL-17-dependent colon carcinogenesis. Cancer Discov. 5, 1098–1109 (2015).

Irrazábal, T., Belcheva, A., Girardin, S. E., Martin, A. & Philpott, D. J. The multifaceted role of the intestinal microbiota in colon cancer. Mol. Cell 54, 309–320 (2014).

Belcheva, A. & Martin, A. Gut microbiota and colon cancer: the carbohydrate link. Mol. Cell Oncol. 2, e969630 (2015).

Chen, W., Liu, F., Ling, Z., Tong, X. & Xiang, C. Human intestinal lumen and mucosa-associated microbiota in patients with colorectal cancer. PloS ONE 7, e39743 (2012).

Geng, J., Fan, H., Tang, X., Zhai, H. & Zhang, Z. Diversified pattern of the human colorectal cancer microbiome. Gut Pathog. 5, 2 (2013).

Nakatsu, G. et al. Gut mucosal microbiome across stages of colorectal carcinogenesis. Nat. Commun. 6, 8727 (2015).

Saffarian, A. et al. Crypt- and mucosa-associated core microbiotas in humans and their alteration in colon cancer patients. mBio 10, e01315 (2019).

Pagès, F. et al. Effector memory T cells, early metastasis, and survival in colorectal cancer. N. Engl. J. Med. 353, 2654–2666 (2005).

Pagès, F. et al. International validation of the consensus Immunoscore for the classification of colon cancer: a prognostic and accuracy study. Lancet 391, 2128–2139 (2018).

Mlecnik, B. et al. Histopathologic-based prognostic factors of colorectal cancers are associated with the state of the local immune reaction. J. Clin. Oncol. 29, 610–618 (2011).

Bindea, G. et al. Spatiotemporal dynamics of intratumoral immune cells reveal the immune landscape in human cancer. Immunity 39, 782–795 (2013).

Alexander, J. et al. Histopathological identification of colon cancer with microsatellite instability. Am. J. Pathol. 158, 527–535 (2001).

Ogino, S. et al. Lymphocytic reaction to colorectal cancer is associated with longer survival, independent of lymph node count, microsatellite instability, and CpG island methylator phenotype. Clin. Cancer Res. 15, 6412–6420 (2009).

Shia, J. et al. Value of histopathology in predicting microsatellite instability in hereditary nonpolyposis colorectal cancer and sporadic colorectal cancer. Am. J. Surg. Pathol. 27, 1407–1417 (2003).

Tougeron, D. et al. Tumor-infiltrating lymphocytes in colorectal cancers with microsatellite instability are correlated with the number and spectrum of frameshift mutations. Mod. Pathol. 22, 1186–1195 (2009).

Le, D. T. et al. PD-1 blockade in tumors with mismatch-repair deficiency. N. Engl. J. Med. 372, 2509–2520 (2015).

Nosho, K. et al. Tumour-infiltrating T cell subsets, molecular changes in colorectal cancer, and prognosis: cohort study and literature review. J. Pathol. 222, 350–366 (2010).

Salama, P. et al. Tumor-infiltrating FOXP3+ T regulatory cells show strong prognostic significance in colorectal cancer. J. Clin. Oncol. 27, 186–192 (2009).

Shahda, S. et al. A phase II study of pembrolizumab in combination with mFOLFOX6 for patients with advanced colorectal cancer. J. Clin. Oncol. 35, 3541–3541 (2017).

Nigro, G., Rossi, R., Commere, P.-H., Jay, P. & Sansonetti, P. J. The cytosolic bacterial peptidoglycan sensor Nod2 affords stem cell protection and links microbes to gut epithelial regeneration. Cell Host Microbe 15, 792–798 (2014).

van Vliet, M. J., Harmsen, H. J. M., de Bont, E. S. J. M. & Tissing, W. J. E. The role of intestinal microbiota in the development and severity of chemotherapy-induced mucositis. PLoS Pathog. 6, e1000879 (2010).

Purcell, R. V., Visnovska, M., Biggs, P. J., Schmeier, S. & Frizelle, F. A. Distinct gut microbiome patterns associate with consensus molecular subtypes of colorectal cancer. Sci. Rep. 7, 11590 (2017).

Thomas, A. M. et al. Metagenomic analysis of colorectal cancer datasets identifies cross-cohort microbial diagnostic signatures and a link with choline degradation. Nat. Med. 25, 667–678 (2019).

Yadav, M. et al. Predicting immunogenic tumour mutations by combining mass spectrometry and exome sequencing. Nature 515, 572–576 (2014).

Routy, B. et al. The gut microbiota influences anticancer immunosurveillance and general health. Nat. Rev. Clin. Oncol. 15, 382–396 (2018).

Castle, J. C. et al. Immunomic, genomic and transcriptomic characterization of CT26 colorectal carcinoma. BMC Genomics 15, 190 (2014).

Germano, G. et al. Inactivation of DNA repair triggers neoantigen generation and impairs tumour growth. Nature 552, 116–120 (2017).

Hollister, K. et al. Insights into the role of Bcl6 in follicular helper T cells using a new conditional mutant mouse model. J. Immunol. 191, 2013 (1950).

Ueno, H., Banchereau, J. & Vinuesa, C. G. Pathophysiology of T follicular helper cells in humans and mice. Nat. Immunol. 16, 142–152 (2015).

Barbet, G. et al. Sensing microbial viability through bacterial RNA augments T follicular helper cell and antibody responses. Immunity 48, 584–598 (2018).

Ugolini, M. et al. Recognition of microbial viability via TLR8 drives TFH cell differentiation and vaccine responses. Nat. Immunol. 19, 386–396 (2018).

Gu-Trantien, C. et al. CD4+ follicular helper T cell infiltration predicts breast cancer survival. J. Clin. Invest. 123, 2873–2892 (2013).

Stoll, G., Pol, J., Soumelis, V., Zitvogel, L. & Kroemer, G. Impact of chemotactic factors and receptors on the cancer immune infiltrate: a bioinformatics study revealing homogeneity and heterogeneity among patient cohorts. Oncoimmunology 7, e1484980 (2018).

Tosolini, M. et al. Clinical impact of different classes of infiltrating T cytotoxic and helper cells (Th1, Th2, Treg, Th17) in patients with colorectal cancer. Cancer Res. 71, 1263–1271 (2011).

Lereclus, E. et al. A possible association of baseline serum IL-17A concentrations with progression-free survival of metastatic colorectal cancer patients treated with a bevacizumab-based regimen. BMC Cancer 17, 220 (2017).

Pardi, N. et al. Nucleoside-modified mRNA vaccines induce potent T follicular helper and germinal center B cell responses. J. Exp. Med. 215, 1571–1588 (2018).

Cárdeno, A., Magnusson, M. K., Quiding-Järbrink, M. & Lundgren, A. Activated T follicular helper-like cells are released into blood after oral vaccination and correlate with vaccine specific mucosal B cell memory. Sci. Rep. 8, 2729 (2018).

Hollern, D. P. et al. B cells and T follicular helper cells mediate response to checkpoint inhibitors in high mutation burden mouse models of breast. Cancer Cell 179, e21 (2019).

Luna Coronell, J. A. et al. The immunome of colon cancer: functional in silico analysis of antigenic proteins deduced from IgG microarray profiling. Genomics Proteom. Bioinform. 16, 73–84 (2018).

Wang, H.-F. et al. Evaluation of antibody level against Fusobacterium nucleatum in the serological diagnosis of colorectal cancer. Sci. Rep. 6, 33440 (2016).

Liu, Z. & Lefrançois, L. Intestinal epithelial antigen induces mucosal CD8+ T cell tolerance, activation, and inflammatory response. J. Immunol. 173, 4324–4330 (2004).

Snook, A. E. et al. Lineage-specific T cell responses to cancer mucosa antigen oppose systemic metastases without mucosal inflammatory disease. Cancer Res. 69, 3537–3544 (2009).

Ziegler, P. K. et al. Mitophagy in intestinal epithelial cells triggers adaptive immunity during tumorigenesis. Cell 174, 88–101 (2018).

Junttila, M. R. et al. Targeting LGR5+ cells with an antibody-drug conjugate for the treatment of colon cancer. Sci. Transl. Med. 7, 314 (2015).

Tao, Y. et al. Targeting of DDR1 with antibody‐drug conjugates has antitumor effects in a mouse model of colon carcinoma. Mol. Oncol. 13, 1855–1873 (2019).

Rizvi, S. et al. YAP-associated chromosomal instability and cholangiocarcinoma in mice. Oncotarget 9, 5892–5905 (2018).

Barker, N. et al. Identification of stem cells in small intestine and colon by marker gene Lgr5. Nature 449, 1003–1007 (2007).

Förster, R. et al. A putative chemokine receptor, BLR1, directs B cell migration to defined lymphoid organs and specific anatomic compartments of the spleen. Cell 87, 1037–1047 (1996).

Hildner, K. et al. Batf3 deficiency reveals a critical role for CD8a+ dendritic cells in cytotoxic T cell. Immunity 322, 5 (2008).

Rodríguez, C. I. et al. High-efficiency deleter mice show that FLPe is an alternative to Cre-loxP. Nat. Genet. 25, 139–140 (2000).

Madison, B. B. et al. Cis elements of the villin gene control expression in restricted domains of the vertical (crypt) and horizontal (duodenum, cecum) axes of the intestine. J. Biol. Chem. 277, 33275–33283 (2002).

Keren, Z. et al. B cell depletion reactivates B lymphopoiesis in the BM and rejuvenates the B lineage in aging. Blood 117, 3104–3112 (2011).

Sato, T. et al. Single Lgr5 stem cells build crypt-villus structures in vitro without a mesenchymal niche. Nature 459, 262–265 (2009).

Lehmann, C. H. K. et al. DC subset-specific induction of T cell responses upon antigen uptake via Fcγ receptors in vivo. J. Exp. Med. 214, 1509–1528 (2017).

Bankhead, P. et al. QuPath: open source software for digital pathology image analysis. Sci. Rep. 7, 16878 (2017).

Lagier, J.-C. et al. The rebirth of culture in microbiology through the example of culturomics to study human gut microbiota. Clin. Microbiol. Rev. 28, 237–264 (2015).

Lagier, J.-C. et al. Culture of previously uncultured members of the human gut microbiota by culturomics. Nat. Microbiol. 1, 16203 (2016).

Seng, P. et al. Ongoing revolution in bacteriology: routine identification of bacteria by matrix-assisted laser desorption ionization time-of-flight mass spectrometry. Clin. Infect. Dis. 49, 543–551 (2009).

Enot, D. P., Vacchelli, E., Jacquelot, N., Zitvogel, L. & Kroemer, G. TumGrowth: an open access web tool for the statistical analysis of tumor growth curves. Oncoimmunology 7, e1462431 (2018).
Acknowledgements
We thank the animal facility team at Gustave Roussy. We thank technicians and pathologists from Centre GF Leclerc: L. Guyard, L. Arnould and S. Ladoire. We thank S. Brutin, A. Paci, M. Vétizou, T. Yamazaki, J.-E. Fahrner and A. G. Goubet for technical assistance. We thank D. Goere, R. Bonnet, P. Sauvanet, D. Pezet, J. Gagnière, F. Pagani and A. Martinetti for helping with human samples collection. We thank M. Merad, for scientific advice. We thank R. Förster (Institut für Immunologie) and J. A. Harker (Imperial College) for providing knockout models. L.Z. and G.K. were supported by the Ligue Contre le Cancer (Equipe Labelisée); Agence Nationale de la Recherche (ANR) Francogermanique ANR-19-CE15-0029, ANR Projets blancs; ANR under the frame of E-Rare-2, the ERA-Net for Research on Rare Diseases; Association pour la Recherche sur le Cancer; BMS Foundation, Cancéropôle Ile-de-France; Chancelerie des Universités de Paris (Legs Poix), Fondation pour la Recherche Médicale; a donation by Elior; the European Commission (ArtForce); the European Research Council; Fondation Carrefour; Institut National du Cancer; Inserm; Institut Universitaire de France; LeDucq Foundation; the LabEx Immuno-Oncology; the RHU Torino Lumière (ANR-16-RHUS-0008); H2020 ONCOBIOME, the Seerave Foundation; the SIRIC Stratified Oncology Cell DNA Repair and Tumor Immune Elimination; the SIRIC Cancer Research and Personalized Medicine (CARPEM); FHU CARE, Dassault and Badinter Philantropia and the Paris Alliance of Cancer Research Institutes. D.D. was supported by the German Research Foundation (CRC1181-A7). B. Ryffel was supported by Centre National de la Recherche Scientifique, the University of Orleans, the Conseil Général du Loiret and European Regional Development Fund (FEDER No. 2016-00110366 and EX005756). M.C. was supported by ITMO Cancer AVIESAN (Alliance Nationale pour les Sciences de la Vie et de la Santé, National Alliance for Life Sciences & Health) within the framework of the Cancer Plan (HTE201601).
Ethics declarations
Competing interests
L.Z. and G.K. are cofounders of EverImmune, a biotech company devoted to the use of commensal bacteria for the treatment of cancers.
Additional information
Peer review information Saheli Sadanand was the primary editor on this article and managed its editorial process and peer review in collaboration with the rest of the editorial team.
Publisher's note Springer Nature remains neutral with regard to jurisdictional claims in published maps and institutional affiliations.
Supplementary information
Supplementary Figs. 1–6 and Supplementary Tables 1–6.
PATIENTS_Metadata: De-aggregated and de-identified metadata relative to patients. PATIENTS_Run: Metadata relative to Next-Generation Sequencing (NGS) run of patients. MICE_Metadata: Metadata relative to mice. MICE_Run: Metadata relative to Next-Generation Sequencing (NGS) run of mice.
About this article
Cite this article
Roberti, M.P., Yonekura, S., Duong, C.P.M. et al. Chemotherapy-induced ileal crypt apoptosis and the ileal microbiome shape immunosurveillance and prognosis of proximal colon cancer. Nat Med 26, 919–931 (2020). https://doi.org/10.1038/s41591-020-0882-8
Received:

Accepted:

Published:

Issue Date:

DOI: https://doi.org/10.1038/s41591-020-0882-8