Abstract
Although elevated plasma interleukin-8 (pIL-8) has been associated with poor outcome to immune checkpoint blockade1, this has not been comprehensively evaluated in large randomized studies. Here we analyzed circulating pIL-8 and IL8 gene expression in peripheral blood mononuclear cells and tumors of patients treated with atezolizumab (anti-PD-L1 monoclonal antibody) from multiple randomized trials representing 1,445 patients with metastatic urothelial carcinoma (mUC) and metastatic renal cell carcinoma. High levels of IL-8 in plasma, peripheral blood mononuclear cells and tumors were associated with decreased efficacy of atezolizumab in patients with mUC and metastatic renal cell carcinoma, even in tumors that were classically CD8+ T cell inflamed. Low baseline pIL-8 in patients with mUC was associated with increased response to atezolizumab and chemotherapy. Patients with mUC who experienced on-treatment decreases in pIL-8 exhibited improved overall survival when treated with atezolizumab but not with chemotherapy. Single-cell RNA sequencing of the immune compartment showed that IL8 is primarily expressed in circulating and intratumoral myeloid cells and that high IL8 expression is associated with downregulation of the antigen-presentation machinery. Therapies that can reverse the impacts of IL-8-mediated myeloid inflammation will be essential for improving outcomes of patients treated with immune checkpoint inhibitors.
Access options
Subscribe to Journal
Get full journal access for 1 year
$59.00
only $4.92 per issue
All prices are NET prices.
VAT will be added later in the checkout.
Tax calculation will be finalised during checkout.
Rent or Buy article
Get time limited or full article access on ReadCube.
from$8.99
All prices are NET prices.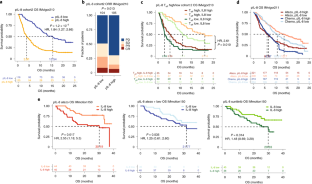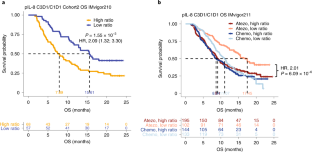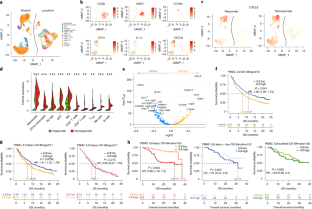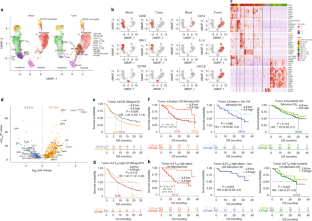 References
1.

Sanmamed, M. F. et al. Changes in serum interleukin-8 (IL-8) levels reflect and predict response to anti-PD-1 treatment in melanoma and non-small-cell lung cancer patients. Ann. Oncol. 28, 1988–1995 (2017).

2.

McDermott, D. F. et al. Clinical activity and molecular correlates of response to atezolizumab alone or in combination with bevacizumab versus sunitinib in renal cell carcinoma. Nat. Med. 24, 749–757 (2018).

3.

Najjar, Y. G. et al. Myeloid-derived suppressor cell subset accumulation in renal cell carcinoma parenchyma is associated with intratumoral expression of IL1β, IL8, CXCL5 and Mip-1α. Clin. Cancer Res. 23, 2346–2355 (2017).

4.

Ugel, S., De Sanctis, F., Mandruzzato, S. & Bronte, V. Tumor-induced myeloid deviation: when myeloid-derived suppressor cells meet tumor-associated macrophages. J. Clin. Invest. 125, 3365–3376 (2015).

5.

Sharma, P., Hu-Lieskovan, S., Wargo, J. A. & Ribas, A. Primary, adaptive, and acquired resistance to cancer immunotherapy. Cell 168, 707–723 (2017).

6.

Blank, C. U., Haanen, J. B., Ribas, A. & Schumacher, T. N. Cancer immunology. The "cancer immunogram". Science 352, 658–660 (2016).

7.

Baggiolini, M., Walz, A. & Kunkel, S. L. Neutrophil-activating peptide-1/interleukin 8, a novel cytokine that activates neutrophils. J. Clin. Invest. 84, 1045–1049 (1989).

8.

Fernando, R. I., Castillo, M. D., Litzinger, M., Hamilton, D. H. & Palena, C. IL-8 signaling plays a critical role in the epithelial-mesenchymal transition of human carcinoma cells. Cancer Res. 71, 5296–5306 (2011).

9.

David, J. M., Dominguez, C., Hamilton, D. H. & Palena, C. The IL-8/IL-8R axis: a double agent in tumor immune resistance. Vaccines 4, E22 (2016).

10.

Alfaro, C. et al. Tumor-produced interleukin-8 attracts human myeloid-derived suppressor cells and elicits extrusion of neutrophil extracellular traps (NETs). Clin. Cancer Res. 22, 3924–3936 (2016).

11.

Sanmamed, M. F. et al. Serum interleukin-8 reflects tumor burden and treatment response across malignancies of multiple tissue origins. Clin. Cancer Res. 20, 5697–5707 (2014).

12.

Rosenberg, J. E. et al. Atezolizumab in patients with locally advanced and metastatic urothelial carcinoma who have progressed following treatment with platinum-based chemotherapy: a single-arm, multicentre, phase 2 trial. Lancet 387, 1909–1920 (2016).

13.

Balar, A. V. et al. Atezolizumab as first-line treatment in cisplatin-ineligible patients with locally advanced and metastatic urothelial carcinoma: a single-arm, multicentre, phase 2 trial. Lancet 389, 67–76 (2017).

14.

Powles, T. et al. Atezolizumab versus chemotherapy in patients with platinum-treated locally advanced or metastatic urothelial carcinoma (IMvigor211): a multicentre, open-label, phase 3 randomised controlled trial. Lancet 391, 748–757 (2018).

15.

Mariathasan, S. et al. TGF-β attenuates tumour response to PD-L1 blockade by contributing to exclusion of T cells. Nature 554, 544–548 (2018).

16.

Jiang, P. et al. Signatures of T cell dysfunction and exclusion predict cancer immunotherapy response. Nat. Med. 24, 1550–1558 (2018).

17.

Cristescu, R. et al. Pan-tumor genomic biomarkers for PD-1 checkpoint blockade-based immunotherapy. Science 362, eaar3593 (2018).

18.

Powles, T. et al. MPDL3280A (anti-PD-L1) treatment leads to clinical activity in metastatic bladder cancer. Nature 515, 558–562 (2014).

19.

Jakubzick, C. V., Randolph, G. J. & Henson, P. M. Monocyte differentiation and antigen-presenting functions. Nat. Rev. Immunol. 17, 349–362 (2017).

20.

Gabrilovich, D. I., Ostrand-Rosenberg, S. & Bronte, V. Coordinated regulation of myeloid cells by tumours. Nat. Rev. Immunol. 12, 253–268 (2012).

21.

Mantovani, A. et al. The chemokine system in diverse forms of macrophage activation and polarization. Trends Immunol. 25, 677–686 (2004).

22.

Bruchard, M. et al. Chemotherapy-triggered cathepsin B release in myeloid-derived suppressor cells activates the Nlrp3 inflammasome and promotes tumor growth. Nat. Med. 19, 57–64 (2013).

23.

Rini, B. I. et al. IMA901, a multipeptide cancer vaccine, plus sunitinib versus sunitinib alone, as first-line therapy for advanced or metastatic renal cell carcinoma (IMPRINT): a multicentre, open-label, randomised, controlled, phase 3 trial. Lancet Oncol. 17, 1599–1611 (2016).

24.

Yost, K. E. et al. Clonal replacement of tumor-specific T cells following PD-1 blockade. Nat. Med. 25, 1251–1259 (2019).

25.

Lee, Y. S. et al. Interleukin-8 and its receptor CXCR2 in the tumour microenvironment promote colon cancer growth, progression and metastasis. Br. J. Cancer 106, 1833–1841 (2012).

26.

Steele, C. W. et al. CXCR2 Inhibition profoundly suppresses metastases and augments immunotherapy in pancreatic ductal adenocarcinoma. Cancer Cell 29, 832–845 (2016).

27.

Ruffell, B., Affara, N. I. & Coussens, L. M. Differential macrophage programming in the tumor microenvironment. Trends Immunol. 33, 119–126 (2012).

28.

Ruffell, B. & Coussens, L. M. Macrophages and therapeutic resistance in cancer. Cancer Cell 27, 462–472 (2015).

29.

Ridker, P. M. et al. Effect of interleukin-1β inhibition with canakinumab on incident lung cancer in patients with atherosclerosis: exploratory results from a randomised, double-blind, placebo-controlled trial. Lancet 390, 1833–1842 (2017).

30.

Stuart, T. et al. Comprehensive integration of single-cell data. Cell 177, 1888–1902 (2019).

31.

Aran, D. et al. Reference-based analysis of lung single-cell sequencing reveals a transitional profibrotic macrophage. Nat. Immunol. 20, 163–172 (2019).

32.

Gupta, V. et al. Bioanalytical qualification of clinical biomarker assays in plasma using a novel multi-analyte Simple Plex() platform. Bioanalysis 8, 2415–2428 (2016).

33.

Wu, T. D., Reeder, J., Lawrence, M., Becker, G. & Brauer, M. J. GMAP and GSNAP for genomic sequence alignment: enhancements to speed, accuracy and functionality. Methods Mol. Biol. 1418, 283–334 (2016).

34.

Wu, T. D. & Nacu, S. Fast and SNP-tolerant detection of complex variants and splicing in short reads. Bioinformatics 26, 873–881 (2010).

35.

Lawrence, M. et al. Software for computing and annotating genomic ranges. PLoS Comput. Biol. 9, e1003118 (2013).
Acknowledgements
We thank L. Goldstein and T. Wu for technical assistance for scRNA-seq analysis. We thank L. Rangell for assistance in IL8 in situ hybridization experiments. Editorial assistance was provided by Anshin Biosolutions (Santa Clara). D.F.M. was supported by a DFHCC KCP SPORE grant (5P50CA101942).
Ethics declarations
Competing interests
K.C.Y., L.-F.L., V.G., C.L., D.P., P.W., E.E.K., H.K., S.M., S.K., Y.-J.C, Z.M., J.L.G., R.B., N.L., A.C.T., X.S., D.T., P.S.H., M.A.H. and S.M. are employees of Genentech. K.H. is an employee of Roche Products. D.F.M. reports a consulting/advisory role for Bristol-Myers Squibb, Merck, Roche/Genentech, Pfizer, Exelixis, Novartis, Eisai, X4 Pharmaceuticals and Array BioPharma; and reports that his home institution receives research funding from Prometheus Laboratories. T.P. reports honoraria and consulting/advisory roles with Roche/Genentech, Bristol-Myers Squibb and Merck; a consulting/advisory role with AstraZeneca and Novartis; research funding from AstraZeneca/MedImmune and Roche/Genentech; and other relationships with Ipsen and Bristol-Myers Squibb. J.E.R. has received trial funding and consulting fees from Roche Genentech, Bayer, Seattle Genetics, AstraZeneca, Astellas and QED Therapeutics. M.S.v.d.H. has advisory board agreements with Roche Genentech, Astellas and AstraZeneca and has received grants from Astellas.
Additional information
Peer review information Saheli Sadanand was the primary editor on this article and managed its editorial process and peer review in collaboration with the rest of the editorial team.
Publisher's note Springer Nature remains neutral with regard to jurisdictional claims in published maps and institutional affiliations.
Supplementary information
About this article
Cite this article
Yuen, K.C., Liu, LF., Gupta, V. et al. High systemic and tumor-associated IL-8 correlates with reduced clinical benefit of PD-L1 blockade. Nat Med 26, 693–698 (2020). https://doi.org/10.1038/s41591-020-0860-1
Received:

Accepted:

Published:

Issue Date: