Abstract
The primary human immunodeficiency virus (HIV) reservoir is composed of resting memory CD4+ T cells, which often express the immune checkpoint receptors programmed cell death protein 1 (PD-1) and cytotoxic T lymphocyte-associated protein 4 (CTLA-4), which limit T cell activation via synergistic mechanisms. Using simian immunodeficiency virus (SIV)-infected, long-term antiretroviral therapy (ART)-treated rhesus macaques, we demonstrate that PD-1, CTLA-4 and dual CTLA-4/PD-1 immune checkpoint blockade using monoclonal antibodies is well tolerated, with evidence of bioactivity in blood and lymph nodes. Dual blockade was remarkably more effective than PD-1 blockade alone in enhancing T cell cycling and differentiation, expanding effector-memory T cells and inducing robust viral reactivation in plasma and peripheral blood mononuclear cells. In lymph nodes, dual CTLA-4/PD-1 blockade, but not PD-1 alone, decreased the total and intact SIV-DNA in CD4+ T cells, and SIV-DNA and SIV-RNA in B cell follicles, a major site of viral persistence during ART. None of the tested interventions enhanced SIV-specific CD8+ T cell responses during ART or viral control after ART interruption. Thus, despite CTLA-4/PD-1 blockade inducing robust latency reversal and reducing total levels of integrated virus, the degree of reservoir clearance was still insufficient to achieve viral control. These results suggest that immune checkpoint blockade regimens targeting PD-1 and/or CTLA-4, if performed in people living with HIV with sustained aviremia, are unlikely to induce HIV remission in the absence of additional interventions.
Access options
Access Nature and 54 other Nature Portfolio journals
Get Nature+, our best-value online-access subscription
$29.99 / 30 days
cancel any time
Subscribe to this journal
Receive 12 print issues and online access
$209.00 per year
only $17.42 per issue
Rent or buy this article
Prices vary by article type
from$1.95
to$39.95
Prices may be subject to local taxes which are calculated during checkout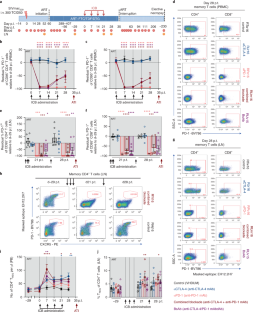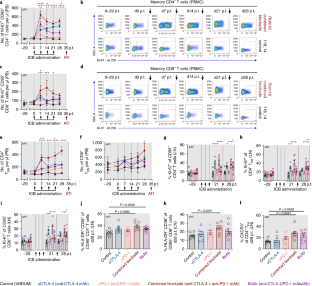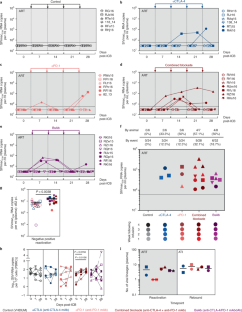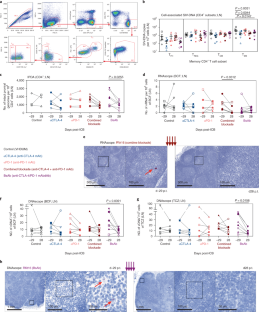 Similar content being viewed by others
References
McGary, C. S. et al. CTLA-4+PD-1− memory CD4+ T cells critically contribute to viral persistence in antiretroviral therapy-suppressed, SIV-infected rhesus macaques. Immunity 47, 776–788 (2017).

Banga, R. et al. PD-1+ and follicular helper T cells are responsible for persistent HIV-1 transcription in treated aviremic individuals. Nat. Med. 22, 754–761 (2016).

Fromentin, R. et al. CD4+ T cells expressing PD-1, TIGIT and LAG-3 contribute to HIV persistence during ART. PLoS Pathog. 12, e1005761 (2016).

Perez, V. L. et al. Induction of peripheral T cell tolerance in vivo requires CTLA-4 engagement. Immunity 6, 411–417 (1997).

Fife, B. T. & Bluestone, J. A. Control of peripheral T-cell tolerance and autoimmunity via the CTLA-4 and PD-1 pathways. Immunol. Rev. 224, 166–182 (2008).

Perreau, M. et al. Follicular helper T cells serve as the major CD4 T cell compartment for HIV-1 infection, replication and production. J. Exp. Med. 210, 143–156 (2013).

Day, C. L. et al. PD-1 expression on HIV-specific T cells is associated with T-cell exhaustion and disease progression. Nature 443, 350–354 (2006).

Trautmann, L. et al. Upregulation of PD-1 expression on HIV-specific CD8+ T cells leads to reversible immune dysfunction. Nat. Med. 12, 1198–1202 (2006).

Wightman, F. et al. Effect of ipilimumab on the HIV reservoir in an HIV-infected individual with metastatic melanoma. AIDS 29, 504–506 (2015).

Evans, V. A. et al. Programmed cell death-1 contributes to the establishment and maintenance of HIV-1 latency. AIDS 32, 1491–1497 (2018).

Guihot, A. et al. Drastic decrease of the HIV reservoir in a patient treated with nivolumab for lung cancer. Ann. Oncol. 29, 517–518 (2018).

Scully, E. P. et al. Inconsistent HIV reservoir dynamics and immune responses following anti-PD-1 therapy in cancer patients with HIV infection. Ann. Oncol. 29, 2141–2142 (2018).

Le Garff, G. et al. Transient HIV-specific T cells increase and inflammation in an HIV-infected patient treated with nivolumab. AIDS 31, 1048–1051 (2017).

Cecchinato, V. et al. Immune activation driven by CTLA-4 blockade augments viral replication at mucosal sites in simian immunodeficiency virus infection. J. Immunol. 180, 5439–5447 (2008).

Hryniewicz, A. et al. CTLA-4 blockade decreases TGF-beta, IDO and viral RNA expression in tissues of SIVmac251-infected macaques. Blood 108, 3834–3842 (2006).

Velu, V. et al. Enhancing SIV-specific immunity in vivo by PD-1 blockade. Nature 458, 206–210 (2009).

Mylvaganam, G. H. et al. Combination anti-PD-1 and antiretroviral therapy provides therapeutic benefit against SIV. JCI Insight 3, 122940 (2018).

Bekerman, E. et al. PD-1 blockade and TLR7 activation lack therapeutic benefit in chronic simian immunodeficiency virus-infected macaques on antiretroviral therapy. Antimicrob. Agents Chemother. 63, e01163-19 (2019).

Wang, C. et al. In vitro characterization of the anti-PD-1 antibody nivolumab, BMS-936558 and in vivo toxicology in non-human primates. Cancer Immunol. Res. 2, 846–856 (2014).

Hardtke, S., Ohl, L. & Forster, R. Balanced expression of CXCR5 and CCR7 on follicular T helper cells determines their transient positioning to lymph node follicles and is essential for efficient B-cell help. Blood 106, 1924–1931 (2005).

Velu, V. et al. Induction of Th1-biased T follicular helper (Tfh) cells in lymphoid tissues during chronic simian immunodeficiency virus infection defines functionally distinct germinal center Tfh cells. J. Immunol. 197, 1832–1842 (2016).

Pearce, E. L. et al. Control of effector CD8+ T cell function by the transcription factor eomesodermin. Science 302, 1041–1043 (2003).

Chen, Z. et al. TCF-1-centered transcriptional network drives an effector versus exhausted CD8 T cell-fate decision. Immunity 51, 840–855 (2019).

Fromentin, R. et al. PD-1 blockade potentiates HIV latency reversal ex vivo in CD4+ T cells from ART-suppressed individuals. Nat. Commun. 10, 814 (2019).

Estes, J. D. et al. Defining total-body AIDS-virus burden with implications for curative strategies. Nat. Med. 23, 1271–1276 (2017).

Bender, A. M. et al. The landscape of persistent viral genomes in ART-treated SIV, SHIV and HIV-2 infections. Cell Host Microbe 26, 73–85 (2019).

Deleage, C. et al. Defining HIV and SIV reservoirs in lymphoid tissues. Pathog. Immun. 1, 68–106 (2016).

Bar, K. J. et al. Effect of HIV antibody VRC01 on viral rebound after treatment interruption. N. Engl. J. Med. 375, 2037–2050 (2016).

Amancha, P. K. et al. In vivo blockade of the programmed cell death-1 pathway using soluble recombinant PD-1-Fc enhances CD4+ and CD8+ T cell responses but has limited clinical benefit. J. Immunol. 191, 6060–6070 (2013).

Dyavar Shetty, R. et al. PD-1 blockade during chronic SIV infection reduces hyperimmune activation and microbial translocation in rhesus macaques. J. Clin. Invest. 122, 1712–1716 (2012).

Finnefrock, A. C. et al. PD-1 blockade in rhesus macaques: impact on chronic infection and prophylactic vaccination. J. Immunol. 182, 980–987 (2009).

Okoye, A. A. et al. Early antiretroviral therapy limits SIV reservoir establishment to delay or prevent post-treatment viral rebound. Nat. Med. 24, 1430–1440 (2018).

Borducchi, E. N. et al. Publisher correction: antibody and TLR7 agonist delay viral rebound in SHIV-infected monkeys. Nature 564, E8 (2018).

Weiss, L. et al. Human immunodeficiency virus-driven expansion of CD4+CD25+ regulatory T cells, which suppress HIV-specific CD4 T-cell responses in HIV-infected patients. Blood 104, 3249–3256 (2004).

Nilsson, J. et al. HIV-1-driven regulatory T-cell accumulation in lymphoid tissues is associated with disease progression in HIV/AIDS. Blood 108, 3808–3817 (2006).

Larkin, J. et al. Combined nivolumab and ipilimumab or monotherapy in untreated melanoma. N. Engl. J. Med. 373, 23–34 (2015).

Hao, C. et al. Efficacy and safety of anti-PD-1 and anti-PD-1 combined with anti-CTLA-4 immunotherapy to advanced melanoma: a systematic review and meta-analysis of randomized controlled trials. Medicine (Baltimore) 96, e7325 (2017).

Koelzer, V. H. et al. Systemic inflammation in a melanoma patient treated with immune checkpoint inhibitors—an autopsy study. J. Immunother. Cancer 4, 13 (2016).

Cook, M. R. & Kim, C. Safety and efficacy of immune checkpoint inhibitor therapy in patients with HIV infection and advanced-stage cancer: a systematic review. JAMA Oncol. 5, 1049–1054 (2019).

Hansen, S. G. et al. Profound early control of highly pathogenic SIV by an effector memory T-cell vaccine. Nature 473, 523–527 (2011).

Del Prete, G. Q. et al. Short communication: comparative evaluation of coformulated injectable combination antiretroviral therapy regimens in simian immunodeficiency virus-infected rhesus macaques. AIDS Res. Hum. Retroviruses 32, 163–168 (2016).

Scott, M. J. et al. 'In-format' screening of a novel bispecific antibody format reveals significant potency improvements relative to unformatted molecules. MAbs 9, 85–93 (2017).

Chhabra, M. et al. Binding proteins. Patent WO/2018/083087 A2 (2018).

Micci, L. et al. Interleukin-21 combined with ART reduces inflammation and viral reservoir in SIV-infected macaques. J. Clin. Invest. 125, 4497–4513 (2015).

Pallikkuth, S. et al. Maintenance of intestinal Th17 cells and reduced microbial translocation in SIV-infected rhesus macaques treated with interleukin (IL)-21. PLoS Pathog. 9, e1003471 (2013).

Li, H. & Pauza, C. D. CD25+ Bcl6low T follicular helper cells provide help to maturing B cells in germinal centers of human tonsil. Eur. J. Immunol. 45, 298–308 (2015).

Li, H. et al. Envelope residue 375 substitutions in simian-human immunodeficiency viruses enhance CD4 binding and replication in rhesus macaques. Proc. Natl Acad. Sci. USA 113, E3413–E3422 (2016).

Amara, R. R. et al. Control of a mucosal challenge and prevention of AIDS by a multiprotein DNA/MVA vaccine. Science 292, 69–74 (2001).

Hansen, S. G. et al. Addendum: immune clearance of highly pathogenic SIV infection. Nature 547, 123–124 (2017).

Roederer, M., Nozzi, J. L. & Nason, M. C. SPICE: exploration and analysis of post-cytometric complex multivariate datasets. Cytometry A 79, 167–174 (2011).

Bruner, K. M. et al. A quantitative approach for measuring the reservoir of latent HIV-1 proviruses. Nature 566, 120–125 (2019).

Policicchio, B. B. et al. Dynamics of simian immunodeficiency virus two-long-terminal-repeat circles in the presence and absence of CD8+ cells. J. Virol. 92, e02100-17 (2018).

Salantes, D. B. et al. HIV-1 latent reservoir size and diversity are stable following brief treatment interruption. J. Clin. Invest. 128, 3102–3115 (2018).

Guindon, S. et al. New algorithms and methods to estimate maximum-likelihood phylogenies: assessing the performance of PhyML 3.0. Syst. Biol. 59, 307–321 (2010).
Acknowledgements
We thank S. Ehnert, C. Souder and E. Strobert (Research Resources and Veterinary Medicine) at YNPRC for providing animal and veterinary care, as well as the Emory Flow Cytometry Core. We thank C. Ashman, G. Jones, L. Anderson and A. Barnard from GSK for assisting with the preparation and quality control of the therapeutic antibodies, as well as K. Fraley, A. Mayer and G. Page from GSK for measuring antibody and anti-drug antibody levels. We also thank R. Shoemaker, K. Oswald and W. Bosche at Leidos Biomedical Research for technical assistance. The SIVmac239 strain used to infect the RMs was provided by K. Van Rompay of UC-Davis, anti-Gag tetramers were provided by D. Long at the NIH Tetramer Core Facility at Emory, and ART was supplied through ViiV Healthcare and GSK. This work was supported by the NIAID, NIH, under awards R01AI116379 and R21/R33AI116171 to M.P. and award UM1AI124436 (Emory CIAR). Support for this work was also provided by GlaxoSmithKline and Qura Therapeutics under subcontract 5105399 from the Collaboratory of AIDS Researchers for Eradication (CARE, 1UM1AI126619-01) to D.M., the Virology & Drug Discovery Core of Emory CFAR (P30AI050409), ORIP/OD awards P51OD011132 (YNPRC) and P51OD011092 (ONPRC), and in part with federal funds from the National Cancer Institute, National Institutes of Health, under contract no. HHSN261200800001E. The content of this publication does not necessarily reflect the views or policies of the Department of Health and Human Services, nor does mention of trade names, commercial products or organizations imply endorsement by the US Government.
Ethics declarations
Competing interests
S.G., C.G., J.S., A.S., B.J., A.A.K., H.A.-M. and D.F. are employed by and/or have financial interests in GlaxoSmithKline or ViiV Healthcare.
Additional information
Peer review information Alison Farrell is the primary editor on this article and managed its editorial process and peer review in collaboration with the rest of the editorial team.
Publisher's note Springer Nature remains neutral with regard to jurisdictional claims in published maps and institutional affiliations.
Supplementary information
Supplementary Figs. 1–7 and Tables 1–3.
About this article
Cite this article
Harper, J., Gordon, S., Chan, C.N. et al. CTLA-4 and PD-1 dual blockade induces SIV reactivation without control of rebound after antiretroviral therapy interruption. Nat Med 26, 519–528 (2020). https://doi.org/10.1038/s41591-020-0782-y
Received:

Accepted:

Published:

Issue Date:

DOI: https://doi.org/10.1038/s41591-020-0782-y