Abstract
Responses to vaccination and to diseases vary widely across individuals, which may be partly due to baseline immune variations. Identifying such baseline predictors of immune responses and their biological basis is of broad interest, given their potential importance for cancer immunotherapy, disease outcomes, vaccination and infection responses. Here we uncover baseline blood transcriptional signatures predictive of antibody responses to both influenza and yellow fever vaccinations in healthy subjects. These same signatures evaluated at clinical quiescence are correlated with disease activity in patients with systemic lupus erythematosus with plasmablast-associated flares. CITE-seq profiling of 82 surface proteins and transcriptomes of 53,201 single cells from healthy high and low influenza vaccination responders revealed that our signatures reflect the extent of activation in a plasmacytoid dendritic cell–type I IFN–T/B lymphocyte network. Our findings raise the prospect that modulating such immune baseline states may improve vaccine responsiveness and mitigate undesirable autoimmune disease activity.
Relevant articles
Open Access articles citing this article.
Slim Fourati

,

Lewis E. Tomalin

…

Rafick-Pierre Sékaly

Nature Immunology Open Access 31 October 2022

Jenifer Vallejo

,

Ryosuke Saigusa

…

Klaus Ley

BMC Biology Open Access 01 September 2022

Silvia Garcia-Cirera

,

Joan Calvet

…

Jordi Gratacós

Scientific Reports Open Access 30 August 2022
Access options
Subscribe to Nature+
Get immediate online access to Nature and 55 other Nature journal
Subscribe to Journal
Get full journal access for 1 year
$79.00
only $6.58 per issue
All prices are NET prices.
VAT will be added later in the checkout.
Tax calculation will be finalised during checkout.
Buy article
Get time limited or full article access on ReadCube.
$32.00
All prices are NET prices.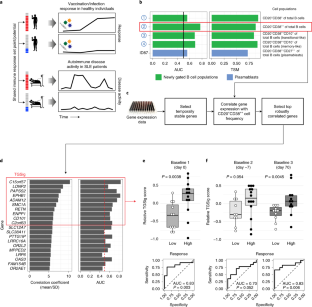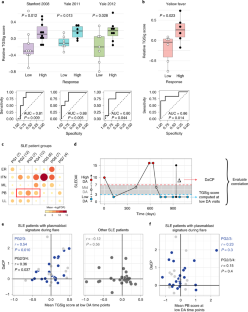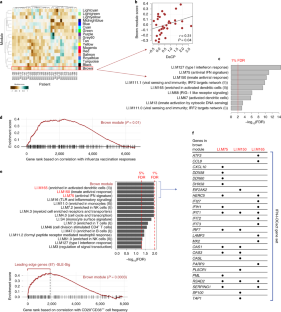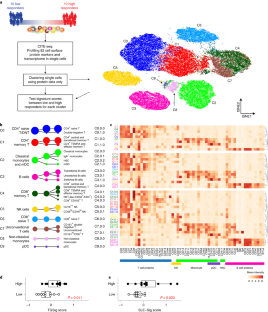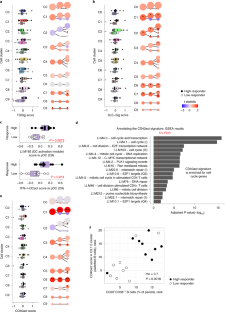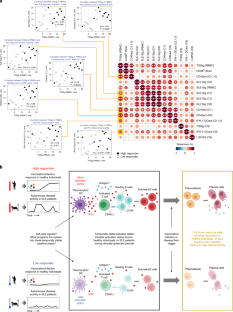 References
Kotas, M. E. & Medzhitov, R. Homeostasis, inflammation, and disease susceptibility. Cell 160, 816–827 (2015).

Chen, D. S. & Mellman, I. Elements of cancer immunity and the cancer-immune set point. Nature 541, 321–330 (2017).

Tsang, J. S. Utilizing population variation, vaccination, and systems biology to study human immunology. Trends Immunol. 36, 479–493 (2015).

Willis, J. C. D. & Lord, G. M. Immune biomarkers: the promises and pitfalls of personalized medicine. Nat. Rev. Immunol. 15, 323 (2015).

Brodin, P. & Davis, M. M. Human immune system variation. Nat. Rev. Immunol. 17, 21–29 (2017).

Hagan, T. et al. Antibiotics-driven gut microbiome perturbation alters immunity to vaccines in humans. Cell 178, 1313–1328.e13 (2019).

Brodin, P. et al. Variation in the human immune system is largely driven by non-heritable influences. Cell 160, 37–47 (2015).

Marchant, A. et al. Predominant influence of environmental determinants on the persistence and avidity maturation of antibody responses to vaccines in infants. J. Infect. Dis. 193, 1598–1605 (2006).

Krieg, C. et al. High-dimensional single-cell analysis predicts response to anti-PD-1 immunotherapy. Nat. Med. 24, 144 (2018).

HIPC-CHI Signatures Project Team & HIPC-I Consortium. Multicohort analysis reveals baseline transcriptional predictors of influenza vaccination responses. Sci. Immunol. 2, eaal4656 (2017).

Fourati, S. et al. Pre-vaccination inflammation and B-cell signalling predict age-related hyporesponse to hepatitis B vaccination. Nat. Commun. 7, 10369 (2016).

Tsang, J. S. et al. Global analyses of human immune variation reveal baseline predictors of postvaccination responses. Cell 157, 499–513 (2014).

Banchereau, R. et al. Personalized immunomonitoring uncovers molecular networks that stratify lupus patients. Cell 165, 551–565 (2016).

Tsokos, G. C., Lo, M. S., Reis, P. C. & Sullivan, K. E. New insights into the immunopathogenesis of systemic lupus erythematosus. Nat. Rev. Rheumatol. 12, 716–730 (2016).

Lee, J. C. & Smith, K. G. C. Prognosis in autoimmune and infectious disease: new insights from genetics. Clin. Transl. Immunol. 3, e15 (2014).

Stoeckius, M. et al. Simultaneous epitope and transcriptome measurement in single cells. Nat. Methods 14, 865–868 (2017).

Lu, Y. et al. Systematic analysis of cell-to-cell expression variation of T lymphocytes in a human cohort identifies aging and genetic associations. Immunity 45, 1162–1175 (2016).

Nakaya, H. I. et al. Systems analysis of immunity to influenza vaccination across multiple years and in diverse populations reveals shared molecular signatures. Immunity 43, 1186–1198 (2015).

Querec, T. D. et al. Systems biology approach predicts immunogenicity of the yellow fever vaccine in humans. Nat. Immunol. 10, 116–125 (2009).

Langfelder, P. & Horvath, S. WGCNA: an R package for weighted correlation network analysis. BMC Bioinf. 9, 559 (2008).

Li, S. et al. Molecular signatures of antibody responses derived from a systems biology study of five human vaccines. Nat. Immunol. 15, 195–204 (2014).

Muskardin, T. L. W. & Niewold, T. B. Type I interferon in rheumatic diseases. Nat. Rev. Rheumatol. 14, 214–228 (2018).

Butler, A., Hoffman, P., Smibert, P., Papalexi, E. & Satija, R. Integrating single-cell transcriptomic data across different conditions, technologies, and species. Nat. Biotechnol. 36, 411–420 (2018).

Swiecki, M. & Colonna, M. The multifaceted biology of plasmacytoid dendritic cells. Nat. Rev. Immunol. 15, 471–485 (2015).

Jego, G. et al. Plasmacytoid dendritic cells induce plasma cell differentiation through type I interferon and interleukin 6. Immunity 19, 225–234 (2003).

Gricks, C. S. et al. Differential regulation of gene expression following CD40 activation of leukemic compared to healthy B cells. Blood 104, 4002–4009 (2004).

Shimabukuro-Vornhagen, A. et al. Inhibition of protein geranylgeranylation specifically interferes with CD40-dependent B cell activation, resulting in a reduced capacity to induce T cell immunity. J. Immunol. 193, 5294–5305 (2014).

Elgueta, R. et al. Molecular mechanism and function of CD40/CD40L engagement in the immune system. Immunol. Rev. 229, 152–172 (2009).

Arriens, C., Wren, J. D., Munroe, M. E. & Mohan, C. Systemic lupus erythematosus biomarkers: the challenging quest. Rheumatology 56, i32–i45 (2017).

Verheul, M. K., Fearon, U., Trouw, L. A. & Veale, D. J. Biomarkers for rheumatoid and psoriatic arthritis. Clin. Immunol. 161, 2–10 (2015).

Banchereau, J. & Pascual, V. Type I interferon in systemic lupus erythematosus and other autoimmune diseases. Immunity 25, 383–392 (2006).

Quách, T. D. et al. Distinctions among circulating antibody-secreting cell populations, including B-1 cells, in human adult peripheral blood. J. Immunol. 196, 1060–1069 (2016).

Andrews, S. F. et al. High preexisting serological antibody levels correlate with diversification of the influenza vaccine response. J. Virol. 89, 3308–3317 (2015).

He, X.-S. et al. Baseline levels of influenza-specific CD4 memory T-cells affect T-cell responses to influenza vaccines. PLoS One 3, e2574 (2008).

Patin, E. et al. Natural variation in the parameters of innate immune cells is preferentially driven by genetic factors. Nat. Immunol. 19, 302–314 (2018).

Westra, H. J. et al. Systematic identification of trans eQTLs as putative drivers of known disease associations. Nat. Genet. 45, 1238–1243 (2013).

Klein, S. L. & Flanagan, K. L. Sex differences in immune responses. Nat. Rev. Immunol. 16, 626–638 (2016).

Rees, F., Doherty, M., Grainge, M. J., Lanyon, P. & Zhang, W. The worldwide incidence and prevalence of systemic lupus erythematosus: a systematic review of epidemiological studies. Rheumatology 56, 1945–1961 (2017).

Zyla, J. et al. Gene set enrichment for reproducible science: comparison of CERNO and eight other algorithms. Bioinformatics 35, 5146–5154 (2019).

Korotkevich, G., Sukhov, V. & Sergushichev, A. Fast gene set enrichment analysis. Preprint at bioRxiv https://doi.org/10.1101/060012 (2019).

van Lochem, E. G. et al. Immunophenotypic differentiation patterns of normal hematopoiesis in human bone marrow: reference patterns for age-related changes and disease-induced shifts. Cytometry B Clin. Cytom. 60, 1–13 (2004).

Finak, G. et al. ImmuneSpaceR: A Thin Wrapper around the ImmuneSpace Database. https://rdrr.io/bioc/ImmuneSpaceR/ (2014).

Bhattacharya, S. et al. ImmPort: disseminating data to the public for the future of immunology. Immunol. Res. 58, 234–239 (2014).

Robin, X. et al. pROC: an open-source package for R and S+ to analyze and compare ROC curves. BMC Bioinf. 12, 77 (2011).

Bates, D., Bolker, B. M., Maechler, M. & Walker, S. C. Fitting linear mixed-effects models using lme4. J. Stat. Softw. https://doi.org/10.18637/jss.v067.i01 (2015).

Chaussabel, D. et al. A modular analysis framework for blood genomics studies: application to systemic lupus erythematosus. Immunity 29, 150–164 (2008).

Weiner, J. tmod: Feature Set Enrichment Analysis for Metabolomics and Transcriptomics. R package version 0.40 (2018); https://CRAN.R-project.org/package=tmod

Benjamini, Y. & Hochberg, Y. Controlling the false discovery rate: a practical and powerful approach to multiple testing. J. R. Stat. Soc. Ser. B 57, 289–300 (1995).

Choi, J. K., Yu, U., Kim, S. & Yoo, O. J. Combining multiple microarray studies and modeling interstudy variation. Bioinformatics 19 (Suppl. 1), i84–i90 (2003).

Subramanian, A. et al. Gene set enrichment analysis: a knowledge-based approach for interpreting genome-wide expression profiles. Proc. Natl Acad. Sci. USA 102, 15545–15550 (2005).

Dobin, A. et al. STAR: ultrafast universal RNA-seq aligner. Bioinformatics 29, 15–21 (2013).

Love, M. I., Huber, W. & Anders, S. Moderated estimation of fold change and dispersion for RNA-seq data with DESeq2. Genome Biol. 15, 550 (2014).

Wickham, H. ggplot2: Elegant Graphics for Data Analysis (Springer-Verlag, 2016).

Torchiano, M. effsize: Efficient Effect Size Computation. R package version 0.7.6 (2019); https://CRAN.R-project.org/package=effsize

Wang, X. et al. An R package suite for microarray meta-analysis in quality control, differentially expressed gene analysis and pathway enrichment detection. Bioinformatics 28, 2534–2536 (2012).

Seshan, V. clinfun: Clinical Trial Design and Data Analysis Functions. R package version 1.0.15 (2018); https://CRAN.R-project.org/package=clinfun

Yan, Y. MLmetrics: Machine Learning Evaluation Metrics. R package version 1.1.1 (2016); https://CRAN.R-project.org/package=MLmetrics

Stoeckius, M. et al. Cell Hashing with barcoded antibodies enables multiplexing and doublet detection for single cell genomics. Genome Biol. 19, 224 (2018).

Stoeckius, M. et al. CITE-seq protocols (2017); https://cite-seq.com/protocol/

Kang, H. M. et al. Multiplexed droplet single-cell RNA-sequencing using natural genetic variation. Nat. Biotechnol. 36, 89–94 (2018).

Roelli, P. et al. Hoohm/CITE-seq-Count: 1.4.2. (Zenodo, 2019); https://doi.org/10.5281/zenodo.2590196

Lun, A. T. L. & Risso, D. SingleCellExperiment: S4 Classes for Single Cell Data. R package version 1.4.1. (2019); https://bioconductor.org/packages/release/bioc/html/SingleCellExperiment.html

Mule, M. P., Martins, A. J. & Tsang, J. S. Normalizing and denoising protein expression data from droplet-based single cell profiling. bioRxiv (in the press).

Ritchie, M. E. et al. limma powers differential expression analyses for RNA-sequencing and microarray studies. Nucleic Acids Res. 43, e47 (2015).

Lun, A. T., Bach, K. & Marioni, J. C. Pooling across cells to normalize single-cell RNA sequencing data with many zero counts. Genome Biol. 17, 75 (2016).

Waltman, L. & Eck, N. Jvan A smart local moving algorithm for large-scale modularity-based community detection. Eur. Phys. J. B 86, 471 (2013).

Zappia, L. & Oshlack, A. Clustering trees: a visualization for evaluating clusterings at multiple resolutions. GigaScience 7, giy083 (2018).

Pederson, T. L. ggraph: An Implementation of Grammar of Graphics for Graphs and Networks. R package version 1.0.2. (2018); https://CRAN.R-project.org/package=ggraph

Carlson, M. hgu95av2.db: Affymetrix Human Genome U95 Set annotation data (chip hgu95av2). R package version 3.2.3. (2016); http://bioconductor.org/packages/release/data/annotation/html/hgu95av2.db.html

Chen, J., Bardes, E. E., Aronow, B. J. & Jegga, A. G. ToppGene Suite for gene list enrichment analysis and candidate gene prioritization. Nucleic Acids Res. 37, W305–W311 (2009).
Acknowledgements
We thank members of the Tsang Lab and the NIH Center for Human Immunology (CHI) for inputs and discussions; L. Failla for help with figures; D. Hirsch for testing the R code; and R. Germain and R. Apps for comments on the manuscript. This research was supported by the Intramural Research Program of the National Institute of Allergy and Infectious Diseases (NIAID) and Intramural Programs of the NIH Institutes supporting the Center for Human Immunology. Figure 6 was created with BioRender.com.
Ethics declarations
Competing interests
The authors declare no competing interests.
Additional information
Peer review information Saheli Sadanand was the primary editor on this article and managed its editorial process in collaboration with the rest of the editorial team.
Publisher's note Springer Nature remains neutral with regard to jurisdictional claims in published maps and institutional affiliations.
Supplementary information
Supplementary Figs. 1 and 2.
Supplementary Tables 1–10.
About this article
Cite this article
Kotliarov, Y., Sparks, R., Martins, A.J. et al. Broad immune activation underlies shared set point signatures for vaccine responsiveness in healthy individuals and disease activity in patients with lupus. Nat Med 26, 618–629 (2020). https://doi.org/10.1038/s41591-020-0769-8
Received:

Accepted:

Published:

Issue Date:

DOI: https://doi.org/10.1038/s41591-020-0769-8