Abstract
Adjuvants are central to the efficacy of subunit vaccines. Aluminum hydroxide (alum) is the most commonly used vaccine adjuvant, yet its adjuvanticity is often weak and mechanisms of triggering antibody responses remain poorly understood. We demonstrate that site-specific modification of immunogens with short peptides composed of repeating phosphoserine (pSer) residues enhances binding to alum and prolongs immunogen bioavailability. The pSer-modified immunogens formulated in alum elicited greatly increased germinal center, antibody, neutralizing antibody, memory and long-lived plasma cell responses compared to conventional alum-adsorbed immunogens. Mechanistically, pSer-immunogen:alum complexes form nanoparticles that traffic to lymph nodes and trigger B cell activation through multivalent and oriented antigen display. Direct uptake of antigen-decorated alum particles by B cells upregulated antigen processing and presentation pathways, further enhancing B cell activation. These data provide insights into mechanisms of action of alum and introduce a readily translatable approach to significantly improve humoral immunity to subunit vaccines using a clinical adjuvant.
Access options
Subscribe to Journal
Get full journal access for 1 year
$225.00
only $18.75 per issue
All prices are NET prices.
VAT will be added later in the checkout.
Rent or Buy article
Get time limited or full article access on ReadCube.
from$8.99
All prices are NET prices.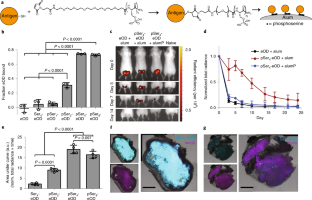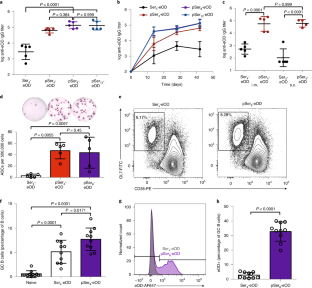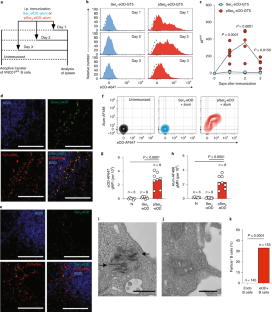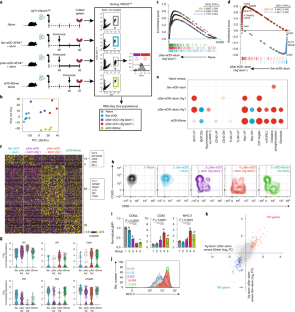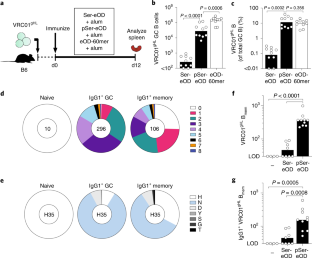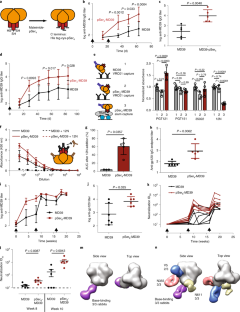 Data availability
All requests for raw and analyzed data and materials are promptly reviewed by the MIT Technology Licensing Office to verify whether the request is subject to any intellectual property or confidentiality obligations. Any data and materials that can be shared will be released via a Material Transfer Agreement.
References
1.

Rappuoli, R. & Aderem, A. A 2020 vision for vaccines against HIV, tuberculosis and malaria. Nature 473, 463–469 (2011).

2.

Plotkin, S. A. Correlates of protection induced by vaccination. Clin. Vaccine Immunol. 17, 1055–1065 (2010).

3.

Reed, S. G., Orr, M. T. & Fox, C. B. Key roles of adjuvants in modern vaccines. Nat. Med. 19, 1597–1608 (2013).

4.

Moyer, T. J., Zmolek, A. C. & Irvine, D. J. Beyond antigens and adjuvants: formulating future vaccines. J. Clin. Invest. 126, 799–808 (2016).

5.

Kool, M., Fierens, K. & Lambrecht, B. N. Alum adjuvant: some of the tricks of the oldest adjuvant. J. Med. Microbiol. 61, 927–934 (2012).

6.

McKee, A. S. & Marrack, P. Old and new adjuvants. Curr. Opin. Immunol. 47, 44–51 (2017).

7.

HogenEsch, H., O'Hagan, D. T. & Fox, C. B. Optimizing the utilization of aluminum adjuvants in vaccines: you might just get what you want. NPJ Vaccines 3, 51 (2018).

8.

Francica, J. R. et al. Analysis of immunoglobulin transcripts and hypermutation following SHIV(AD8) infection and protein-plus-adjuvant immunization. Nat. Commun. 6, 6565 (2015).

9.

Khurana, S. et al. Vaccines with MF59 adjuvant expand the antibody repertoire to target protective sites of pandemic avian H5N1 influenza virus. Sci. Transl. Med. 2, 15ra15 (2010).

10.

Leroux-Roels, G. et al. Impact of adjuvants on CD4(+) T cell and B cell responses to a protein antigen vaccine: results from a phase II, randomized, multicenter trial. Clin. Immunol. 169, 16–27 (2016).

11.

Hansen, B., Sokolovska, A., HogenEsch, H. & Hem, S. L. Relationship between the strength of antigen adsorption to an aluminum-containing adjuvant and the immune response. Vaccine 25, 6618–6624 (2007).

12.

Morefield, G. L. et al. Effect of phosphorylation of ovalbumin on adsorption by aluminum-containing adjuvants and elution upon exposure to interstitial fluid. Vaccine 23, 1502–1506 (2005).

13.

Iyer, S., HogenEsch, H. & Hem, S. L. Relationship between the degree of antigen adsorption to aluminum hydroxide adjuvant in interstitial fluid and antibody production. Vaccine 21, 1219–1223 (2003).

14.

HogenEsch, H. Mechanisms of stimulation of the immune response by aluminum adjuvants. Vaccine 20 (Suppl. 3), S34–S39 (2002).

15.

Weissburg, R. P. et al. Characterization of the Mn Gp120 Hiv-1 vaccine: antigen-binding to alum. Pharmaceut. Res. 12, 1439–1446 (1995).

16.

Noe, S. M., Green, M. A., HogenEsch, H. & Hem, S. L. Mechanism of immunopotentiation by aluminum-containing adjuvants elucidated by the relationship between antigen retention at the inoculation site and the immune response. Vaccine 28, 3588–3594 (2010).

17.

Gupta, R. K., Chang, A. C., Griffin, P., Rivera, R. & Siber, G. R. In vivo distribution of radioactivity in mice after injection of biodegradable polymer microspheres containing 14C-labeled tetanus toxoid. Vaccine 14, 1412–1416 (1996).

18.

Sok, D. et al. Priming HIV-1 broadly neutralizing antibody precursors in human Ig loci transgenic mice. Science 353, 1557–1560 (2016).

19.

Jardine, J. G. et al. HIV-1 vaccines. Priming a broadly neutralizing antibody response to HIV-1 using a germline-targeting immunogen. Science 349, 156–161 (2015).

20.

Jardine, J. et al. Rational HIV immunogen design to target specific germline B cell receptors. Science 340, 711–716 (2013).

21.

Jardine, J. G. et al. HIV-1 broadly neutralizing antibody precursor B cells revealed by germline-targeting immunogen. Science 351, 1458–1463 (2016).

22.

Flarend, R. E. et al. In vivo absorption of aluminium-containing vaccine adjuvants using 26Al. Vaccine 15, 1314–1318 (1997).

23.

Harris, J. R. et al. Alhydrogel(R) adjuvant, ultrasonic dispersion and protein binding: a TEM and analytical study. Micron 43, 192–200 (2012).

24.

Abbott, R. K. et al. Precursor frequency and affinity determine B cell competitive fitness in germinal centers, tested with germline-targeting HIV vaccine immunogens. Immunity 48, 133–146 (2018).

25.

Havenar-Daughton, C. et al. The human naive B cell repertoire contains distinct subclasses for a germline-targeting HIV-1 vaccine immunogen. Sci. Transl. Med. 10, eaat0381 (2018).

26.

Tze, L. E. et al. CD83 increases MHC II and CD86 on dendritic cells by opposing IL-10–driven MARCH1-mediated ubiquitination and degradation. J. Exp. Med. 208, 149–165 (2011).

27.

Kulp, D. W. et al. Structure-based design of native-like HIV-1 envelope trimers to silence non-neutralizing epitopes and eliminate CD4 binding. Nat. Commun. 8, 1655 (2017).

28.

Steichen, JonM. et al. HIV vaccine design to target germline precursors of glycan-dependent broadly neutralizing antibodies. Immunity 45, 483–496 (2016).

29.

Havenar-Daughton, C., Lee, J. H. & Crotty, S. Tfh cells and HIV bnAbs, an immunodominance model of the HIV neutralizing antibody generation problem. Immunol. Rev. 275, 49–61 (2017).

30.

Pauthner, M. et al. Elicitation of robust tier 2 neutralizing antibody responses in nonhuman primates by HIV envelope trimer immunization using optimized approaches. Immunity 46, 1073–1088 (2017).

31.

Drane, D., Gittleson, C., Boyle, J. & Maraskovsky, E. ISCOMATRIX adjuvant for prophylactic and therapeutic vaccines. Expert Rev. Vaccines 6, 761–772 (2007).

32.

Bianchi, M. et al. Electron-microscopy-based epitope mapping defines specificities of polyclonal antibodies elicited during HIV-1 BG505 envelope trimer immunization. Immunity 49, 288–300 (2018).

33.

Egan, P. M., Belfast, M. T., Gimenez, J. A., Sitrin, R. D. & Mancinelli, R. J. Relationship between tightness of binding and immunogenicity in an aluminum-containing adjuvant-adsorbed hepatitis B vaccine. Vaccine 27, 3175–3180 (2009).

34.

Lu, F., Boutselis, I., Borch, R. F. & Hogenesch, H. Control of antigen-binding to aluminum adjuvants and the immune response with a novel phosphonate linker. Vaccine 31, 4362–4367 (2013).

35.

Kool, M. et al. Cutting edge: alum adjuvant stimulates inflammatory dendritic cells through activation of the NALP3 inflammasome. J. Immunol. 181, 3755–3759 (2008).

36.

Li, H., Willingham, S., Ting, J. & Re, F. Cutting edge: inflammasome activation by alum and alum's adjuvant effect are mediated by NLRP3. J. Immunol. 181, 17 (2008).

37.

Hornung, V. et al. Silica crystals and aluminum salts activate the NALP3 inflammasome through phagosomal destabilization. Nat. Immunol. 9, 847–856 (2008).

38.

Eisenbarth, S. C., Colegio, O. R., O'connor, W., Sutterwala, F. S. & Flavell, R. A. Crucial role for the Nalp3 inflammasome in the immunostimulatory properties of aluminium adjuvants. Nature 453, 1122–1126 (2008).

39.

Ramanathan, V. D., Badenoch-Jones, P. & Turk, J. L. Complement activation by aluminium and zirconium compounds. Immunology 37, 881–888 (1979).

40.

Guven, E., Duus, K., Laursen, I., Hojrup, P. & Houen, G. Aluminum hydroxide adjuvant differentially activates the three complement pathways with major involvement of the alternative pathway. PLoS ONE 8, e74445 (2013).

41.

Flach, T. L. et al. Alum interaction with dendritic cell membrane lipids is essential for its adjuvanticity. Nat. Med. 17, 479–487 (2011).

42.

Ghimire, T. R., Benson, R. A., Garside, P. & Brewer, J. M. Alum increases antigen uptake, reduces antigen degradation and sustains antigen presentation by DCs in vitro. Immunol. Lett. 147, 55–62 (2012).

43.

Hu, J. K et al. Murine antibody responses to cleaved soluble HIV-1 envelope trimers are highly restricted in specificity. J Virol. 89, 10383–10398 (2015).

44.

Attard, T. J., O'Brien-Simpson, N. M. & Reynolds, E. C. Identification and suppression of β-elimination byproducts arising from the use of Fmoc-Ser(PO3Bzl,H)-OH in peptide synthesis. Int. J. Pept. Res. Ther. 15, 69–79 (2009).

45.

Weaver, G. C. et al. In vitro reconstitution of B cell receptor–antigen interactions to evaluate potential vaccine candidates. Nat. Protoc. 11, 193 (2016).

46.

Lövgren-Bengtsson, K. & Morein, B. in Methods in Molecular Medicine, Vaccine Adjuvants: Preparation Methods and Research Protocols, Vol. 42 (ed. O'Hagan, D.) 239–258 (Humana Press, 2000).

47.

Wei, X. et al. Emergence of resistant human immunodeficiency virus type 1 in patients receiving fusion inhibitor (T-20) monotherapy. Antimicrob. Agents Chemother. 46, 1896–1905 (2002).

48.

Wei, X. et al. Antibody neutralization and escape by HIV-1. Nature 422, 307–312 (2003).

49.

Sarzotti-Kelsoe, M. et al. Optimization and validation of the TZM-bl assay for standardized assessments of neutralizing antibodies against HIV-1. J. Immunol. Methods 409, 131–146 (2014).

50.

Platt, E. J., Wehrly, K., Kuhmann, S. E., Chesebro, B. & Kabat, D. Effects of CCR5 and CD4 cell surface concentrations on infections by macrophagetropic isolates of human immunodeficiency virus type 1. J. Virol. 72, 2855–2864 (1998).

51.

Picelli, S. et al. Full-length RNA-seq from single cells using Smart-seq2. Nat. Protoc. 9, 171 (2014).

52.

Rosales, S. L. et al. in Type 2 Immunity (ed. Reinhardt, R. L.) 275–301 (Springer, 2018).

53.

Trapnell, C., Pachter, L. & Salzberg, S. L. TopHat: discovering splice junctions with RNA-Seq. Bioinformatics 25, 1105–1111 (2009).

54.

Butler, A., Hoffman, P., Smibert, P., Papalexi, E. & Satija, R. Integrating single-cell transcriptomic data across different conditions, technologies, and species. Nat. Biotechnol. 36, 411 (2018).

55.

Finak, G. et al. MAST: a flexible statistical framework for assessing transcriptional changes and characterizing heterogeneity in single-cell RNA sequencing data. Genome Biol. 16, 278 (2015).

56.

Subramanian, A. et al. Gene set enrichment analysis: a knowledge-based approach for interpreting genome-wide expression profiles. Proc. Natl Acad. Sci. USA 102, 15545–15550 (2005).

57.

Liberzon, A. et al. The molecular signatures database Hallmark gene set collection. Cell Syst. 1, 417–425 (2015).

58.

Yu, D., Cozma, D., Park, A. & Thomas-Tikhonenko, A. Functional Validation of genes implicated in lymphomagenesis: an in vivo selection assay using a Myc-induced B cell tumor. Ann. NY Acad. Sci. 1059, 145–159 (2005).

59.

Zhu, X. et al. Analysis of the major patterns of B cell gene expression changes in response to short-term stimulation with 33 single ligands. J. Immunol. 173, 7141–7149 (2004).

60.

Lee, J. A. et al. Components of the antigen processing and presentation pathway revealed by gene expression microarray analysis following B cell antigen receptor (BCR) stimulation. BMC Bioinformatics 7, 237 (2006).

61.

Busse, C. E., Czogiel, I., Braun, P., Arndt, P. F. & Wardemann, H. Single-cell based high-throughput sequencing of full-length immunoglobulin heavy and light chain genes. Eur. J. Immunol. 44, 597–603 (2014).
Acknowledgements
This work was supported in part by the NIAID under awards UM1AI100663 and UM1AI144462 (to D.J.I., W.R.S., S.C. and D.R.B.), AI125068 (to S.C. and D.J.I.), AI048240 (to D.J.I.), K99AI145762 (to R.K.A.) and AI113867 (to W.R.S.), the Koch Institute Support (core) grant P30-CA14051 from the National Cancer Institute, the Ragon Institute of MGH, MIT and Harvard and by the International AIDS Vaccine Initiative (IAVI) Neutralizing Antibody Consortium (NAC) and Center (to D.R.B., A.B.W. and W.R.S.); and through the Collaboration for AIDS Vaccine Discovery funding for the IAVI NAC Center (to D.R.B., A.B.W. and W.R.S.). The content is solely the responsibility of the authors and does not necessarily represent the official views of the National Institutes of Health. D.J.I. is an investigator of the Howard Hughes Medical Institute.
Ethics declarations
Competing interests
D.J.I., T.J.M., Y.K., S.C. and W.R.S. are named as inventors on patent applications filed by MIT and The Scripps Research Institute related to the data presented in this work.
Additional information
Peer review information Saheli Sadanand was the primary editor on this article and managed its editorial process and peer review in collaboration with the rest of the editorial team.
Publisher's note Springer Nature remains neutral with regard to jurisdictional claims in published maps and institutional affiliations.
Supplementary information
Supplementary Tables 1 and 2.
About this article
Cite this article
Moyer, T.J., Kato, Y., Abraham, W. et al. Engineered immunogen binding to alum adjuvant enhances humoral immunity. Nat Med 26, 430–440 (2020). https://doi.org/10.1038/s41591-020-0753-3
Received:

Accepted:

Published:

Issue Date: