Abstract
Synovial sarcoma (SyS) is an aggressive neoplasm driven by the SS18–SSX fusion, and is characterized by low T cell infiltration. Here, we studied the cancer–immune interplay in SyS using an integrative approach that combines single-cell RNA sequencing (scRNA-seq), spatial profiling and genetic and pharmacological perturbations. scRNA-seq of 16,872 cells from 12 human SyS tumors uncovered a malignant subpopulation that marks immune-deprived niches in situ and is predictive of poor clinical outcomes in two independent cohorts. Functional analyses revealed that this malignant cell state is controlled by the SS18–SSX fusion, is repressed by cytokines secreted by macrophages and T cells, and can be synergistically targeted with a combination of HDAC and CDK4/CDK6 inhibitors. This drug combination enhanced malignant-cell immunogenicity in SyS models, leading to induced T cell reactivity and T cell–mediated killing. Our study provides a blueprint for investigating heterogeneity in fusion-driven malignancies and demonstrates an interplay between immune evasion and oncogenic processes that can be co-targeted in SyS and potentially in other malignancies.
Relevant articles
Open Access articles citing this article.
Alexandra Gyurdieva

,

Stefan Zajic

…

Ioanna Eleftheriadou

Nature Communications Open Access 08 September 2022

Jan Dohmen

,

Artem Baranovskii

…

Altuna Akalin

Genome Biology Open Access 30 May 2022

Cinzia Lanzi

,

Enrica Favini

…

Giuliana Cassinelli

Journal of Experimental & Clinical Cancer Research Open Access 02 December 2021
Access options
Access Nature and 54 other Nature Portfolio journals
Get Nature+, our best-value online-access subscription
$29.99 / 30 days
cancel any time
Subscribe to this journal
Receive 12 print issues and online access
$189.00 per year
only $15.75 per issue
Rent or buy this article
Get just this article for as long as you need it
$39.95
Prices may be subject to local taxes which are calculated during checkout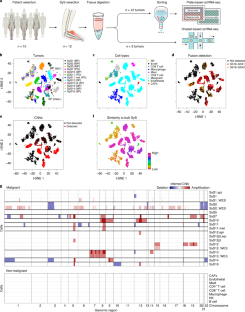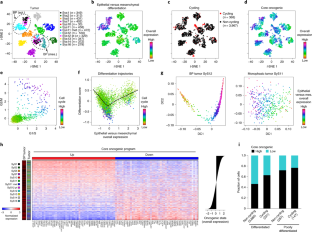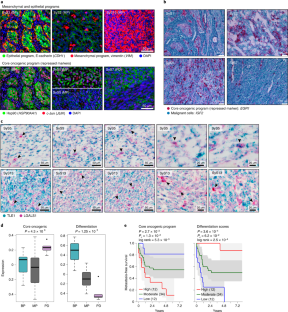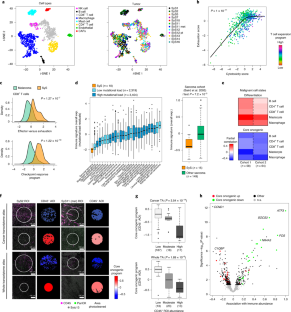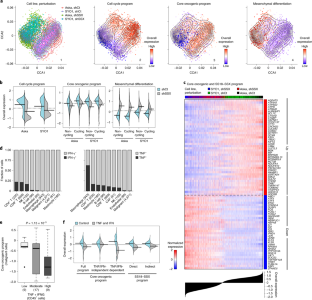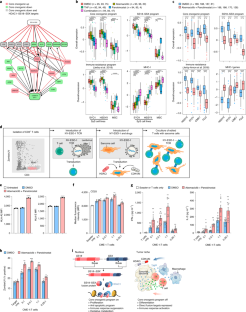 References
Trujillo, J. A., Sweis, R. F., Bao, R. & Luke, J. J. T cell–inflamed versus non-T cell–inflamed tumors: a conceptual framework for cancer immunotherapy drug development and combination therapy selection. Cancer Immunol. Res. 6, 990 (2018).

Fridman, W. H., Pagès, F., Sautès-Fridman, C. & Galon, J. The immune contexture in human tumours: impact on clinical outcome. Nat. Rev. Cancer 12, 298–306 (2012).

Pollack, S. M. et al. T-cell infiltration and clonality correlate with programmed cell death protein 1 and programmed death-ligand 1 expression in patients with soft tissue sarcomas. Cancer 123, 3291–3304 (2017).

Nielsen, T. O., Poulin, N. M. & Ladanyi, M. Synovial sarcoma: recent discoveries as a roadmap to new avenues for therapy. Cancer Discov. 5, 124–134 (2015).

Pollack, S. M. The potential of the CMB305 vaccine regimen to target NY-ESO-1 and improve outcomes for synovial sarcoma and myxoid/round cell liposarcoma patients. Expert Rev. Vaccines 17, 107–114 (2018).

Iura, K. et al. Cancer-testis antigen expression in synovial sarcoma: NY-ESO-1, PRAME, MAGEA4, and MAGEA1. Hum. Pathol. 61, 130–139 (2017).

Zhou, Y. et al. Evaluation of expression of cancer stem cell markers and fusion gene in synovial sarcoma: insights into histogenesis and pathogenesis. Oncol. Rep. 37, 3351–3360 (2017).

Naka, N. et al. Synovial sarcoma is a stem cell malignancy. Stem Cells Dayt. Ohio 28, 1119–1131 (2010).

Kadoch, C. & Crabtree, G. R. Reversible disruption of mSWI/SNF (BAF) complexes by the SS18–SSX oncogenic fusion in synovial sarcoma. Cell 153, 71–85 (2013).

Pan, D. et al. A major chromatin regulator determines resistance of tumor cells to T cell-mediated killing. Science 359, 770–775 (2018).

Miao, D. et al. Genomic correlates of response to immune checkpoint therapies in clear cell renal cell carcinoma. Science 359, 801–806 (2018).

Ayyoub, M. et al. CD4+ T cell responses to SSX-4 in melanoma patients. J. Immunol. 174, 5092 (2005).

Ayyoub, M. et al. Tumor-reactive, SSX-2-specific CD8+ T cells are selectively expanded during immune responses to antigen-expressing tumors in melanoma patients. Cancer Res. 63, 5601 (2003).

Smith, H. A. & McNeel, D. G. The SSX family of cancer-testis antigens as target proteins for tumor therapy. Clin. Dev. Immunol. 2010, 18 (2010).

Smith, H. A. & McNeel, D. G. Vaccines targeting the cancer-testis antigen SSX-2 elicit HLA-A2 epitope-specific cytolytic T cells. J. Immunother. 34, 569–580 (2011).

McBride, M. J. et al. The SS18–SSX fusion oncoprotein hijacks baf complex targeting and function to drive synovial sarcoma. Cancer Cell 33, 1128–1141 (2018).

Banito, A. et al. The SS18–SSX oncoprotein hijacks KDM2B-PRC1.1 to drive synovial sarcoma. Cancer Cell 33, 527–541.e8 (2018).

Su, L. et al. Deconstruction of the SS18–SSX fusion oncoprotein complex: insights into disease etiology and therapeutics. Cancer Cell 21, 333–347 (2012).

Nakayama, R. et al. Gene expression profiling of synovial sarcoma: distinct signature of poorly differentiated type. Am. J. Surg. Pathol. 34, 1599–1607 (2010).

Lagarde, P. et al. Chromosome instability accounts for reverse metastatic outcomes of pediatric and adult synovial sarcomas. J. Am. Soc. Clin. Oncol. 31, 608–615 (2013).

Comprehensive and integrated genomic characterization of adult soft tissue sarcomas. Cell 171, 950–965 (2017).

Picelli, S. et al. Full-length RNA-seq from single cells using Smart-seq2. Nat. Protoc. 9, 171–181 (2014).

Zheng, G. X. Y. et al. Massively parallel digital transcriptional profiling of single cells. Nat. Commun. 8, 14049 (2017).

Haas, B. et al. STAR-Fusion: fast and accurate fusion transcript detection from RNA-seq. Preprint at bioRxiv https://doi.org/10.1101/120295 (2017).

Patel, A. P. et al. Single-cell RNA-seq highlights intratumoral heterogeneity in primary glioblastoma. Science 344, 1396–1401 (2014).

Tirosh, I. et al. Dissecting the multicellular ecosystem of metastatic melanoma by single-cell RNA-seq. Science 352, 189–196 (2016).

Puram, S. V. et al. Single-cell transcriptomic analysis of primary and metastatic tumor ecosystems in head and neck cancer. Cell 171, 1611–1624(2017).

Venteicher, A. S. et al. Decoupling genetics, lineages, and microenvironment in IDH-mutant gliomas by single-cell RNA-seq. Science 355, eaai8478 (2017).

Tirosh, I. et al. Single-cell RNA-seq supports a developmental hierarchy in human oligodendroglioma. Nature 539, 309–313 (2016).

Jerby-Arnon, L. et al. A cancer cell program promotes T cell exclusion and resistance to checkpoint blockade. Cell 175, 984–997.e24 (2018).

Taube, J. H. et al. Core epithelial-to-mesenchymal transition interactome gene-expression signature is associated with claudin-low and metaplastic breast cancer subtypes. Proc. Natl Acad. Sci. USA 107, 15449–15454 (2010).

Gröger, C. J., Grubinger, M., Waldhör, T., Vierlinger, K. & Mikulits, W. Meta-analysis of gene expression signatures defining the epithelial to mesenchymal transition during cancer progression. PLoS ONE 7, e51136 (2012).

Fan, J. et al. Characterizing transcriptional heterogeneity through pathway and gene set overdispersion analysis. Nat. Methods 13, 241–244 (2016).

Newman, M. E. J. & Girvan, M. Finding and evaluating community structure in networks. Phys. Rev. E Stat. Nonlin. Soft Matter Phys. 69, 026113 (2004).

Welch, J. D. et al. Single-cell multi-omic integration compares and contrasts features of brain cell identity. Cell 177, 1873–1887.e17 (2019).

Yang, Z. & Michailidis, G. A non-negative matrix factorization method for detecting modules in heterogeneous omics multi-modal data. Bioinforma. Oxf. Engl. 32, 1–8 (2016).

Przybyl, J. et al. Metastatic potential is determined early in synovial sarcoma development and reflected by tumor molecular features. Int. J. Biochem. Cell Biol. 53, 505–513 (2014).

Stubbington, M. J. T. et al. T cell fate and clonality inference from single-cell transcriptomes. Nat. Methods 13, 329–332 (2016).

Sade-Feldman, M. et al. Defining T cell states associated with response to checkpoint immunotherapy in melanoma. Cell 175, 998–1013.e20 (2018).

Zheng, C. et al. Landscape of infiltrating T cells in liver cancer revealed by single-cell sequencing. Cell 169, 1342–1356 (2017).

Böttcher, J. P. et al. Functional classification of memory CD8+ T cells by CX3CR1 expression. Nat. Commun. 6, 8306 (2015).

Martinez, F. O., Gordon, S., Locati, M. & Mantovani, A. Transcriptional profiling of the human monocyte-to-macrophage differentiation and polarization: new molecules and patterns of gene expression. J. Immunol. 177, 7303–7311 (2006).

Merritt, C. R. et al. Multiplex digital spatial profiling of proteins and RNA in fixed tissue. Nat. Biotechnol. 38, 586–599 (2020).

Subramanian, A. et al. Gene set enrichment analysis: a knowledge-based approach for interpreting genome-wide expression profiles. Proc. Natl Acad. Sci. USA 102, 15545–15550 (2005).

Lin, J.-R. et al. Highly multiplexed immunofluorescence imaging of human tissues and tumors using t-CyCIF and conventional optical microscopes. eLife 7, e31657 (2018).

Bovolenta, L. A., Acencio, M. L. & Lemke, N. HTRIdb: an open-access database for experimentally verified human transcriptional regulation interactions. BMC Genomics 13, 405 (2012).

Han, H. et al. TRRUST: a reference database of human transcriptional regulatory interactions. Sci. Rep. 5, 11432 (2015).

Aibar, S. et al. SCENIC: single-cell regulatory network inference and clustering. Nat. Methods 14, 1083 (2017).

Khan, A. et al. JASPAR 2018: update of the open-access database of transcription factor binding profiles and its web framework. Nucleic Acids Res. 46, D260–D266 (2018).

Liberzon, A. et al. Molecular signatures database (MSigDB) 3.0. Bioinformatics 27, 1739–1740 (2011).

Brin, S. & Page, L. in Seventh International World-Wide Web Conference (1998).

Herrmann, C., Van de Sande, B., Potier, D. & Aerts, S. i-cisTarget: an integrative genomics method for the prediction of regulatory features and cis-regulatory modules. Nucleic Acids Res. 40, e114 (2012).

Janky, R. et al. iRegulon: from a gene list to a gene regulatory network using large motif and track collections. PLoS Comput. Biol. 10, e1003731 (2014).

Balogh, K. N., Templeton, D. J. & Cross, J. V. Macrophage migration inhibitory factor protects cancer cells from immunogenic cell death and impairs anti-tumor immune responses. PLoS OBE 13, e0197702 (2018).

Jones, K. B. et al. Of mice and men: opportunities to use genetically engineered mouse models of synovial sarcoma for preclinical cancer therapeutic evaluation. Cancer Control 18, 196–203 (2011).

Martín-Broto, J., Moura, D. S. & Van Tine, B. A. Facts and hopes in immunotherapy of soft-tissue sarcomas. Clin. Cancer Res. 26, 5801 (2020).

Robbins, P. F. et al. Tumor regression in patients with metastatic synovial cell sarcoma and melanoma using genetically engineered lymphocytes reactive with NY-ESO-1. J. Clin. Oncol. 29, 917–924 (2011).

Baird, K. et al. Gene expression profiling of human sarcomas: insights into sarcoma biology. Cancer Res. 65, 9226–9235 (2005).

Fisher, S. et al. A scalable, fully automated process for construction of sequence-ready human exome targeted capture libraries. Genome Biol. 12, R1 (2011).

Merritt, C. R. et al. Multiplex digital spatial profiling of proteins and RNA in fixed tissue. Nat. Biotechnol. 38, 586–599 (2020).

Langmead, B., Trapnell, C., Pop, M. & Salzberg, S. L. Ultrafast and memory-efficient alignment of short DNA sequences to the human genome. Genome Biol. 10, R25 (2009).

Li, B. & Dewey, C. N. RSEM: accurate transcript quantification from RNA-seq data with or without a reference genome. BMC Bioinf. 12, 323 (2011).

Dobin, A. et al. STAR: ultrafast universal RNA-seq aligner. Bioinforma. Oxf. Engl. 29, 15–21 (2013).

Filbin, M. G. et al. Developmental and oncogenic programs in H3K27M gliomas dissected by single-cell. Science 360, 331–335 (2018).

Cibulskis, K. et al. ContEst: estimating cross-contamination of human samples in next-generation sequencing data. Bioinforma. Oxf. Engl. 27, 2601–2602 (2011).

Cibulskis, K. et al. Sensitive detection of somatic point mutations in impure and heterogeneous cancer samples. Nat. Biotechnol. 31, 213–219 (2013).

Saunders, C. T. et al. Strelka: accurate somatic small-variant calling from sequenced tumor-normal sample pairs. Bioinforma. Oxf. Engl. 28, 1811–1817 (2012).

Costello, M. et al. Discovery and characterization of artifactual mutations in deep coverage targeted capture sequencing data due to oxidative DNA damage during sample preparation. Nucleic Acids Res. 41, e67 (2013).

Van Allen, E. M. et al. Whole-exome sequencing and clinical interpretation of formalin-fixed, paraffin-embedded tumor samples to guide precision cancer medicine. Nat. Med. 20, 682–688 (2014).

Cohen, O. et al. Abstract S1-01: whole exome and transcriptome sequencing of resistant ER+ metastatic breast cancer. Cancer Res. 77, S1–S01 (2017).

Ramos, A. H. et al. Oncotator: cancer variant annotation tool. Hum. Mutat. 36, E2423–E2429 (2015).

Olshen, A. B., Venkatraman, E. S., Lucito, R. & Wigler, M. Circular binary segmentation for the analysis of array-based DNA copy number data. Biostat. Oxf. Engl. 5, 557–572 (2004).

DePristo, M. A. et al. A framework for variation discovery and genotyping using next-generation DNA sequencing data. Nat. Genet. 43, 491 (2011).

Waltman, L. & Jan van Eck, N. A smart local moving algorithm for large-scale modularity-based community detection. Eur. Phys. J. B 86, 471 (2013).

McDavid, A. et al. Data exploration, quality control and testing in single-cell qPCR-based gene expression experiments. Bioinforma. Oxf. Engl. 29, 461–467 (2013).

Haghverdi, L., Buettner, F. & Theis, F. J. Diffusion maps for high-dimensional single-cell analysis of differentiation data. Bioinforma. Oxf. Engl. 31, 2989–2998 (2015).

Benjamini, Y. & Hochberg, Y. Controlling the false discovery rate: a practical and powerful approach to multiple testing. J. R. Stat. Soc. Ser. B Methodol. 57, 289–300 (1995).

Ramilowski, J. A. et al. A draft network of ligand–receptor-mediated multicellular signalling in human. Nat. Commun. 6, 7866 (2015).

Robbins, P. F. et al. Single and dual amino acid substitutions in TCR CDRs can enhance antigen-specific T cell functions. J. Immunol. 180, 6116–6131 (2008).

Eyquem, J. et al. Targeting a CAR to the TRAC locus with CRISPR/Cas9 enhances tumour rejection. Nature 543, 113–117 (2017).

Butler, A., Hoffman, P., Smibert, P., Papalexi, E. & Satija, R. Integrating single-cell transcriptomic data across different conditions, technologies, and species. Nat. Biotechnol. 36, 411 (2018).
Acknowledgements
We thank L. Gaffney and A. Hupalowska for help with artwork and L. Gaffney for help in figure preparation. We thank K. Itoh, N. Naka and S. Takenaka (Osaka University, Japan) for providing the Aska cell lines, and Akira Kawai (National Cancer Center Hospital, Japan) for providing the SYO1 cell line. We thank M. Brown for help with CNA visualization. L.J.-A. is a Chan Zuckerberg Biohub investigator and holds a Career Award at the Scientific Interface from BWF. L.J.-A. was a fellow of the Eric and Wendy Schmidt postdoctoral program and a CRI Irvington Fellow supported by the CRI. A.R. is an HHMI Investigator. Work was supported by the Klarman Cell Observatory, STARR cancer consortium, NCI grants 1U24CA180922, R33-CA202820, the Koch Institute NCI Support (core) grant P30-CA14051, Ludwig Centers at Harvard and MIT, AMRF and the Broad Institute (A.R.). Work was also supported by grants from the Howard Goodman Fellowship at MGH (M.L.S.), the Merkin Institute Fellowship at the Broad Institute of MIT and Harvard (M.L.S.), R37CA245523 (M.L.S.), the Swiss National Science Foundation Sinergia grant CRSII5_177266 (M.L.S. and I.S.). Imaging CyCIF work was supported by a grant (CA225088) from the Center for Cancer Systems Pharmacology at Harvard Medical School (P.K.S.), K08CA222663 (B.I.), Burroughs Wellcome Fund Career Award for Medical Scientists (B.I.), Louis V. Gerstner, Jr. Scholars Program (B.I.) and the Velocity Fellow Program (B.I.). N.R. is supported by the Swiss National Science Foundation Professorship grant (PP00P3-157468/1 and PP00P3_183724), the Swiss Cancer League grant KFS-3973-08-2016, the Fond'Action Contre le Cancer grant and the FORCE grant. N.D.M. was supported by a postdoctoral fellowship from the American Cancer Society (PF-17-042-01-LIB) and the NIH education loan repayment program funded by the NCI (L30 CA231679-01). M.N.R. is supported by the Thomas and Diana Ryan MGH Research Scholar Award. Processed scRNA-seq data are available at https://portals.broadinstitute.org/single_cell/study/synovial-sarcoma and GEO GSE131309. Raw scRNA-seq data is deposited in the controlled access repository DUOS (https://duos.broadinstitute.org/#/hom) accession: DUOS-000123 (via the data catalog https://duos.broadinstitute.org/dataset_catalog).
Ethics declarations
Competing interests
A.R. is a founder of and equity holder in Celsius Therapeutics, an equity holder in Immunitas Therapeutics, and was a scientific advisory board member for Thermo Fisher Scientific, Syros Pharmaceuticals and Neogene Therapeutics until 1 August 2020. From 1 August 2020, A.R. is an employee of Genentech. M.L.S. is an equity holder, scientific cofounder and advisory board member of Immunitas Therapeutics. K.W.W. serves on the scientific advisory board of TCR2 Therapeutics, T-Scan Therapeutics, SQZ Biotech, Nextechinvest and receives sponsored research funding from Novartis. He is a cofounder of Immunitas Therapeutics. L.J.A, N.R., M.L.S. and A.R. are coinventors on US patent application filed by the Broad Institute relating to synovial sarcoma. O.R.-R. is an employee of Genentech and a coinventor on patent applications filed by the Broad Institute for inventions relating to single cell genomics, such as in PCT/US2018/060860 and US provisional application no. 62/745,259. D.R.Z., N.O. and J.M.B. are employees of Nanostring which developed GeoMx. C.K. is the scientific founder, fiduciary board of directors member, scientific advisory board member, shareholder and consultant for foghorn therapeutics. E.C. reports support paid to his institution for the conduct of clinical trials from Amgen, Astra Zeneca, Novartis, Bayer, Merck, Exelixis, GSK, Adaptimmune and Iterion. G.M.C. reports advisory board fees and support paid to his institution for the conduct of clinical trials from Agios, Epizyme, PharmaMar, Eisai; support paid to his institution for the conduct of clinical trials from Macrogenics, Boston Biomedical, Plexxicon, Merck KGaA / EMD Serono Research and Development Institute, CBA, SpringWorks Therapeutics, Bavarian-Nordic; compound for preclinical research and support paid to his institution for the conduct of clinical trials from Bayer. P.K.S. is a member of the SAB or Board of Directors of Applied Biomath, Glencoe Software and RareCyte and has equity in these companies. In the last five years the Sorger lab has received research funding from Novartis and Merck. The authors declare that these activities are not related to the research reported in this publication and have not influenced the conclusions in this manuscript. B.I. is a consultant for Merck and Volastra Therapeutics. N.W. is an equity holder and scientific advisory board member of Relay Therapeutics, a paid advisor to Eli Lilly and Co, and receives grant support from Puma Biotechnology. N.D.M. serves as a scientific advisor to Immunitas Therapeutics. C.N., M.E.S., H.R.W, M.J.M, B.H., B.I, A.V, G.B., L.C., A.R.Ri, L.C.B., J.M.G., C.C.L, R.M., L.N., S.M., J.C.M., C.G., O.C., J.E.B.-B., A.S., M.S., M.S.C, D.L., S.G., G. P.N., I.C., T.N.-N, M.M., E.C., I.L., S.C., A.B.H., J.T.M., I.S. and M.N.R declare no competing interests.
Additional information
Peer review information Saheli Sadanand was the primary editor on this article and managed its editorial process and peer review in collaboration with the rest of the editorial team.
Publisher's note Springer Nature remains neutral with regard to jurisdictional claims in published maps and institutional affiliations.
Supplementary information
About this article
Cite this article
Jerby-Arnon, L., Neftel, C., Shore, M.E. et al. Opposing immune and genetic mechanisms shape oncogenic programs in synovial sarcoma. Nat Med 27, 289–300 (2021). https://doi.org/10.1038/s41591-020-01212-6
Received:

Accepted:

Published:

Issue Date:

DOI: https://doi.org/10.1038/s41591-020-01212-6