Abstract
Zika virus (ZIKV) has caused significant disease, with widespread cases of neurological pathology and congenital neurologic defects. Rapid vaccine development has led to a number of candidates capable of eliciting potent ZIKV-neutralizing antibodies (reviewed in refs. 1,2,3). Despite advances in vaccine development, it remains unclear how ZIKV vaccination affects immune responses in humans with prior flavivirus immunity. Here we show that a single-dose immunization of ZIKV purified inactivated vaccine (ZPIV)4,5,6,7 in a dengue virus (DENV)-experienced human elicited potent cross-neutralizing antibodies to both ZIKV and DENV. Using a unique ZIKV virion-based sorting strategy, we isolated and characterized multiple antibodies, including one termed MZ4, which targets a novel site of vulnerability centered on the Envelope (E) domain I/III linker region and protects mice from viremia and viral dissemination following ZIKV or DENV-2 challenge. These data demonstrate that Zika vaccination in a DENV-experienced individual can boost pre-existing flavivirus immunity and elicit protective responses against both ZIKV and DENV. ZPIV vaccination in Puerto Rican individuals with prior flavivirus experience yielded similar cross-neutralizing potency after a single vaccination, highlighting the potential benefit of ZIKV vaccination in flavivirus-endemic areas.
Access options
Subscribe to Journal
Get full journal access for 1 year
$225.00
only $18.75 per issue
All prices are NET prices.
VAT will be added later in the checkout.
Rent or Buy article
Get time limited or full article access on ReadCube.
from$8.99
All prices are NET prices.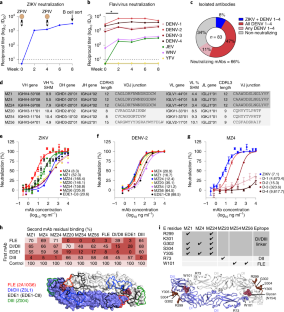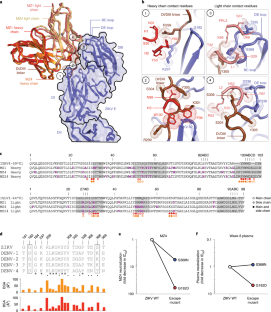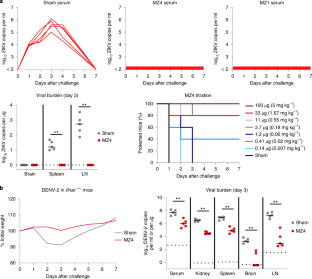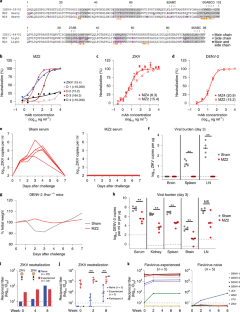 Data availability
The associated accession numbers for the coordinates and structure factors reported in this paper have the following Protein Data Bank IDs: 6MTX, 6MTY, 6NIP, 6NIU and 6NIS. The sequences for MZ4, MZ1, MZ2, MZ20, MZ24, MZ54, MZ56 heavy chains and MZ4, MZ1, MZ2, MZ20, MZ24, MZ54, MZ56 light chains have been deposited in GenBank under ID codes MN523667, MN523668, MN523669, MN523670, MN523671, MN523672, MN523673, MN523674, MN523675, MN523676, MN523677, MN523678, MN523679 and MN523680, respectively. The data that support the findings of this study are available from the corresponding authors upon request. The interim aggregate data of the ZPIV trial in Puerto Rico (NCT03008122) are available with permission from the Division of Microbiology and Infectious Disease, NIAID, NIH, as this is currently an active, ongoing Phase I study.
References
1.

Barouch, D. H., Thomas, S. J. & Michael, N. L. Prospects for a Zika virus vaccine. Immunity 46, 176–182 (2017).

2.

Morabito, K. M. & Graham, B. S. Zika virus vaccine development. J. Infect. Dis. 216, S957–S963 (2017).

3.

Pierson, T. C. & Diamond, M. S. The emergence of Zika virus and its new clinical syndromes. Nature 560, 573–581 (2018).

4.

Abbink, P. et al. Protective efficacy of multiple vaccine platforms against Zika virus challenge in rhesus monkeys. Science 353, 1129–1132 (2016).

5.

Abbink, P. et al. Durability and correlates of vaccine protection against Zika virus in rhesus monkeys. Sci. Transl. Med. 9, eaao4163 (2017).

6.

Larocca, R. A. et al. Vaccine protection against Zika virus from Brazil. Nature 536, 474–478 (2016).

7.

Modjarrad, K. et al. Preliminary aggregate safety and immunogenicity results from three trials of a purified inactivated Zika virus vaccine candidate: phase 1, randomised, double-blind, placebo-controlled clinical trials. Lancet 391, 563–571 (2018).

8.

Tiller, T. et al. Efficient generation of monoclonal antibodies from single human B cells by single cell RT-PCR and expression vector cloning. J. Immunol. Methods 329, 112–124 (2008).

9.

Liao, H. X. et al. High-throughput isolation of immunoglobulin genes from single human B cells and expression as monoclonal antibodies. J. Virol. Methods 158, 171–179 (2009).

10.

Wu, X. et al. Rational design of envelope identifies broadly neutralizing human monoclonal antibodies to HIV-1. Science 329, 856–861 (2010).

11.

Doria-Rose, N. A. et al. Developmental pathway for potent V1V2-directed HIV-neutralizing antibodies. Nature 509, 55–62 (2014).

12.

Barba-Spaeth, G. et al. Structural basis of potent Zika-dengue virus antibody cross-neutralization. Nature 536, 48–53 (2016).

13.

Zhao, H. et al. Structural basis of Zika virus-specific antibody protection. Cell 166, 1016–1027 (2016).

14.

Wang, J. et al. A human bi-specific antibody against Zika virus with high therapeutic potential. Cell 171, 229–241 (2017).

15.

Robbiani, D. F. et al. Recurrent potent human neutralizing antibodies to Zika virus in Brazil and Mexico. Cell 169, 597–609 (2017).

16.

Chappel, M. S. et al. Identification of the Fc gamma receptor class I binding site in human IgG through the use of recombinant IgG1/IgG2 hybrid and point-mutated antibodies. Proc. Natl Acad. Sci. USA 88, 9036–9040 (1991).

17.

Davidson, E. & Doranz, B. J. A high-throughput shotgun mutagenesis approach to mapping B-cell antibody epitopes. Immunology 143, 13–20 (2014).

18.

Sirohi, D. et al. The 3.8 Å resolution cryo-EM structure of Zika virus. Science 352, 467-–4470 (2016).

19.

Cockburn, J. J. et al. Structural insights into the neutralization mechanism of a higher primate antibody against dengue virus. EMBO J. 31, 767–779 (2012).

20.

Robinson, L. N. et al. Structure-guided design of an anti-dengue antibody directed to a non-immunodominant epitope. Cell 162, 493–504 (2015).

21.

Renner, M. et al. Characterization of a potent and highly unusual minimally enhancing antibody directed against dengue virus. Nat. Immunol. 19, 1248–1256 (2018).

22.

Men, R. et al. Identification of chimpanzee Fab fragments by repertoire cloning and production of a full-length humanized immunoglobulin G1 antibody that is highly efficient for neutralization of dengue type 4 virus. J. Virology 78, 4665–4674 (2004).

23.

Gentry, M. K., Henchal, E. A., McCown, J. M., Brandt, W. E. & Dalrymple, J. M. Identification of distinct antigenic determinants on dengue-2 virus using monoclonal antibodies. Am. J. Trop. Med. Hyg. 31, 548–555 (1982).

24.

Dai, L. et al. Structures of the Zika virus envelope protein and its complex with a flavivirus broadly protective antibody. Cell Host Microbe 19, 696–704 (2016).

25.

Lu, X. et al. Double lock of a human neutralizing and protective monoclonal antibody targeting the yellow fever virus envelope. Cell Rep. 26, 438–446 e435 (2019).

26.

Rodriguez-Barraquer, I. et al. Impact of preexisting dengue immunity on Zika virus emergence in a dengue endemic region. Science 363, 607–610 (2019).

27.

Henchal, E. A., Gentry, M. K., McCown, J. M. & Brandt, W. E. Dengue virus-specific and flavivirus group determinants identified with monoclonal antibodies by indirect immunofluorescence. Am. J. Trop. Med. Hyg. 31, 830–836 (1982).

28.

Ye, J., Ma, N., Madden, T. L. & Ostell, J. M. IgBLAST: an immunoglobulin variable domain sequence analysis tool. Nucleic Acids Res. 41, W34–W40 (2013).

29.

Dejnirattisai, W. et al. A new class of highly potent, broadly neutralizing antibodies isolated from viremic patients infected with dengue virus. Nat. Immunol. 16, 170–177 (2015).

30.

Wang, Q. et al. Molecular determinants of human neutralizing antibodies isolated from a patient infected with Zika virus. Sci. Transl. Med. 8, 369ra179 (2016).

31.

Gallichotte, E. N. et al. A new quaternary structure epitope on dengue virus serotype 2 is the target of durable type-specific neutralizing antibodies. mBio 6, e01461–01415 (2015).

32.

Sapparapu, G. et al. Neutralizing human antibodies prevent Zika virus replication and fetal disease in mice. Nature 540, 443–447 (2016).

33.

Cox, K. S. et al. Rapid isolation of dengue-neutralizing antibodies from single cell-sorted human antigen-specific memory B-cell cultures. MAbs 8, 129–140 (2016).

34.

Thomas, S. J. et al. A phase II, randomized, safety and immunogenicity study of a re-derived, live-attenuated dengue virus vaccine in healthy adults. Am. J. Trop. Med. Hyg. 88, 73–88 (2013).

35.

Commo, F. & Bot, B.M. nplr: N-parameter logistic regression. Version 0.1-7 https://CRAN.R-project.org/package=nplr (2016).

36.

McCracken, M. K. et al. Impact of prior flavivirus immunity on Zika virus infection in rhesus macaques. PLoS Pathog. 13, e1006487 (2017).

37.

Hezareh, M., Hessell, A. J., Jensen, R. C., van de Winkel, J. G. & Parren, P. W. Effector function activities of a panel of mutants of a broadly neutralizing antibody against human immunodeficiency virus type 1. J. Virology 75, 12161–12168 (2001).

38.

Otwinowski, Z. & Minor, W. Processing of X-ray diffraction data collected in oscillation mode. Methods Enzymol. 276, 307–326 (1997).

39.

McCoy, A. J. et al. Phaser crystallographic software. J. Appl. Crystallogr. 40, 658–674 (2007).

40.

Strong, M. et al. Toward the structural genomics of complexes: crystal structure of a PE/PPE protein complex from Mycobacterium tuberculosis. Proc. Natl Acad. Sci. USA 103, 8060–8065 (2006).

41.

Chen, V. B. et al. MolProbity: all-atom structure validation for macromolecular crystallography. Acta Crystallogr. D 66, 12–21 (2010).

42.

Krissinel, E. & Henrick, K. Inference of macromolecular assemblies from crystalline state. J. Mol. Biol. 372, 774–797 (2007).

43.

Klungthong, C. et al. Monitoring and improving the sensitivity of dengue nested RT-PCR used in longitudinal surveillance in Thailand. J. Clin. Virol. 63, 25–31 (2015).
Acknowledgements
We sincerely thank the clinical trial participants and staff. In addition, we thank M. Creegan, M. Eller and the MHRP FlowCore facility for help with FACS sorting and C. Kuklis, Q. Chen, D. Barvir, A. Srikanth, T. Li, C. Fung, B. Yadav, B. Sumlin, G. Ballarini, N. Burrell, R. Olson and A. Dean for technical support. X-ray diffraction data were collected at beamlines at the Advanced Photon Source, Argonne National Laboratory, and the National Synchrotron Light Source II. This work was primarily funded by the US Department of the Army and the Defense Health Agency (0130602D16) to K.M. Work at BIDMC under D.B. was performed with support from the US Department of Defense, Defense Health Agency (0130602D16), the Henry M. Jackson Foundation and the Harvard Catalyst, Harvard Clinical and Translational Science Center (National Center for Research Resources and the National Center for Advancing Translational Sciences, National Institutes of Health Award UL1 TR001102) and with financial contributions from Harvard University and its affiliated academic healthcare centers. The ZPIV vaccine trial in Puerto Rico was funded by the Vaccine Treatment Evaluation Unit (VTEU) at Saint Louis University (contract no. HHSN2722013000021I) under S.L.G. The network of VTEUs is supported by the National Institute of Allergy and Infectious Diseases, part of the National Institutes of Health. The funders of the clinical trials were involved in the clinical study design, clinical study operations and approval of the clinical protocols. The ZPIV program leads (K.M. and N.L.M.) and the study sponsors had final responsibility for the decision to submit for publication. This work was supported by a cooperative agreement (W81XWH-07-2-0067) between the Henry M. Jackson Foundation for the Advancement of Military Medicine and the US Department of Defense (DoD) under the leadership of N.L.M. and M.R. The Structural Biology Center (SBC) and Northeastern Collaborative Access Team (NE-CAT) beamlines are funded by the National Institute of General Medical Sciences from the National Institutes of Health (P41 GM103403) at the Advanced Photon Source, Argonne National Laboratory. SBC-CAT is operated by UChicago Argonne for the US Department of Energy, Office of Biological and Environmental Research under contract no. DE-AC02-06CH11357. This research used ID-17-1 (AMX) beamline of the National Synchrotron Light Source II, a US Department of Energy (DOE) Office of Science User Facility operated for the DOE Office of Science by Brookhaven National Laboratory under contract no. DE-SC0012704. In addition, this work was supported by NIH contract no. HHSN272201400058C to B.J.D. Material has been reviewed by the Walter Reed Army Institute of Research. The content is solely the responsibility of the authors and does not necessarily represent the official views of Harvard Catalyst, Harvard University and its affiliated academic healthcare centers or the National Institutes of Health. The opinions or assertions contained herein are the private views of the authors, and are not to be construed as official, or as reflecting true views of the Department of the Army or the Department of Defense. The investigators have adhered to the policies for protection of human subjects as prescribed in AR 70–25.
Ethics declarations
Competing interests
B.J.D. is a shareholder of Integral Molecular. D.H.B. has received grants from Novavax and personal fees from IGM Biosciences. Patent application no. PCT/US19/28952 containing the mAbs described in this publication has been filed for authors S.J.K., N.L.M., V.D., D.H.B., K.M., R.G.J., R.S.S., G.D., M.G.J. and K.E.S. The status of the patent is pending, not yet published. The other authors declare no competing interests.
Additional information
Peer review information Alison Farrell was the primary editor on this article and managed its editorial process and peer review in collaboration with the rest of the editorial team.
Publisher's note Springer Nature remains neutral with regard to jurisdictional claims in published maps and institutional affiliations.
Supplementary information
Supplementary Tables 1–3 and validation reports of crystal structures.
About this article
Cite this article
Dussupt, V., Sankhala, R.S., Gromowski, G.D. et al. Potent Zika and dengue cross-neutralizing antibodies induced by Zika vaccination in a dengue-experienced donor. Nat Med 26, 228–235 (2020). https://doi.org/10.1038/s41591-019-0746-2
Received:

Accepted:

Published:

Issue Date:
Further reading
Krishanthi S. Subramaniam

,

Suzannah Lant

,

Lynsey Goodwin

,

Alba Grifoni

,

Daniela Weiskopf

&

Lance Turtle

Frontiers in Immunology (2020)